The best spiral curry puff is flaky and crispy with a delicious filling of dry curry potatoes. Also called karipap, the layered flaky pastry skin distinguishes itself from the typical puff that is only filled with potatoes or sardine.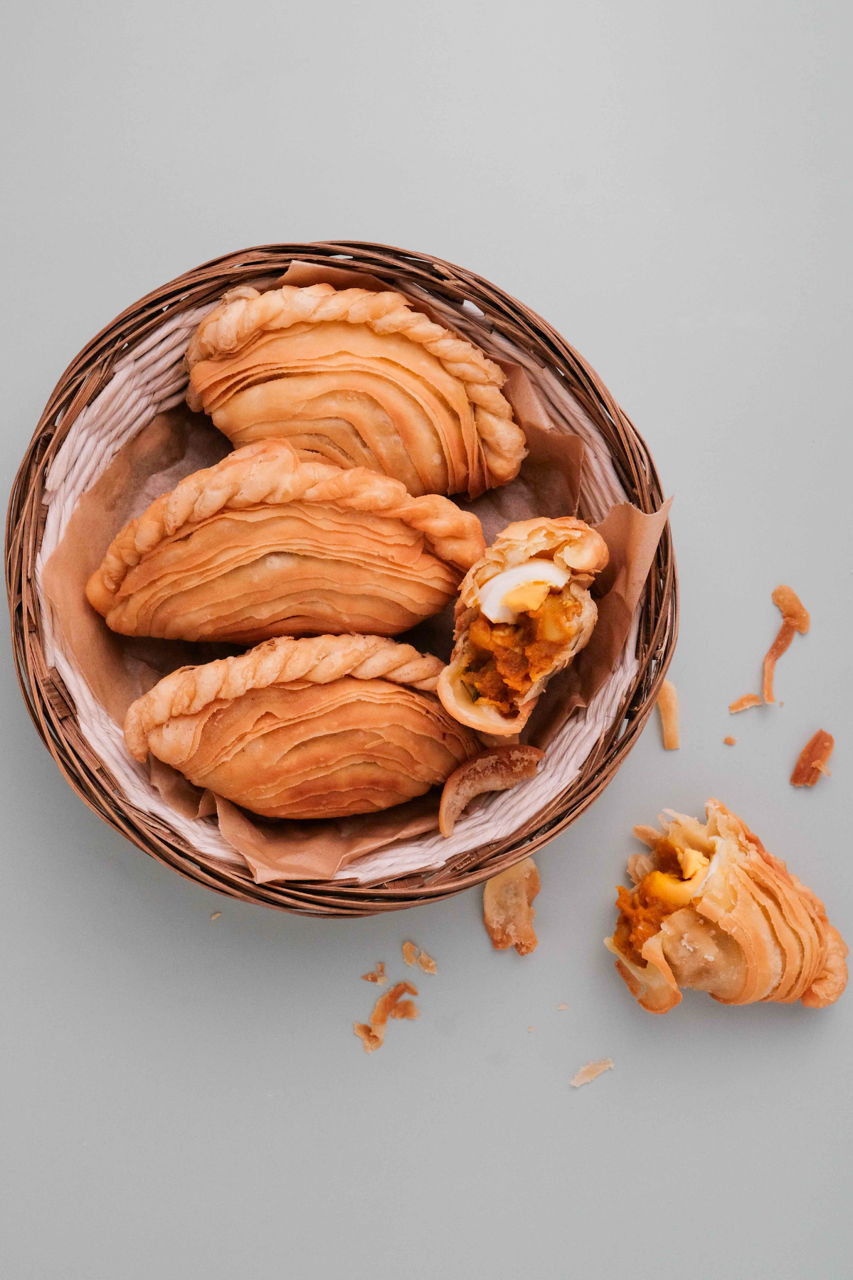 This particular flaky pastry is known to some as the 'Nyonya Curry Puff'. It is sometimes filled with minced meat and a wedge of boiled egg too. That's exactly what we will be doing in this recipe.
Why This Is the Best Recipe
It guarantees to yield the layered flaky pastry skin. When the dough is not prepared with the right amount of oil and water, it tends to stick together. This will be the utmost disappointment!
You'll want to use this recipe for the result as below.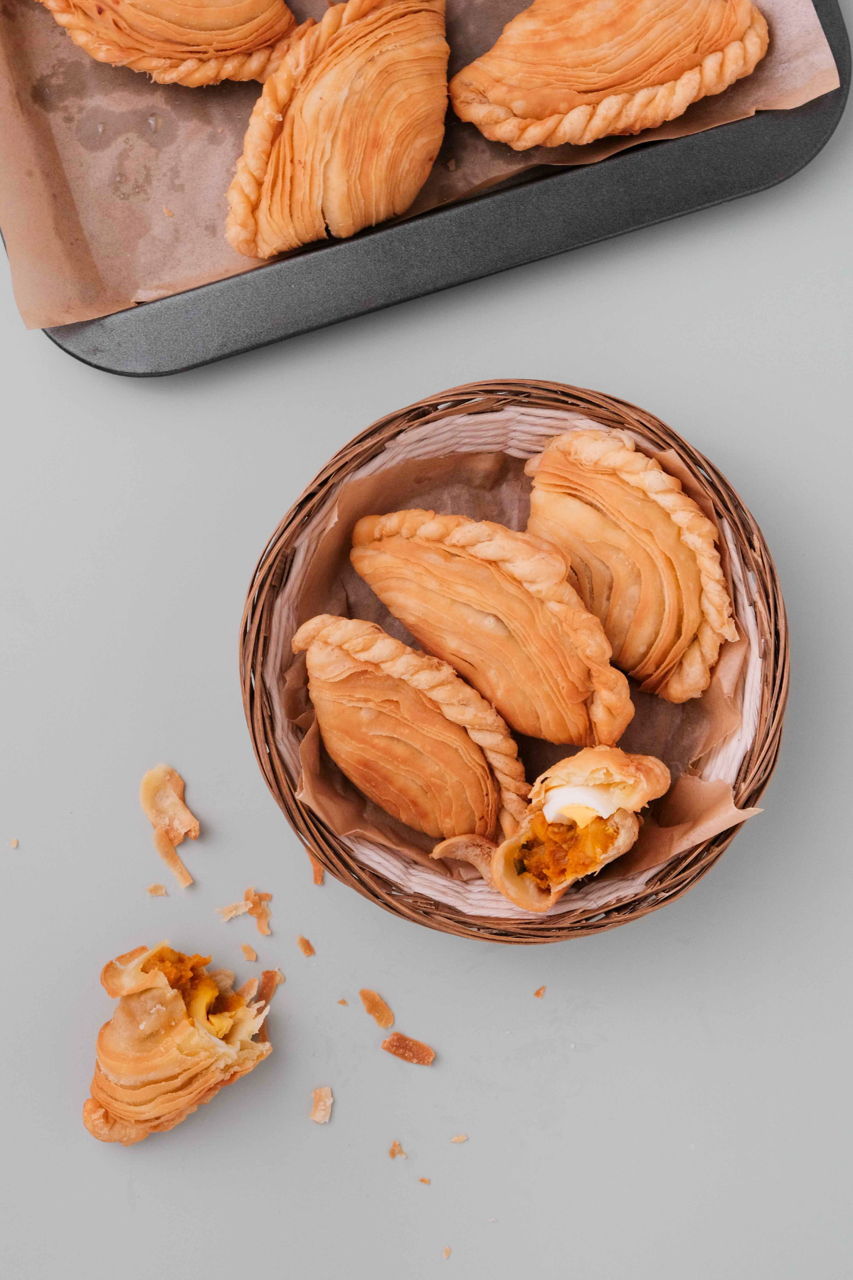 I've also portioned the recipe accurately to prepare 8 curry puffs. If you want to make more to freeze, do multiply the servings accordingly as stated in the recipe section.
Recipe For Spiral Curry Puffs Pastry
The spiral curry puff pastry is made of two different types of dough, the water and oil dough. Butter, flour, water, salt and sugar are needed in the oil dough. The water dough uses the same ingredients, except butter.
When combined, they create the flaky layers which lightly separate during frying. It creates a beautiful flaky texture.
Using Margarine Instead
Yes, you can. When comparing doughs made of butter and margarine, the one with margarine tends to feel more resistant whereas the one with butter is softer.
It could be due to the difference in water to fat ratio since there is more water content in margarine. Having margarine in the dough naturally adds more water, creating gluten. This leads to a more resistant consistency.
Therefore, the final result is a less flaky pastry compared to when using butter.
Recipe For The Filling
This curry puff filling recipe is a little over the top since it's not just curried potatoes. Caramelizing onions with a bit of oil and curry leaves helps to make the curry more fragrant.
Potato cubes and minced chicken are added. Curry powder is then added along with other seasonings like sugar and salt.
Let the gravy simmers until it dries as this will allow the potatoes to fully soak up the flavours.
Prevent Pastry From Tearing
Always begin by dusting your work space with flour or the dough will stick.
When wrapping the oil dough with water dough, ensure that it is done tightly. If there are air pockets, the dough will burst and tear when flattening.
This may also cause the dough to separate after flattening. The filling will not be able to hold up when wrapping.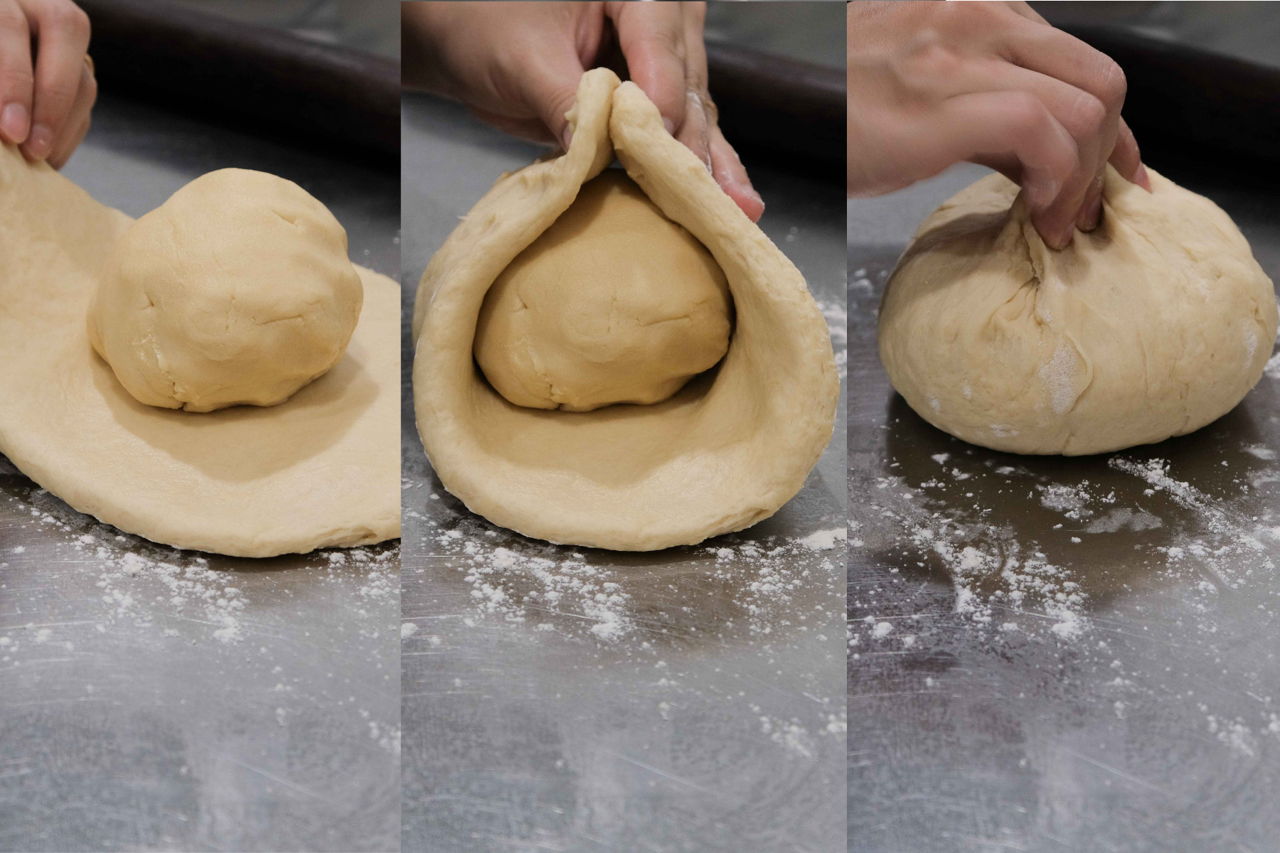 How to Seal The Edges?
Place filling onto a flatten dough. Do leave some space at the edge for folding.
Fold the dough into half to wrap the filling.
Close the fold by bringing the edges together.
Starting from one end of the pastry, pinch the sides using your index finger and thumb.
Fold the pinched dough halfway. Continue to pinch and fold until the end of the pastry to create the pattern of curry puff.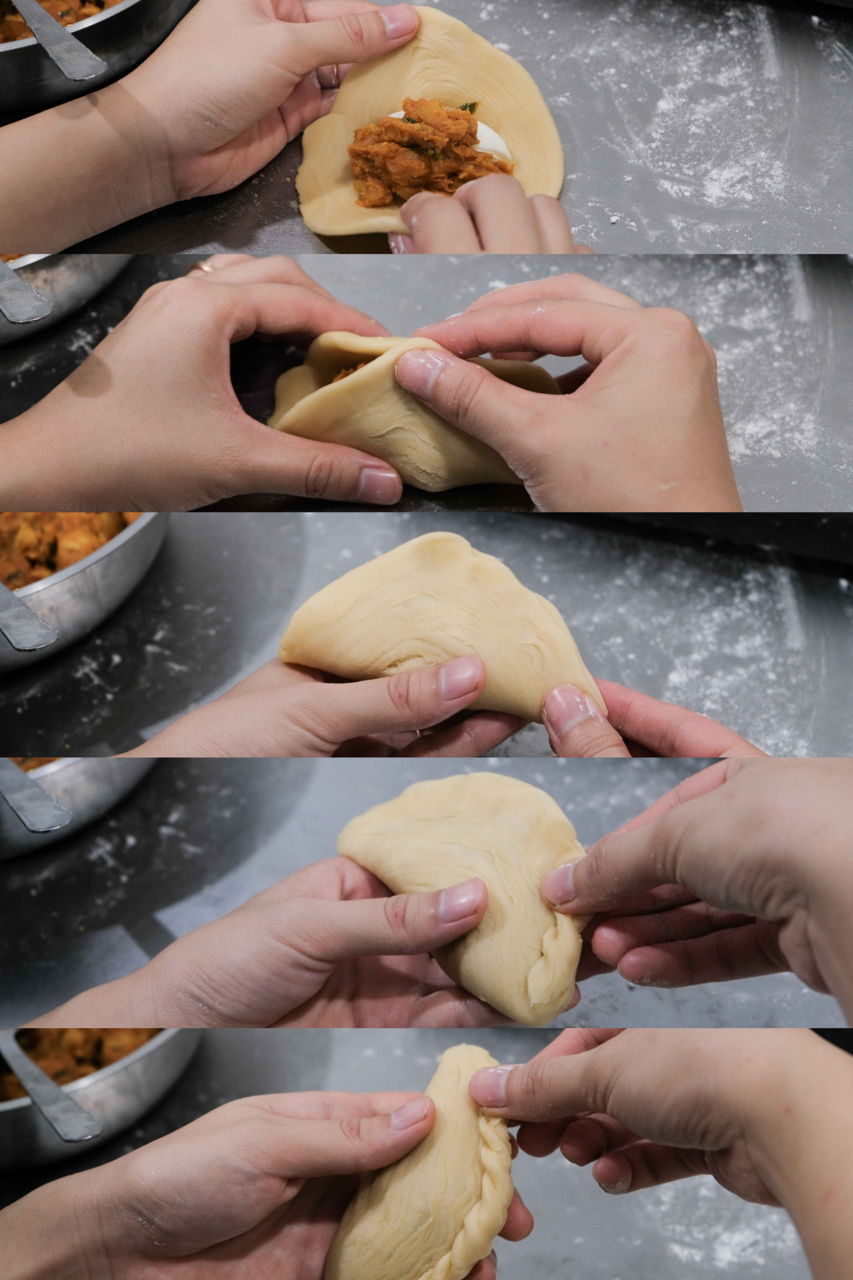 Deep Frying Tips
First of all, the oil used to deep fry must be enough to cover half of the curry puff. Too little oil will cause the pastry to fry unevenly.
Additionally, the surface of the puffs will touch the bottom of the pan if there's too little oil. This will result in it turning brown quicker than other areas. A stainless steel colander will help with even frying.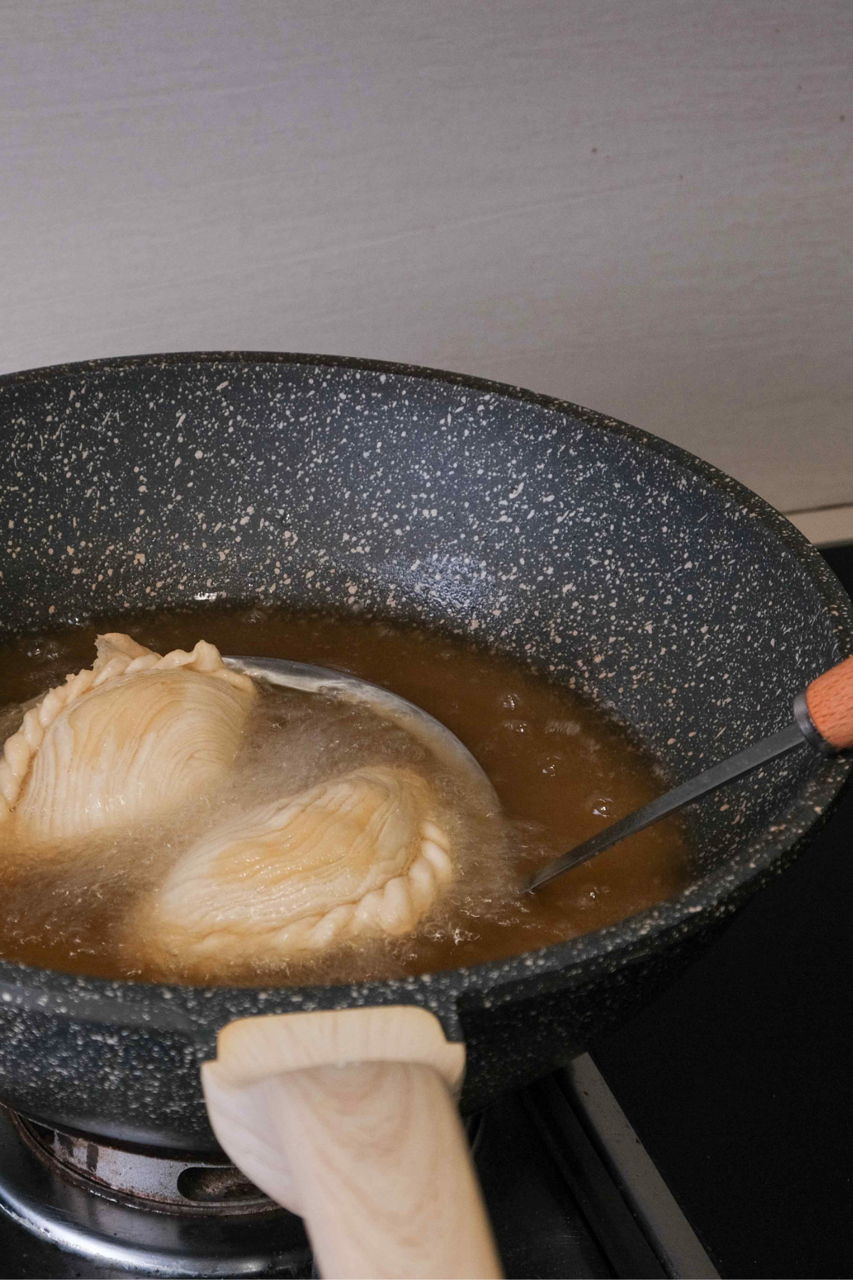 Always preheat the oil before frying. Use medium to high heat for deep frying. Test the temperature with a wooden chopstick. If bubbles appear around it, then the oil is ready.
Otherwise, pinch some dough and drop it into the oil. It should fizzle and float quite quickly if the oil is ready.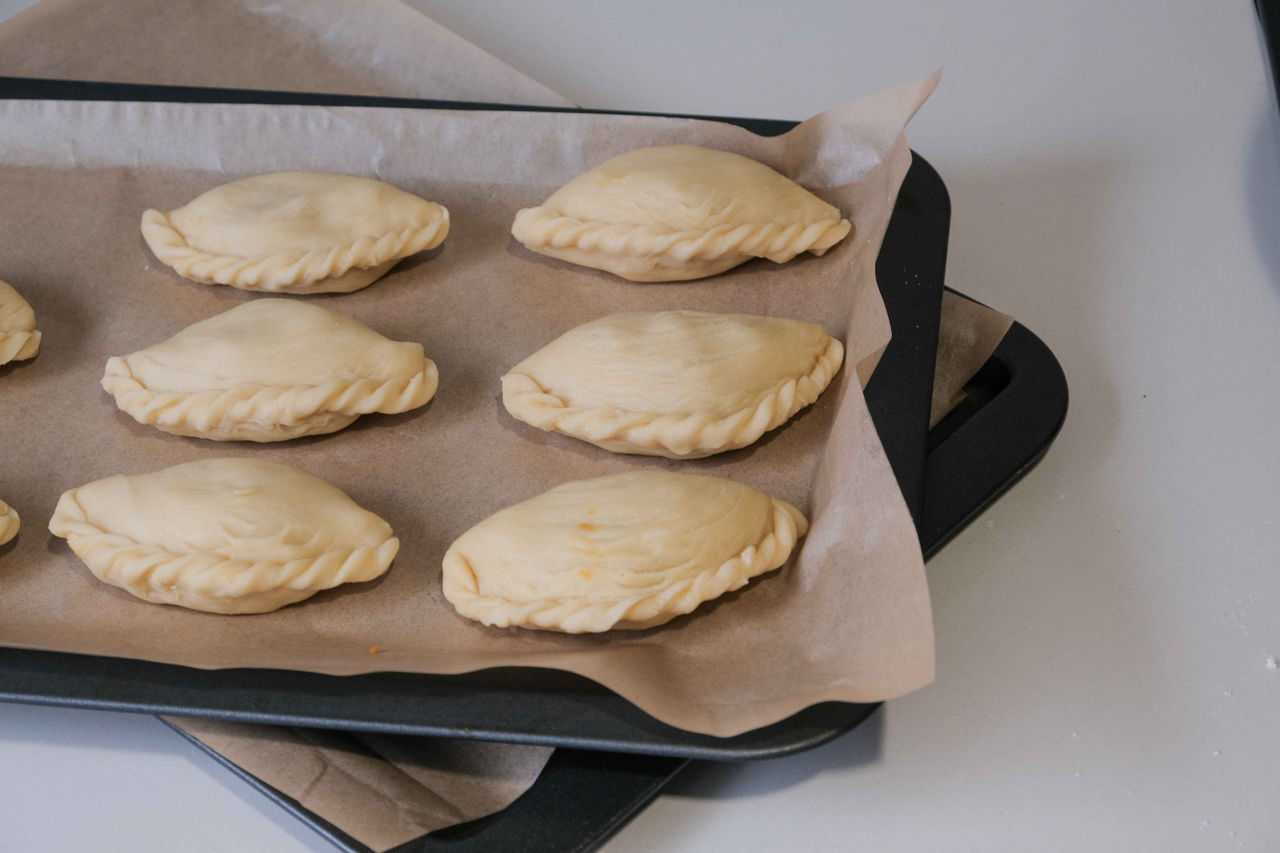 Curry Puffs Cooked In Air Fryer
Pre-heat air fryer at 190 degrees Celsius (375 Fahrenheit). Brush some oil onto the pastry and cook for about 20 minutes or until golden brown.
Baked Curry Puffs
Oven must be pre-heated at 190 degrees Celsius (375 Fahrenheit). Brush some oil on the pastry and bake for about 30 minutes or until golden brown.
How to Serve Spiral Curry Puffs?
Serve curry puffs with a cup of teh tarik or your favourite coffee. We also love enjoying curry puffs with an array of kuih such as Pulut Tai Tai, Onde-Onde and Kuih Seri Muka.
How Long Can The Spiral Curry Puffs Be Kept?
After frying, they can be kept for about 3 days in the refrigerator. Store them in an airtight container. Reheat them in the oven at 180 degrees Celsius (350 Fahrenheit) for 10 to 15 minutes to restore their crispiness before serving.
Place a piece of aluminum foil or baking paper on top of the pastry to prevent burning. This tip is especially useful if you have a smaller oven.
How to Freeze The Spiral curry puffs?
These curry puffs must be fried before being kept frozen. Do not fry them until golden brown. Instead, fry these pastries until they harden and the layers are separated.
They should be still white in colour once cooked. That's when you can set them aside to cool before storing them in a zip lock bag or airtight container for freezing.