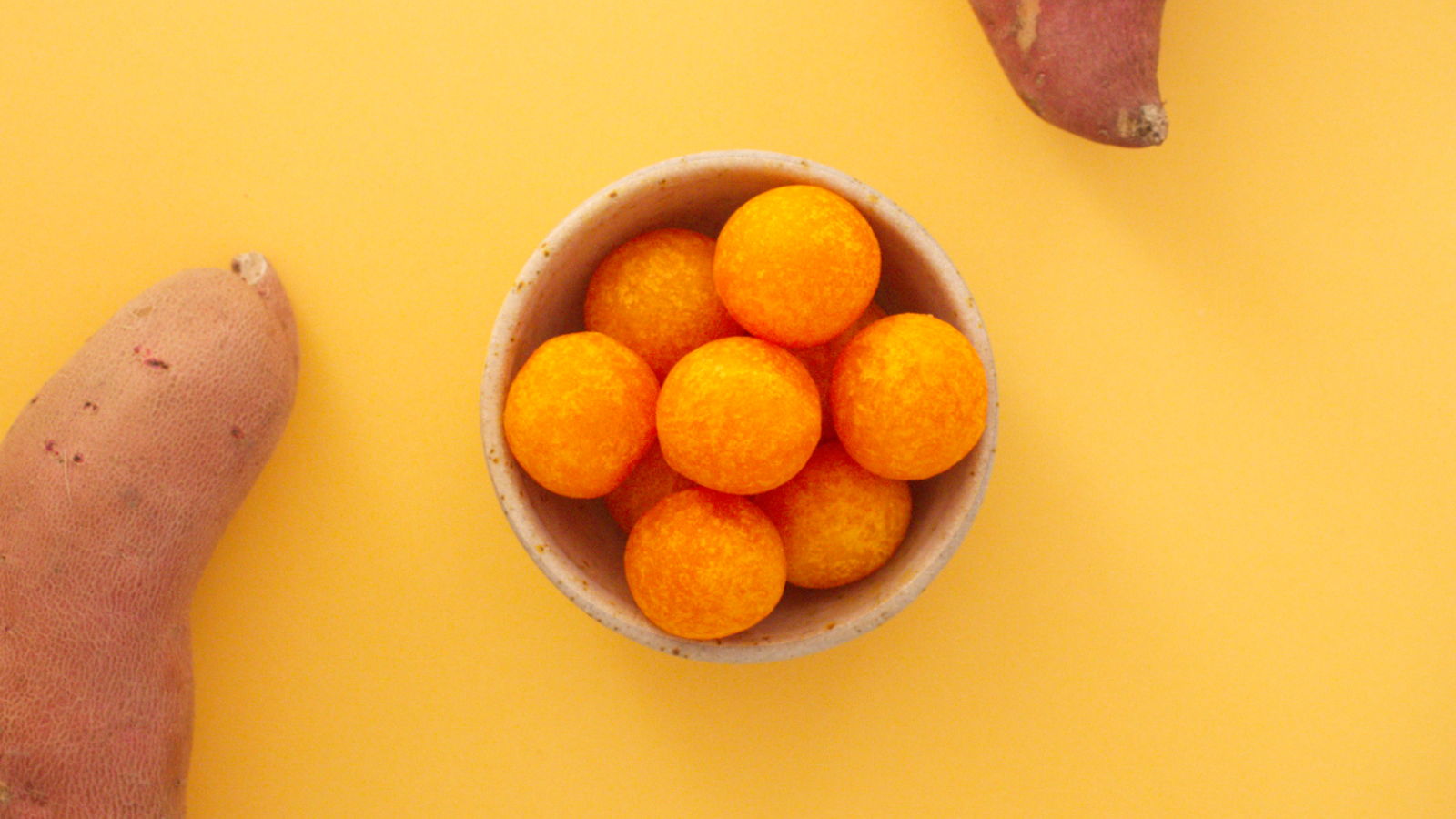 Sweet Potato Balls
Sweet potato balls are a popular bite-sized snack in Taiwan. They are crispy on the outside and chewy on the inside. Made with tapioca flour, the texture on the inside is bouncy, very similar to that of tapioca pearls in bubble tea.
Preparation 20 mins
Cooking 6 mins
Bebola Ubi Keledek Taiwan
---
Ingredients
110

g

sweet potato(es)

25

g

sugar

40

g

tapioca flour

10

g

corn flour

—

oil
---
Journal Snaps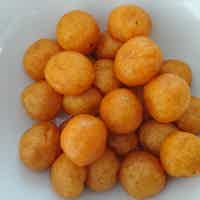 ---
Background
Sweet potato balls come in many variations throughout Asia. The snack is made using sweet potatoes you can get at your local supermarket. Not to mention, it is a vegan snack too. No wonder foodies are willing to wait in long queues at night markets or at a street food stall just to get this freshly fried snack.
Each variation of sweet potato snack differs slightly by one or two ingredients. In this recipe, we will explore Taiwan's version of sweet potato balls. The QQ consistency makes them stand out and is also probably the reason why they are extremely popular.
The QQ consistency
The Taiwanese version has typical characteristics as in many of their snacks - bouncy and chewy. This consistency is so pronounced in their cuisine that they even coined a term calling it QQ. Apparently, the term comes from the the local Minnan dialect. The word 'khiu' 糗 which brings the meaning soft, springy or elastic sounds almost like the alphabet Q. Hence, QQ!
If you are from Malaysia or Singapore, you'll recognize the consistency. It's very similar to glutinous rice cake (kuih bakul). Since it uses tapioca flour, it has the exact bounciness or texture like the tapioca pearls in bubble tea. Coincidentally, bubble tea is from Taiwan. I suppose if boba is fried, it may taste just like this snack.
Type of sweet potatoes
There are many types of sweet potatoes available. As you have already seen from the photo, it's the common orange type that is used. You can use other types of sweet potatoes and they will work just fine. Of course, the colour of the snack will highly depend on the type of the root vegetable used.
Japanese sweet potatoes (satsuma-imo) may look similar to the regular type but they are naturally very much sweeter. So, if you do choose this as your choice of the main ingredient, do reduce the sugar content by 5 grams or more.
Important tip when steaming
Cut sweet potato into thin slices to quicken the steaming process. Droplets of water might fall onto the sweet potatoes during steaming. Remove any excess water with a kitchen towel to prevent additional moisture to the mashed potatoes as it might change the content of liquid in the dough later.
Tips to follow when frying
You need to have a few tricks up your sleeves to make the best tasting sweet potato balls.
Firstly, start frying them with oil which had already been heated over low heat. Frying at a high temperature initially may cause them to brown too soon leaving the insides uncooked.
The other tip which every sweet potato balls street vendor in Taiwan practises is the act of pressing the balls while frying. It needs to be done for at least 3 times. This makes the balls expand in size and it's noticeable almost immediately.
What makes them crunchy?
Corn flour! When using only tapioca flour, the balls turn soft after a while. Adding a bit of corn flour makes a big difference to the final outcome. The outer layer of the ball becomes crunchy and gives a nice cracking sound as you sink your teeth into it.
You will fall in love with the sweet potato balls at first bite. We all know for a fact that crunchy food is always tasty. Even science backs the idea!
Comparison of sweet potato balls
The common sweet potato balls do have a mildly crunchy outer layer but they can never beat those with corn flour in them. Besides the crunchiness, there is also a notable difference on the inside. Those with corn flour have a larger hollow space while the version with only tapioca flour is denser.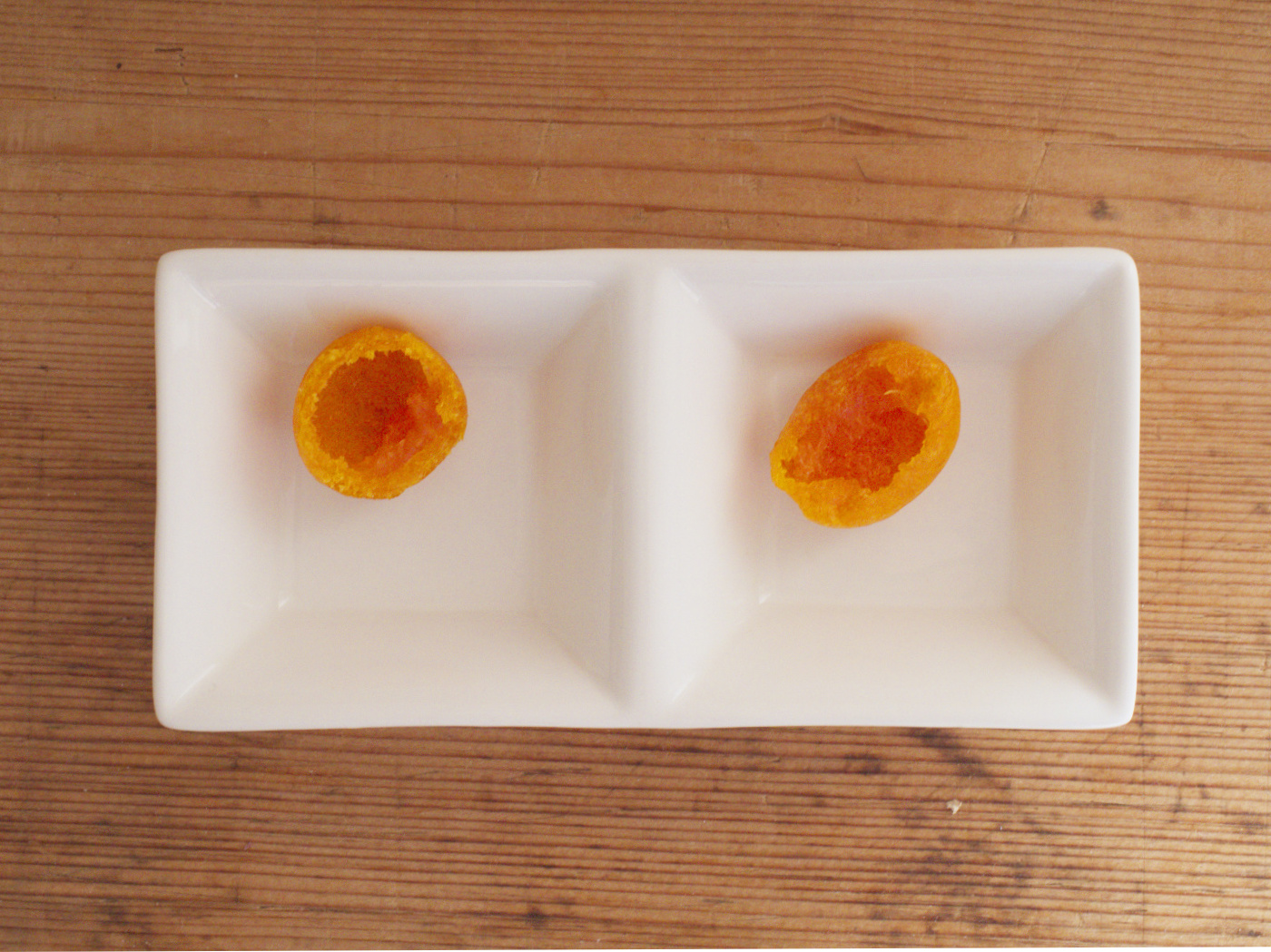 (Left: With corn flour Right: Without corn flour)
For most Taiwanese restaurants and street food vendors, they do not use the additional flour. If you are one of those who do not enjoy super crunchy food, then omit the corn flour and use only tapioca flour. This is the recipe.
| Ingredient | Amount |
| --- | --- |
| Sweet potato | 100g |
| Tapioca flour | 50g |
| Sugar | 20g |
Baking instead of frying
Unfortunately, baking will not work. These sweet potato balls require oil to reach its consistency known by many which is crispy on the outside and chewy on the inside.
How to serve?
They are often enjoyed as they are without any additional sweetener.
---
Steps to Prepare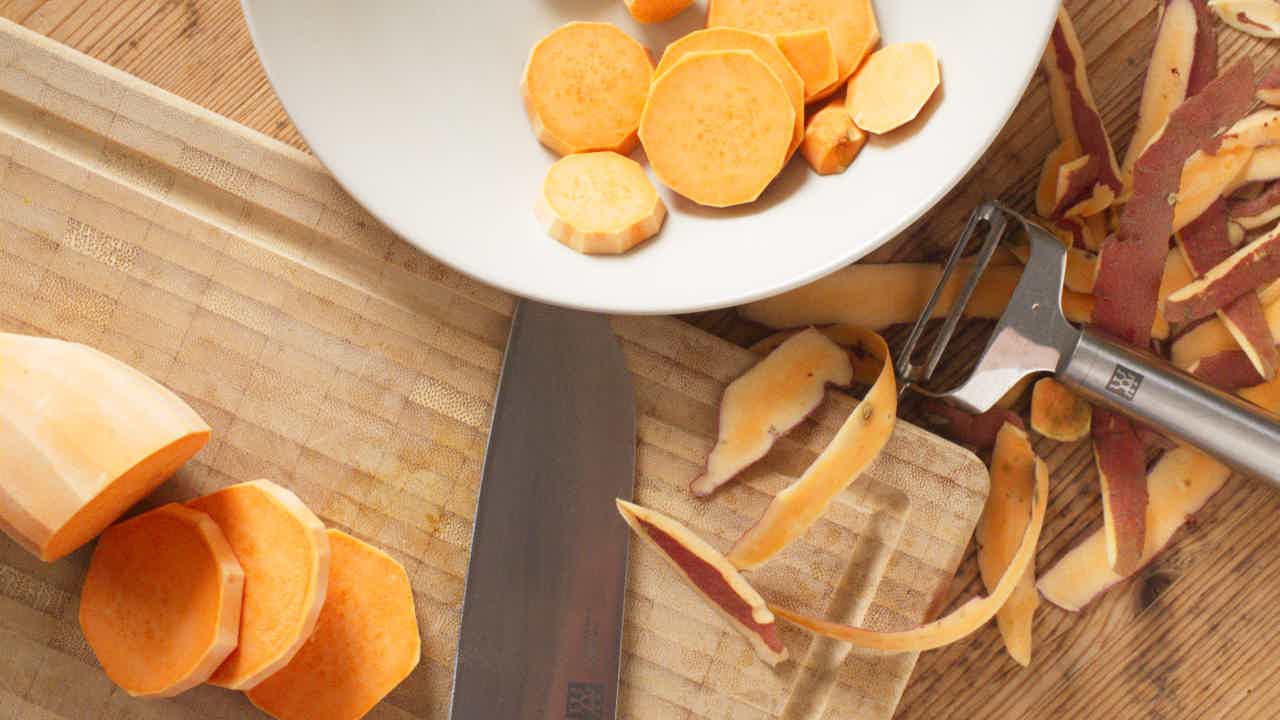 Step 1 of 4
Remove the skin of sweet potatoes and cut into smaller pieces to quicken the steaming process. Steam sweet potatoes for at 10 minutes or until soft.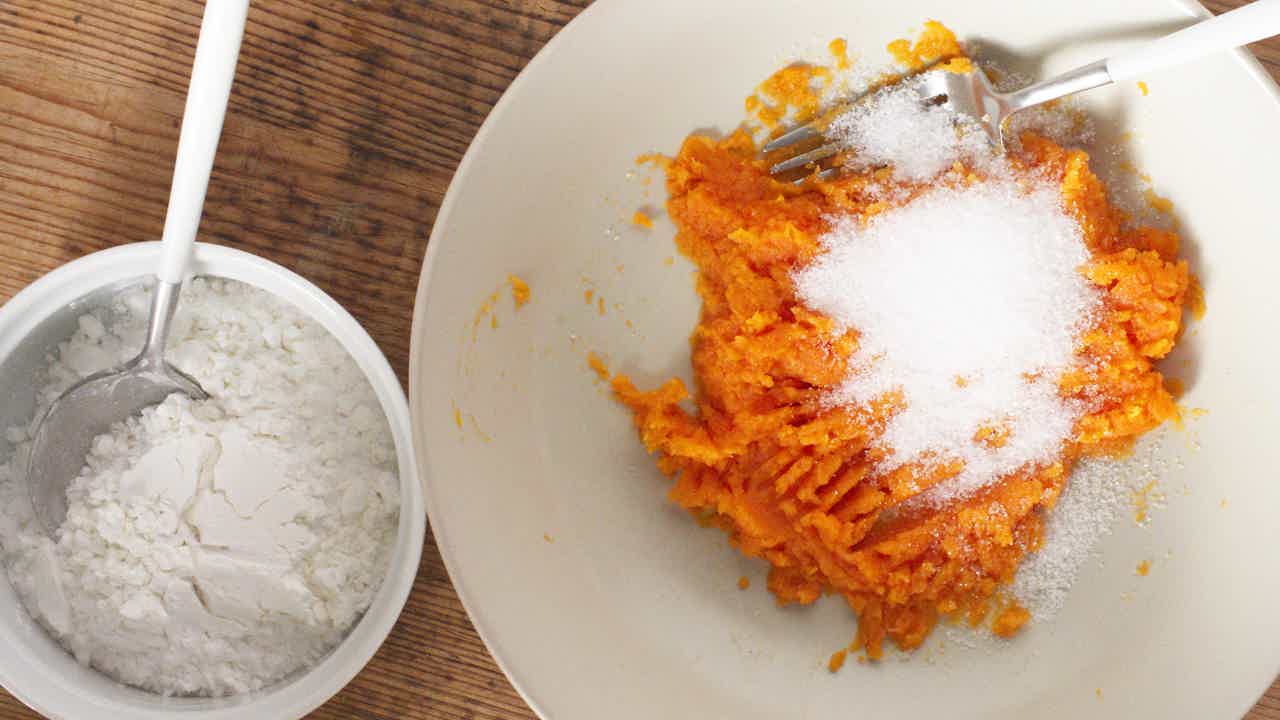 Step 2 of 4
25

g

sugar

40

g

tapioca flour

10

g

corn flour
Allow the sweet potatoes to cool slightly. It should still be hot and you should be able to touch them without any discomfort from the excess heat. Mash the sweet potato using a fork. Mix in sugar. Then, add cornflour and tapioca flour to create a dough.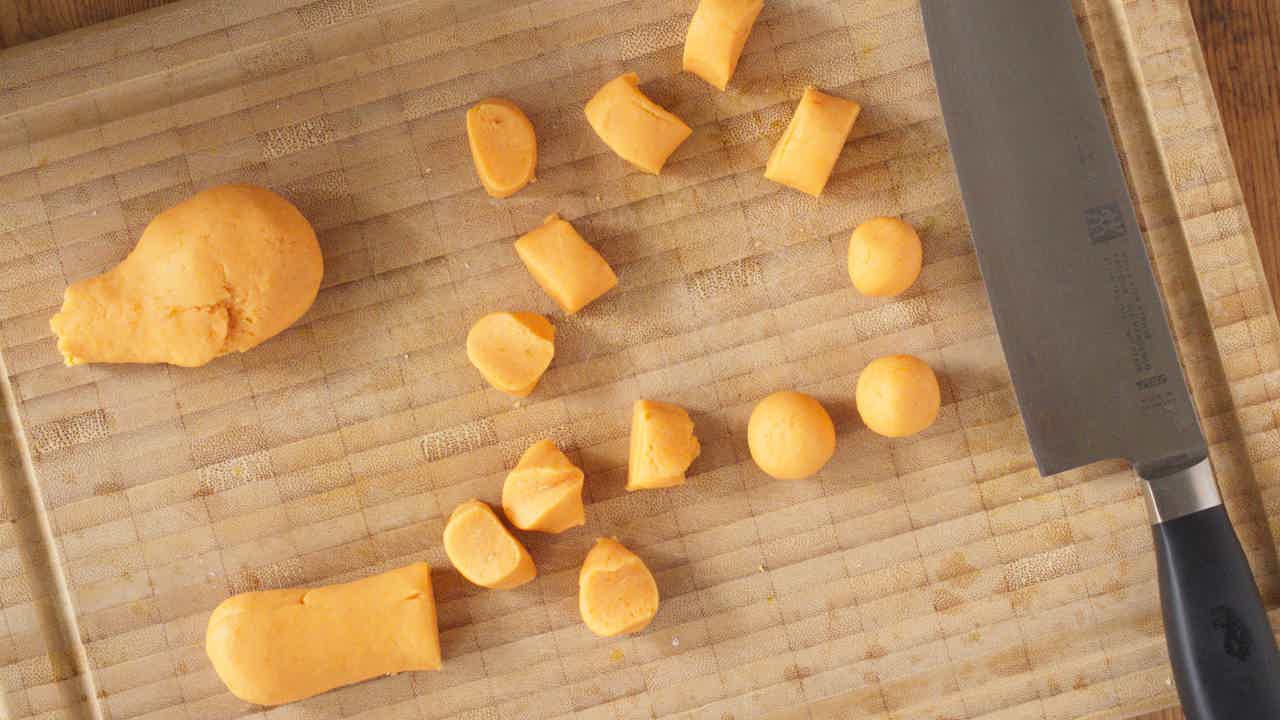 Step 3 of 4
When the dough comes together, cut it into smaller chunks to create small balls. Each ball should weigh between 5 to 7g. Set aside.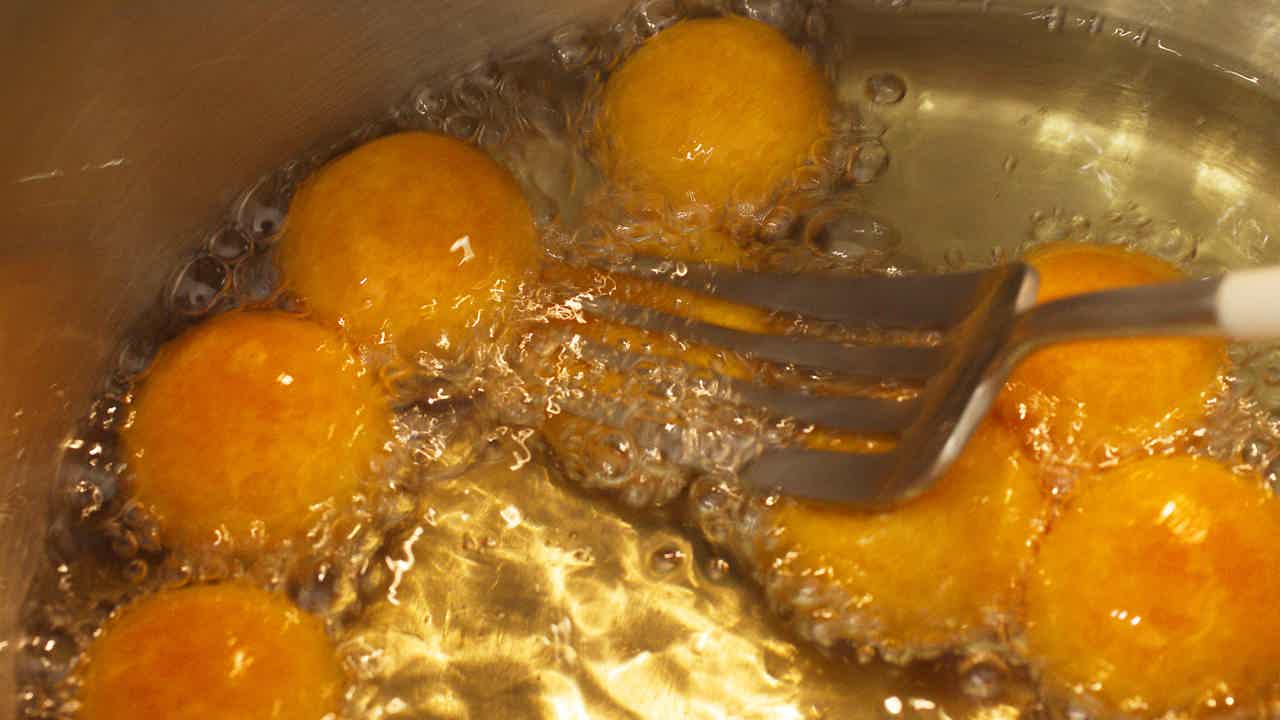 Step 4 of 4
Heat oil in a pan over low heat. Once the oil is heated, add the sweet potato balls. Fry them for about 2 minutes before increasing the heat to medium. Move the balls around during frying. Once the oil is heating up vigorously (as seen in the photo), use a fork to press each ball against the wall of the pan. The whole frying process should take about 6 minutes.
Published: October 15, 2019
---
4 Discussions
Give us your opinion!
Log in
and start posting.
3 days ago
No video on this recipe?

25 days ago
Even the evil Guardian of the Kitchen gave a score of 10.0 for the dish. It must be super delicious!

25 days ago
Mira, when I posted the earlier post I didn't see the star rating above. But, when I reopened this page again I saw the star rating. I clicked the rating, but it require me to write something. Now, not only the rating did not appear, but there's a redundancy in the post. Could you delete this thread please?
25 days ago
Date: 18 Oct 2019 (Fri) 12th Snack & Side: Sweet Potato Balls: [72] [100.1%] [Score: 10.0] Author: Nyonya Cooking [Grace Teo] Cuisine: Taiwanese Dish Type: Snack Crispy on the outside and chewy on the inside. I was shocked! The evil Guardian of the Kitchen gave this a 10.0! I had nothing better than to comply with a 10.0 also! Thank you MasterChef Grace Teo for sharing this awesome dish. Cannot put photo here. Shall put photo in Snap!
a month ago
Grace, your recipes are all inclusive and easy to follow. Nyonya Cooking is a treasure trove of Malaysian/Asian cooking few, if any could match. I shall attempt to cook all of your recipes including Sweet Potato Balls. Until then.