This has got to be the best gingerbread cookies recipe online! Whenever Christmas is around, my family and friends crave for this sweet treat. It is so easy to make, perfect for beginners or even young children. Making these cookies from scratch just requires mixing all the ingredients into a dough, bake and then decorate. It is that simple! Young children will have so much fun making these cookies and using their creativity to decorate them.
Let me warn you, though. Once you start munching on them, there is no stopping! If you are planning to make a small batch, this is the recipe as it yields 30 beautiful pieces. However, before attempting this recipe, go through the 101 guide to making the best gingerbread cookies and to prevent any mistakes.
Adjusting amount of spice
In Malaysia and Singapore, gingerbread cookies are much loved too. Compared to the classic cookies found in the western countries, we love the cookies with a little less spice. The ratio recommended here is mild but yet spicy enough for the taste of Christmas. If you prefer cookies with no ginger or more cinnamon, feel free to adjust the spices accordingly.
Gingerbread without molasses
Although treacle and molasses are more commonly used when baking gingerbread cookies, they can be substituted with honey. Simply replace the suggested amount of treacle with honey. However, that will make the cookies lighter in colour.
Why use melted butter in cookies?
Melted butter incorporates easily into the dough. They will also create a softer texture which is deemed to be more 'cake-like'. This creates a more chewy cookie. Since the cookies are rather thin, the final result is rather firm and crispy. They are definitely not soft.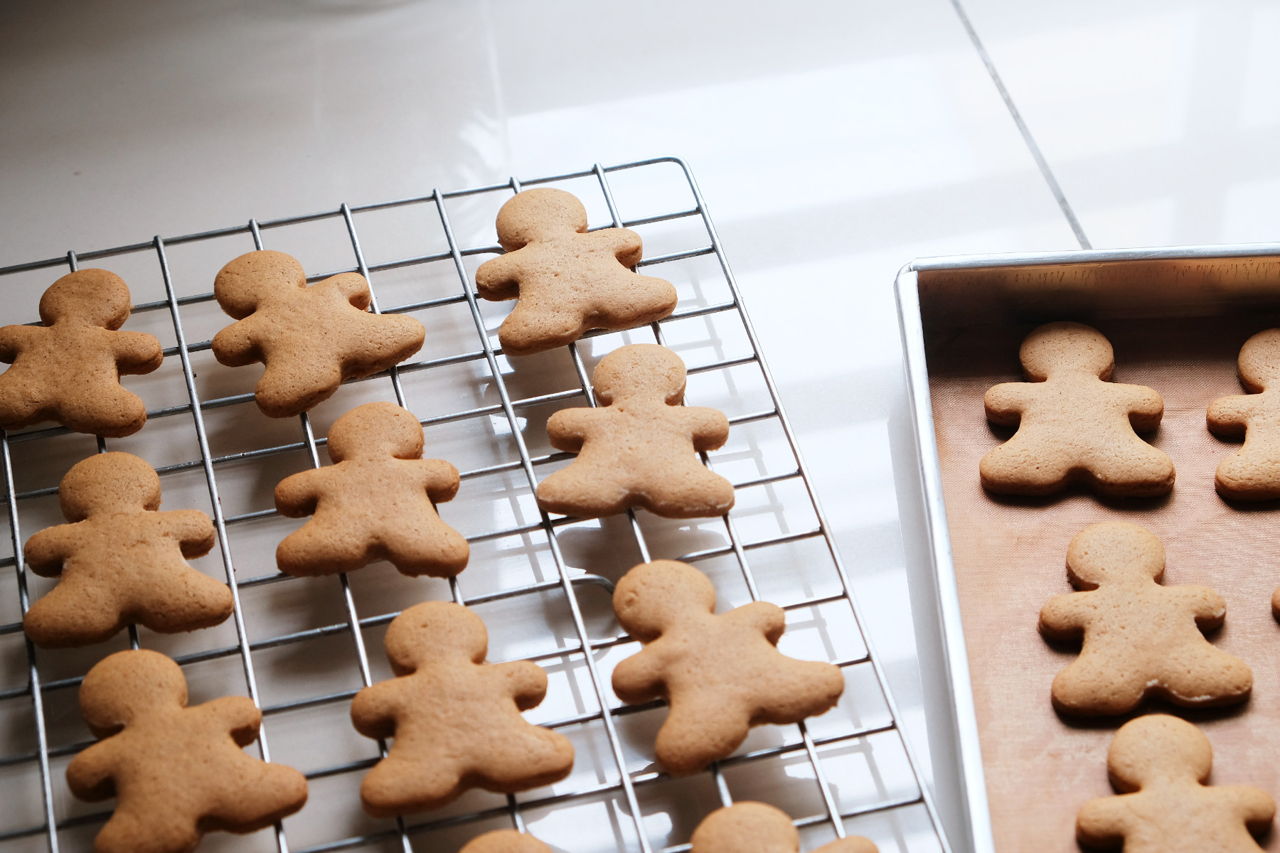 To make gingerbread cookies crispier
The final result of the cookies are slightly crispy but they do softened a little as time goes by. If you prefer a crispier yield, roll the dough to about 0.3 cm and bake for an extra 2 to 3 minutes.
Tips to get perfectly shaped cookies
1. Dough sticks to cookie cutter
Dip the cookie cutter into some flour. Ensure that the cookie cutter is fully pressed down before removing it.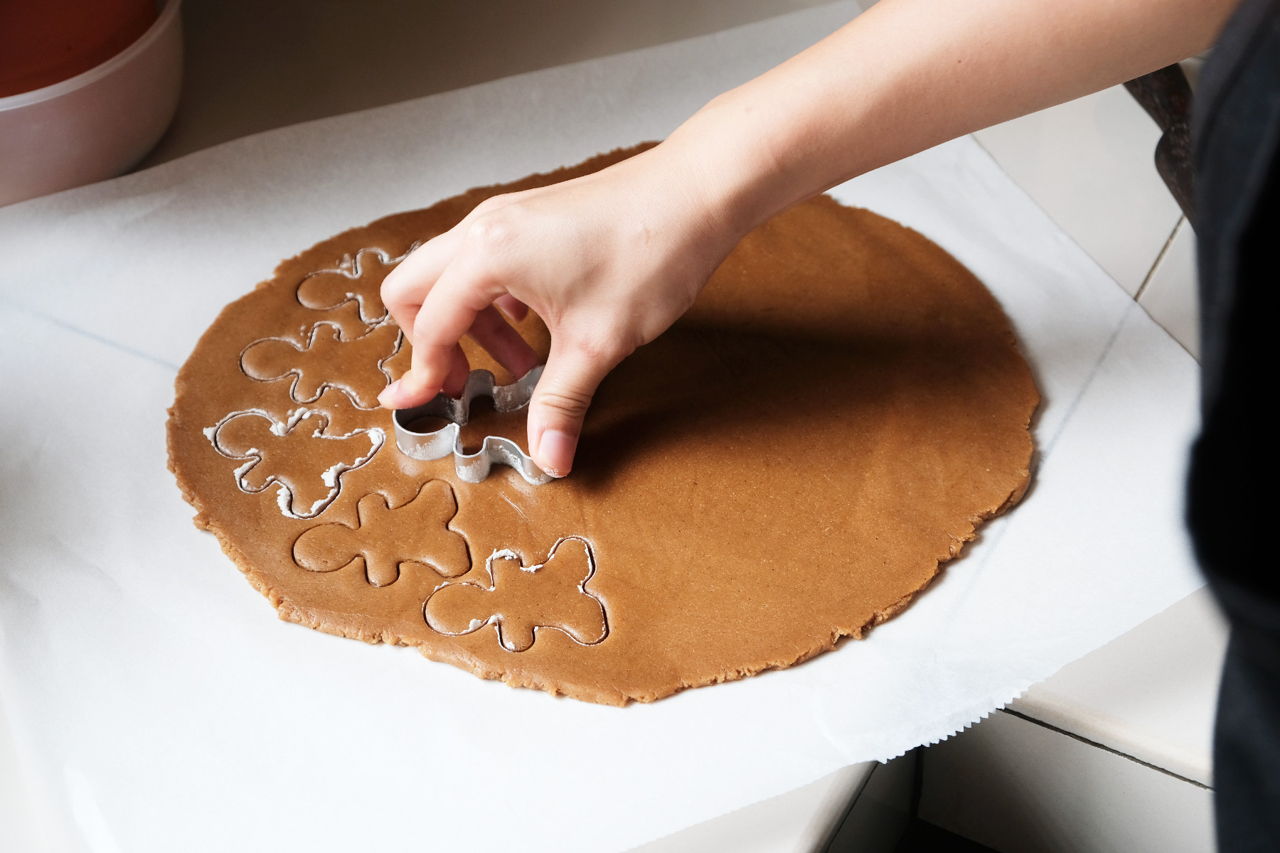 2. Dough is too soft to be transfered or shaped
Depending on temperature of your environment, you may need to chill the dough twice like what I've done since I'm located in a tropical country. Chill the dough in the refrigerator for 15 minutes before shaping and if needed, another time before baking. If there is space in the freeze, place the dough in for only 5 minutes.
3. Cookies puff up during baking
This is a common mistake. It happens when the cookies are over mixed, causing the dough to have added air during mixing. The heat from the oven will cause the air to expand. The cookies will puff up during the baking process. When preparing the dough, stop immediately once the ingredient is evenly mixed.
4. Cookies spread and are out of shape
Cookies will spread when there is too much baking powder or if its old. Other common reasons are that the dough is too warm or the cookies are baked on a preheated baking pan.
Storing baked gingerbread cookies
If you are planning to present them as Christmas gifts, place them in air-tight bottles or gift bags. If you opt for the latter, do transfer them into air-tight containers.They can be kept fresh for up to 1 month.
Best gingerbread icing
It is a simple recipe which combines egg white, icing sugar and acid which is either vinegar or lemon juice. Outline the cookie with the icing sugar mixture before filling in the center. Spread the icing using a skewer. Let it dry a little before adding the next decorative layer of icing.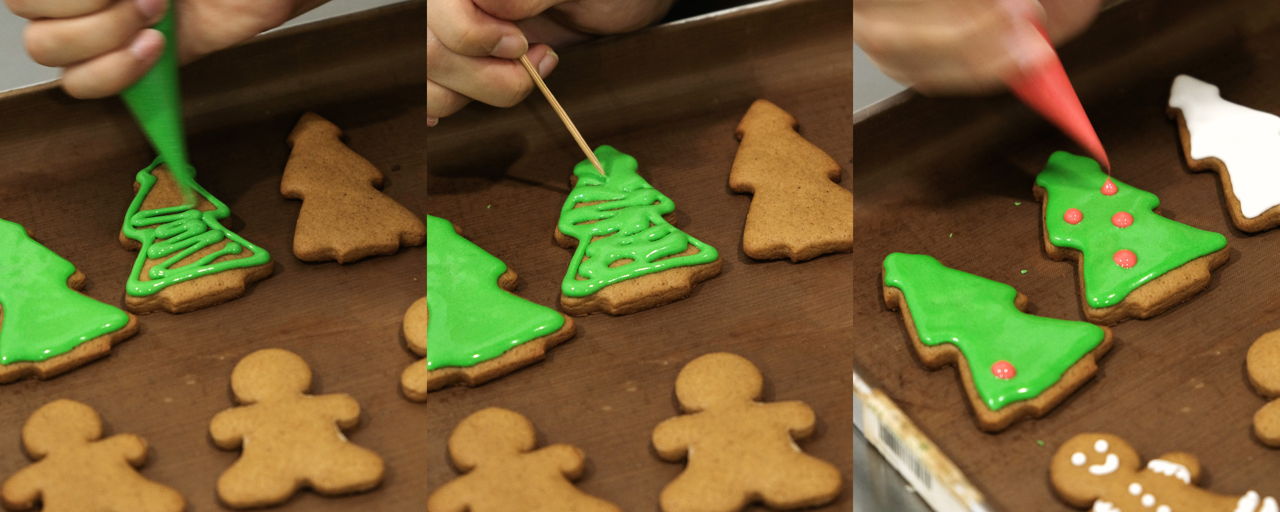 Decorating ideas depends on your creativity. The base is white and food colouring can be added to create the fun designs. Just remember to bake the cookies again after decorating them. This will help to harden the icing sugar and also to sterilize the egg white.