Pandan cookies are crisp bites with a delicate pandan flavour. The texture is light and crumbly due to the perfect ratio of butter and sugar. The sprinkles of desiccated coconut and palm sugar topping on the cookie gives it an 'onde-onde' twist with a delicate coconut caramel flavour.
The components of onde-onde is dearly loved by the locals and I thought it would be a great idea to turn them into cookies. Guess what, these crumbly and buttery sweeties turn out to be way beyond my expectation! I was really excited with the outcome. If you love pandan chiffon cake, you have to try this recipe.
What is onde-onde?
In the region of Malaysia, Singapore and Indonesia, the flavours of this snack (kuih) Onde-onde is much loved. They are sweet little glutinous rice balls coated with grated coconut. When bitten into, they burst and release delicious melted palm sugar. If you have not tried it, do not miss out. Here is a tried and tested recipe for it.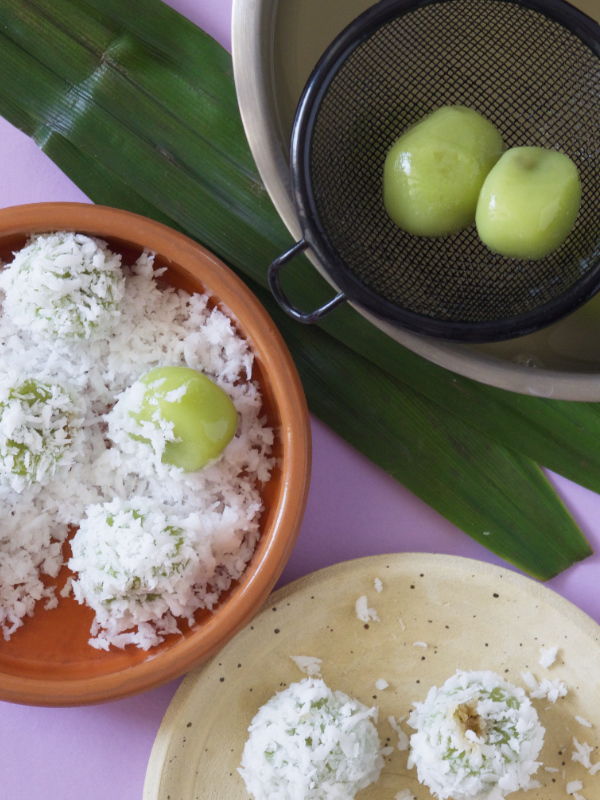 Which type of palm sugar to use?
The palm sugar used in this recipe is known as gula Melaka which is harvested from the trunks of palm trees. It is often used throughout Southeast Asia in many desserts such as cendol, sago pudding and of course, onde-onde.
Fresh pandan leaves or pandan paste
I would not recommend fresh pandan extract because adding liquid to the recipe will make it less crispy and less crumbly. If you insist, use only 4g of the thick pandan extract which is made using pandan extract that is left to separate. Read the full instructions in Step 3 here. The pandan flavour and colour may not be as obvious because it is not as strong as the pandan paste.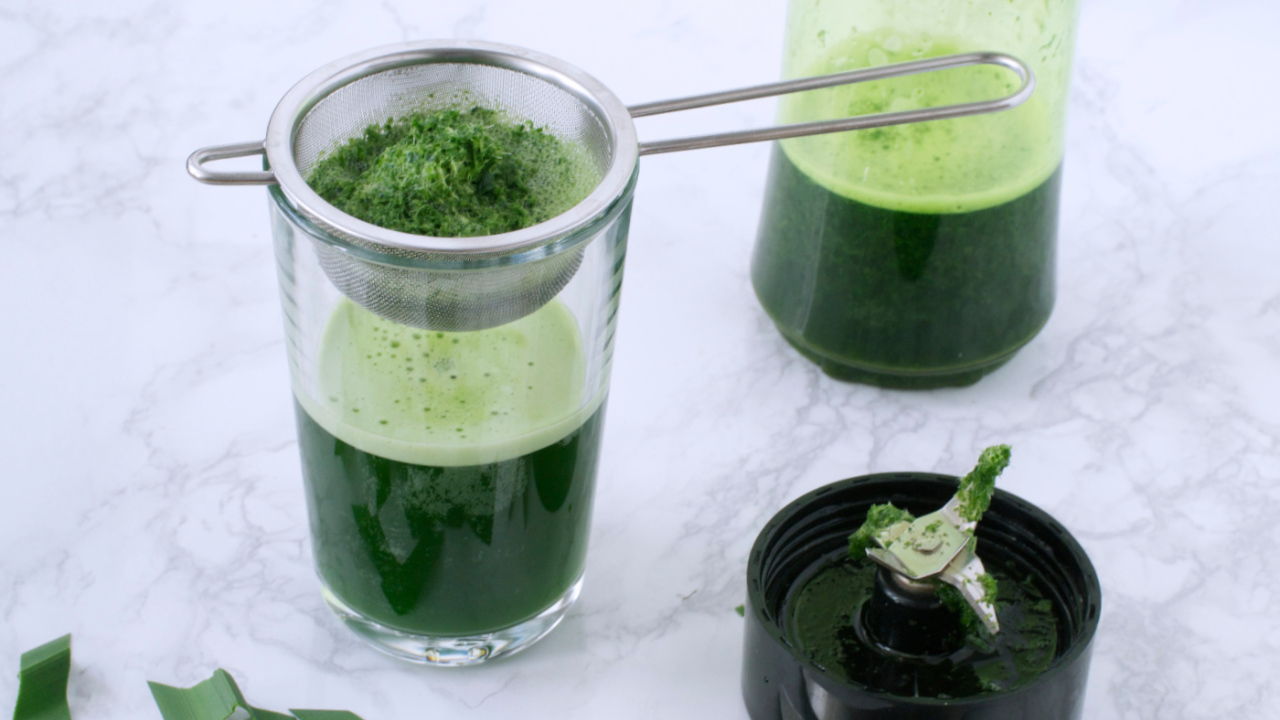 Another option is to use pandan flavouring which is usually in clear liquid form. For classic pandan colour, add a few drops of green food colouring.
Using freshly grated coconut
I would suggest using desiccated coconut instead of freshly grated coconut because the latter contains moisture. This will affect the texture of the cookies. The cookies with desiccated coconut are crispier compared to the other. Besides, they brown pretty fast in the oven as you can see in the photo below.
Enhancing the coconut flavour
If you are a huge fan of coconuts, substitute 5 grams of corn flour with 5 grams of desiccated coconut in Step 3. This will result in a wonderful punch of coconut flavour. The desiccated coconut also helps to make the cookie dough crumbly.
Shaping the pandan cookies
Here is the fun part. There are so many ways to shape the cookies. Piping them with a star nozzle makes them look really pretty. If you are up for some creativity, let me share some ideas which I've tried and tested.
Using a round nozzle or freezer bag
Using a piping bag or a freezer bag, cut the tip to create a round nozzle. Pipe out a round cookie dough. Carefully flatten it with a spoon before sprinkling some desiccated coconut and grated palm sugar on the surface.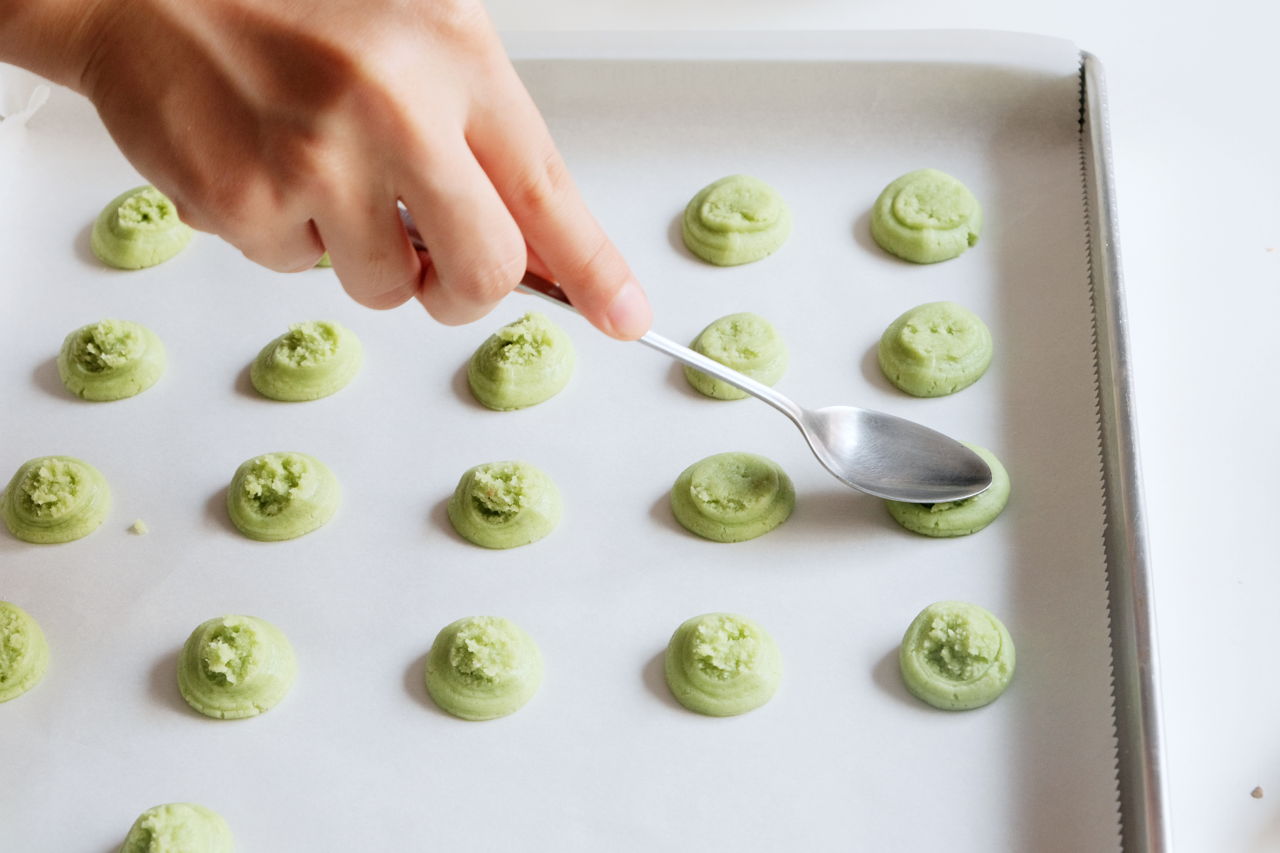 Wrapping palm sugar in each dough
Simply divide the dough equally into 8 grams each. Wrap some palm sugar with each piece of dough. Roll the dough into little balls and coat them with desiccated coconut.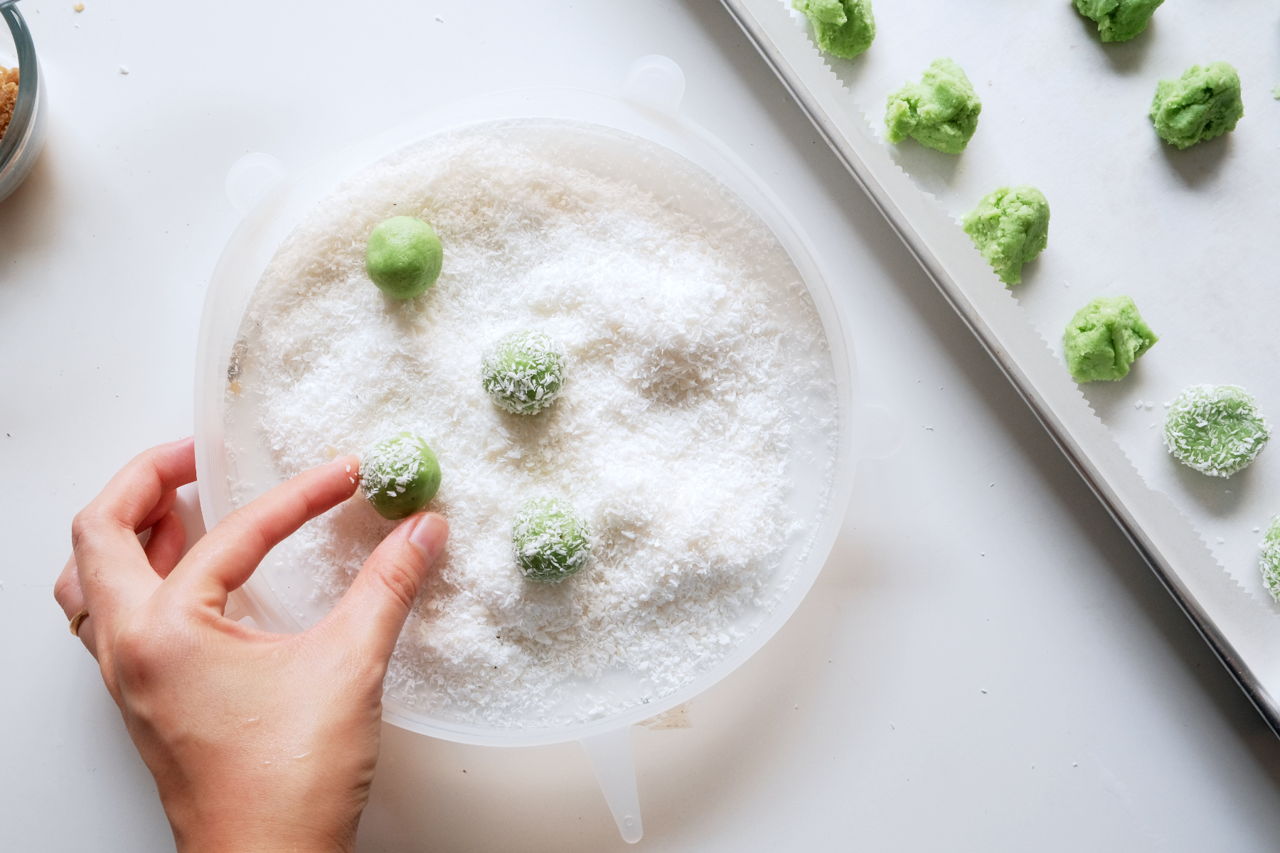 Flatten each dough with a spoon before baking them at the temperature suggested in the recipe. Failure to follow this step may result in undercooked cookies.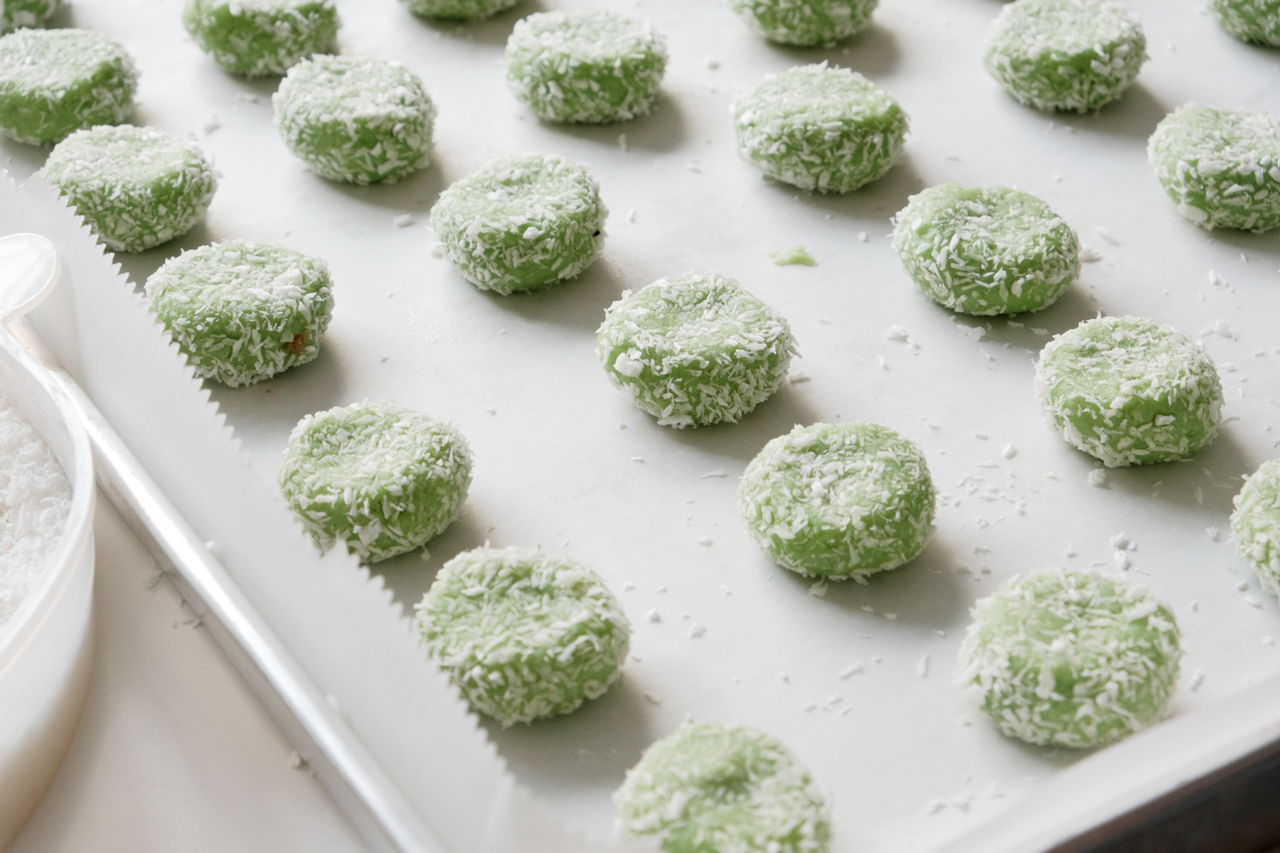 The final result is not as crumbly as the moisture made the cookies chewy. The palm sugar in the cookie hardened after cooling down and created an interesting texture indeed. Although it was still delicious, my family and I voted that exposing the palm sugar was a better option.
Shaping them like onde-onde
They can also be shaped just like onde-onde by not pressing the dough down after coating it with desiccated coconut. Place them into little paper cups. However, the baking time will need an extra 10 to 15 minutes and bake them at a temperature lowered by 10 degrees Celsius.
How to store them?
Storing the onde-onde cookies is pretty straight forward. Ensure that they are placed in an air-tight container and keep them away from direct sunlight. The shelf life is about a month but as usual, I doubt they will be left untouched for that long.