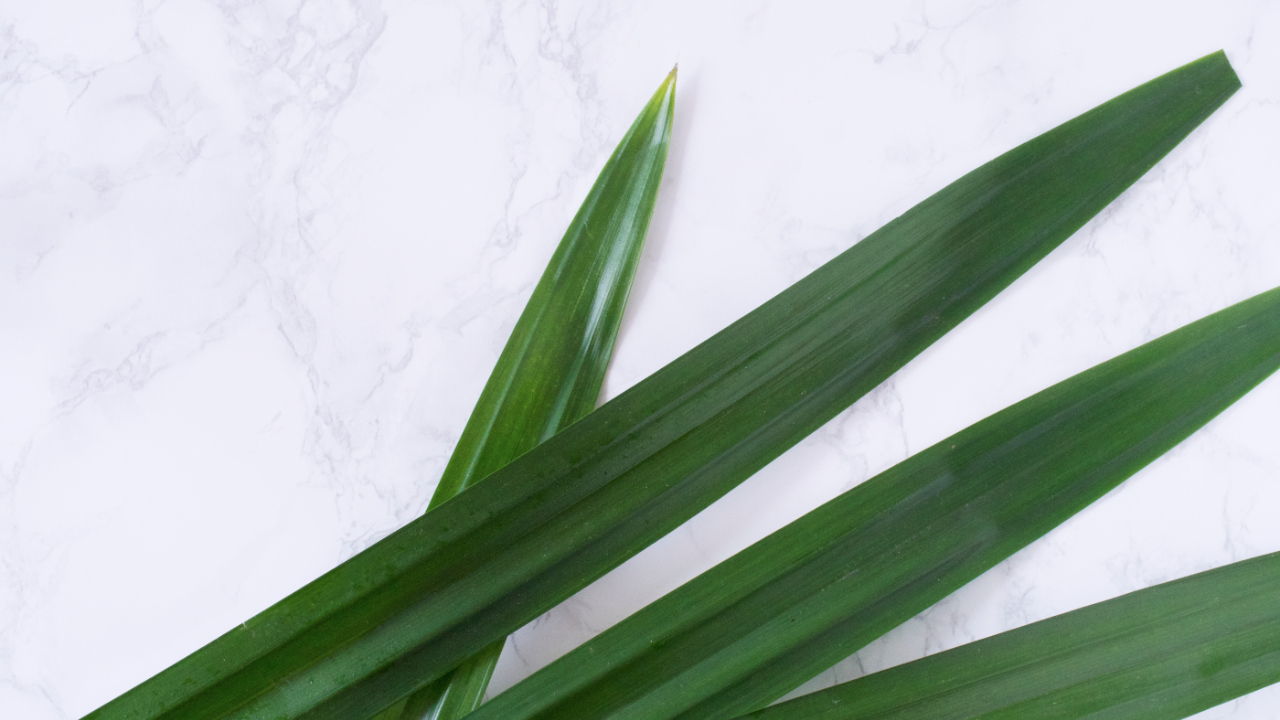 Pandan Leaves
Screwpine leaves or the more common name, pandan is an important ingredient in the Southeast Asian kitchen. It's used for its fragrance and colour in most of the Asian desserts. It can be directly added to a dish, blended to extract the essence or shaped into food wrappers.
Fresh Herbs
daun pandan, pandan palm, bai toey hom
Grassy, a subtle vanilla flavour with a hint of rose-like scent
pandan essence, pandan powder, pandan paste
---
Background
Pandan or screwpine leaves is a plant which many might mistake as grass due to its appearance. While it may not look attractive, the aroma from this plant is treasured by many. Due to its fragrance, it is known as the vanilla of Southeast Asia. Since it is a local plant that can be found growing abundantly in residential areas, pandan is, of course, way cheaper. It costs only 1/5 of the price of one vanilla pod!
Scientifically known as Pandanus amaryllifolius, pandan leaves have been a staple in Asian cooking for its subtle, soothing aroma and versatility. It has a rose-like, milky, nutty and vanilla-like flavor. Added to both savoury and sweet dishes, it enhances the deliciousness of the dishes. Many traditional dishes use pandan leaves for its aroma and colour. Besides the aroma, pandan leaves are blended to create pandan extract. The extract is commonly used as food coloring as seen in the pandan chiffon cake recipe. The leaves can be turned into food wrappers too as used in the kuih tako recipe. Pandan leaves can be steeped in hot water and consumed as a health drink. See 'nutrition' section below for more information.
Besides using them in food, fresh pandan leaves are also used as air freshener in homes, cars and during Malay celebrations (e.g. weddings, birthdays, etc). It also acts as a natural roach repellent. However, it's only effective if the pandan leaves are fresh as they usually dry up after a few days.
While it is known as vanilla when used in food, many claimed pandan leaves to be the 'rose' of Southeast Asia referring to its fragrance. Pandan leaves are long and can be easily folded. Back in the days, they are folded into roses and given as a token of love. How creative indeed!
---
Nutritional Information
Generally, pandan leaves have a very low amount of carbs, protein and no fiber. However, it is rich in various chemical components which are helpful as traditional medicine among the locals. For problems such as hair loss to reducing the level of glucose, pandan is said to be helpful. One of the simple traditional methods of treating hair loss is by boiling pandan leaves until the water turns green and then mixing it with noni fruit juice. Rub the mixture onto the scalp and allow it to set for at least one hour.
Drinking water boiled with pandan leaves is also said to assist in reducing pain in the nerves and helps to relieve rheumatism. Simply boil one cup of chopped pandan leaves with three cups of water and drink the filtered water throughout the day. Although there are no actual scientific studies to back this up, the potential of using pandan has been supported by a study published in 2011 where pandan is said to have high antioxidant activity. Antioxidants have demonstrated their abilities in helping inflammatory sicknesses. Perhaps, this could be the reason many believe in the effectiveness of pandan when it comes to rheumatic or nerve issues.
Another study proved that pandan may be helpful for diabetic patients. The study concluded that pandan could be a natural agent to lower glucose levels in the blood.
---
How to Choose
Within countries such as Malaysia, Indonesia, India, Singapore, Thailand and other South Asian countries, pandan leaves are readily found in wet markets or supermarkets. They are also often planted in home gardens or even by the roadsides as they thrive easily in warm weather.
Out of South Asia and Southeast Asia, pandan leaves are widely available in the supermarkets of major cities throughout the year. The leaves are available fresh or frozen. Dried pandan leaves are sometimes sold too. However, when it comes to Asian dishes, the recipe often calls for the usage of fresh pandan leaves.
Choose pandan leaves that are bright green, well hydrated and free of any blemishes. Always check the bottom part of the leaves where they were cut. If they appear dry or colourless, it's an indication that they are no longer fresh. The aroma also serves as an indicator as fresh pandan leaves produce the strongest fragrance.
If fresh varieties are not available, the alternative is to use frozen pandan leaves. Otherwise, dried pandan leaves is an option but soak them in hot water until they are fully hydrated before using.
---
Storage Tips
Always wash pandan leaves and dry them before storing. Refrigerate fresh pandan leaves wrapped with paper towels and kept in an airtight container. They can remain fresh for up to two weeks. Otherwise, they can last for 3 days at room temperature if kept away from direct sunlight.
If you're planning to store pandan leaves for the next few months, tie them into a knot and place them into a container before freezing them. Frozen leaves can be stored for up to 6 months before they start to lose their aroma.
Pandan leaves can also be blended to create pandan extract. Pour the extract into moulds and freeze them. Store frozen pandan extract in an airtight container. The aroma will contain well for up to 3 months.
For longer storage, the pandan leaves may be dried in the sun. However, the flavour and aroma of pandan will significantly decrease. Store dried pandan leaves in an airtight container unrefrigerated and away from direct sunlight.
---
How to Use or Prepare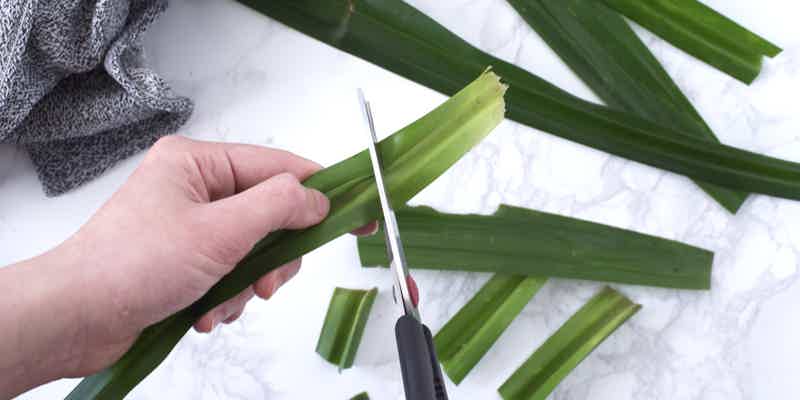 Step 1 of 3
Wash pandan leaves. Cut off the edges which are browned or dried. Remove the white part of the pandan leaf as it can taste quite bitter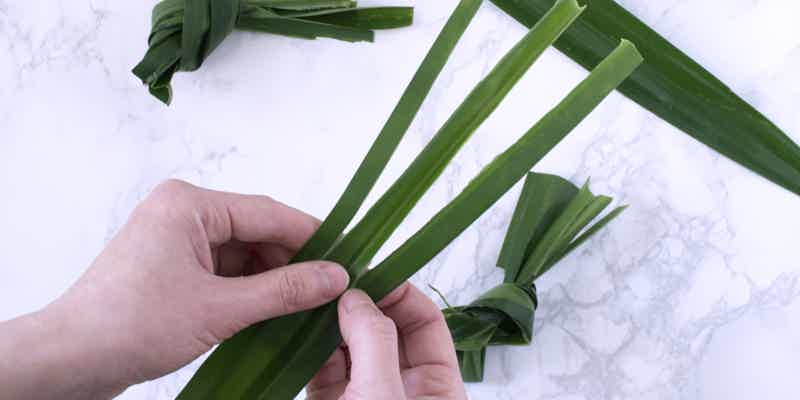 Step 2 of 3
If used for its aroma, tie the leaves into a knot to bruise them as this will help the aroma to be released.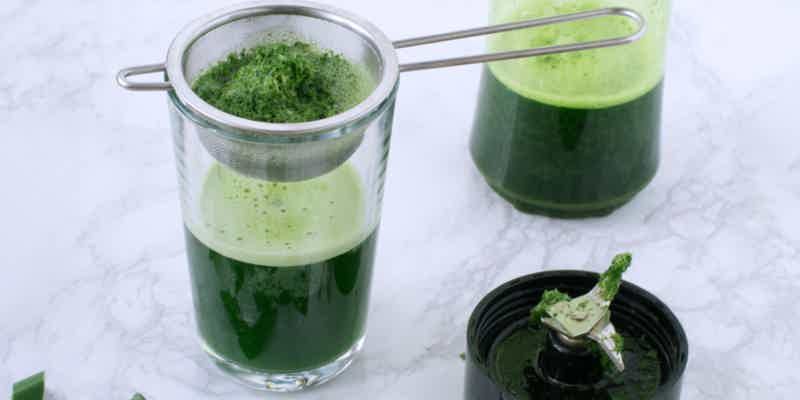 Step 3 of 3
When using them for the colour, prepare pandan extract by blending 6 pandan leaves with 250 ml of water until fine. Sieve and leave the pandan water refrigerated until dark green sediment appears at the bottom of the glass. This will take at least 3 days. Discard light green water as dark green sediment is the pandan extract. Pandan extract can be kept up to 5 days. Note: 6 pandan leaves will make about 1 to 1.5 tablespoon of pandan extract.