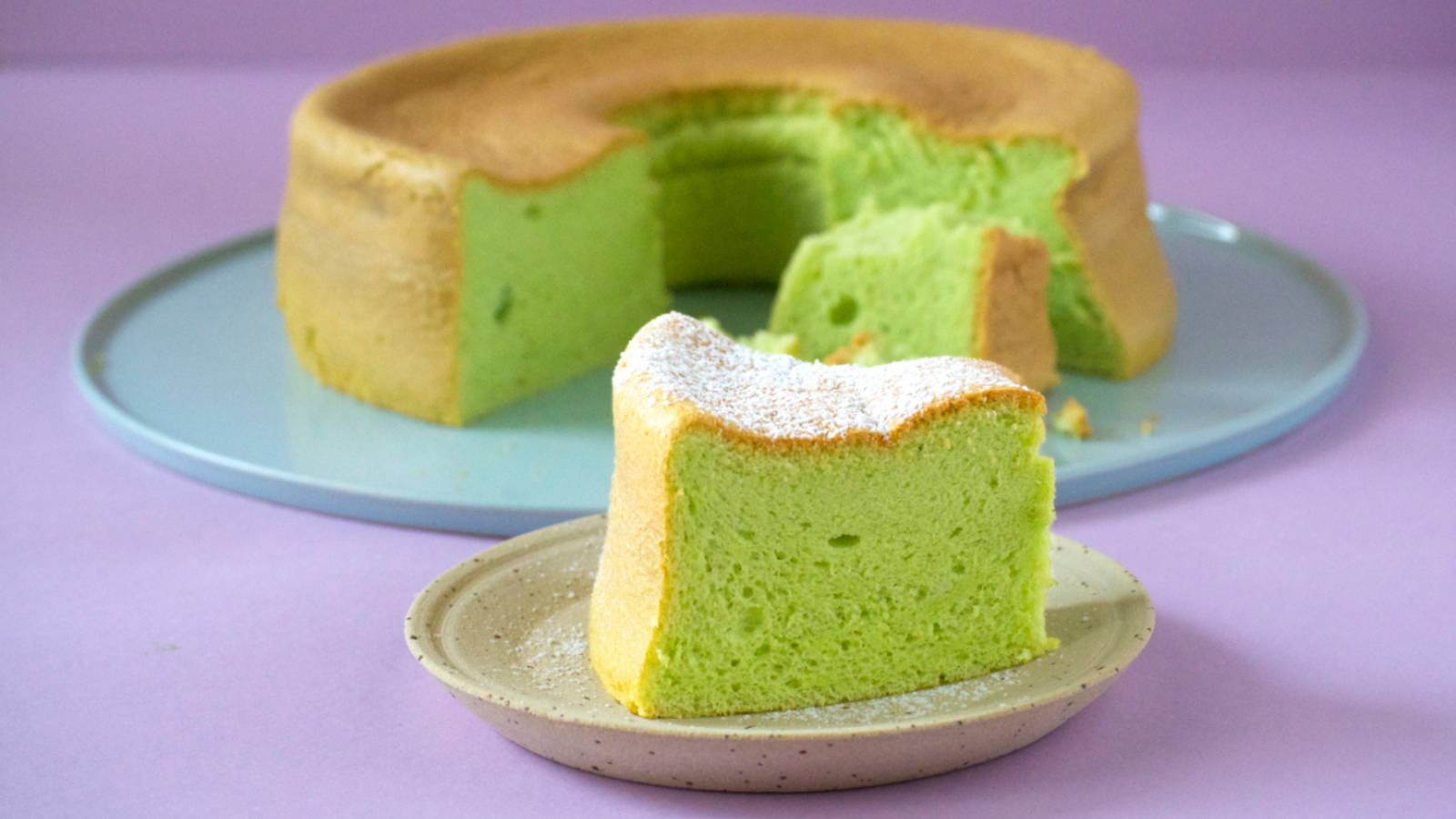 Pandan Chiffon Cake
Soft and fluffy pandan chiffon cake recipe with step by step pictures to guide you through the process. This pandan chiffon cake uses coconut milk which will help to enhance the flavour and fragrance of pandan.
Total Time
Preparation 30 mins
Cooking 60 mins
Alternate Names
班蘭戚風蛋糕, Pandan cake, Kek Pandan Chiffon,
Cuisines
Malaysian, Singaporean, Indonesian, Bruneian
---
Ingredients
100

ml

coconut milk

2

tbsp

water

15

Pandan Leaves

5

egg yolk(s)

80

g

sugar

70

ml

coconut oil

1

tsp

baking powder

100

g

cake flour

5

egg white(s)

1⁄2

tsp

vinegar

1⁄2

tsp

salt
---
Nutrition per Serving
Calories
144 kcal
Carbs
14 g
Fat
9 g
Protein
3 g
---
Background
Pandan chiffon cake is like a dream cake for it is fluffy, soft and moist. Using the extract of pandan leaves, also known as screw pine leaves, pandan is known to be Asian's vanilla because of its fragrance. Here is a pandan chiffon cake recipe with pictures and tips to bake the best chiffon cake because it can be quite easy to fail.
How does pandan taste like?
Although pandan is known to be the vanilla of Asia, it does not taste or smell anything like vanilla. Pandan is quite neutral in taste and does have a grassy note to it because it is after all, a type of perennial grass. It is mainly used for it's colour, fragrance and aroma.
Can I substitute pandan leaves?
Unfortunately, no. Pandan provides a very special aroma.
Where can I buy pandan leaves or pandan extract?
Pandan leaves can be found frozen or fresh in Asian grocers. Otherwise, bottled pandan extract can be also found in Asian grocers where it is normally placed along with colouring and other extracts for baking/cooking. Alternately, of course, you can always replace it with orange juice, lemon juice, vanilla, coffee or any flavour of your preference.
Does pandan chiffon cake need baking powder?
No. If you do not want to use baking powder in chiffon cake, you can omit it. However, it is very tricky to bake chiffon cake because it soles depends on egg whites to rise. To prevent this from happening, the egg whites need to be beaten till it is really stiff and each step needs to be adhered to closely. Take time to watch the video to understand the steps. Therefore, if the egg whites are not fully beaten or over worked, the chiffon cake might not rise. This will result in a flat and hard cake. Baking powder is added to the batter as a guarantee.
What is the difference of a sponge cake and chiffon cake?
Chiffon cake is generally more airy compared to sponge cake. It is also more moist than sponge cake because it uses oil in the recipe.
Does the pan require greasing?
No, the cake pan do not need to be greased because chiffon cake needs to cling on to the cake pan to rise.
How to store chiffon cake?
Once the cake has cooled, store it in an air-tight container. It should be able to keep well for three days. However, I bet that it would be gone within a day or at the very most, two!
---
Food Snaps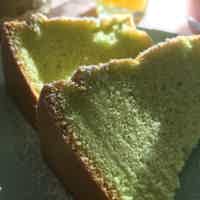 ---
How to Prepare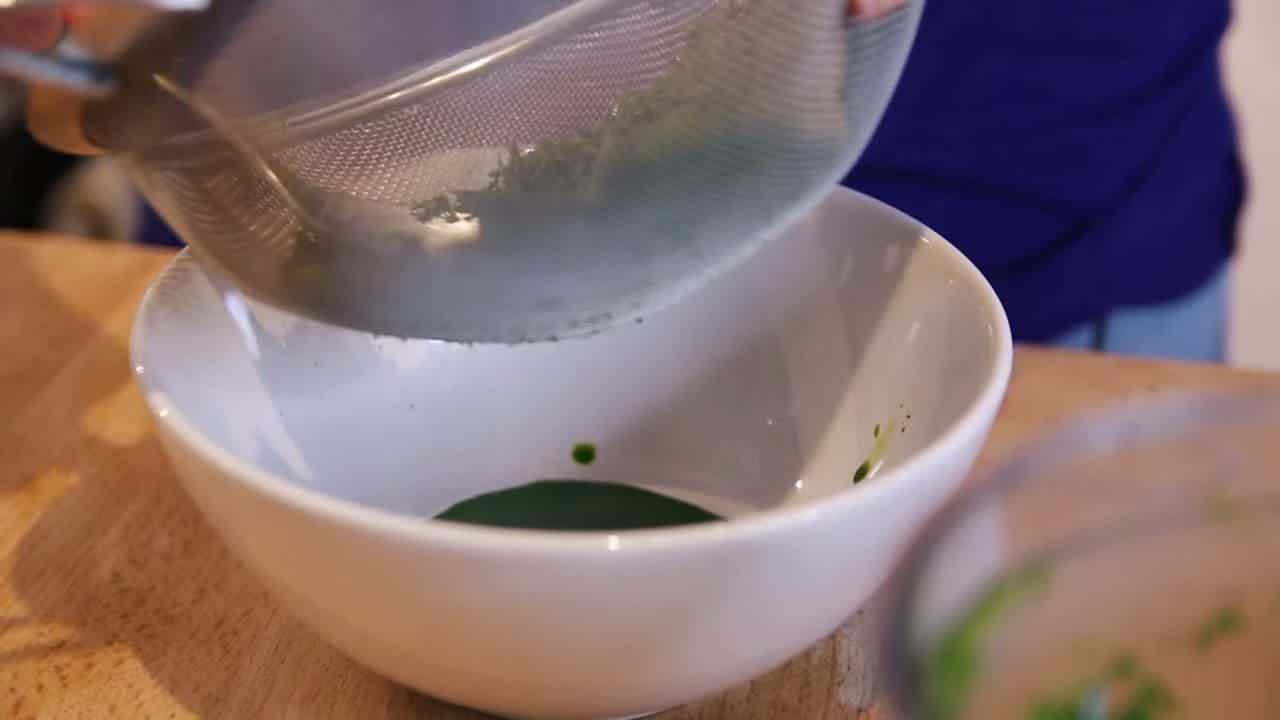 Step 1 of 8
100

ml

coconut milk

2

tbsp

water
Extract juice from pandan leaves by blending them with 2 tablespoons of water and only 2 tablespoons of coconut milk. Sieve the blended pandan leaves to obtain the juice. Set aside.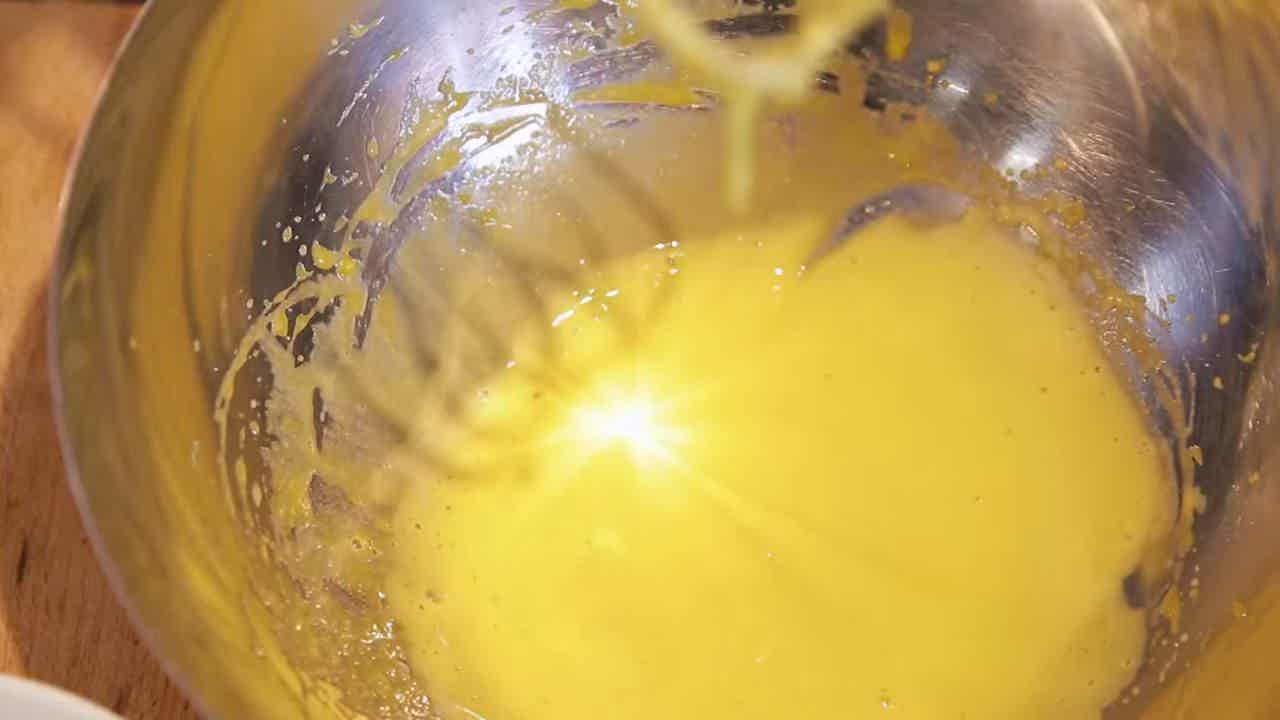 Step 2 of 8
Beat egg yolks until the colour lightens. Add sugar. Continue beating until mixture is even and creamy.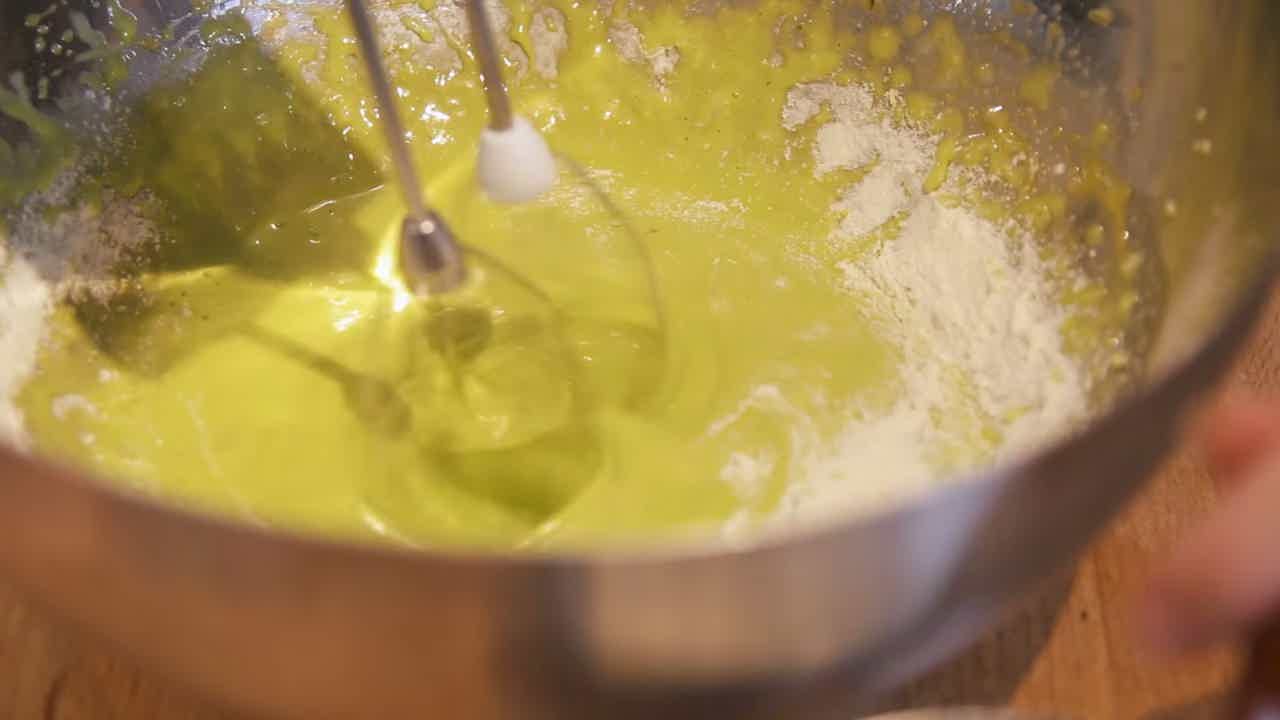 Step 3 of 8
70

ml

coconut oil

1

tsp

baking powder

100

g

cake flour
Add oil, the rest of the coconut milk and pandan leaves extract. Mix well. Add sifted baking powder and cake flour into the mixture.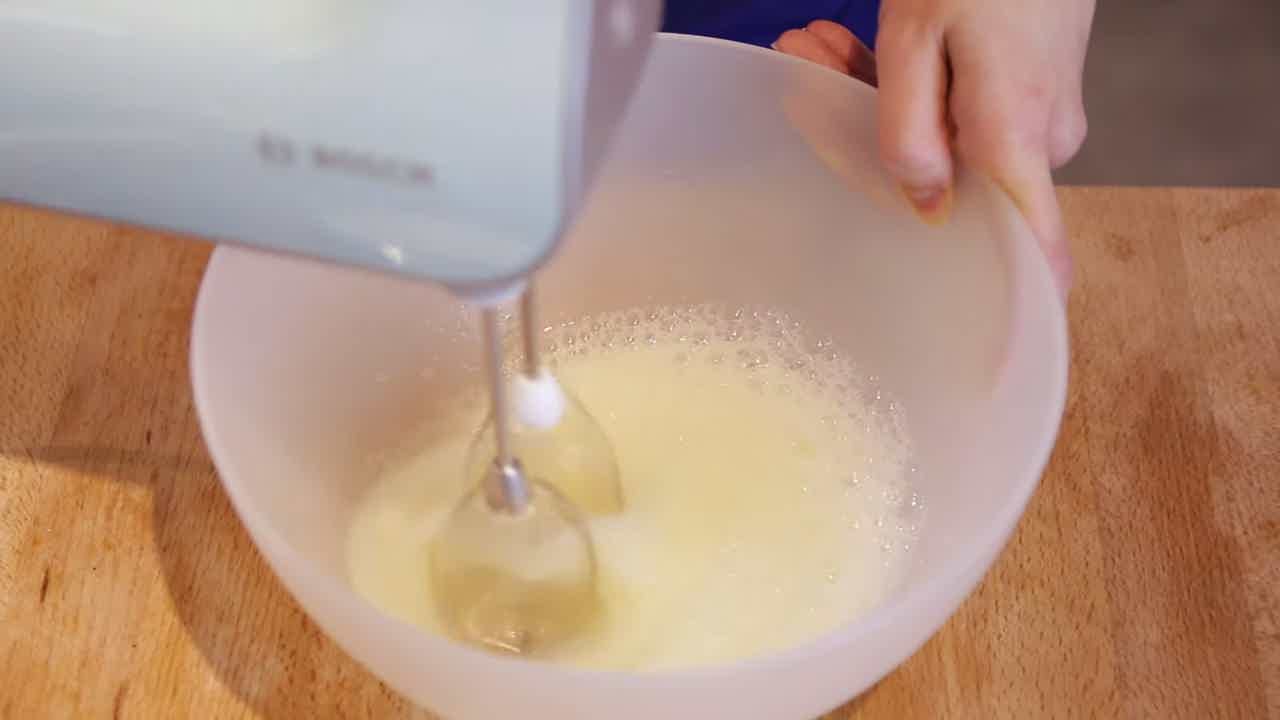 Step 4 of 8
5

egg white(s)

60

g

sugar

1⁄2

tsp

vinegar
To prepare meringue, add vinegar to egg whites. Beat at high speed until it is foamy.
Step 5 of 8
Continue beating the egg whites at medium speed, adding sugar a little at a time. Add salt too. Beat the egg white mixture until stiff. Do not over beat eggs.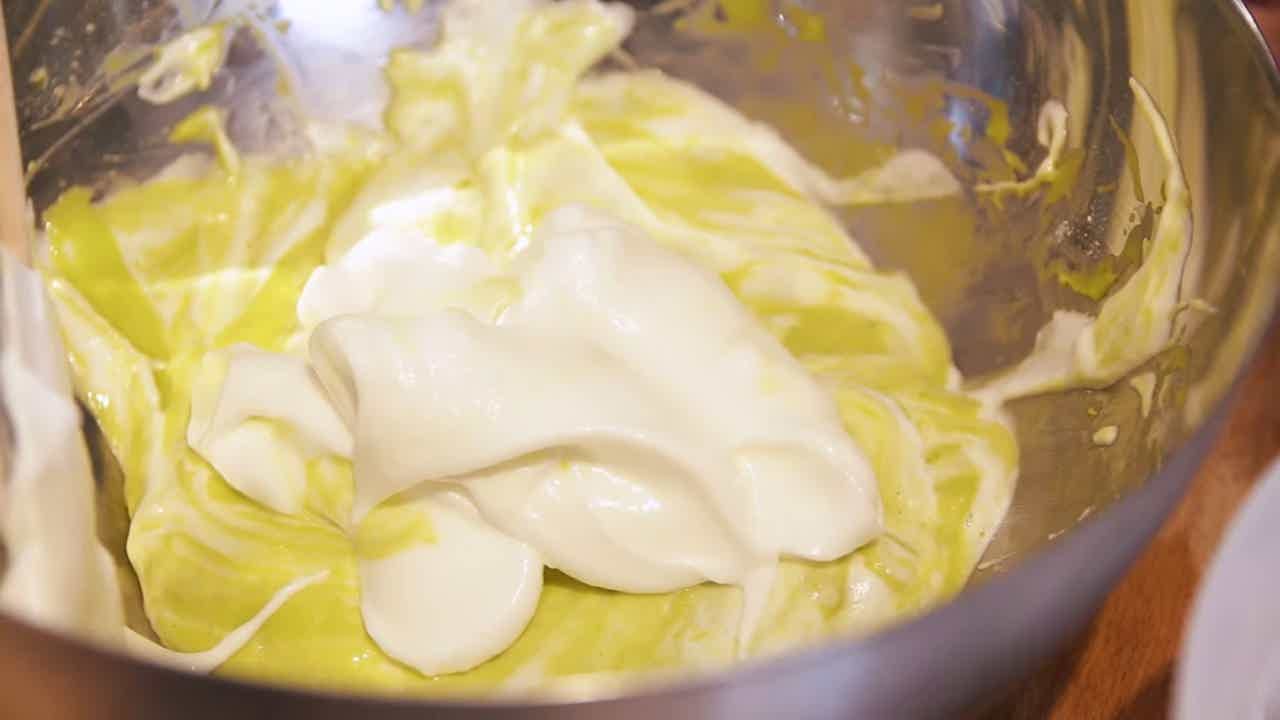 Step 6 of 8
Add the meringue into the batter in batches and fold in till batter and meringue are mixed thoroughly.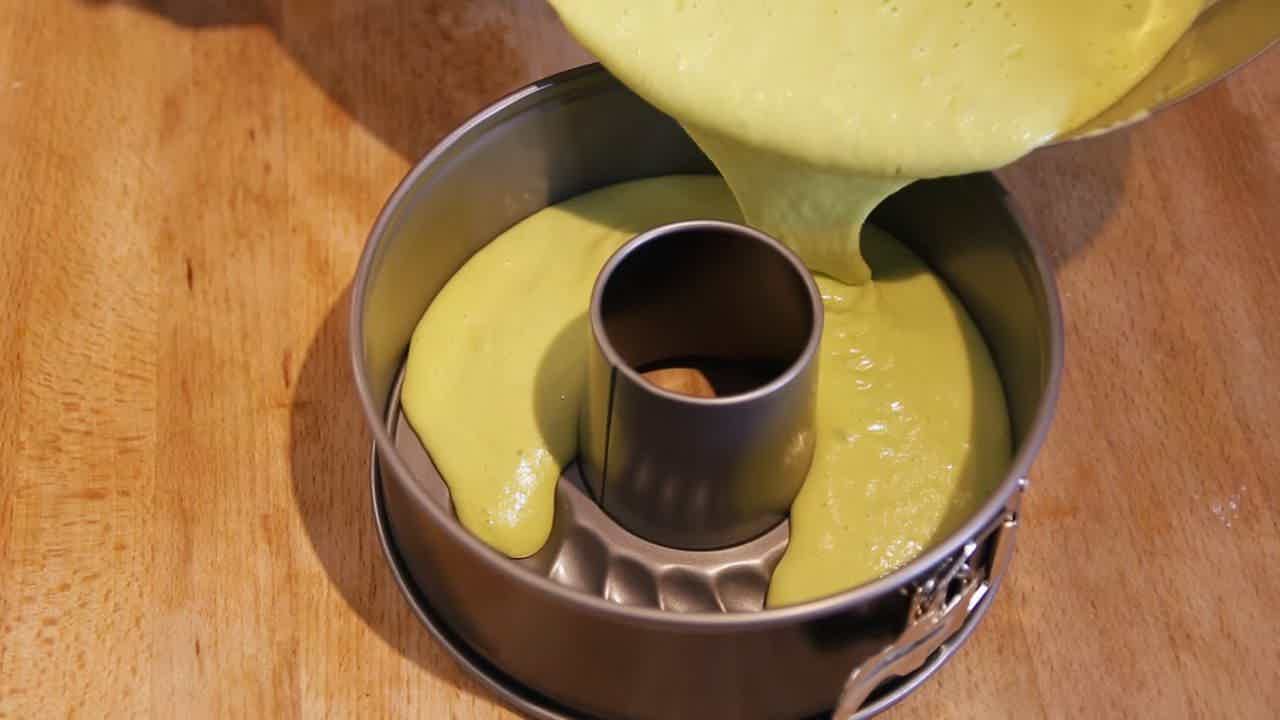 Step 7 of 8
Slowly pour the batter into a mould while tilting the mixing bowl to get rid of air bubbles. Use a rubber spatula or chopstick to quickly run through the batter to pop air bubbles.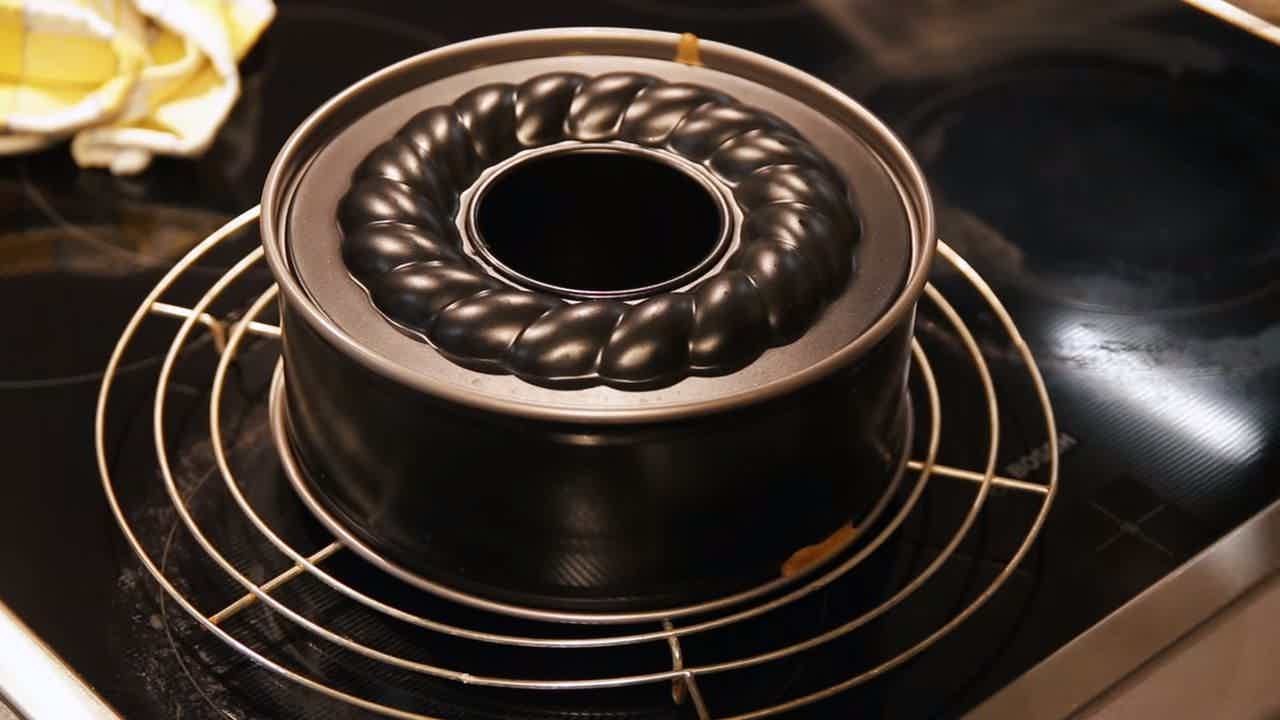 Step 8 of 8
Bake at 150 degrees Celsius for about 1 hour or until golden brown. Once brought out of the oven, place it upside down until it cools to room temperature.