This is the best ang ku kueh or tortoise cake recipe you can find. These glutinous rice cake snacks taste sweet, look beautiful and most importantly, they have the chewy QQ-factor that is well loved. Another reason to try this recipe is because there is no need to cook the dough before hand. They are also traditionally halal, vegetarian and vegan friendly. Best of all, they are done in only 6 steps.
You can enjoy them for breakfast or tea. Since it is a traditional speciality, there are some tips you will need to know before attempting the recipe. Let's go through the steps on how to make this kueh.
Origin of ang ku kueh
This traditional kueh is highly popular in Singapore, Malaysia, the Philippines and even Taiwan. With tradition and a long history from Fujian, Southern China, the Chinese community makes this treat whenever there is an important festival because of its shape and colour.
What is the meaning of 'ang ku' in English?
In the Hokkien dialect, ang means red while ku refers to tortoise. It is literally a reference to the appearance of the kueh. Tortoise signifies long life while red is, of course, the symbol of prosperity. A kueh of such significance is the reason why it is made for every important Chinese festival such as Chinese New Year, Qing Ming Festival (a day to pray to the ancestors), birthdays and even for the first month of a newborn.
Ang ku vs ang ee
During a baby full moon celebration, ang ku kueh and red coloured hard boiled eggs are given away as gifts to friends and relatives. To celebrate a baby boy, pointed top ang ku kueh is gifted. This specially shaped kueh is called ang ee or ang yee.
5 ingredients dough recipe
The dough for ang ku kueh is made using sweet potatoes, sugar, oil, glutinous rice flour and water. All you need to do is mix them up and ensure that the dough is pliable to wrap the filling of your choice. If you are using store bought filling, you can move directly to Step 4!
Importance of using boiling water
Glutinous rice flour gelatinizes when mixed with boiling water as in step 4. This makes the dough easier to knead and is more pliable. Using room temperature water instead will cause the dough to break and crack making it very difficult to shape the dough.
Flavour of dough
You can substitute with another type of sweet potato. For example, purple sweet potatoes gives a beautiful natural purple colour to the dough. Just note that you may need to add or reduce the amount of water needed for the dough because the water content in different types of sweet potatoes differs. Some may be drier after steaming. Pumpkin can be a substitute for orange sweet potato as well.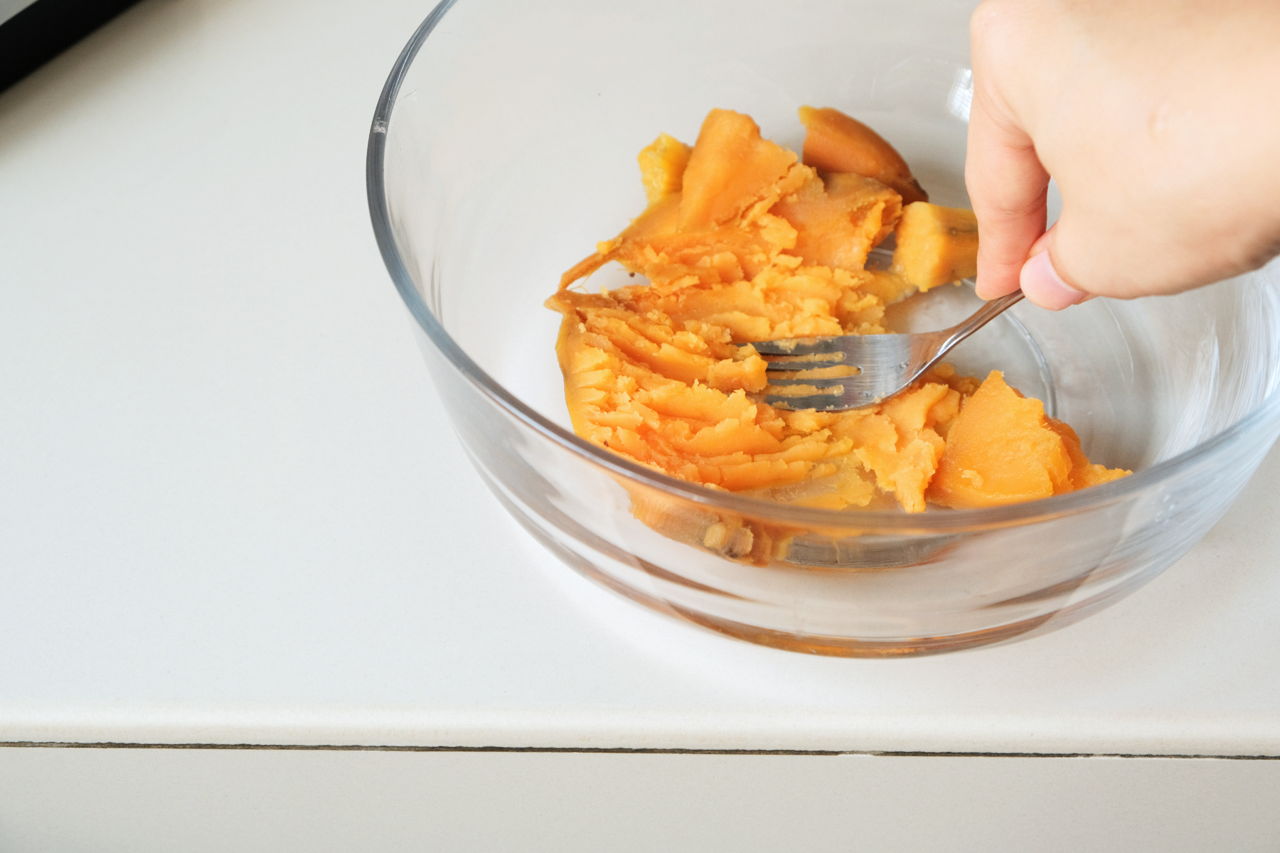 Colouring the dough
To keep up with the traditional connotation, red food colouring is used. Natural food colouring like red beet powder or red yeast can be used too. Other than red, you can also find these ang ku kueh in yellow, green and purple. They can be coloured by using butterfly pea flowers, sweet potatoes or pandan leaves extract.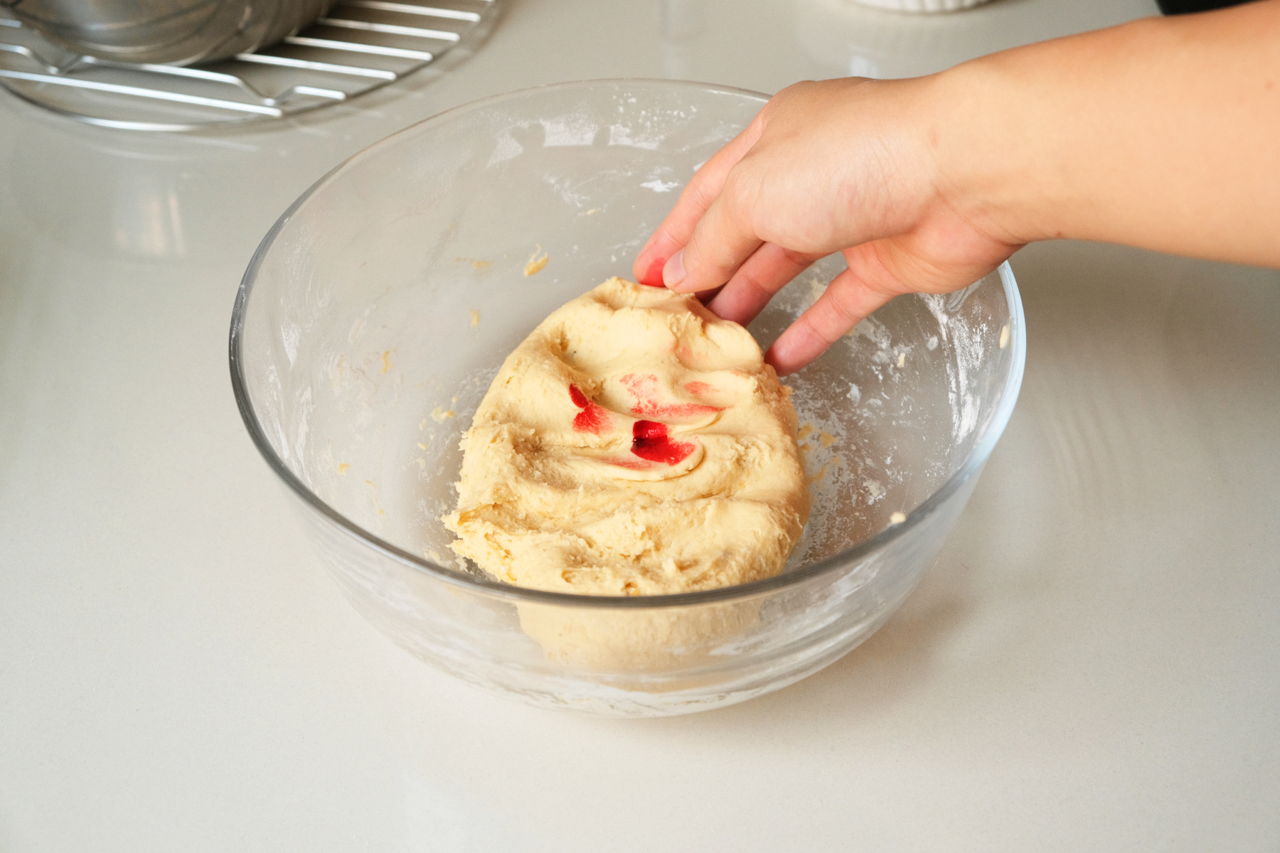 Why does the skin crack?
If it cracks on the sides when the dough is flattened for wrapping the filling or while wrapping the filling, that means the dough is too dry. Just add some water and knead the dough. Then, test it out again.
Shaping ang ku kueh
Shaping the kueh is an easy task provided that the skin is soft enough to work with. Flatten a portion of the dough to wrap a portion of filling. It will be easier to wrap if the filling has a solid shape. As the dough covers the filling, keep pushing the sides up using your thumb and index finger.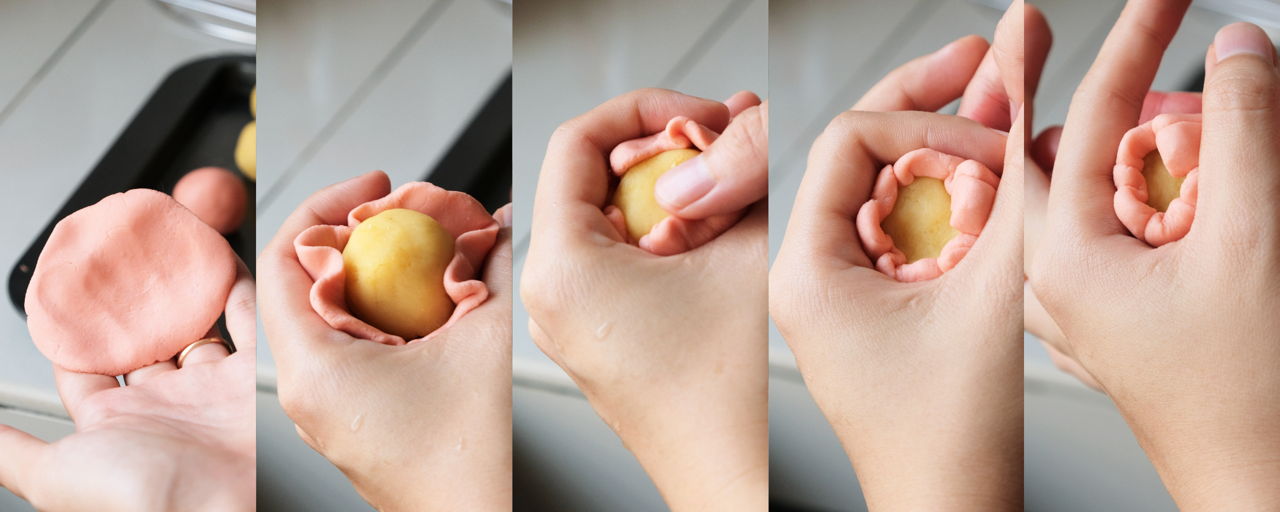 You can stop once the filling is fully wrapped. It can be placed on the oiled banana leaf. However, to get the traditional design, press the filled dough into the special mould. Lightly hit the mould on the kitchen top to release the patterned dough from the mould.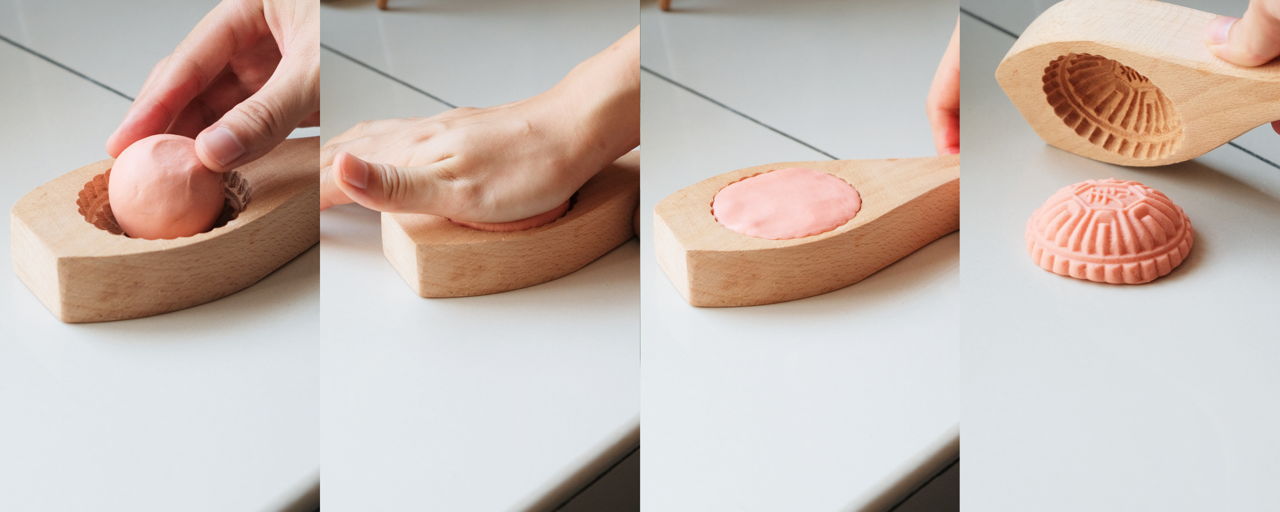 Prevent dough from sticking to mould
Before pressing the filled dough into the mould, dust it with a bit of glutinous rice flour. The stamped dough can be removed easily that way.
Variety of fillings
When it comes to these tortoise cakes, they can be filled with a variety of ingredients. The most popular filling has got to be mung bean paste.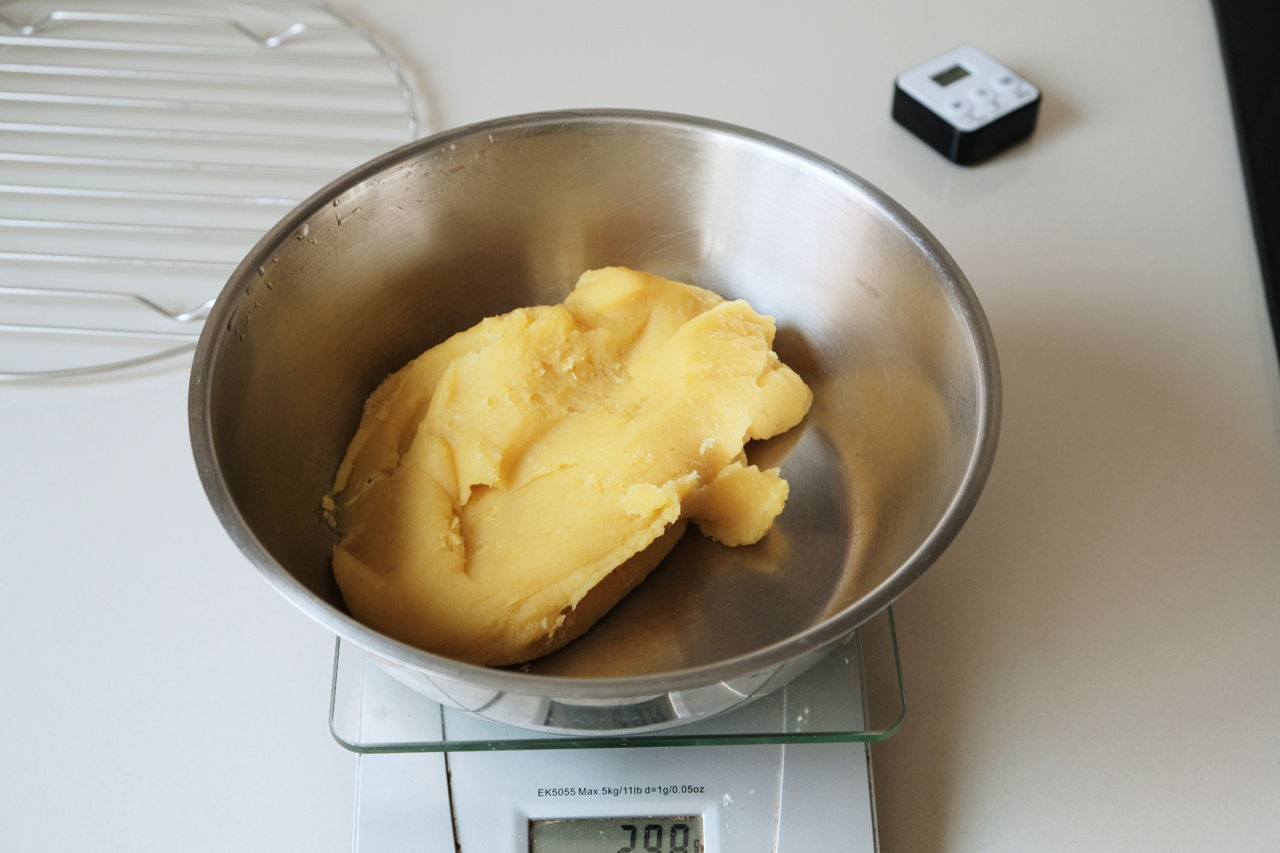 Among the other favourites are coconut, peanut or yam (taro) paste. It is tedious but they can be prepared ahead of time up to 5 days in advance. Just store the paste in an air-tight container and keep chilled.
The special mould is not required
The special mould is traditionally made of wood but you can also find the plastic version. They are sold in stores which specialize in baking products. If you are living abroad, the best bet to find these moulds would be online. Otherwise, they can be shaped into balls and will still taste just as good.
Important tips to retain the pattern when steaming
Begin the steamer at maximum heat. Once the the tortoise cakes are placed into the steamer, continue steaming them over medium to low heat. Avoid water vapour from dripping onto the surface of the kueh or it will be soaked up by the skin causing it to lose its pattern.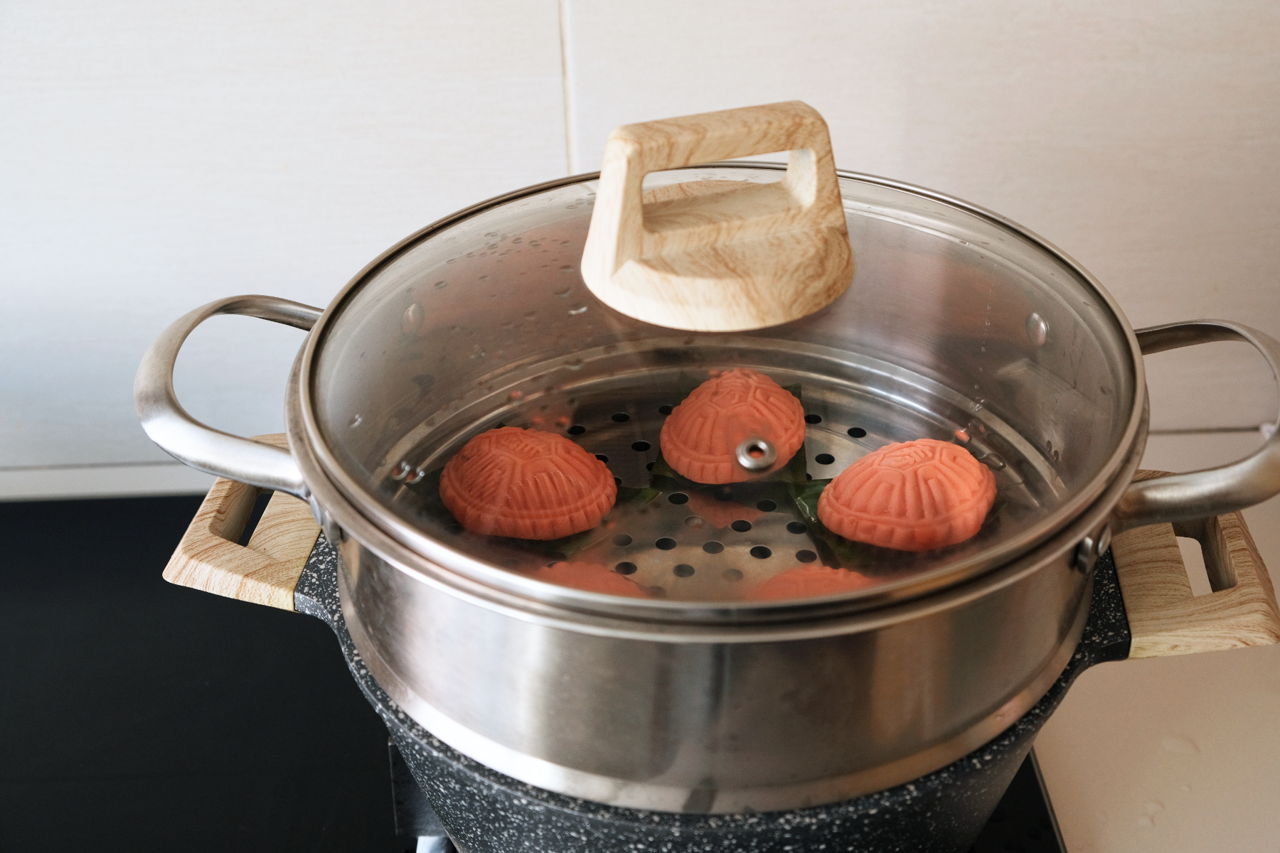 If the heat is still too high, carefully lift the lid to release some steam midway. The kueh expands while steaming and if it continues to expand, the design will be lost.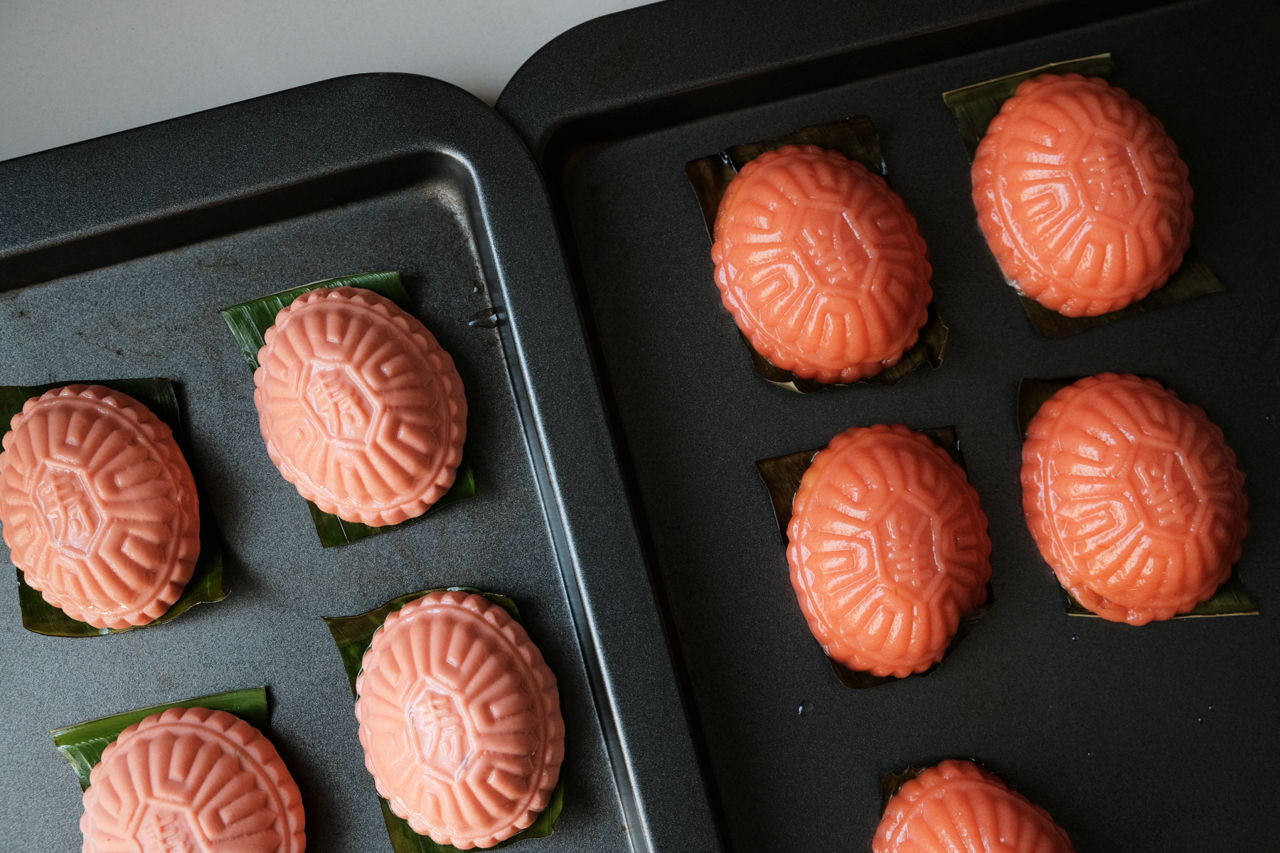 Substitute for banana leaf
Banana leaves can be bought frozen or fresh. Besides giving a hint of fragrance to the kueh, it is used traditionally as a lining to prevent the kueh from sticking to the steamer. Otherwise, you can also steam them on bamboo leaves as the Chinese and Taiwanese do. If these leaves are not available at your location, steam the ang ku kueh on parchment paper.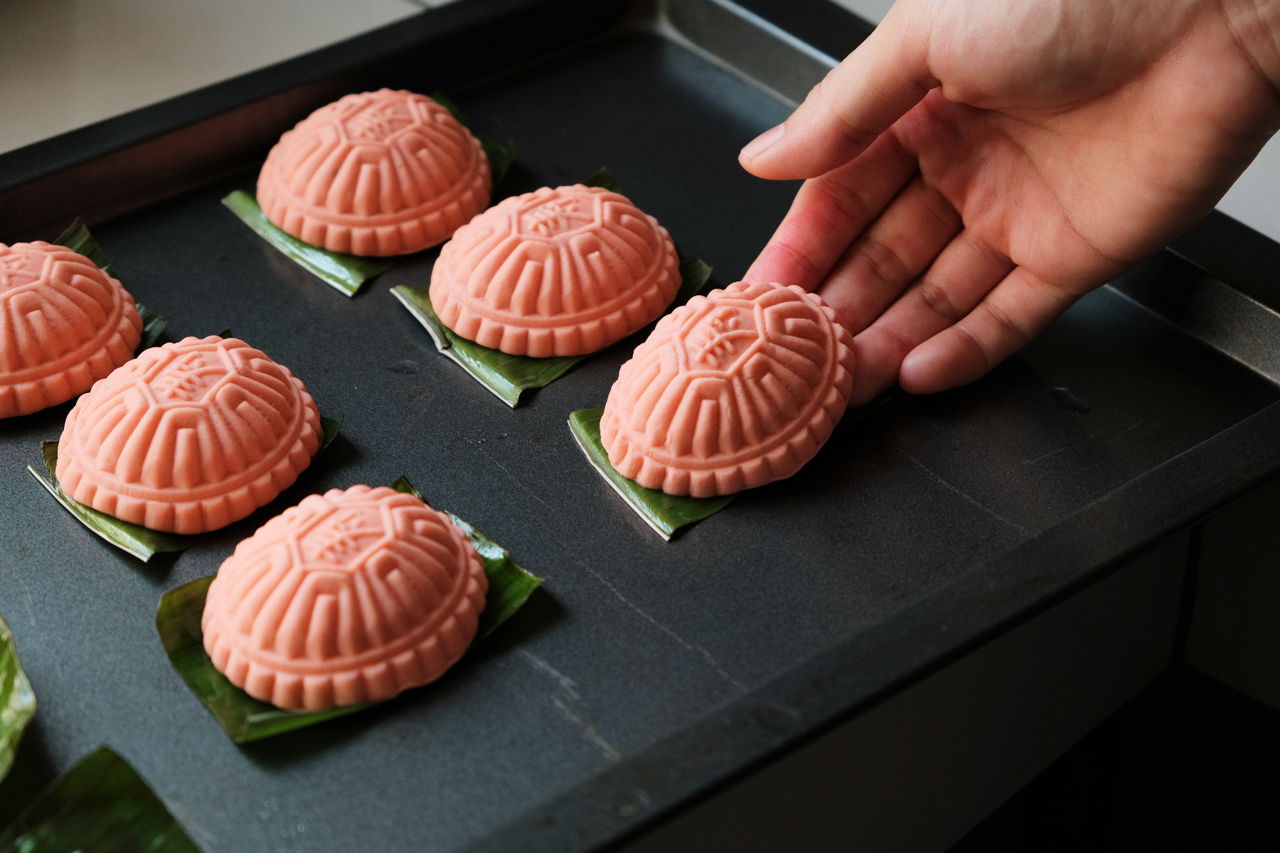 How long can you keep ang ku kueh?
These beautiful treats are best eaten on the same day. To keep ang ku kueh soft overnight, keep them in an airtight container at room temperature. If they are refrigerated, the skin might harden. To soften them, steam them for 1-2 minutes or until the skin becomes soft again.
Freezing ang ku kueh
Yes, they can be frozen! You can freeze steamed ang ku kueh for up to 3 months without any depreciation in texture and taste.