Kuih tepung pelita is a double layered rice flour custard cake. The layers are flavoured differently whereby one is sweet and the other savoury. The bottom layer is flavoured with what is known as Asian vanilla or pandan leaves. It is then topped with another coconut milk custard layer. Between these layers, a thin syrup is used to bridge the flavours together. The sweetness is pleasant with a smooth texture which easily glides through your mouth. The final product is not excessively sweet but just nice.
In English, the name 'tepung pelita' means flour and oil lamp. The latter references a traditional oil lamp due to the shape of the folded banana leaf which houses the dessert.
Why should I make kuih tepung pelita?
This traditional sweet is usually found during the month of Ramadan (fasting month for the Muslims). Otherwise, they are rather scarce. While there may be many different versions of this kuih, this recipe is made simple as it uses only 5 types of ingredients which are widely available.
Steaming is not required and it takes only 4 steps to making this attractive dessert should you plan to prepare for a party. All this simplicity without sacrificing the authentic flavours.
Kuih tako vs kuih tepung pelita
Kuih Tako looks very similar and many often mistake it with the other. While both kuih comprises of two layers, there are actually significant differences.
| Kuih Tako | Kuih Tepung Pelita |
| --- | --- |
| Originates from the state Johor | Originates from the state Perak |
| Contains mung bean flour and corn flour | Can be made with only rice flour |
| Filled with jicama | No filling |
| Served in pandan leaf boats | Served in banana leaf boats |
What makes a perfect kuih tepung pelita?
Unlike kuih tako which is slightly firmer, kuih tepung pelita is very soft and jiggles when shaken. The perfect texture is semi-liquid like and is a little squishy.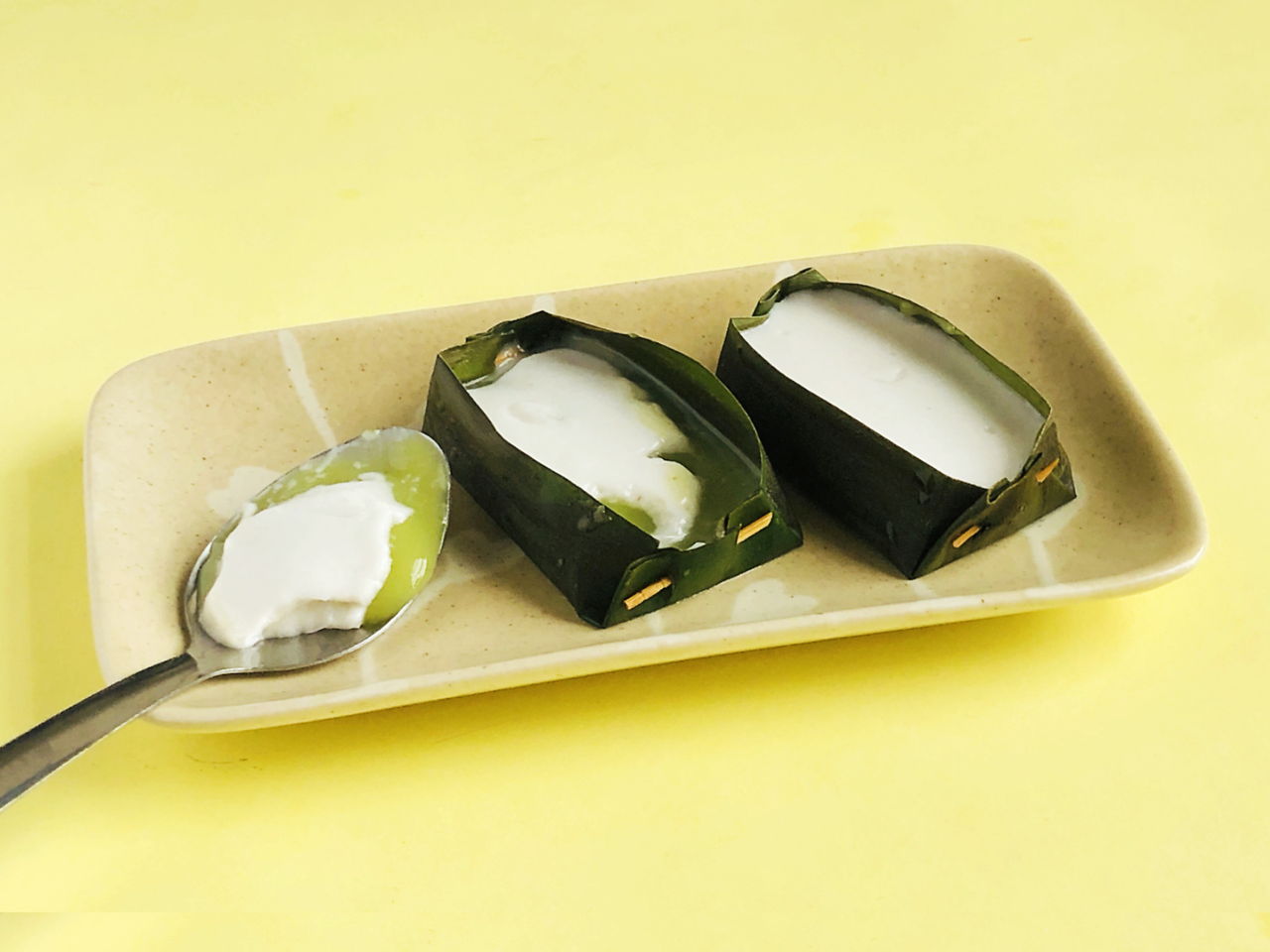 The custard layers should glide into the mouth easily. It is most refreshing and enjoyable when served chilled.
Can I use other types of flour?
It is best to stick to rice flour, just like how it is done traditionally. Any other types of flour will change its texture. It will also change into a different type of kuih instead. For example, kuih tako is made using a different combination of flour while kuih limas which looks similar uses wheat flour instead.
Substitute for coconut milk
Just like most local sweets, coconut milk plays an important role. It is loved for its sweetness and creaminess. If you are not a fan, replace it with cow milk or soy milk of the recommended amount of coconut milk suggested in this recipe for a vegan version.
Pandan paste or flavouring instead
I strongly recommend using fresh pandan extract. However, pandan leaves might not be available at your location or some may not like its after taste. However, both pandan paste or pandan flavouring can be used.
Usually 1 to 2 teaspoons (ca. 2 to 4 grams) of either artificial flavouring will be sufficient. As pandan flavouring does not have any colour, some green food colouring may be added.
How to fold banana leaf boat?
Cut banana leaves into rectangles of ca. 7 x 9 cm. Place it vertically with the dull surface facing you. If the banana leaf is not soft enough to be folded, placing it over heat (e.g. stove) should soften the leaf. Be careful not to burn the leaf, though.
Fold the top of the leaf and pinch each corner to bring them together. Secure the tips with a toothpick. Repeat on the other side to create a 'banana boat'. Watch the video below to see how it is done.
Substitute for banana leaf
Instead of banana leaves, you can also use pandan leaves. The leaves may be folded into triangles or squares.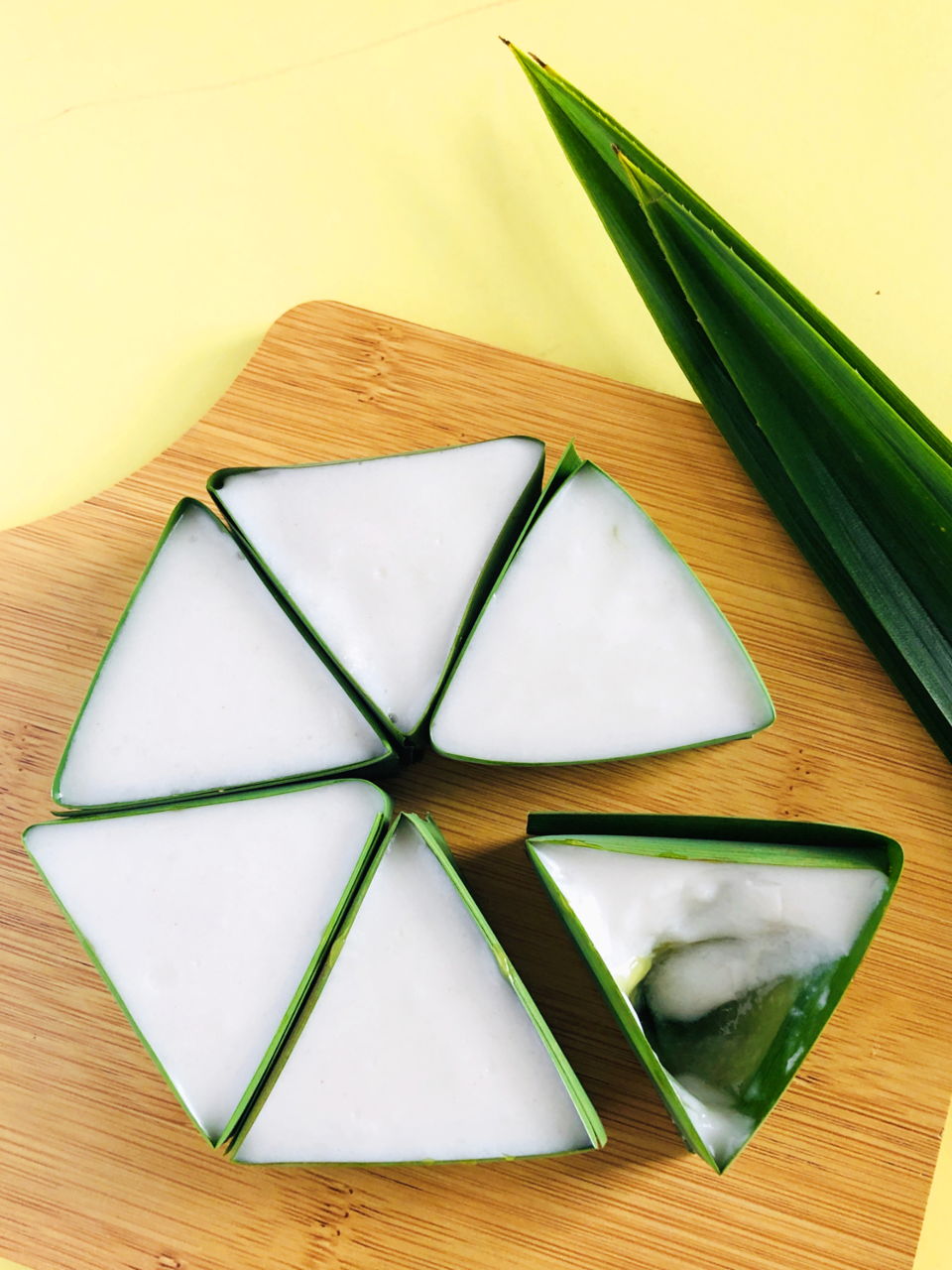 Feel free to refer to Kuih Tako recipe to see the method of folding.
Otherwise, this kuih can be made in individual moulds or little bowls.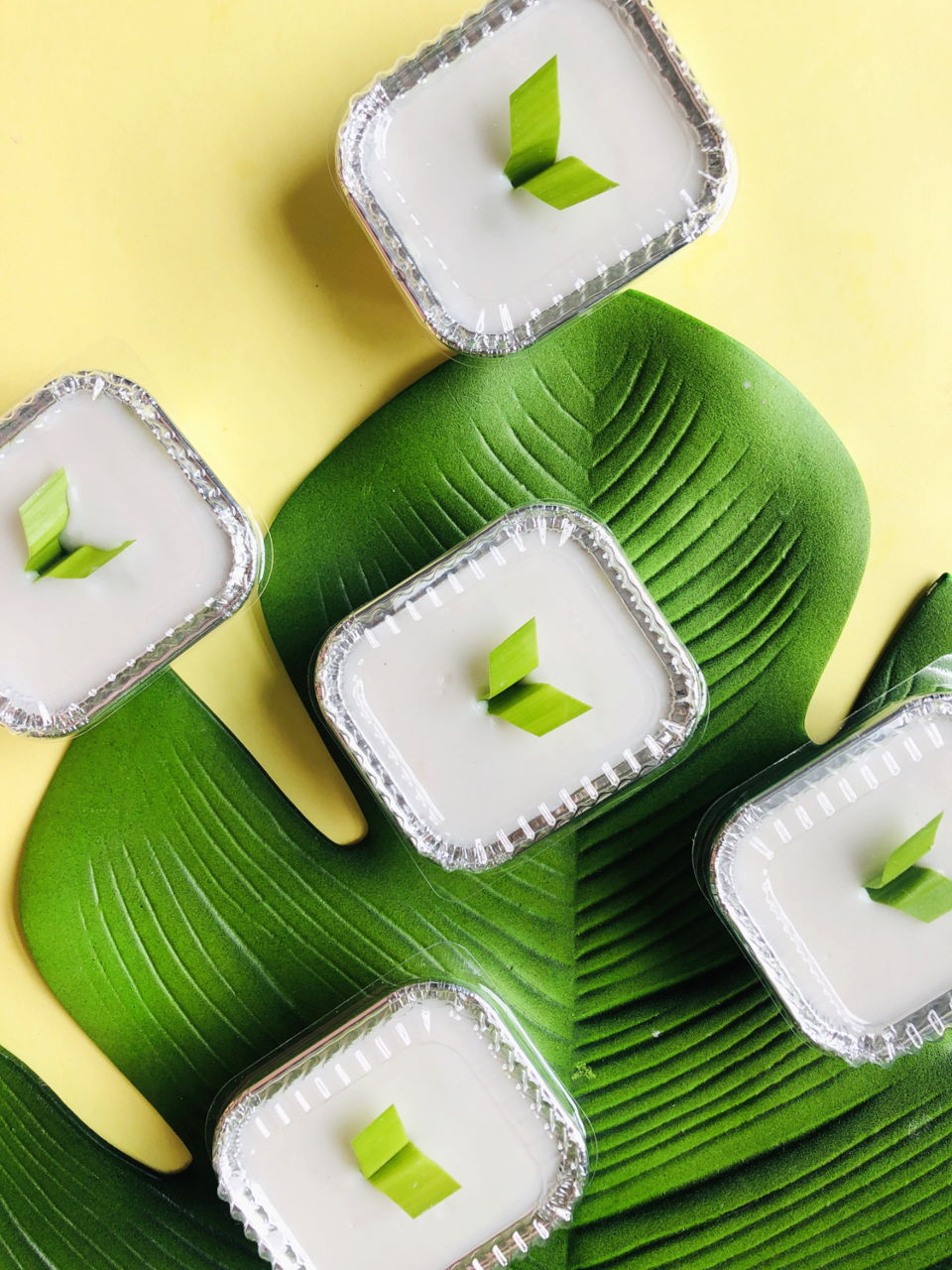 Can it be prepared in advance?
Ready-made kuih should not be kept for more than 1 day since coconut milk deteriorates very quickly. For a longer shelf life, the pandan layer can be kept refrigerated for up to 3 days. When it's about time to serve, prepare the coconut milk layer and continue with step 3 onwards.
Freezing kuih tepung pelita
Just like how the pandan layer can be refrigerated, it can also be frozen for up to a month. The flavour deteriorates with time. Therefore, do not keep it for too long. Frozen pandan layer must be thawed and reheated to reach its original consistency.
The coconut milk layer should be made fresh and hot. It is needed to slowly dissolve the icing sugar to create a layer of thin syrup.