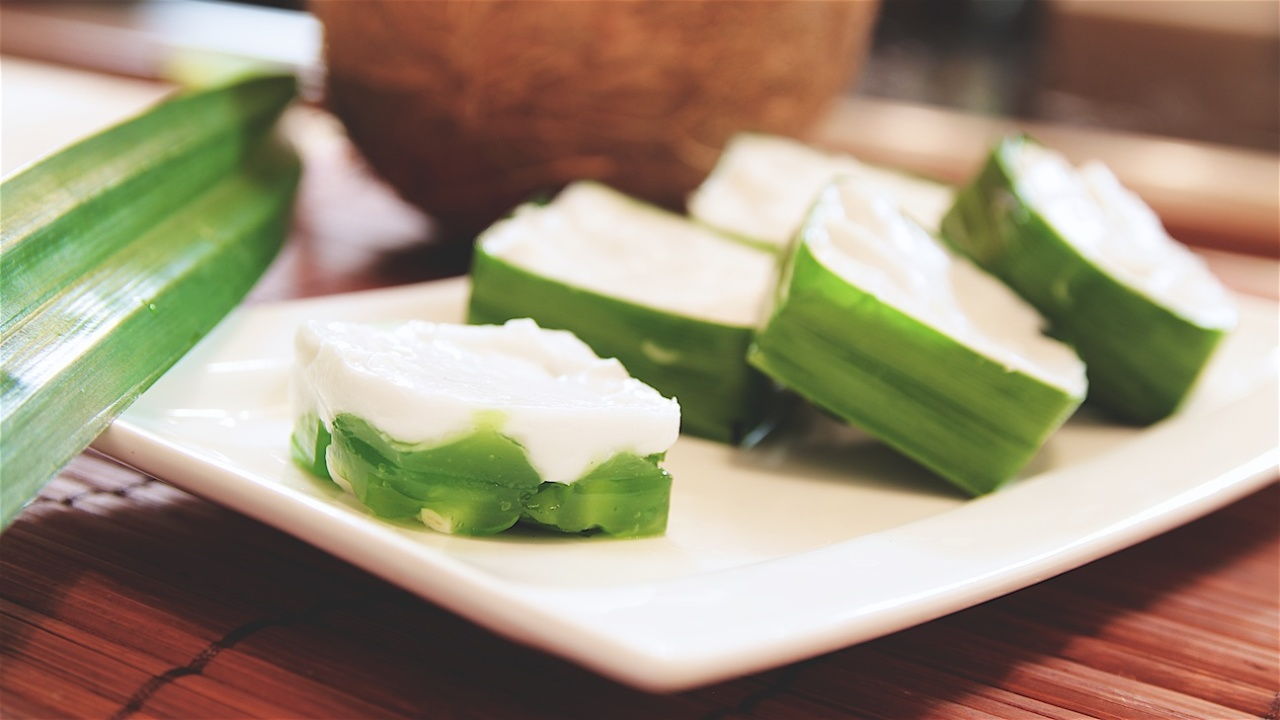 Kuih Tako
'Kuih tako' is a traditional two layered coconut and pandan jelly dessert made of mung bean flour with bits of Chinese turnips. Each layer tastes differently as one is salty while the other is sweet. The unique combination of flavours makes this dessert simply delicious.
Preparation 20 mins
Cooking 30 mins
Malaysian, Singaporean, Indonesian
---
Ingredients
15

pandan leaves

250

ml

water

—

turnip(s)

80

g

sugar

40

g

mungbean flour (hung kwe flour)

200

ml

coconut milk

1⁄5

tsp

salt
---
Community Food Snaps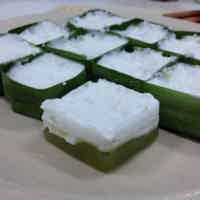 ---
Background
Kuih Tako is a traditional kuih found in Malaysia and also Thailand. Made up of two coloured layers, it is a big favourite during the month of Ramadan. Although both layers of kuih tako is made of mung bean flour, each layer has its individual taste. The bottom layer of kuih tako is sweet, green in colour and has chunks of Chinese turnip. The top layer is white and savoury as it consists of coconut milk.
Substitute for Chinese turnip
As it is not common to find Chinese turnip in Europe, I used water chestnuts instead.
Use the lowest heat to cook
Cook the mung bean flour at low to medium heat so that it does not burn. Ensure that it should be thick enough to be placed into the folded pandan leaves baskets.
Substitute for mung bean flour
Traditionally, kuih tako uses mung bean flour which is also sold as 'hoen kwe' flour. Mung bean flour can be substituted with corn starch or corn flour. If either of these flours are replaced by rice flour, then it will not be kuih tako but 'kuih pelita'. Both of these kuih look very similar indeed. However, kuih pelita uses rice flour and is wrapped with banana leaves instead.
Substitute pandan leaves
Fresh or frozen pandan leaves is needed to make the baskets to hold kuih tako. If you are unable to find them, simply use a bowl or any container to hold the dessert.
You can make the pandan leaves baskets a day before. Kuih tako should be stored in the refrigerator to ensure it is really chilled before serving.
---
Steps to Prepare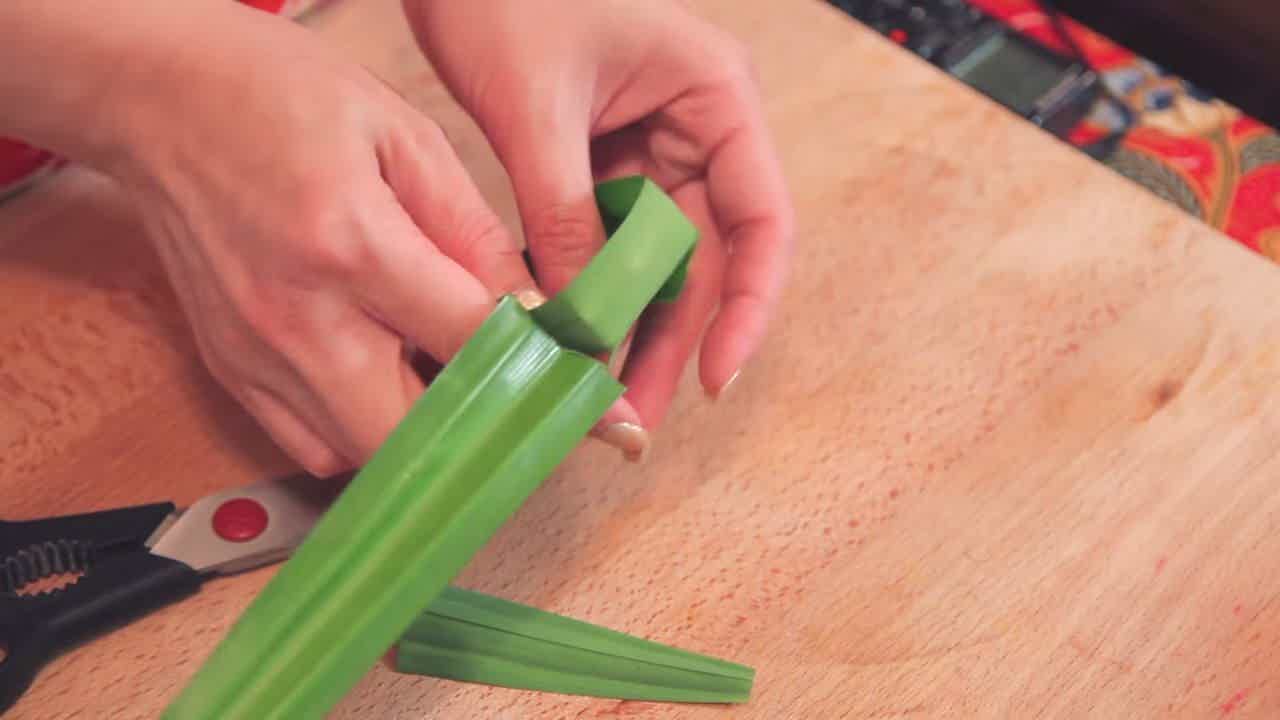 Step 1 of 5
Cut the sharp tip of the pandan leaf. Measure 3 cm and cut halfway through the leaf. Make similar cuts 4 to 5 times throughout the pandan leaf. Use a toothpick to secure the leaves. Ensure that the leaves are overlapping each other. If there is a gap in the box, cover it with a small piece of pandan leaf.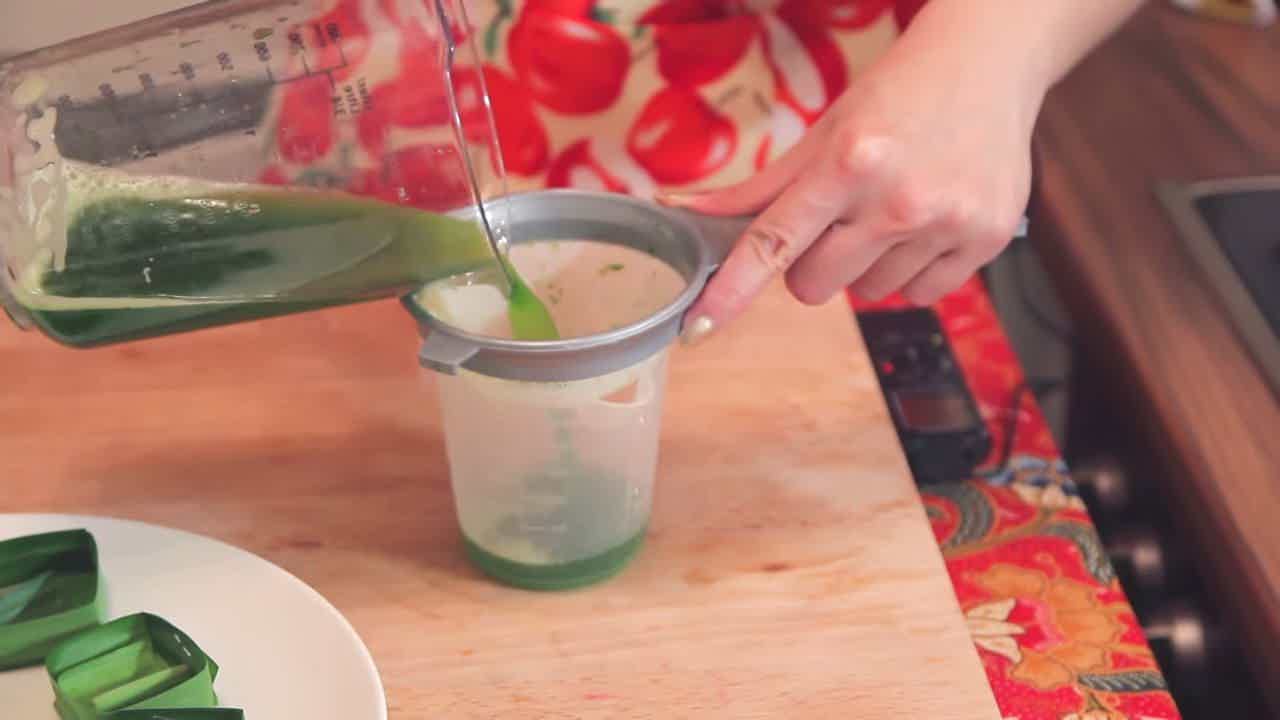 Step 2 of 5
Blend 3 pieces of pandan leaves to obtain the pandan extract. Add water to ease the blending process. Strain pandan extract to get rid of impurities.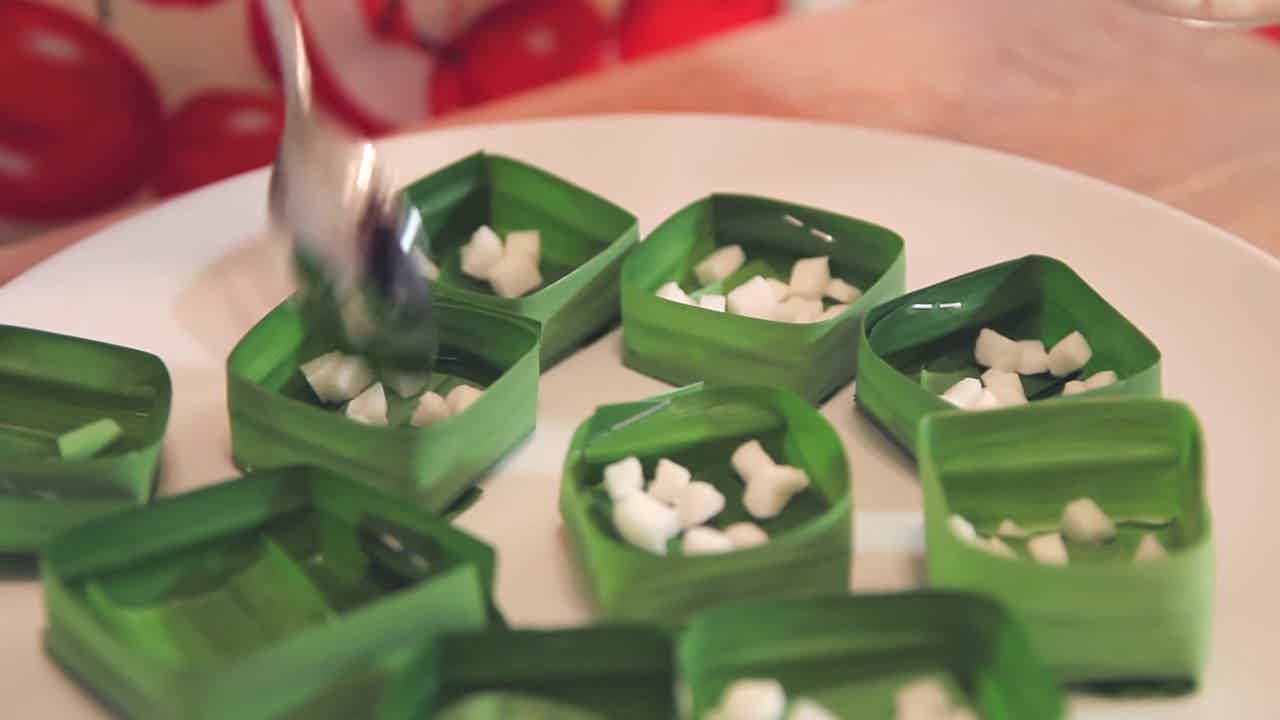 Step 3 of 5
Add chopped turnips/water chestnuts into pandan leaf baskets.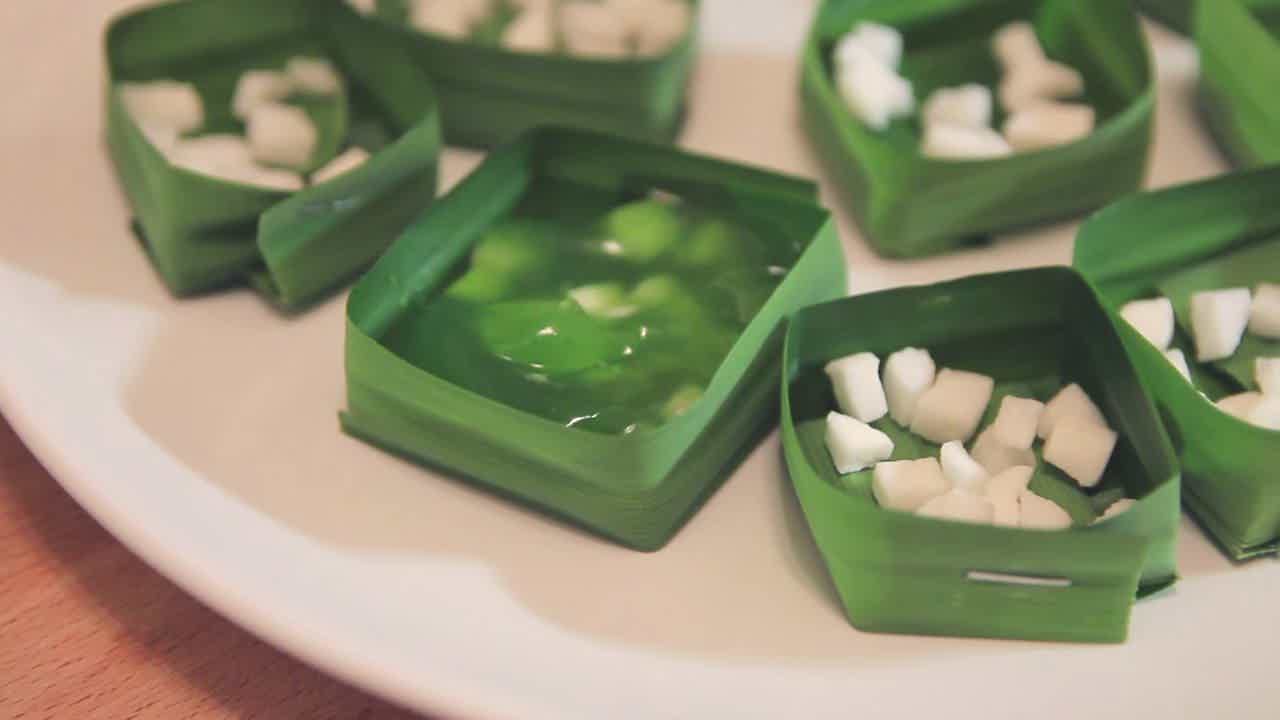 Step 4 of 5
80

g

sugar

20

g

mungbean flour (hung kwe flour)
Add pandan extract, sugar and mung bean flour. Cook over low to medium heat until it thickens. Fill half of the pandan leaves baskets with the thickened mixture.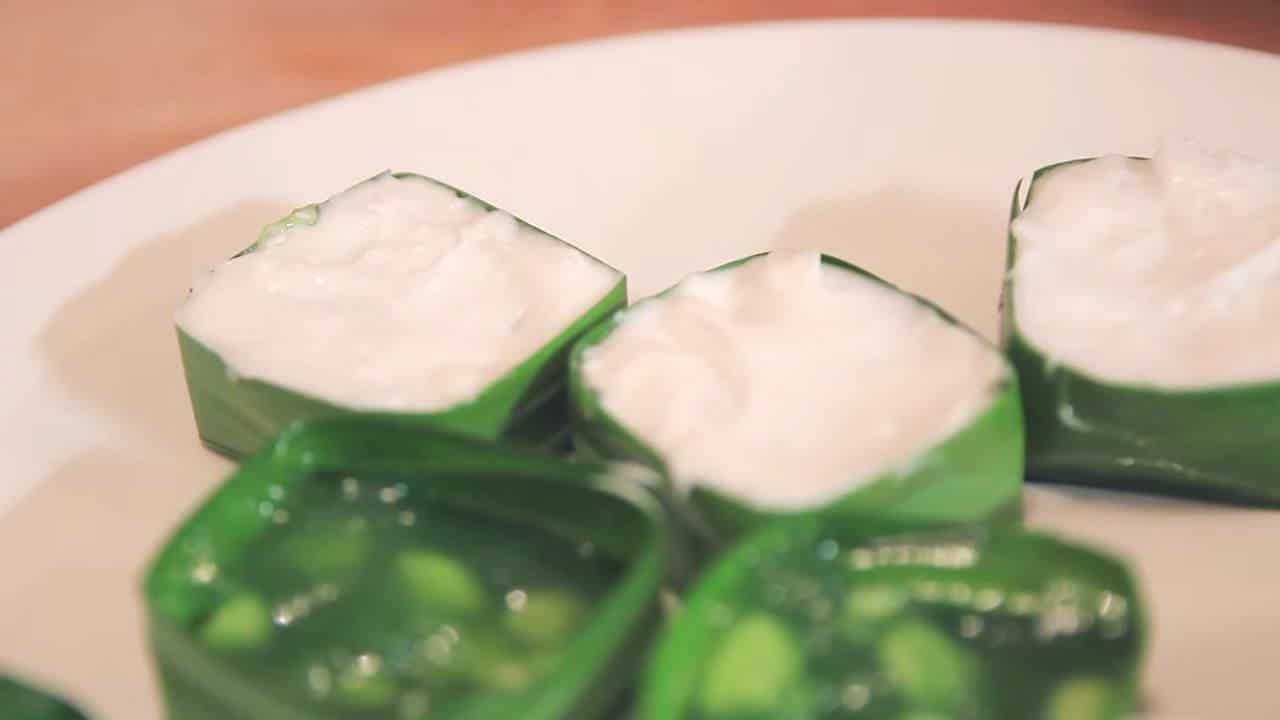 Step 5 of 5
200

ml

coconut milk

20

g

mungbean flour (hung kwe flour)

1⁄5

tsp

salt
Cook coconut milk, salt and mung bean flour over medium heat until it thickens. Fill the baskets to the brim with the thickened mixture. Chill kuih tako in the refrigerator before serving.
---
0 Discussions
Give us your opinion!
Log in
and start posting.