---
Curry puff may look like another puff pastry or savoury pie but it is the unofficial king of 'kuih' for many of us in Malaysia and around the region. Crispy deep fried curry puffs are best when eaten together with a glass of Malaysian sweet tea 'Teh Tarik'. I especially love having freshly made curry puffs where the filling is still warm.
Crispy curry puffs
In Malaysia and Singapore, curry puffs or epok-epok is a favourite during breakfast and teatime. This dough recipe will result in a crispy pastry to wrap the curried potatoes. With every bite, you will notice the flakiness of the dough and the delightfulness in savouring them. The fragrance of the filling makes the curry puff even more delectable as you savour every mouthful.
Why is the dough crumbling or soggy?
Follow the exact amount of ingredients mentioned in this recipe. The dough would first appear to be crumbly. However, continue mixing and kneading. The dough will then come together as shown in the video above.
Freeze curry puffs
After wrapping the curry puffs, freeze them for at least four hours. Then, store the uncooked curry puffs in an airtight container or plastic bag in the freezer until it's time to either fry or bake them.
Baked curry puffs
Instead of frying the curry puffs, they can also be baked. This tip is very helpful for those who are more health conscious. Baked curry puffs are just as tasty and in fact, the baking method is highly suggested as it is not as oily. The sides may brown faster than the rest of the surface of the curry puff but it's ok. They look and taste just as delicious as the fried version, as seen here.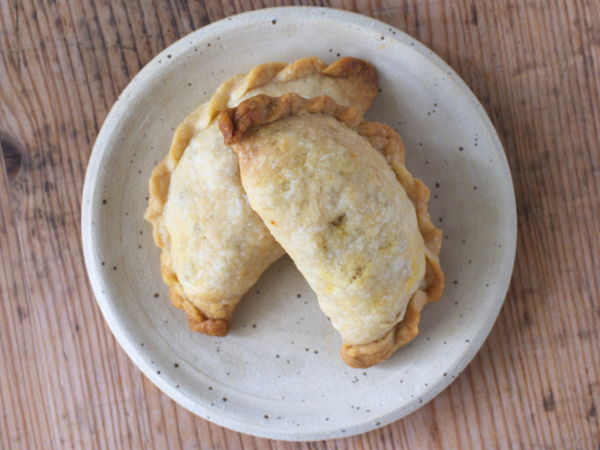 To bake the curry puffs, preheat oven at 180 degrees Celsius. Place them on a piece of baking sheet and bake for 30 minutes or until browned. Frozen curry puffs do not need to be thawed before baking.
Do I need to use curry leaves?
Curry leaves are used to add a wonderful aroma to the curried potatoes. If you do not have curry leaves, just omit them from the recipe.
Can I add meat to the filling?
Yes, of course. You may add diced chicken breasts if that is your preference. Just reduce the amount of diced potatoes if you do so. Additionally, you may add a wedge of hard boiled egg which is sometimes done by some street vendors.