Curry Leaves Stalk(s)
Curry leaves are from curry tree, an aromatic plant from India. They release flavours and aroma once tempered in oil. Many South Indian recipes use curry leaves. It is said to lower cholesterol, cure diarrhea besides containing high levels of antioxidants.
Category
Fresh Herbs
Alternate Names
Murraya Koenigii, Sweet Neem Leaves, Meethi Neem, Kadhi Patta
Tastes
Vegetal, aromatic, mild citrusy
Substitutes
Curry leaves (dried), combination of half a lemon zest and 1 bay leaf
---
Background
Curry leaves are often used in many Indian dishes throughout Southeast Asia, where the influence of Southern Indian cuisine is most relevant. Just like bay leaves in western cuisine, curry leaves are added in Southeast Asian and Indian cuisines.
Many might have guessed that curry powder is made from curry leaves. This is however not true. Curry powder is made from a mixture of several types of herbs and spices such as chilli powder, turmeric powder, fennel seeds and more. Curry leaves are from the curry tree which belongs to the citrus family. While curry leaves may or may not be a component of curry powder, they definitely do not taste anything like curry powder at all. Instead, curry leaves taste just like leaves. Curry leaves need to be tempered for the fragrant aroma to be released.
---
Nutritional Information
Curry leaves are one of the most popular ingredients used in Ayurvedic medicine, the world's oldest traditional medical systems which originated in India more than 3,000 years ago. Curry leaves are consumed along with dishes as an added ingredient as it contains Vitamins A, B, B2, C, calcium, and iron. Also known as sweet Neem leaves, they are filled with a natural chemical known as carbazole which is very helpful in stimulating the digestive system to break down food easily.
Based on a research article which was published titled "Evaluation of Bioactive Compounds, Pharmaceutical Quality, and Anticancer Activity of Curry Leaf", high levels of phenolic acids and flavonoids (especially myricetin, epicatechin, and quercetin) are exhibited in curry leaves and this contributes to a significant anti-cancer activity. It is also said that curry leaves are effective in reducing the side effects of chemotherapy or radiation therapy.
In beauty practices, eating curry leaves help the hair to grow healthily and prevents greying of hair. Boiling curry leaves in milk and then applying it on the skin helps to sooth allergy and rashes.
---
How to Choose
Fresh dark green colour leaves without any bruising. There should also be no browning on the leaves.
---
Storage Tips
Strip the curry leaves from the stem. Rinse and dry them thoroughly using a kitchen towel. Keep them in an airtight container and store in the refrigerator for up to a month. Freezing the curry leaves helps to make them last longer. When using a ziplock bag to keep the curry leaves before freezing them, leave a small opening to allow a straw in. Carefully remove the air from the ziplock bag through the straw. This will help to retain the colour and flavour of the curry leaves without bruising them.
---
How to Use or Prepare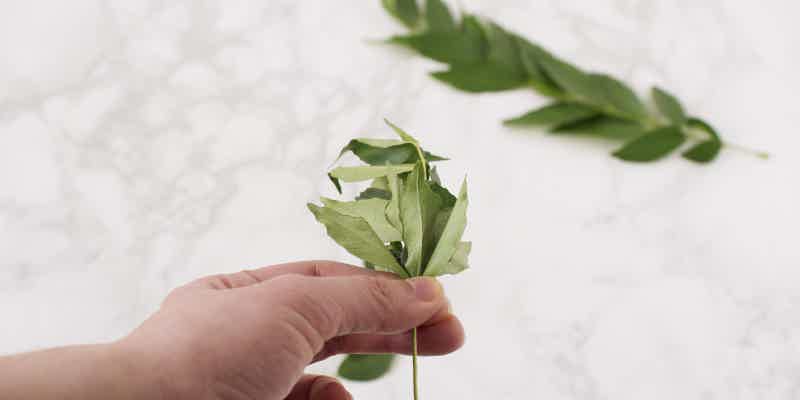 1. Rinse curry leaves and remove them from the stem when cooking. To do so, hold a sprig of curry leaves using one hand and carefully strip the leaves from the stem with the other.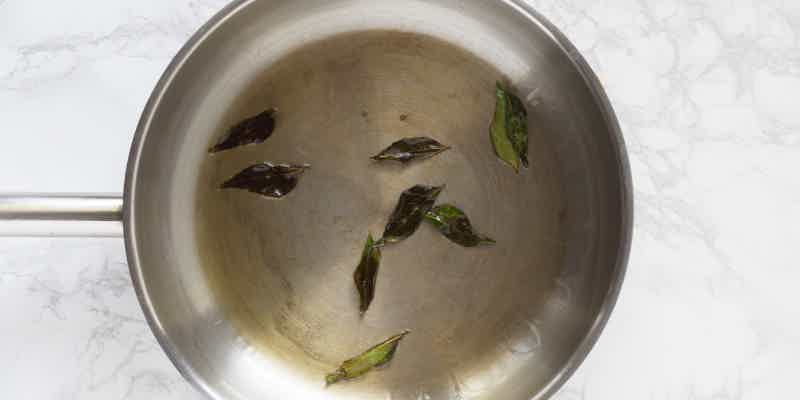 2. When using curry leaves in dishes, temper them in oil to release the flavour and aroma. Though not common, curry leaves can also be consumed raw, steeped in tea and used for medicinal purposes.