Sardine puff is a delicious savoury and crispy snack. Its sister pastry, curry puff or karipap, may be more popular but one should not disregard this delicious sardine filled puffs. The pastry is buttery yet light with a slight crunch to it. If you like sardine sandwiches, then you have to try this. In Singapore and Malaysia, sardine puffs are sold as street food. Whether it is for breakfast or teatime, sardine puffs will always go well with an amazing cup of teh tarik (tea with condensed milk).
Why this recipe?
My mother adds butter when making the curry puff pastry. While it may be slightly different from the oil-based pastry, it gives a delicate buttery flavour to the crust and is super crispy. This recipe is also freezer-friendly. Most importantly, I will be sharing tips I learned from my mother to making crispy sardine puffs.
Using only butter for the pastry?
While there are many who use only hot melted butter or margarine for the pastry, I found that the pastry is not as crispy as those made with both butter and oil. Hence, the combination of both is used in this recipe.
Adding sweetness to the filling
Carrots or sweet potatoes can be added to the filling. These vegetables add some sweetness, thus balancing the sourness from the tamarind juice. Feel free to add some sweet green peas if you like. Just be creative with the filling.
Why is the filling sour?
When it comes to fish curry powder, there might be a tinge of sourness which some might not enjoy. In fact, you can omit the tamarind juice meant to reduce the fishy smell. Alternatively, use meat curry powder or any curry powder of your choice.
Using a curry puff mould
Traditionally, the pastry puff is sealed using the pinch and fold method. Curry puff moulds are used to ease the process. All you need to do is to lay a piece of flatten dough onto the opened mould. Scoop some filling onto the dough. Close the mould and the dough will be sealed.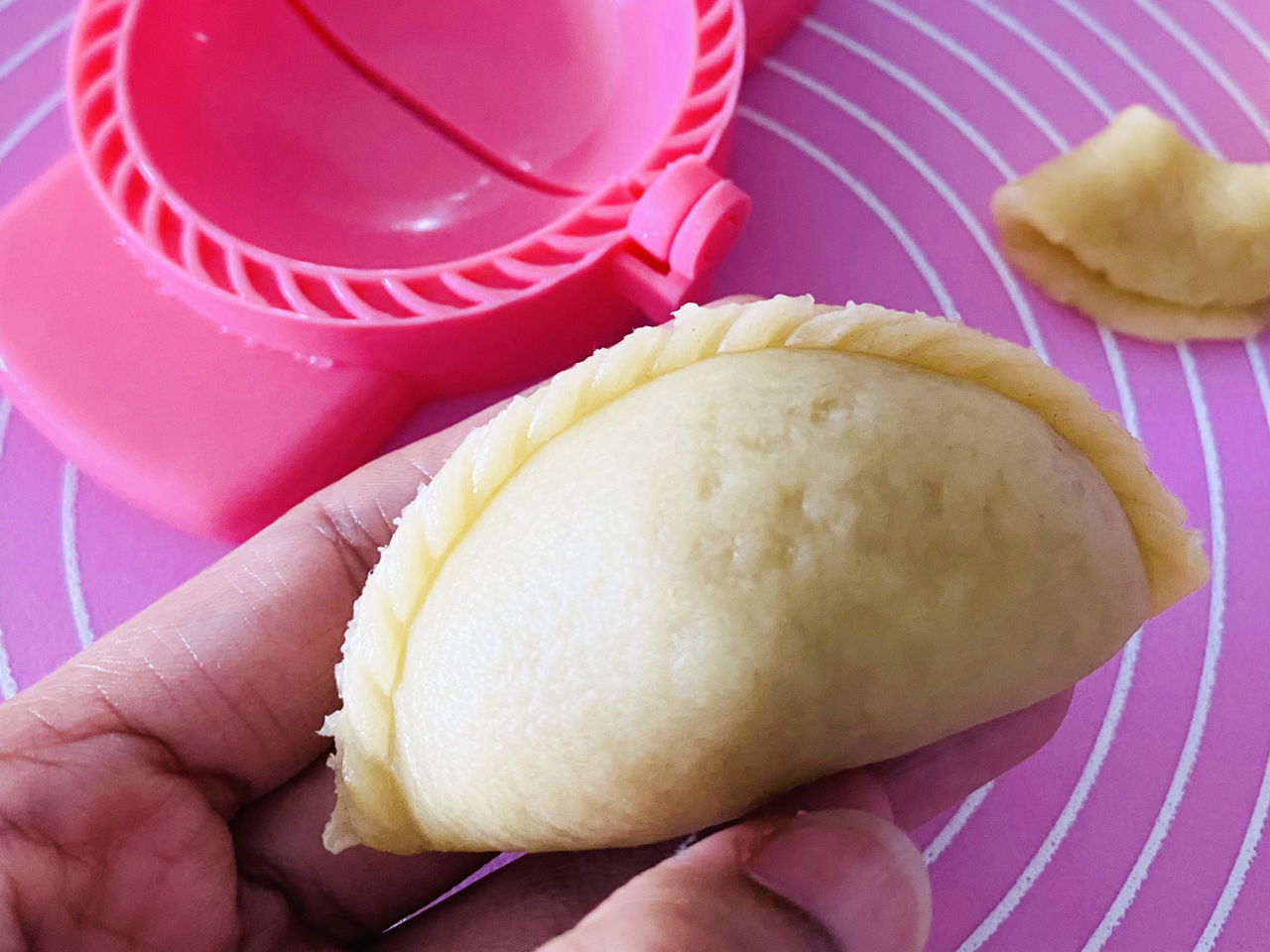 Avoid soggy and oily sardine puffs
Ensure there is enough oil. Fry the sardine puffs at low heat. The oil needs to be 50% hot as this will prevent bubbles forming on the pastry skin. Place each puff into the oil one at a time. Do not rush when frying the puffs or overcrowd the pan.