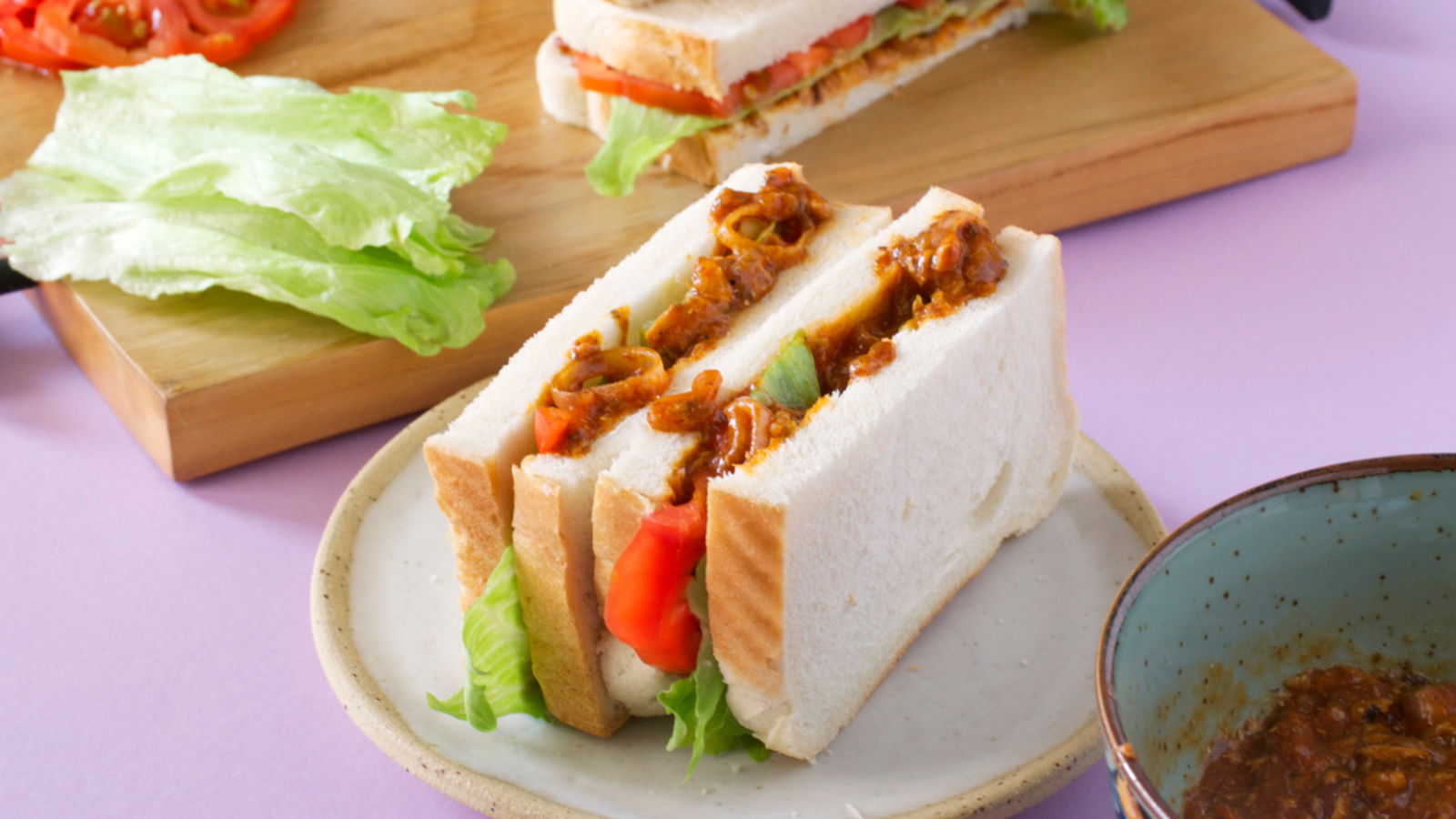 Sardine Sandwich
Simple sandwich made out of canned sardines, layer with egg, fresh tomato and lettuce will leave you wanting for more. The addition of chilli sauce and onions to the tomato sauce enhances the taste of the sandwich.
Preparation 5 mins
Cooking 10 mins
---
Ingredients
2

shallot(s)

30

g

lettuce

1

g

tomato(es)

1

sardine in a can

3

tbsp

water

1⁄2

tbsp

oil

1

tbsp

chilli sauce (sweet)

2

tbsp

butter
---
Journal Snaps
Be the first to take a snap!
Log in
and click the in the top bar.
---
Background
Sandwiches are often easy to prepare but this sardine sandwich is exceptionally easy and freaking delicious. It is due to the amazing tomato sauce from the canned sardines with its zesty flavour improved with chilli sauce and onions. You'll be surprised at how delicious it can be with simple ingredients such as egg, lettuce and tomatoes.
In Singapore and Malaysia, these sardine sandwiches are commonly sold instead of the usual cheese and ham sandwiches. You might be wondering how easy the preparation is. Well, I learned to make this in school. Now, you have no excuse not to make it for breakfast, lunch, dinner, during the next pot luck event or just whenever you want to. Making the sandwiches is not a hassle. However, the next few tips will be essential to making the ultimate sardine sandwich.
Canned sardines
There are many varieties of canned sardines. If you've been to Portugal, you'll know that there is a whole collection. For this recipe, canned sardines with just tomato sauce is used. You'll be able to find them at local or even Asian grocers.
Toast bread
While toast may seem like a dull piece of bread, its soft and fluffy texture makes it the best option for this sandwich. A simple toast does not have much taste but it holds up the structure of the sandwich well due to its flat surface. It becomes flavourful when the thick sauce seeps through the layers of ingredients and gets absorbed onto the surface of the toast.
Chilli sauce
The type of chilli sauce used here is very important. Since the sandwich is not meant to be spicy, sweet chilli sauce is most recommended as it is sweet with a slight hint of spiciness. A good substitute would be Thai sweet chilli sauce which is less spicy and sweeter. If you like to have homemade Thai sweet chilli sauce, check out this recipe. If you do not have chilli sauce, sauté slices of fresh chillies.
Toppings in sardine sandwich
When sold in stalls or convenience stores, sardine sandwiches are plain without other ingredients. To make this a wholesome meal, enjoy the sandwich with ingredients such as slices of boiled egg and tomatoes. As for greens, cucumbers or lettuce are the main choices to be added. You may, of course, jazz it up with other fun ingredients like avocado, cheese and even pickled cucumbers.
---
Steps to Prepare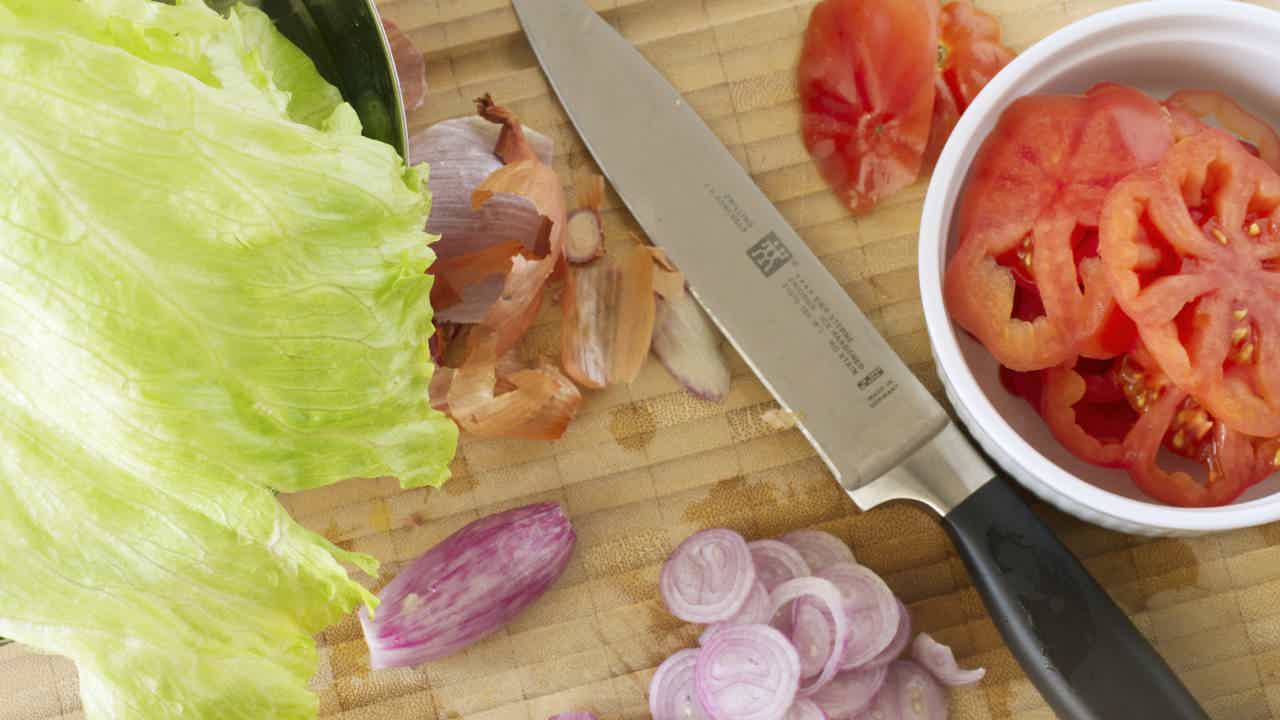 Step 1 of 5
2

shallot(s)

30

g

lettuce

1

g

tomato(es)
Cut shallots and tomato into thin slices. Remove a few pieces of lettuce leaves from its core. Leave aside.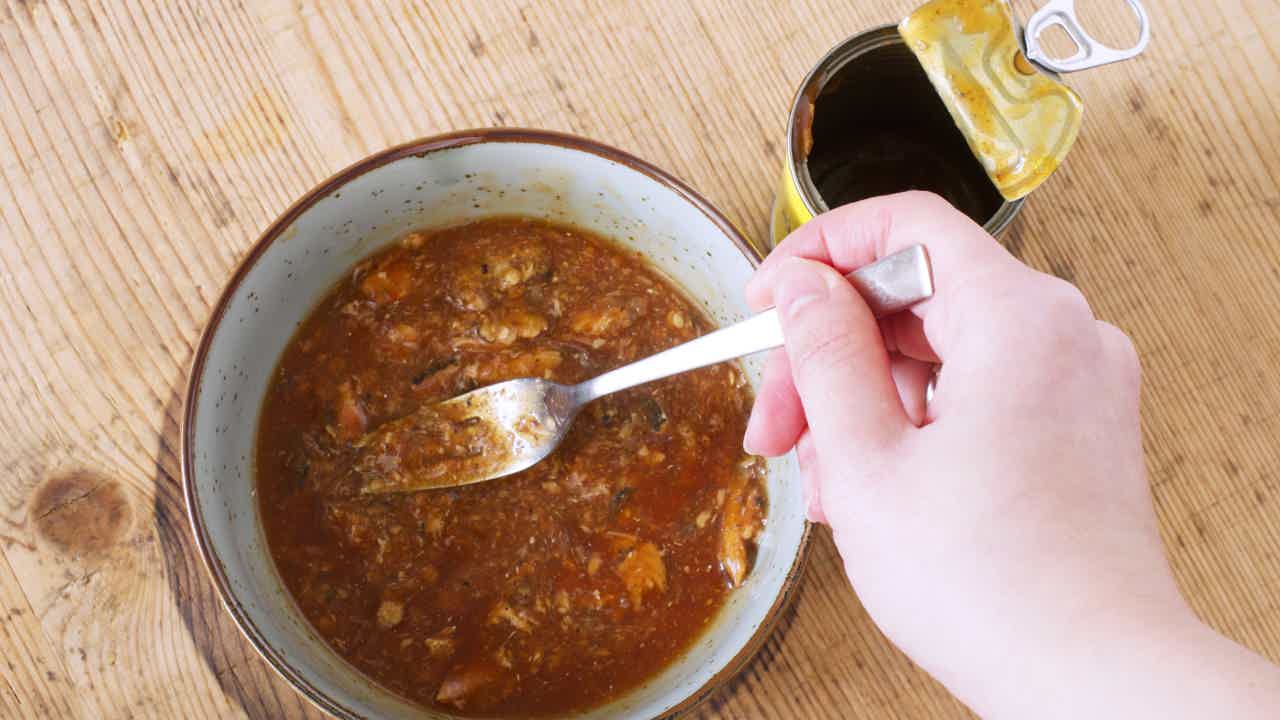 Step 2 of 5
1

sardine in a can

3

tbsp

water
Remove sardines from the can. Use a fork to mash sardine chunks. Then, add water to the empty sardine can. Leave aside.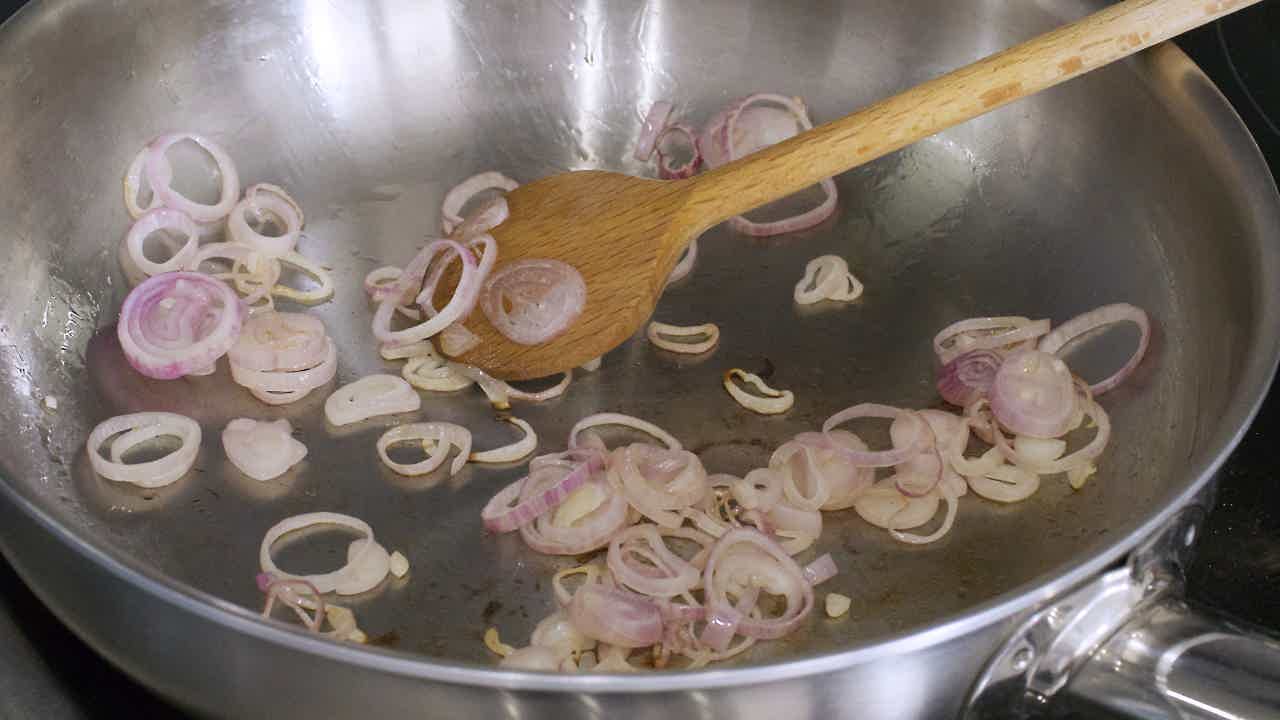 Step 3 of 5
In a pan, add oil and saute shallots over medium heat until they are soft.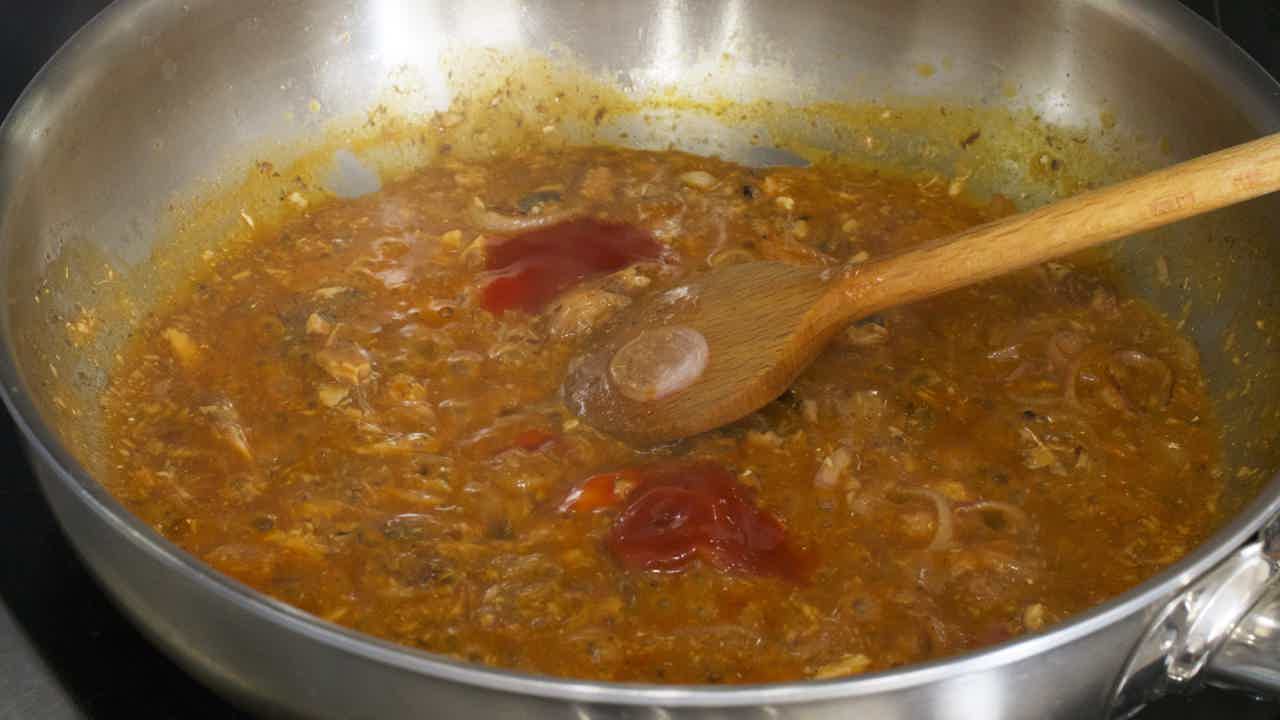 Step 4 of 5
1

tbsp

chilli sauce (sweet)
Add mashed sardines into the pan. Stir the water in the empty can before adding. Finally, add chilli sauce. Continue cooking over low heat until gravy thickens. It should only take 1-2 minutes.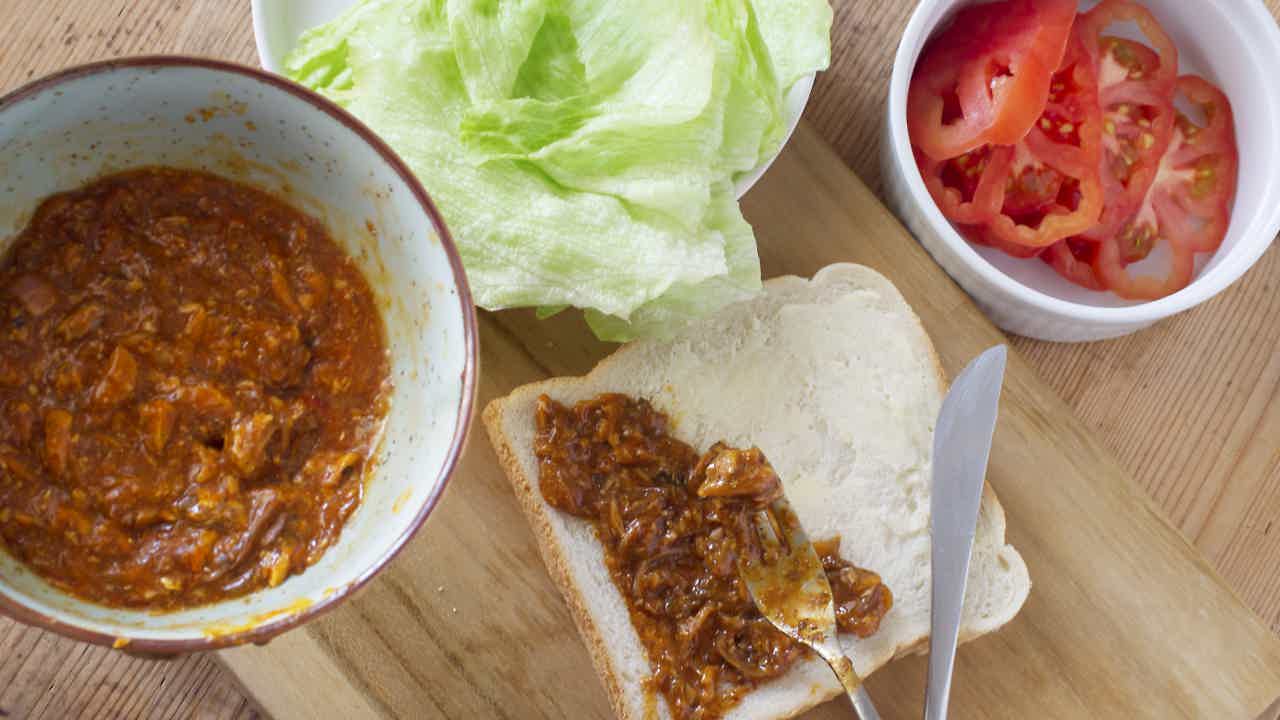 Step 5 of 5
Spread butter on one piece of toast. Spoon some sardine mixture on another. Layer it with tomato slices and lettuce leaves. Top it with the toast containing butter spread.
---
0 Discussions
Give us your opinion!
Log in
and start posting.