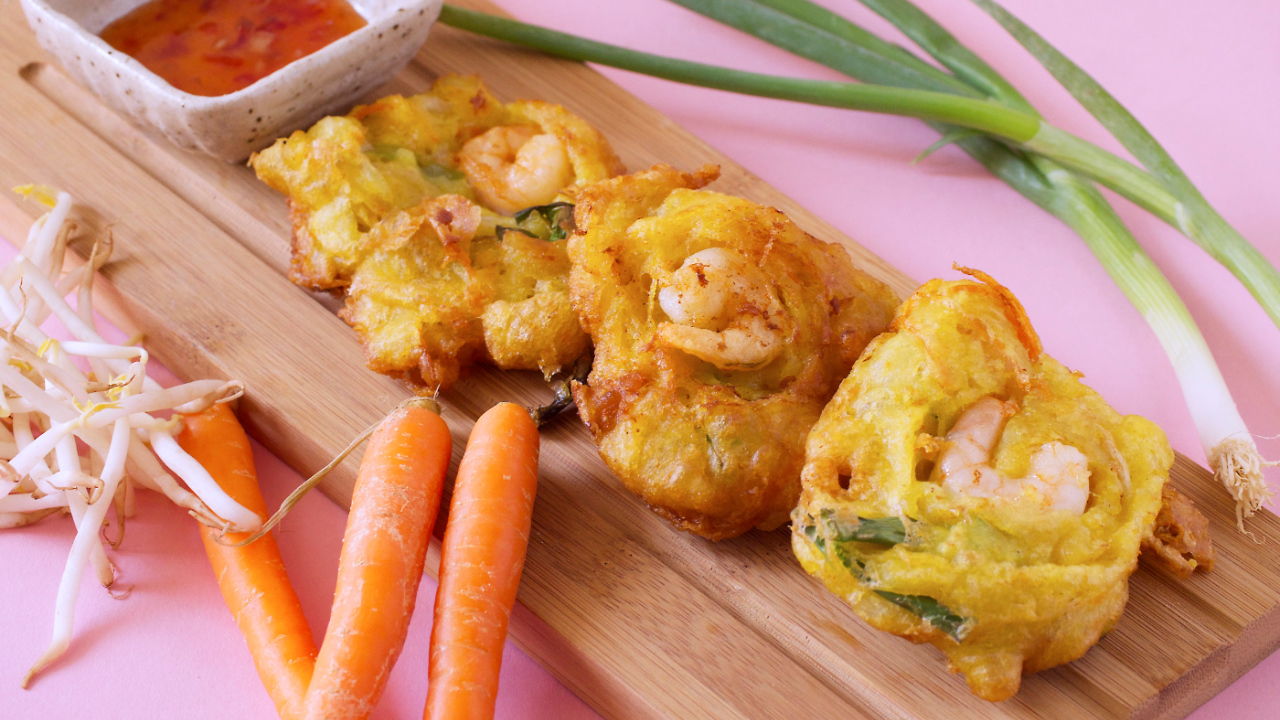 Cucur Udang Mamak (Prawn Fritters)
Prawn fritters are known as 'cucur udang' or 'jemput-jemput udang' in Malaysia and Singapore. This easy-to-prepare fried prawn snack which is crispy on the outside and fluffy on the inside is a typical Malay street vendor specialty.
Preparation 40 mins
Cooking 20 mins
Malaysian, Malay, Singaporean, Indian
---
Ingredients
1⁄2

tsp

yeast

1⁄4

tsp

sugar

200

ml

water

150

g

flour

1⁄4

tsp

salt

1⁄2

tsp

baking powder

1⁄2

tsp

turmeric powder

1⁄2

tbsp

shrimps (dried)

20

g

carrot(s)

15

g

scallions

25

g

bean sprouts

1

shallot(s)

8

prawns

400

ml

oil
---
Journal Snaps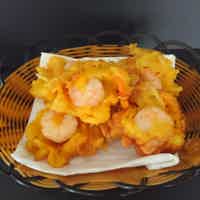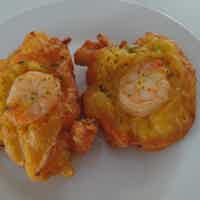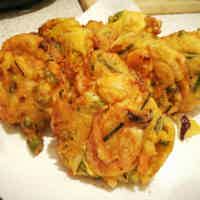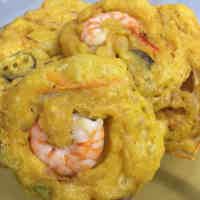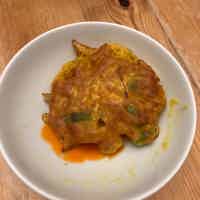 ---
Background
Cucur udang are prawn fritters which are commonly sold by Malay street vendors in Malaysia and Singapore. These golden prawn fritters are enjoyed during breakfast right up till tea time. They are served together with a sweet and spicy chili sauce or are added to other recipes as an ingredient. At mamak eateries, cucur udang are added to 'rojak' (local salad) or 'mee goreng' (fried noodles). When prawn fritters are used in Mee goreng mamak, it adds a delicious fluffy texture to the noodles. This recipe yields prawn fritters which are crispy at the side, yet fluffy on the inside without the overpowering flavour of prawns. Needless to say, the taste is absolutely amazing.
Crispy cucur udang
Oil used to fry cucur udang needs to be at the right temperature or the batter will soak up the oil instead and results in soggy prawn fritters. Once the pan is heated to medium heat, pour enough oil to cover at least half of the prawn fritters. Test the temperature of the oil by using wooden chopsticks or skewers. When the oil is hot enough, small bubbles will appear around the tip of the chopsticks or skewers.
The other tip is to use a flat ladle to spoon the batter. Thus, the sides will be thin and crispy while the centre is soft and fluffy.
Type of prawns
A whole shrimp or prawn is usually added to the top of the batter before frying. It is common to have its shell and head intact as they enhanced the flavour of the fritter. Traditionally, smaller shrimps or prawns such as North Atlantic pink shrimps are used due to the softness of its shell and head. However, in this recipe, medium sized prawns excluding the shell and head are used instead.
Cucur udang sauce
Prawn fritters are best served with sweet and mildly spicy chili sauce. Thai chili sauce would be the best choice.
How to store cucur udang
After frying, cucur udang can be served immediately or allow to cool to room temperature. If you plan to use it in Mee goreng mamak, keep them in the refrigerator for up to 3 days. Refrigerated fried prawn fritters can be reheated in a microwave oven.
If you plan to prepare cucur udang in advanced, fry the batter until it is about 50 percent cooked without placing the prawn on top. The center of the cucur udang should still be soft. After removing from the oil, leave them to cool to room temperature. Press a prawn or shrimp into the half fried cucur udang. It can be kept frozen for up to 3 months. Fry frozen cucur udang without thawing.
---
Steps to Prepare
Step 1 of 4
1⁄2

tsp

yeast

1⁄4

tsp

sugar

200

ml

water
Add sugar and yeast into a bowl of lukewarm water. Leave aside for 5 minutes or until yeast begins to bubble.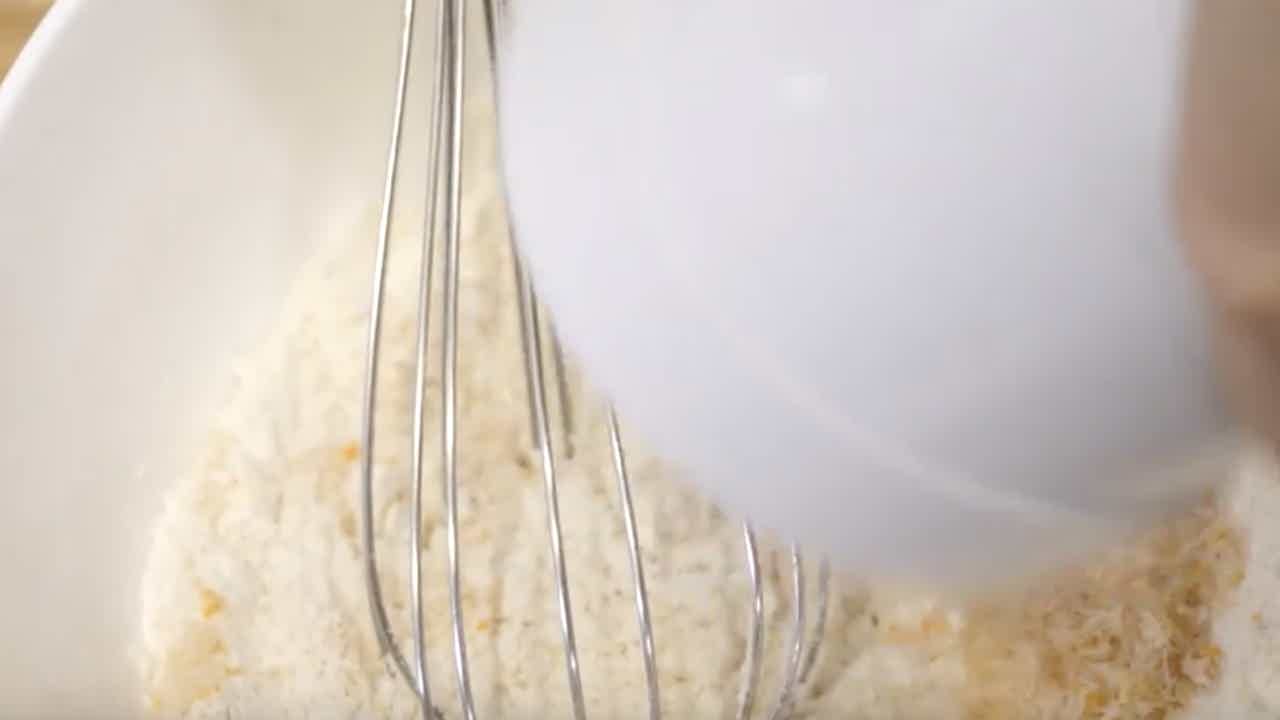 Step 2 of 4
150

g

flour

1⁄4

tsp

salt

1⁄2

tsp

baking powder

1⁄2

tsp

turmeric powder

1⁄2

tbsp

shrimps (dried)
Add salt, baking powder, turmeric powder, blended dried shrimps and yeast mixture to wheat flour. Mix well. Leave aside for 30 minutes.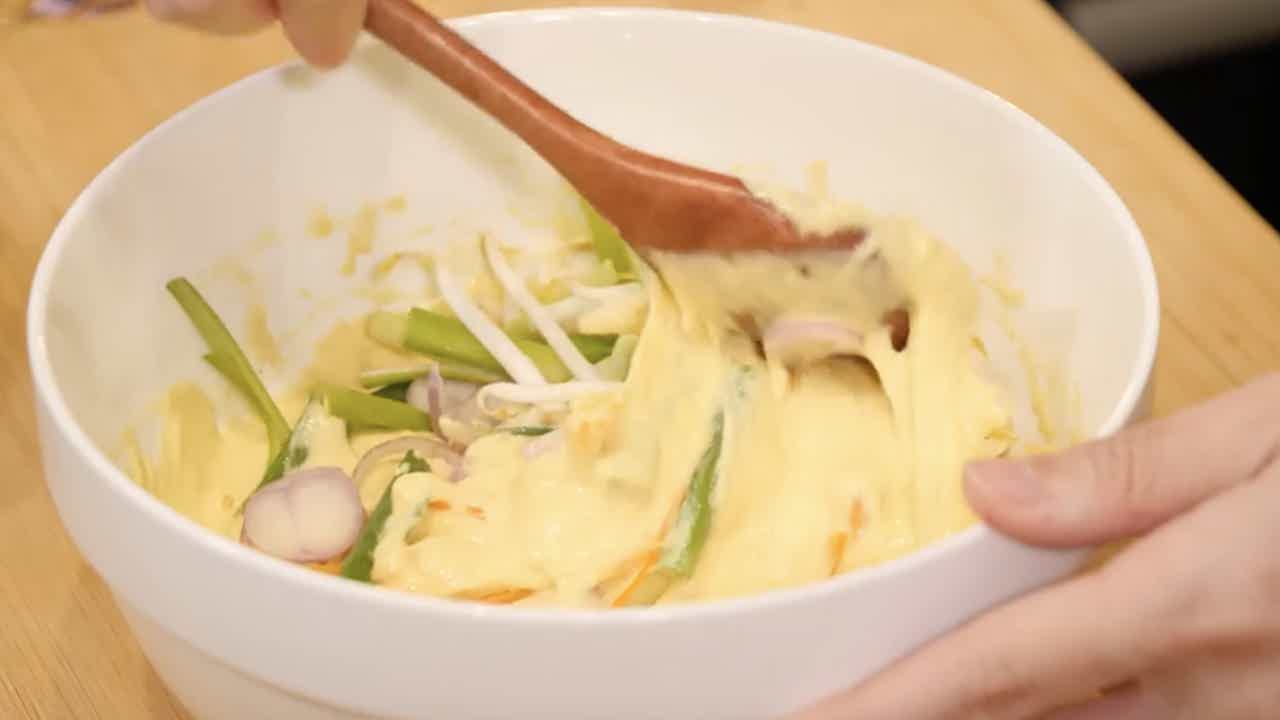 Step 3 of 4
20

g

carrot(s)

15

g

scallions

25

g

bean sprouts

1

shallot(s)
Prepare julienned carrots, sliced shallots, chopped scallions and bean sprouts. Add them into the batter and gently mix well.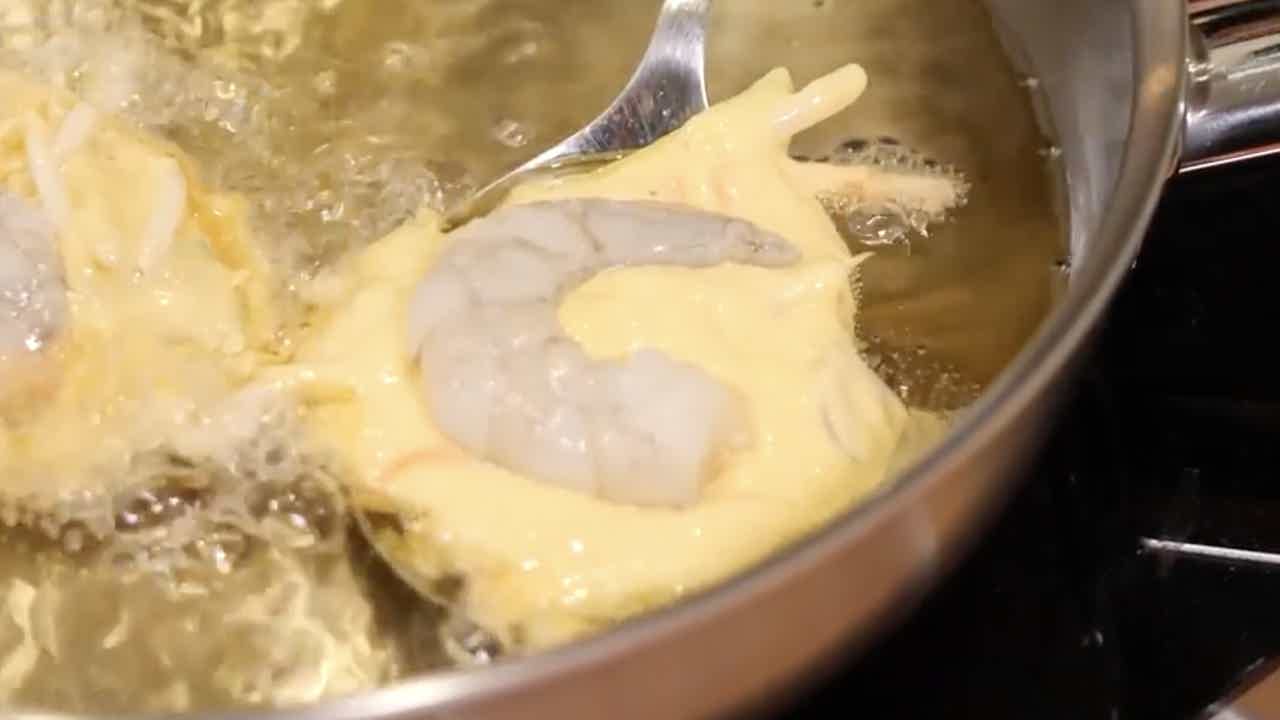 Step 4 of 4
Heat oil in a pan over medium heat. Once oil is heated, place a flat stainless steel ladle into the oil for 3 minutes. Scoop some batter onto the stainless steel ladle and place a prawn on top. Fry for about 30 seconds. Using another spoon, gently push the prawn fritter off the ladle. Fry both sides until golden brown.
Published: October 11, 2018
---
2 Discussions
Give us your opinion!
Log in
and start posting.
2 months ago
Wow, Just got some Udang, we've just GOT to try these fritters. Grace, you're the bomb!

2 months ago
Grace, not at this time. More wanting to try Pisang goreng and Indo loempia. Always looking forward to your Indo cooking. Would LOVE the meetstuffed rice , if you have recipe. Your fritters were delicioso.! Thank you

2 months ago
Mira - Community Happiness Manager
Opps, I'm not Grace. I'm helping the members here whenever there are questions ;) Happy to hear how you liked the recipe. You have fantastic ideas! Why don't submit your request? https://www.nyonyacooking.com/requests We normally inform once a recipe request have been fulfilled.