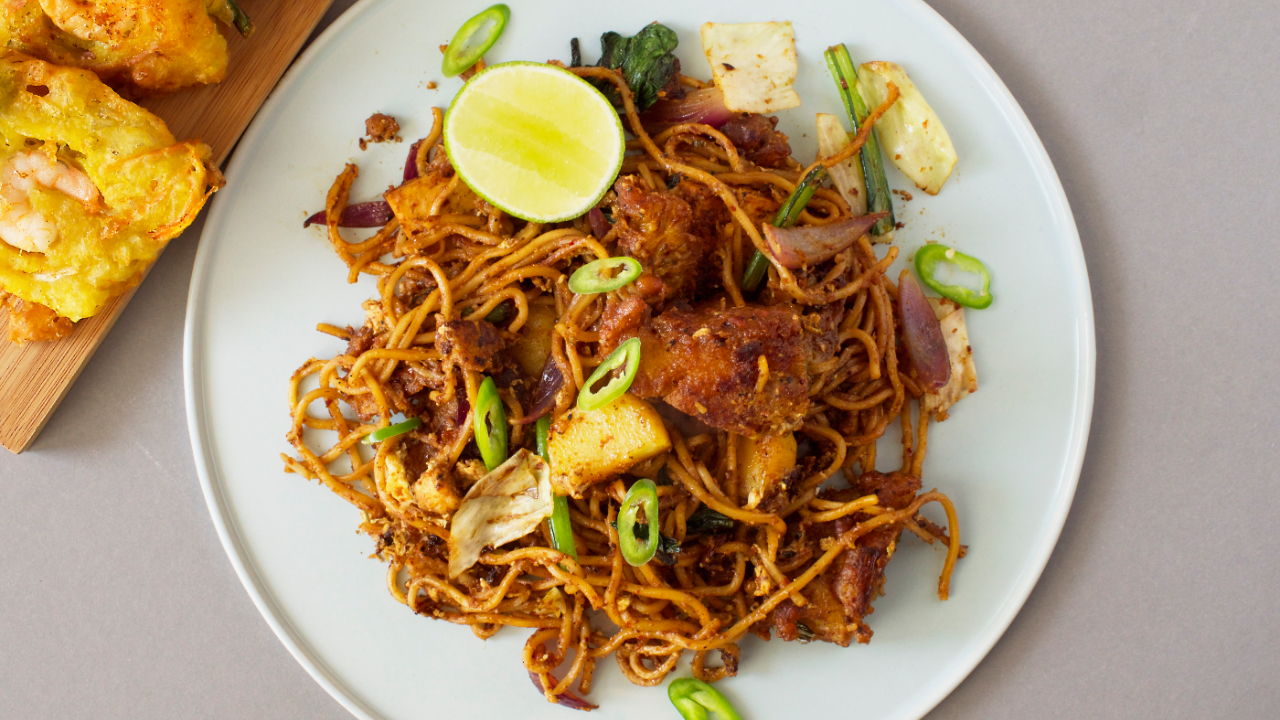 Mee Goreng Mamak
'Mee goreng mamak' is a specific stir-fried noodles dish sold at Mamak eateries in Malaysia and Singapore. It is stir-fried over very high heat together with a special paste along with 'cucur udang' (prawn fritters) which is synonymous with these noodles.
Preparation 20 mins
Cooking 8 mins
---
Ingredients
50

g

peanuts

15

g
chilli peppers (dried)

10

g

shrimps (dried)

5 1⁄2

tbsp

oil

10

g

chana dhal

1⁄2

tbsp

tamarind paste

750

ml

water

250

g

potatoes

2

red onion(s)

4

garlic clove(s)

30

g

white cabbage

30

g

choi sam/chinese flowering cabbage

1

tofu (firm and deep fried)

1

tbsp

dark soy sauce

6

prawn fritters

4

yellow noodles

1

egg(s)
---
Community Food Snaps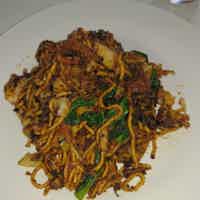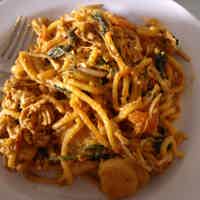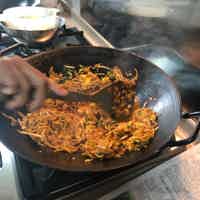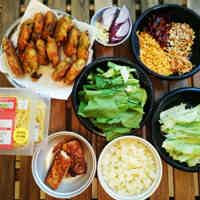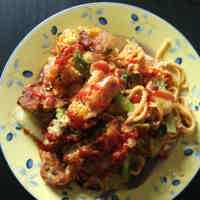 ---
Background
Mee goreng mamak is a fried noodles dish which is commonly found in mamak eateries throughout Malaysia and Singapore. One of the most popular cities in Malaysia that serves mee goreng mamak is Penang. This noodles are popularly known for its sweet and spicy flavours with some nutty taste to it. Although this may not be a simple and quick mee goreng recipe, rest assured that it is an authentic version.
Mee goreng mamak paste
The paste used in mee goreng mamak is no more than a combination of several ingredients. It has a blend of dried chilies, shallots, dried prawns, dhal and also peanuts. Dhal, a common ingredient in Indian kitchens is a term used for dried split legumes. Adding it to the paste gives the noodles the mild grainy texture for which mee goreng mamak is known.
Storing mee goreng mamak paste
The ready paste can be stored in the refrigerator for up to 5 days. For longer storage, freeze 1.5 tablespoonfuls of paste in silicone tray moulds individually. Once frozen, transfer them into an air-tight container or zip lock bag for storage up to 3 months. Please note that the paste has to be kept frozen.
Prawn fritters
Besides the paste, prawn fritters are the other ingredient that makes mee goreng mamak different from the rest of the fried noodles available. Cucur udang as it is known in the Malay language, adds some crispiness to the noodles. Biting into the spongy and soft insides of the prawn fritters makes the noodle dish so much more interesting.
Substitute for yellow noodles
Mee goreng mamak uses soft medium sized egg noodles. The noodles do not have the al-dente texture that is more known in western noodle dishes. In Malaysia and Singapore, fresh yellow noodles are sold either in loose form or in a package at the wet markets. In Asian grocers, yellow noodles available are usually dried and marketed as egg noodles or 'chow mien' noodles. Otherwise, substitute with spaghetti. Just soften it before frying.
---
Steps to Prepare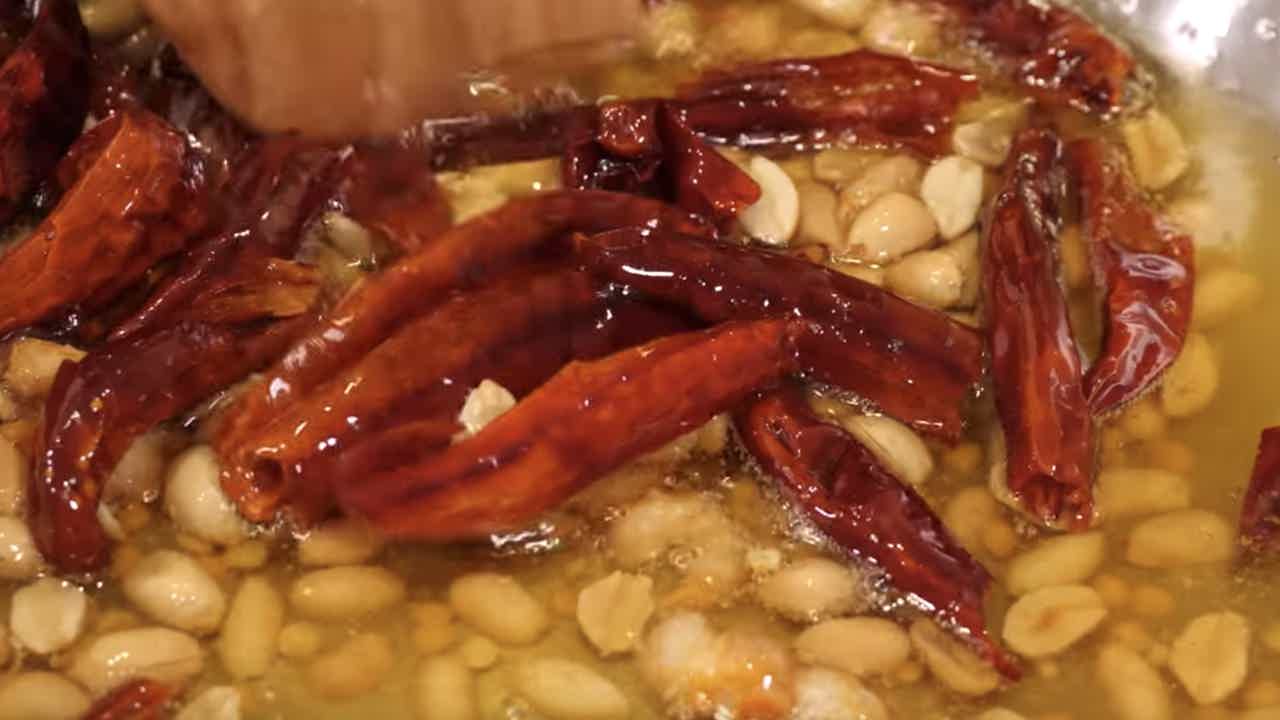 Step 1 of 7
50

g

peanuts

10

g

shrimps (dried)

4

tbsp

oil

10

g

chana dhal
Heat oil in a pan at medium heat. Then, add peanuts, dried chilies, dried shrimps and dhal. Fry the aromatics until fragrant. Remove from pan and leave aside.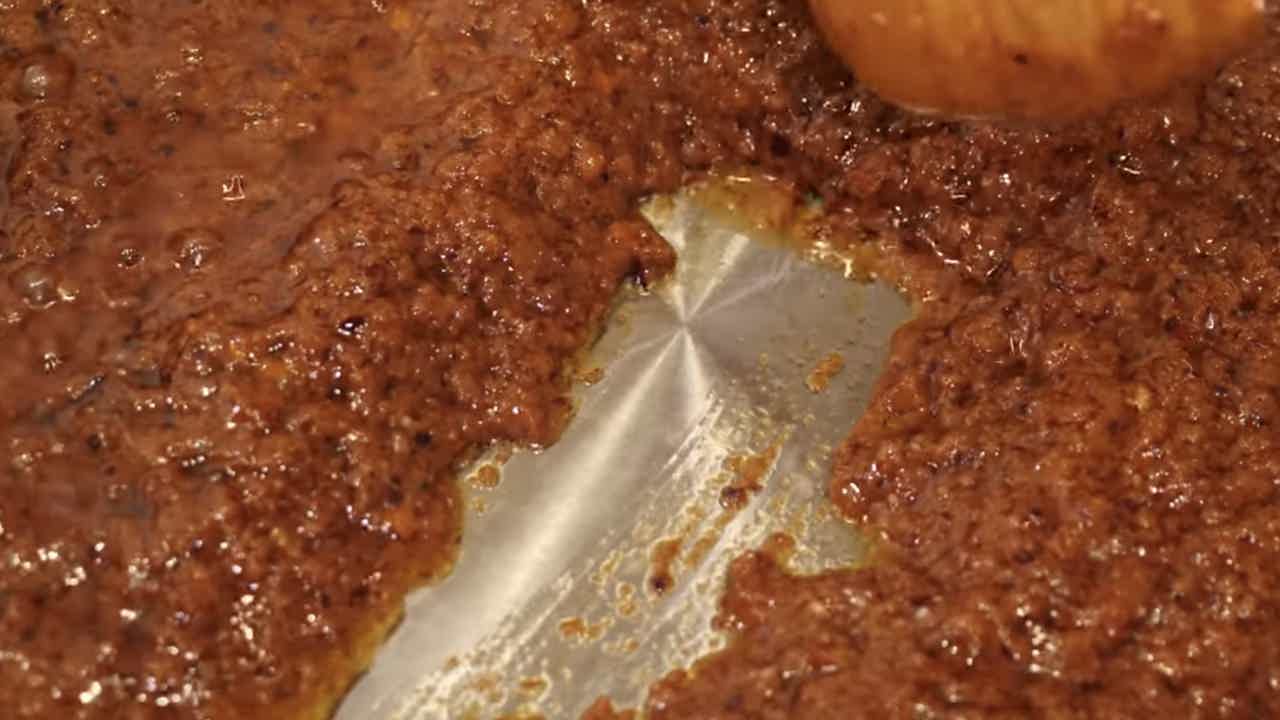 Step 2 of 7
1⁄2

tbsp

tamarind paste

200

ml

water
Blend fried ingredients with tamarind paste and water until fine. Then, sauté the blended ingredients in oil heated over low heat. Continue cooking until the oil separates from the paste and turns a darker shade.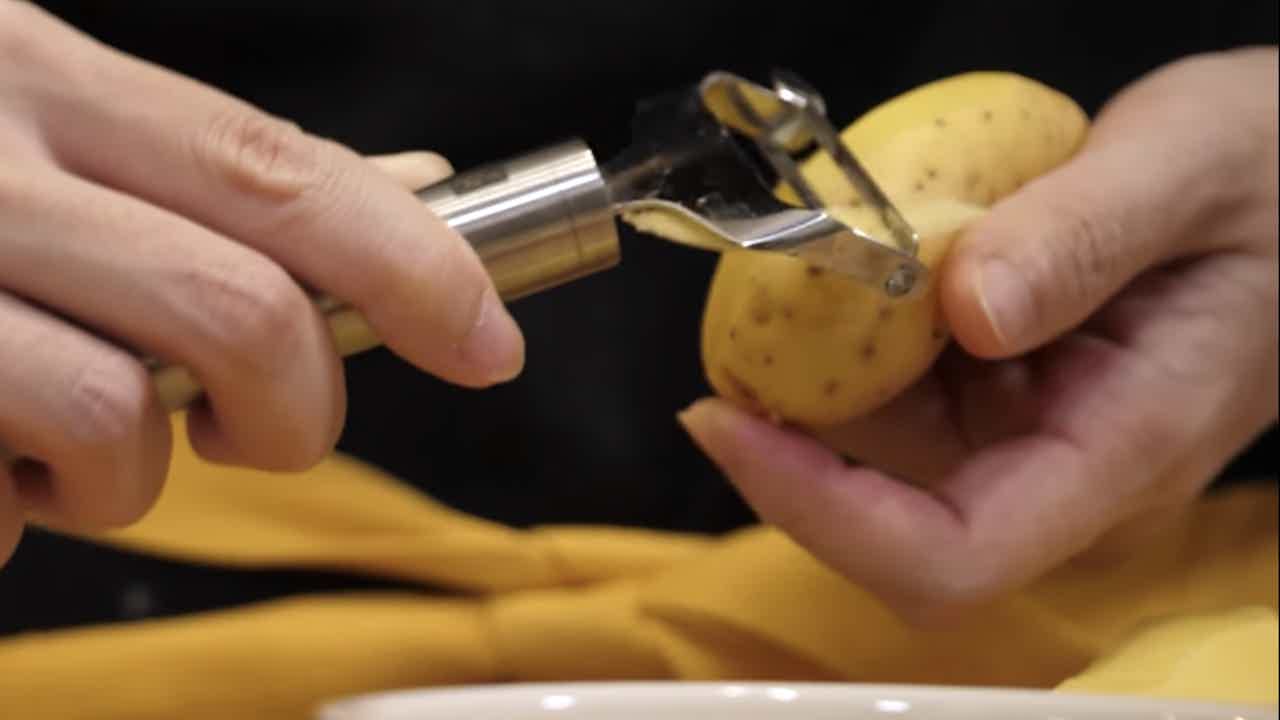 Step 3 of 7
250

g

potatoes

400

ml

water
Skin and cut potatoes into small chunks and boil them in a pot of water until knife-tender. Once ready, remove them from the pot and leave aside. Discard water.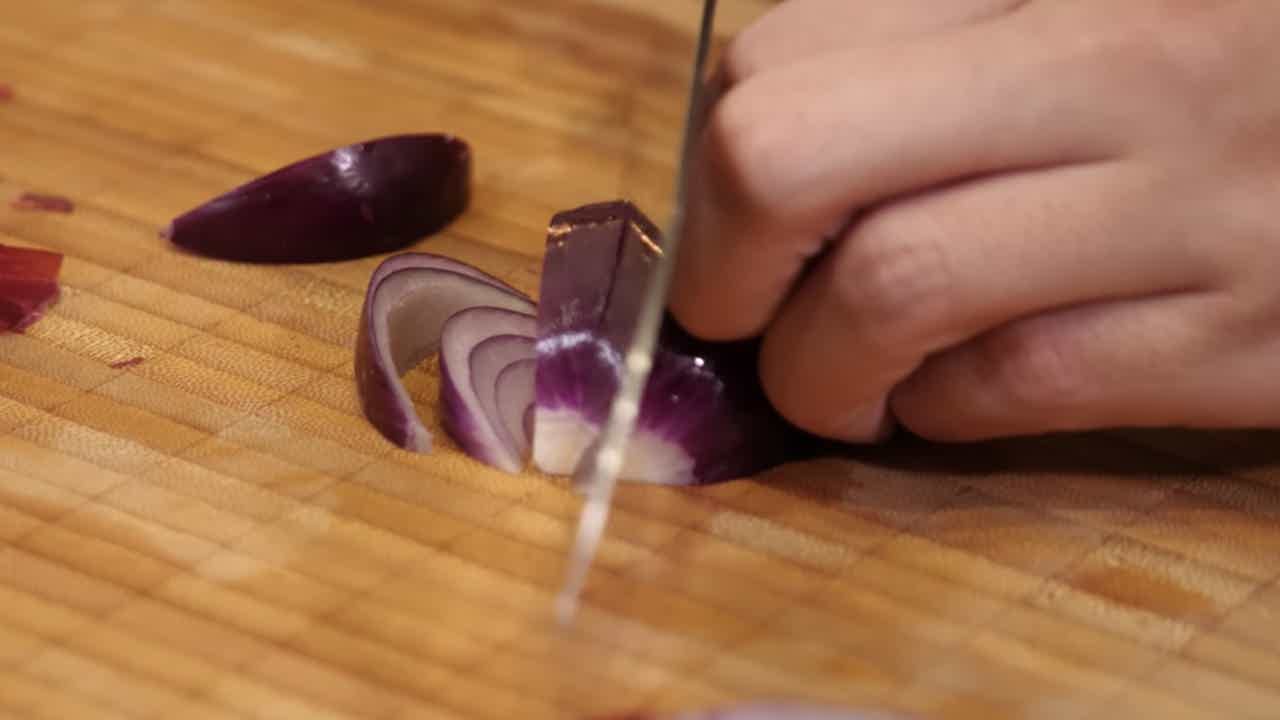 Step 4 of 7
2

red onion(s)

4

garlic clove(s)

30

g

white cabbage

30

g

choi sam/chinese flowering cabbage

1

tofu (firm and deep fried)

150

ml

water

1

tbsp

dark soy sauce

6

prawn fritters

4

yellow noodles
Slice onion and fried tofu, mince garlic, cut some cabbage and Chinese flowering cabbage (choi sam). Prepare prawn fritters and cut them. Boil noodles to soften them if bought dried. Also mix black soy sauce with water.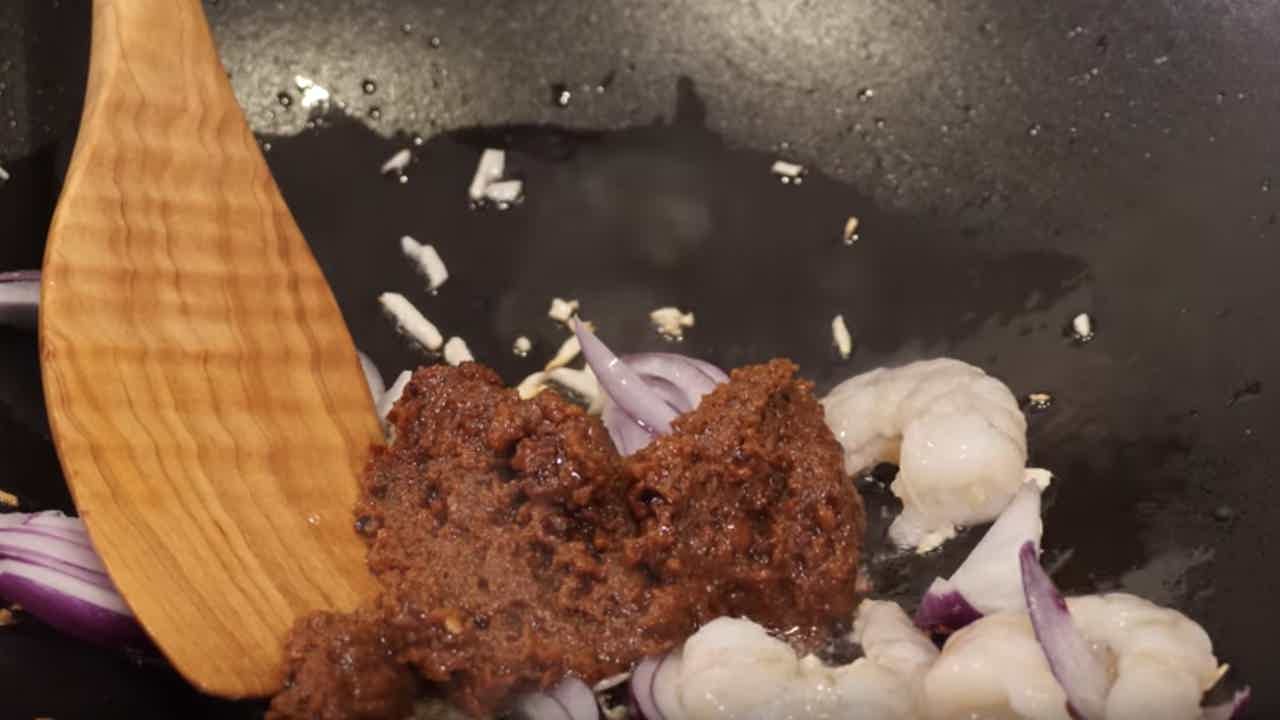 Step 5 of 7
To fry one portion of mee goreng mamak, heat oil and add 1/4 of the following ingredients in this order: garlic, onion, paste. Sauté until fragrant. Optionally, add prawns.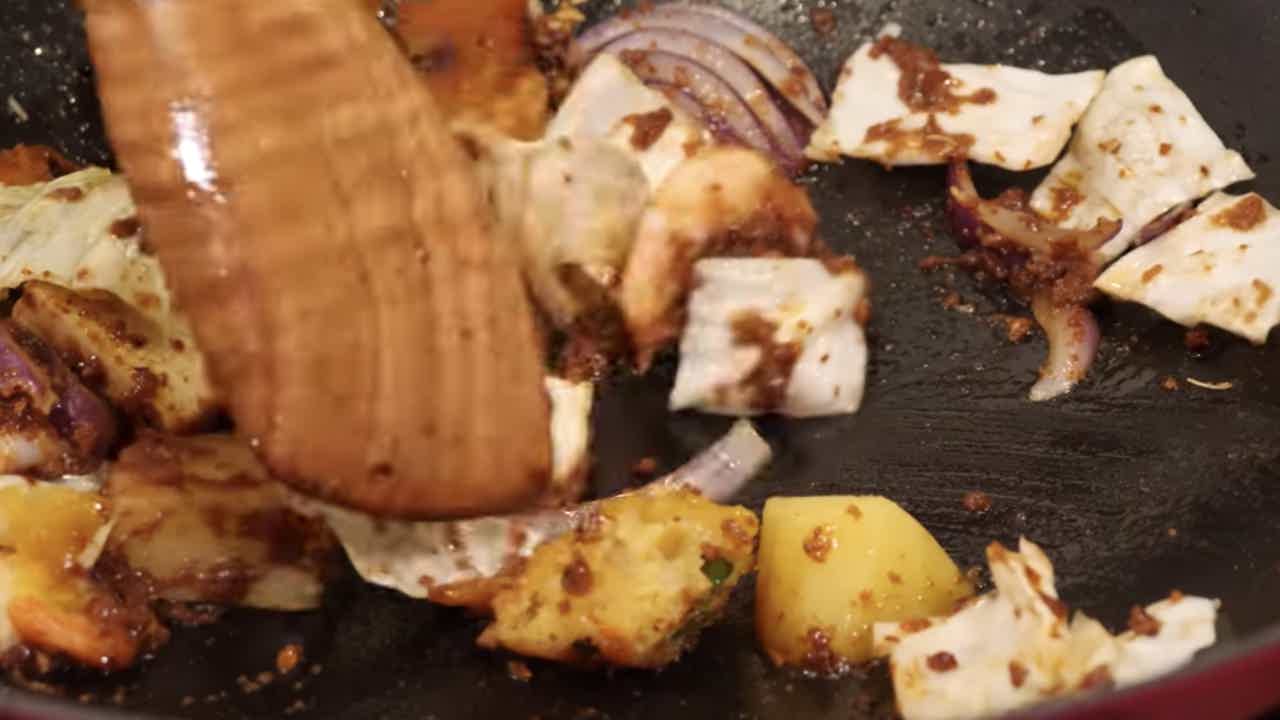 Step 6 of 7
Add in 1/4 amount of tofu, boiled potatoes, cabbage, Chinese flowering cabbage and prawn fritters. Sauté for another 30 seconds.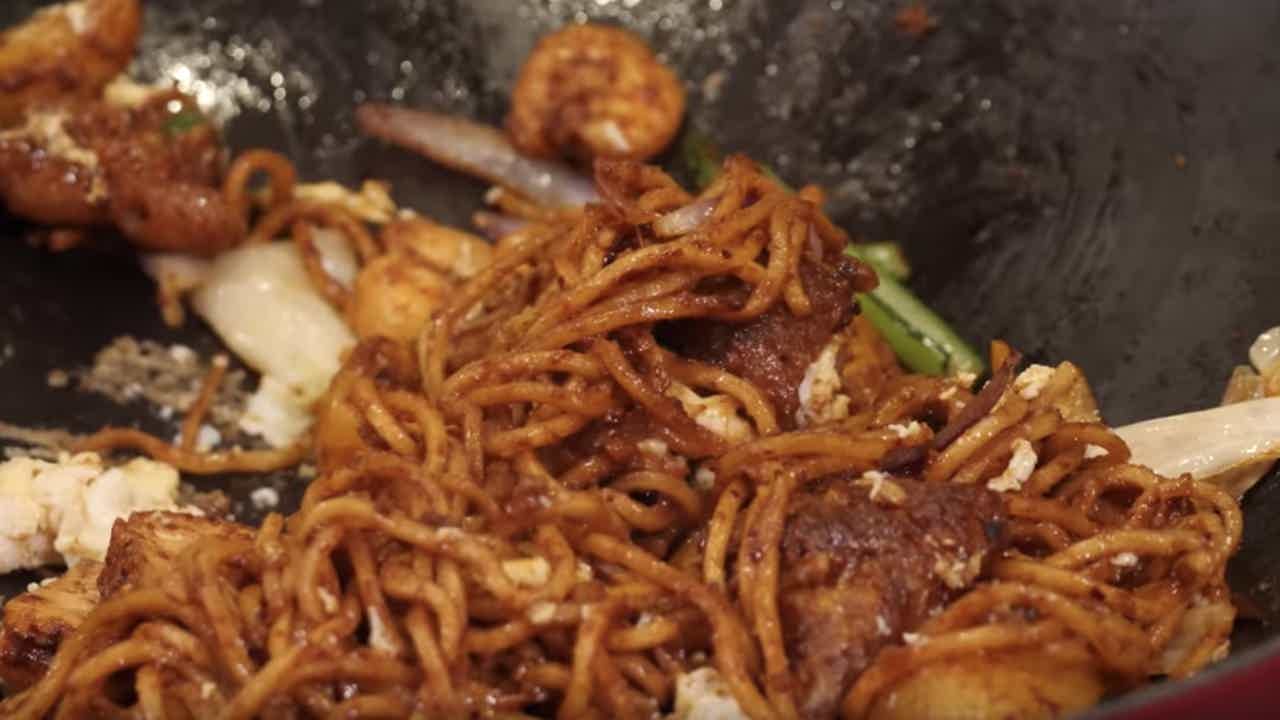 Step 7 of 7
Add noodles to the wok. Add 3 tablespoons of dark soy sauce mixture. Mix evenly for the next 1 minute. Then, move the noodles to the side of the wok. Stir in an egg. Garnish with a slice of lime and slices of green chilies. To cook another plate of noodles, repeat from step 5 onwards.
Published: September 24, 2018
---
0 Discussions
Give us your opinion!
Log in
and start posting.