This golden lacy pancake that is loved in Malaysia, Singapore and Indonesia is known to locals as roti jala. Roti jala literally means 'bread' and 'net'. It is no secret that the name is representative of how it looks. Unlike pancakes which are thick, roti jala on the other hand is much thinner like crepes. It is most frequently made during the Ramadan (Muslim's fasting month) and Eid/Hari Raya. For me, I enjoy it every now and then with my family.
The batter is poured in form of strings on hot pan and then rolled or folded. This creates a very light and airy structure that is tasty when soaked in both sweet  or savoury gravy. If you are planning to do-it-yourself (DIY), here are some tips to come up with the best DIY roti jala.
The history and origins
The origins of roti jala is said to be from India. It does resembles String Hoppers which are extremely popular in Southern India and Sri Lanka. String hoppers contained rice flour as an ingredient but authentic roti jala does not. It contains only wheat flour. Just like other traditional recipes, there are many folk tales as to how the lacy pancake came about.
In this tweet, it is said that the pancake came by accident because a lady used a ladle with a hole to scoop batter when preparing another type of pancake. That made the batter flow into a thin stream which created a stringy pattern. When her husband saw the pancake, he called it 'messy' or in Malay, kirai. This explains the other name for the dish, Roti Kirai. The tweet further explained that turmeric is added for its colour because it was later on served to the king.
Ceritanya satu hari di Kedah, ada seorang wanita sedang nak masak pek nga untuk sarapan pagi, tetapi senduk tepungnya berlubang. Panik dan tak nak tepungnya rugi, wanita itu hanya membiarkan titisan bancuhan tepung itu menitik di kuali leper.

— エリナ (@ErenaTakeuchi) November 11, 2019
The popularity of roti jala caught on. In certain places, people will create the pattern by sprinkling the batter with their fingers. This act of sprinkling the batter is called renjis in Malay and it gave the pancake other nickname, Roti Renjis.
Secrets to the best roti jala
1. Texture An additional egg yolk may do its magic. This also gives it a rich flavour while adding a wonderful hue of colour. Blending or whisking the batter will add some air to it for a fluffier texture.
2. Perfect consistency If the batter is too thick, it will be difficult to flow through the nozzles. It should flow through easily without much effort. If the batter is too thin, the lace pattern will appear in dots instead of a smooth line. Add more flour if this happens.
3. Pattern making Your wrist needs to be relaxed when spreading the batter onto the pan. Move swiftly to create the signature look but do not make it too thick or it will be difficult to cook thoroughly. Avoid adding too much pressure if you are using a squeeze bottle.
4. Pan material It is also highly recommended to use a non-stick pan so that the pancake can be removed easily. If using a stainless steel pan, allow it to be fully heated and bush the surface with some oil before adding the batter. Lastly, ensure that the heat is not too high. Otherwise, the final result might be crispy or worse, burned.
Options for natural colouring
Turmeric is often used as the colouring agent. However, these days, you can find different coloured roti jala too. Other natural ingredients to use to colour the pancake are pandan extract, beetroot juice or butterfly pea flower water. They can be added directly to the amount of water suggested in the recipe.
Roti jala mould
There is a special mould which you may be able to buy from baking stores in Malaysia, Indonesia or Singapore. Other alternative you may use is a squeeze bottle or a freezer bag with one of the tips snipped off. You can also do it like the olden days too using your fingers to sprinkle the batter. Just be careful or you may have a very messy kitchen stove!
How to fold or roll the pancake?
Due to its soft net-like pattern, roti jala is often rolled up or folded for a more solid structure. For cylinder rolls, bring the left and right side to the middle of the pancake allowing both sides to overlap each other before rolling it from bottom to top.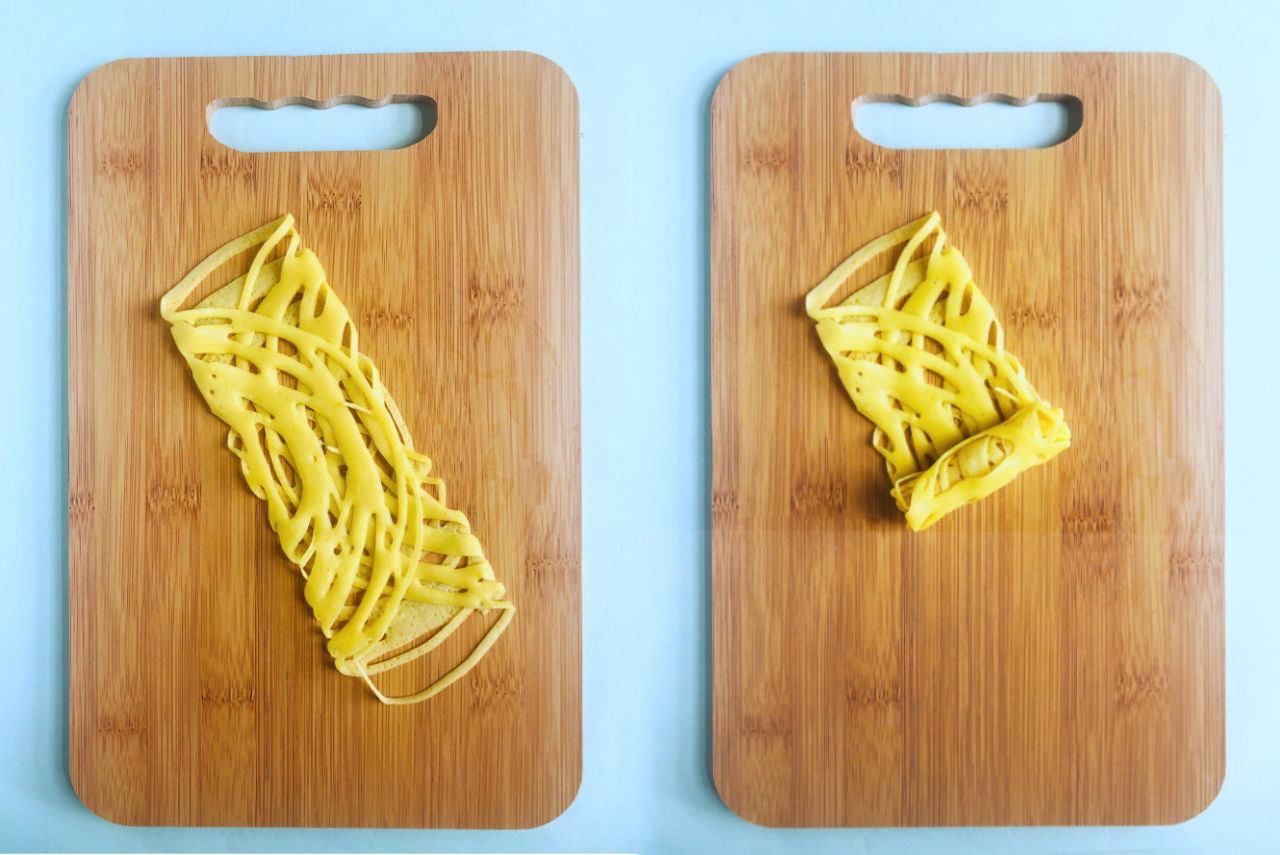 The other option is to fold it directly into half creating a semicircle. It is further folded into half two more times to 1/8 of a circle that makes it looks like a long triangle.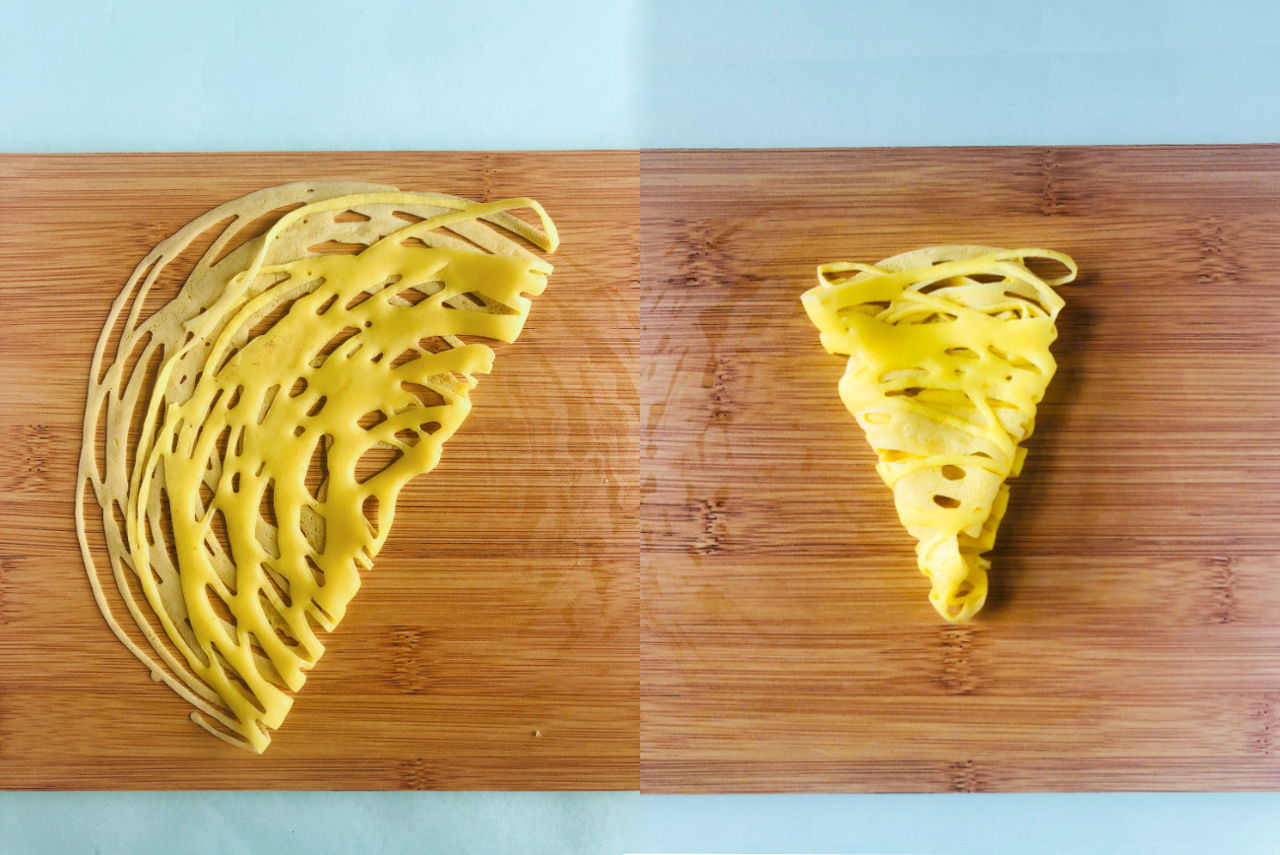 Gluten-free lace pancake
A fantastic 1:1 substitute for wheat flour will be almond flour. This gluten-free flour makes fluffy Western pancakes and will work just as good with this roti jala recipe.
For a creamier and richer version
This roti jala recipe does not contain any coconut milk, condensed milk or evaporated milk. We also recommend substituting water with coconut milk or plain milk, if that is your preference. Condensed milk may be added to the plain water suggested in the recipe. However, the mixture of both ingredients should not exceed the recommended amount of water. Evaporated milk is not recommended for this recipe.
Eggless roti jala
I enjoy eating roti jala made using the traditional recipe with egg. Egg yolk makes the pancake softer and fluffier. You can omit the egg if you are on a vegan diet. While it may be not that soft, it will be just as tasty. Consider using coconut milk here for its natural oil and fragrance.
How to serve it?
Just like Western pancakes, it can be eaten with both savoury and sweet dishes. The dishes must however, be thick enough to coat the pancake once dipped. Most commonly, roti jala is paired with curry chicken, chicken rendang, beef rendang or chicken/beef floss. A popular sweet side dish to go with roti jala has got to be durian serawa, a tasty durian and coconut milk dessert. If you want something simple, enjoy it with condensed milk.
How to store?
It will remain soft all day after cooling down if kept in an airtight container. If you wish to eat the pancakes the next day, keep them refrigerated after wrapping them with cling wrap or stored in a container. Steam them for 5 minutes before serving. It is not recommended to keep them longer than 2 days.
Can it be frozen?
Yes! Place ready-made roti jala in the freezer on a tray with cling wrap. This prevents them from sticking to the tray. Do not arrange them too closely as we want to freeze them individually later on. Once the they are frozen, pack them in a freezer bag or an air tight container. To cook, steam frozen roti jala without thawing for 5 minutes.