Mee Goreng is a simple fried noodles dish. In Malaysia, Indonesia and Singapore, you can find a variety of Mee Goreng which simply means fried noodles. This recipe is a family favourite that is specifically found among the Malay community. You may find it served at parties or sold by street food vendors, along with Nasi Lemak and other snacks/kuih.
Sometimes nicknamed Mee Goreng Kering, which means dried fried noodles, the dish is tossed to perfection in savoury and spicy sauces with some vegetables and chicken. Although it may not be a gourmet meal, it is a dish you can eat everyday. Both kids and adults simply enjoy this dish.
Why this Mee Goreng recipe?
Unlike Mamak Mee Goreng, this dish does not need many ingredients. The steps are also very straight forward. If you are craving for the Mee Goreng served at local Malay celebrations (e.g. Hari Raya), birthday parties or at national school canteens in Malaysia, look no further. This is the recipe you need to attempt.
The dish brings back nostalgic school memories. The noodles are always stir-fried with fish cakes or fish balls and is usually served with omelette and sambal ikan bilis. The Makcik Kantin (canteen lady) will use the same [sambal for nasi lemak](sambal ikan bilis. So basic yet so tasty! Have a look at the simple ingredients needed. Feel free to adapt the recipe by adding your favourite sausages, vegetables or meat.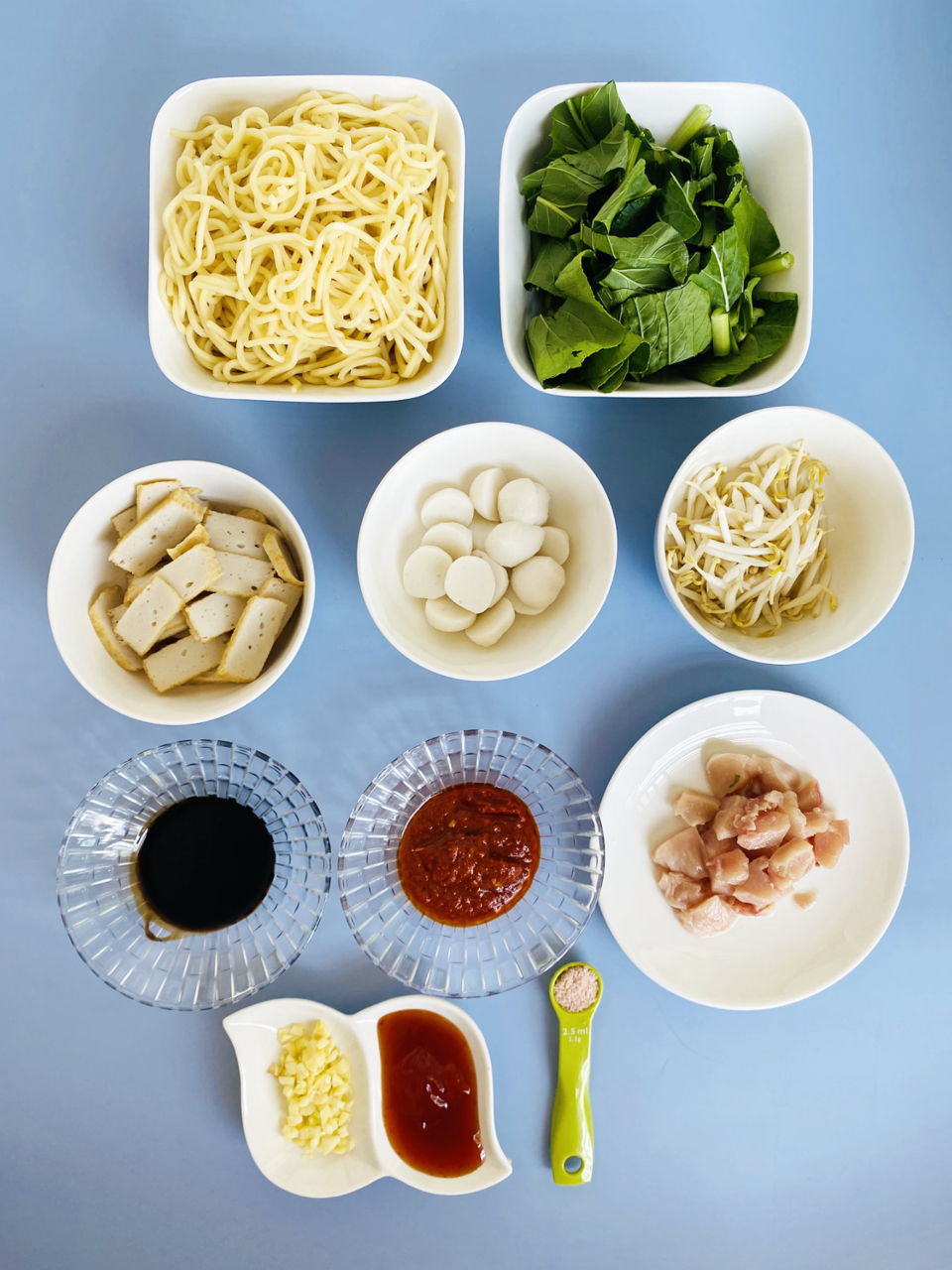 Mee Goreng sauce
The special sauce for mee goreng is soy sauce based. It is similar to caramel dark soy sauce so you can use it as a substitute. Just like caramel dark soy sauce, the mee goreng sauce has a thick consistency, although not sweet like sweet soy sauce. Neither is it salty like light soy sauce.
Otherwise, use a combination of dark soy sauce (for colour) and light soy sauce (for saltiness).
The correct chilli sauce
In Malaysia or Singapore, you can buy hot and sweet chilli sauce at supermarkets. It is not as sweet as Thai chilli sauce and not as hot as Sriracha. To make your own, combine both Sriracha and Thai chilli sauce at a ratio of 1:2.
Yellow noodles vs. spaghetti
Fresh yellow egg noodles are sold in wet markets or at selected supermarkets.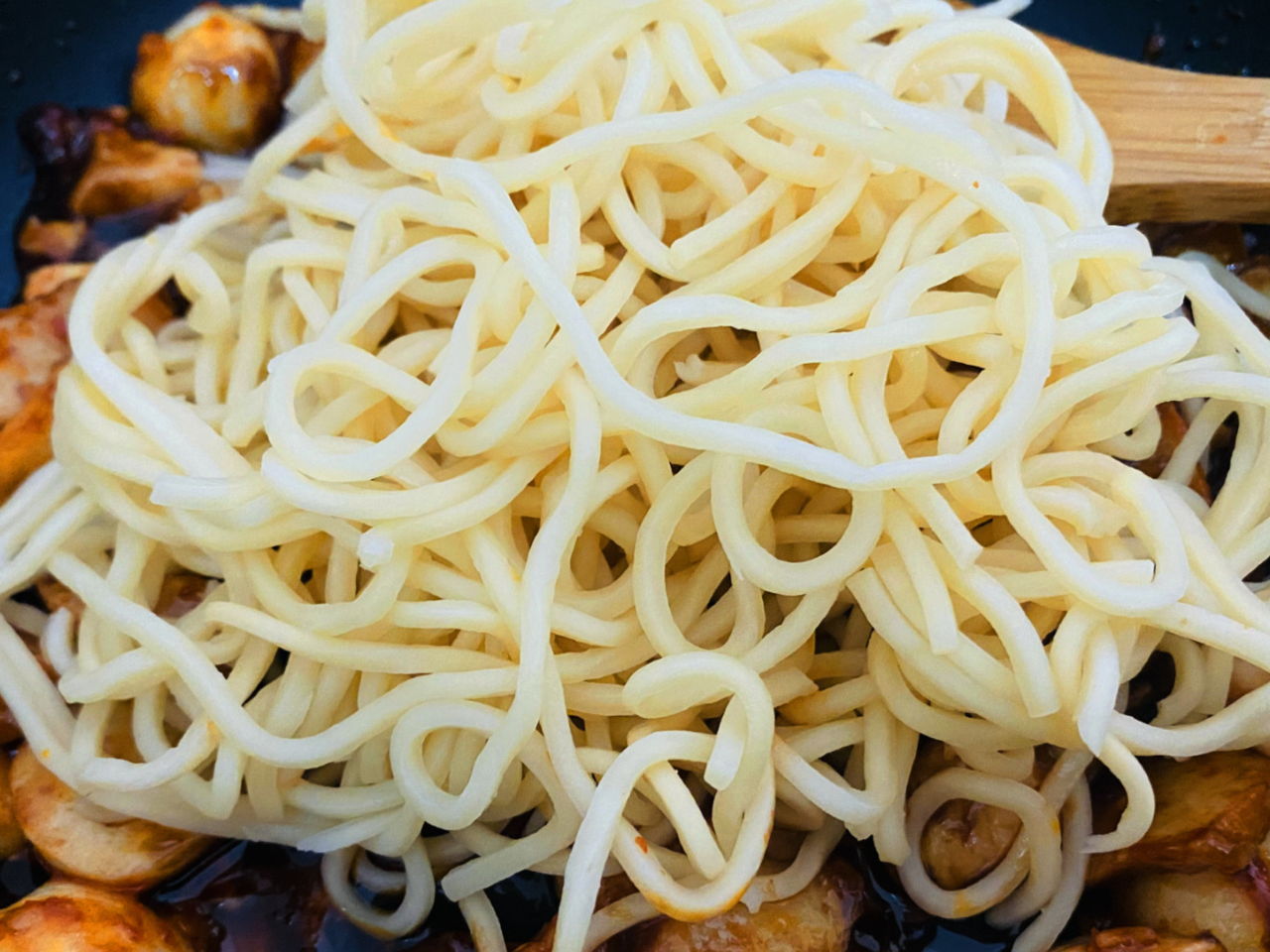 If you are abroad, especially in the US or Europe, substitute it with spaghetti. Boil the spaghetti according to instructions on the package with an additional 2 minutes longer. Yellow noodles are slightly softer than the al dente texture.
Otherwise, flat rice noodles or any fresh noodles of your choice will work just fine.
How to reduce heat?
In step 1, chilli paste is for the extra kick. The heat in the dish is dependent on the chilli paste which is also known as cili boh dried chilli paste. Add according to your preference. If you want to make your own chilli paste using dried chillies, check the tips here on how to reduce the spiciness.
Do not freeze
Mee goreng should be eaten immediately. Freezing it will change the consistency of the noodles. However, you can keep it in the refrigerator for up to 3 days.