Dried Chilli Paste
Blended dried chillies are made into a paste called 'cili boh' in Malay. This hot paste is added to dishes for the spiciness and is made using dried chillies, oil and salt.
Preparation 15 mins
Cooking 10 mins
Cili Giling, Cili Boh, Chilli Boh
Malaysian, Singaporean, Thai, Indonesian
---
Ingredients
---
Community Food Snaps
Be the first to take a snap!
Log in
and click the in the top bar.
---
Background
Chilli boh is simply blended chillies made into a paste to be added to dishes such as fried rice or noodle dishes. Traditionally, 'cili boh' or also known as 'cili giling' is made using dried chillies. As they spoil easily, store-bought chilli paste is said to contain boric acid or colouring to enhance its appearance and extend shelf life. Hence, it is best to have homemade chilli boh instead. This recipe also provides tips on how to extend the shelf life of the chilli paste.
Where can I buy chilli boh?
Chilli boh is easily available in wet markets as well as supermarkets in Southeast Asia. However, they are difficult to get in other countries especially in Europe. Instead of giving in to frustration of not getting a hold on it when you need, opt to make your own instead. It is very easy and only uses minimal amount of ingredients.
Can I use fresh chillies to make chilli boh?
Yes, of course. However, traditional chilli boh uses dried chilies as they are more intense and fragrant.
What type of dried chillies should I buy?
Dried chillies used are usually imported from India like Guntur, Kashmiri or Byadagi. If possible, get dried chillies which are ca. 7 cm or longer as short dried chillies are very spicy. Learn how to pick dried chillies here.
Can I freeze chilli boh?
You may freeze the chilli paste, of course! In fact, I usually prepare a big batch and freeze it in silicon ice cube moulds so that I will always have chilli boh whenever the need arises.
You may also refrigerate chilli paste for up to 1 month if kept in a clean and dry bottle.
Less spicy chilli boh
The crucial ingredient to making good chilli boh is the dried chillies. In Germany, the dried chilies sold are often very spicy. Choose dried chillies which are straight and generally large in size. Removing the seeds and the accompanying membrane which the seeds are attached to helps to lessen the spiciness. Optionally, you can boil the dried chillies with vinegar to minimize the spiciness and also to further extend the shelf life of the chilli boh. Learn more here to see how the seeds are removed and further processed to reduce its spiciness.
Recipes using dried chilli paste or chilli boh
As mentioned, chilli boh is added to dishes to make them spicy. Example of recipes using chilli boh are char kuey teow (stir fried flat rice noodles) or USA fried rice.
---
Steps to Prepare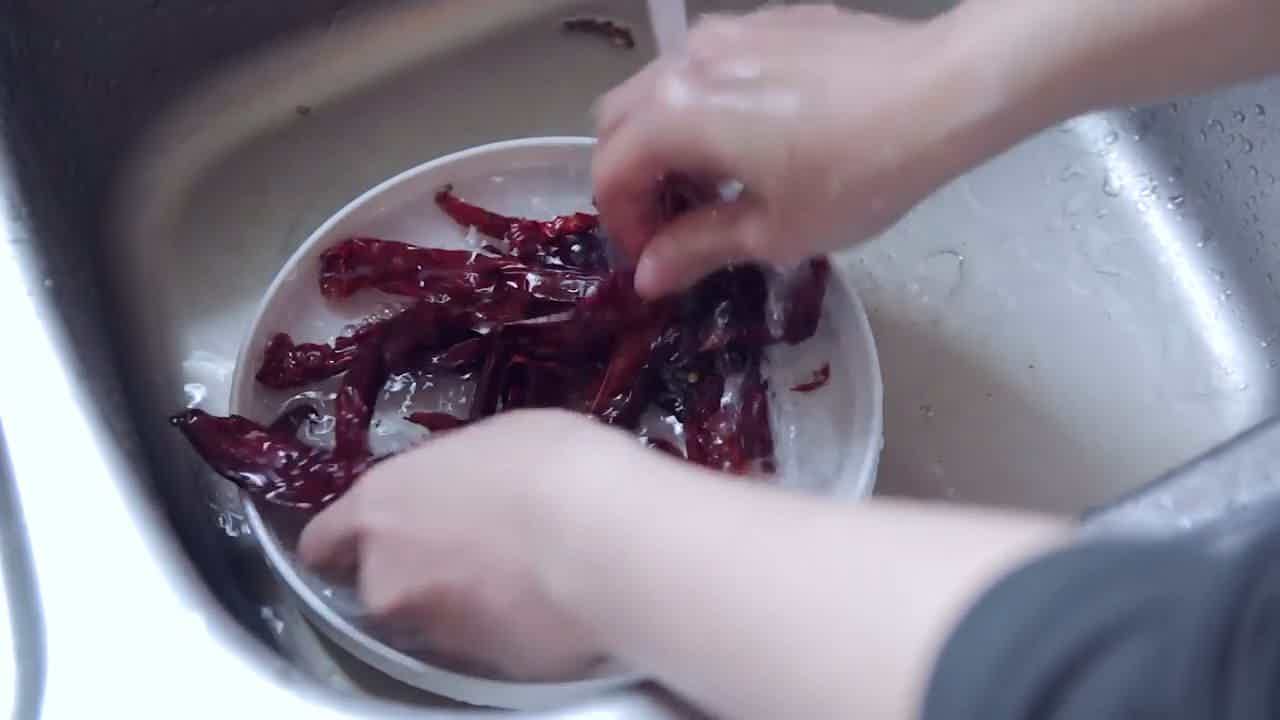 Step 1 of 3
Wash dried chillies and cut stems away. Remove the seeds to prevent 'chilli boh' from being bitter and spicy.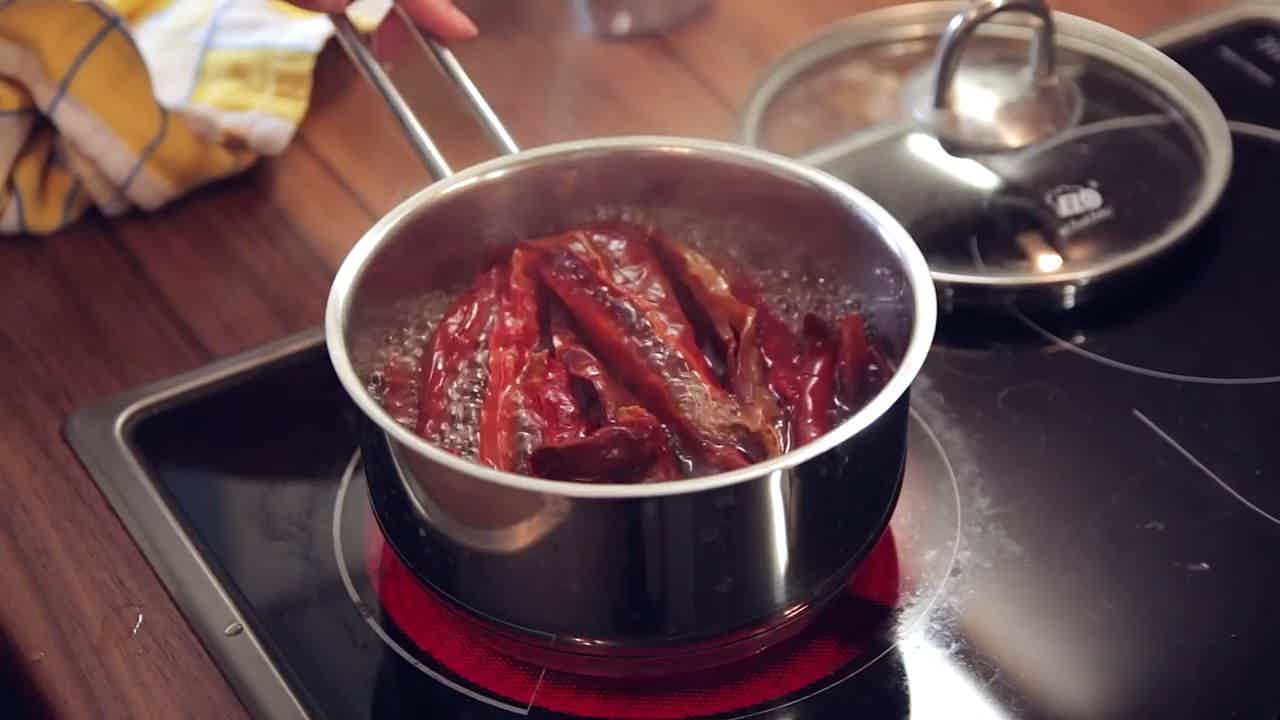 Step 2 of 3
Boil the cleaned dried chillies vigorously until the pungent spicy smell from the chillies is released.
Step 3 of 3
Remove the chillies from the pot and transfer them to a blender. Blend chillies until it reaches the desired consistency. Add a dash of salt, oil and lemon/calamansi lime juice (optional) and blend chillies thoroughly.
Published: September 5, 2014
---
0 Discussions
Give us your opinion!
Log in
and start posting.