Penang Hokkien mee or Hae Mee, as known to the locals, is a soupy yellow egg noodle dish with prawns. Popular in Penang, Malaysia, the broth of these noodles has a rich prawn flavour.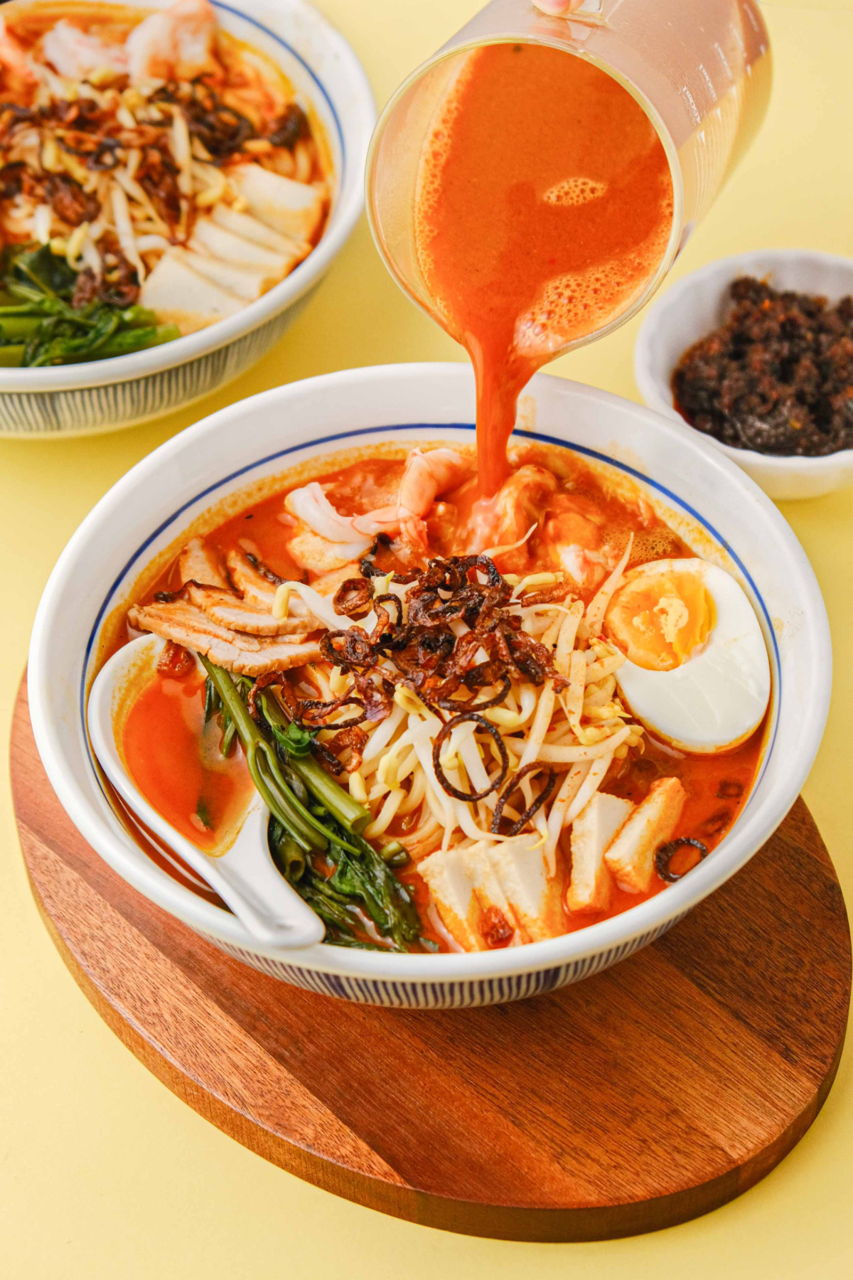 Street hawkers sell this soup noodle dish from morning till usually in the evenings. Accompanied with boiled egg, kangkung (water spinach), bean spouts, fried shallots and the special sambal, each bite delivers an orchestra of flavours.
Why This Recipe Works?
This recipe is a detailed step-by-step guide to make prawn noodles from scratch. Using prawn shells and heads to make the broth is no secret.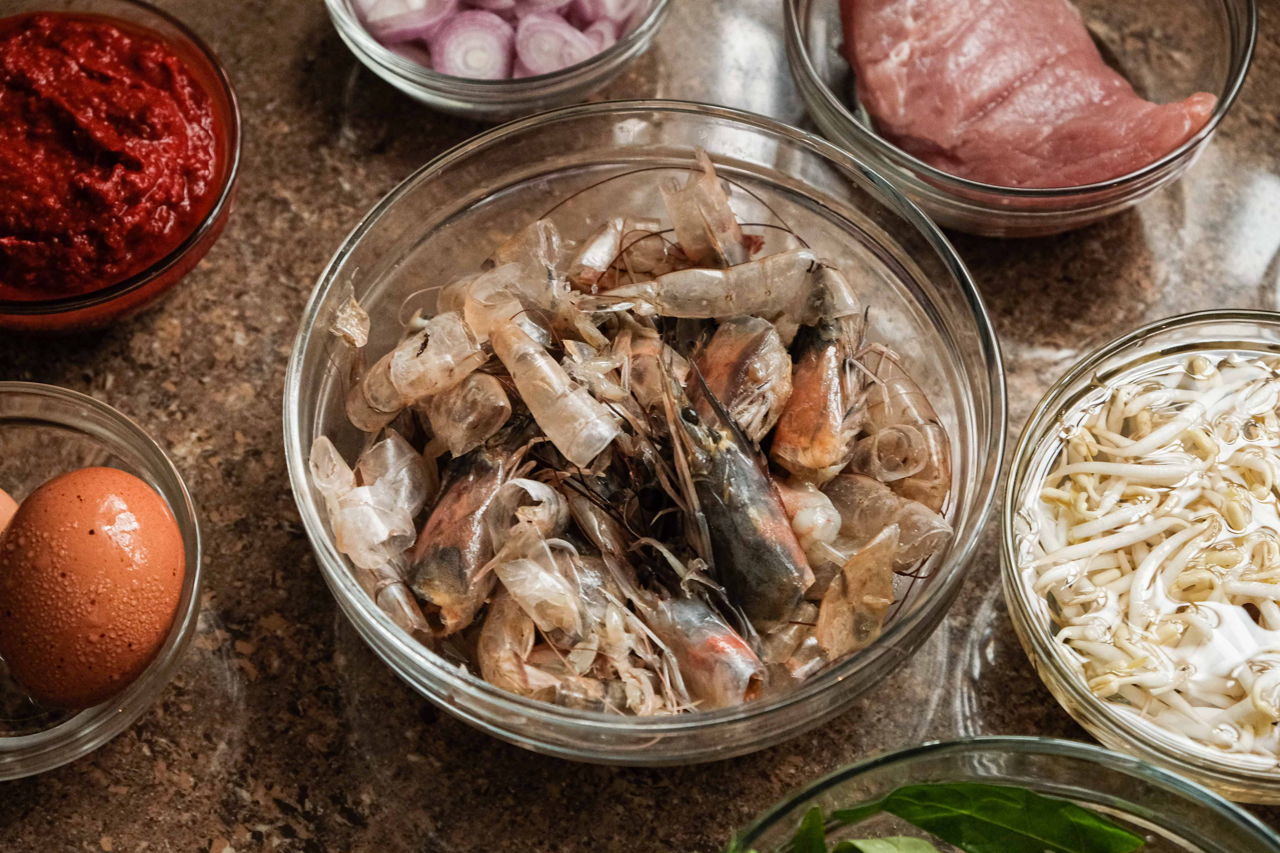 A prawn noodle seller once shared how many forgot the use of pork bones to create the depth of flavours. The bones and fat from the pork absolutely add a sweet node to the broth.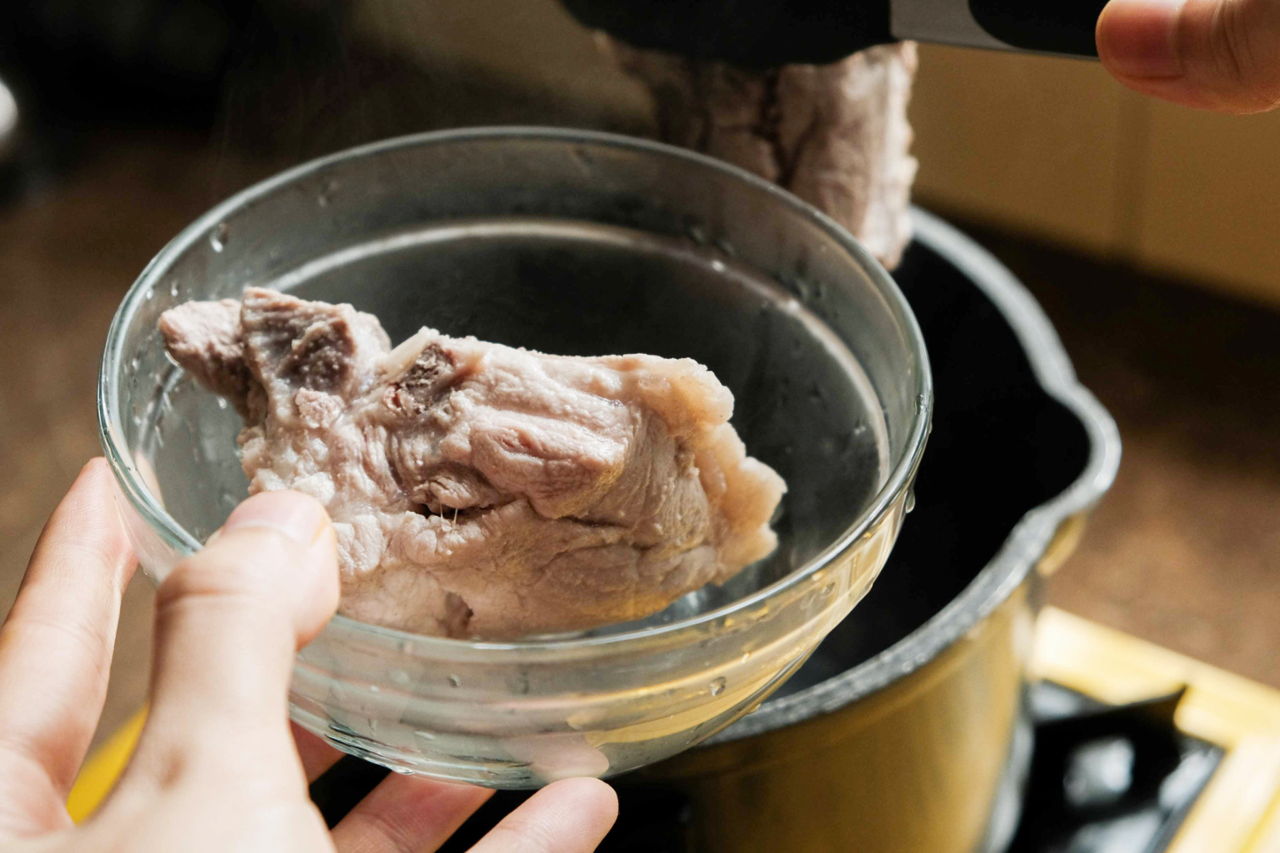 Most importantly, we will explore the recipe of the sambal (chilli paste) which is made specially to accompany the broth and as a condiment for extra spiciness.
What Is the Difference Between Penang & KL Hokkien Mee?
First of all, the colours are very telling! Kuala Lumpur (KL) Hokkien mee is black in colour due to the caramel dark soy sauce used. It is also not soupy and is a braised noodle dish which has no prawn flavours.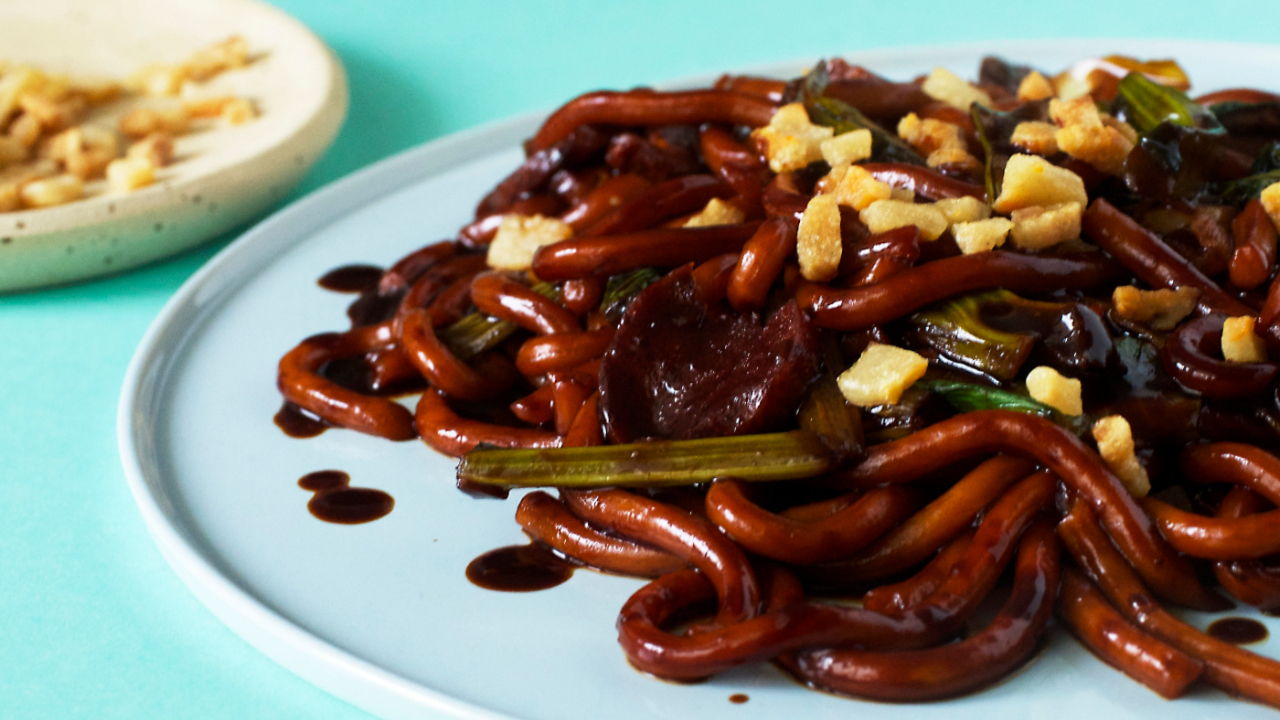 As you already know, Penang Hokkien mee has a bright red-orange coloured soup. It does not use any dark soy sauce.
The choice of noodles used are also very different. KL's version commonly uses tai lok mee or thick wheat noodles that are synonym to the dish.
Penang's dish can be served with yellow noodles (similar to spaghetti) or rice vermicelli and sometimes, a combination of both.
Is Penang Hokkien Mee Spicy?
A little. The spiciness can be reduced by using lesser chili paste (cili boh) in Step 7. Another tip is to blend fresh red chillies into a paste which are less spicy compared to dried chilies.
If you are making chili paste from scratch, do boil and remove the membrane of the dried chillies before blending. Don't forget to add a splash of vinegar too. Follow this guide to make the chili paste from scratch.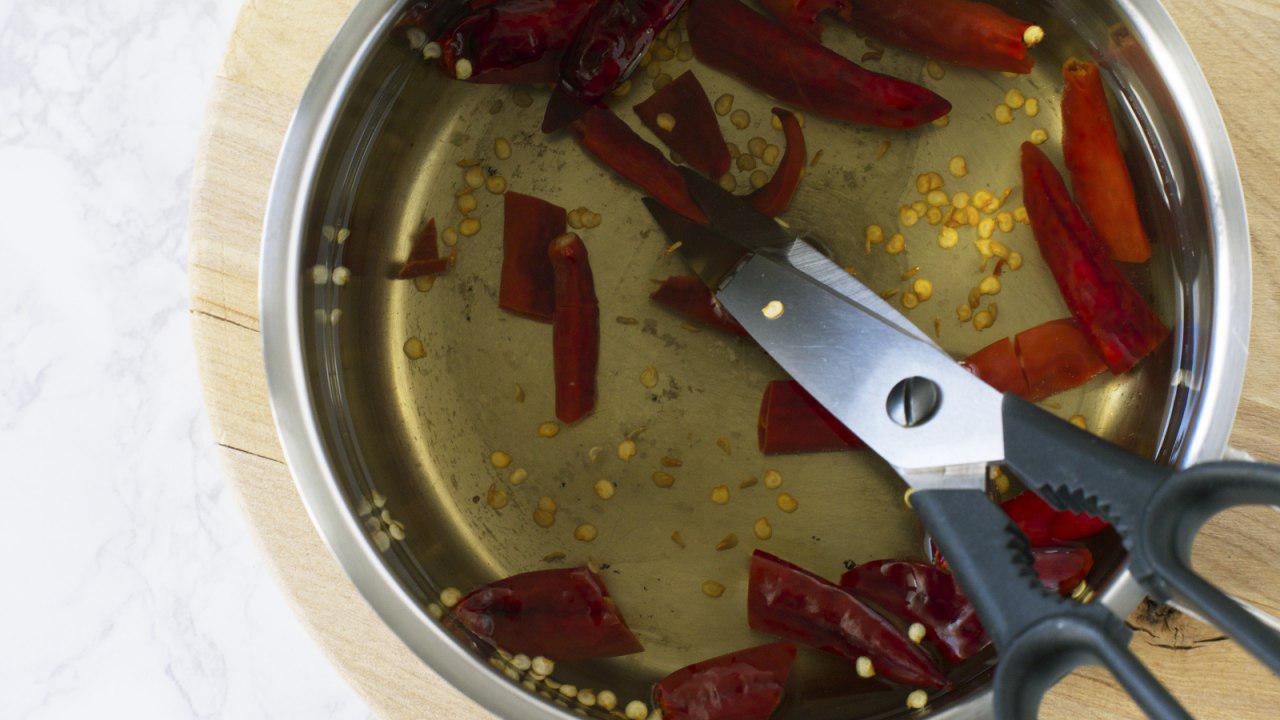 Where Does Penang Hokkien Mee Originate From?
The name of the dish explains that it is most probably brought in by Chinese immigrants from the Fujian province in China. Yellow alkaline noodles which are usually used is also close to the Fujian cuisine.
In fact, you will find a similar dish in China called Xiamen prawn noodles while Taiwan has Danzai noodles (Ta-a mi). Both noodles have a distinctive shrimp based broth.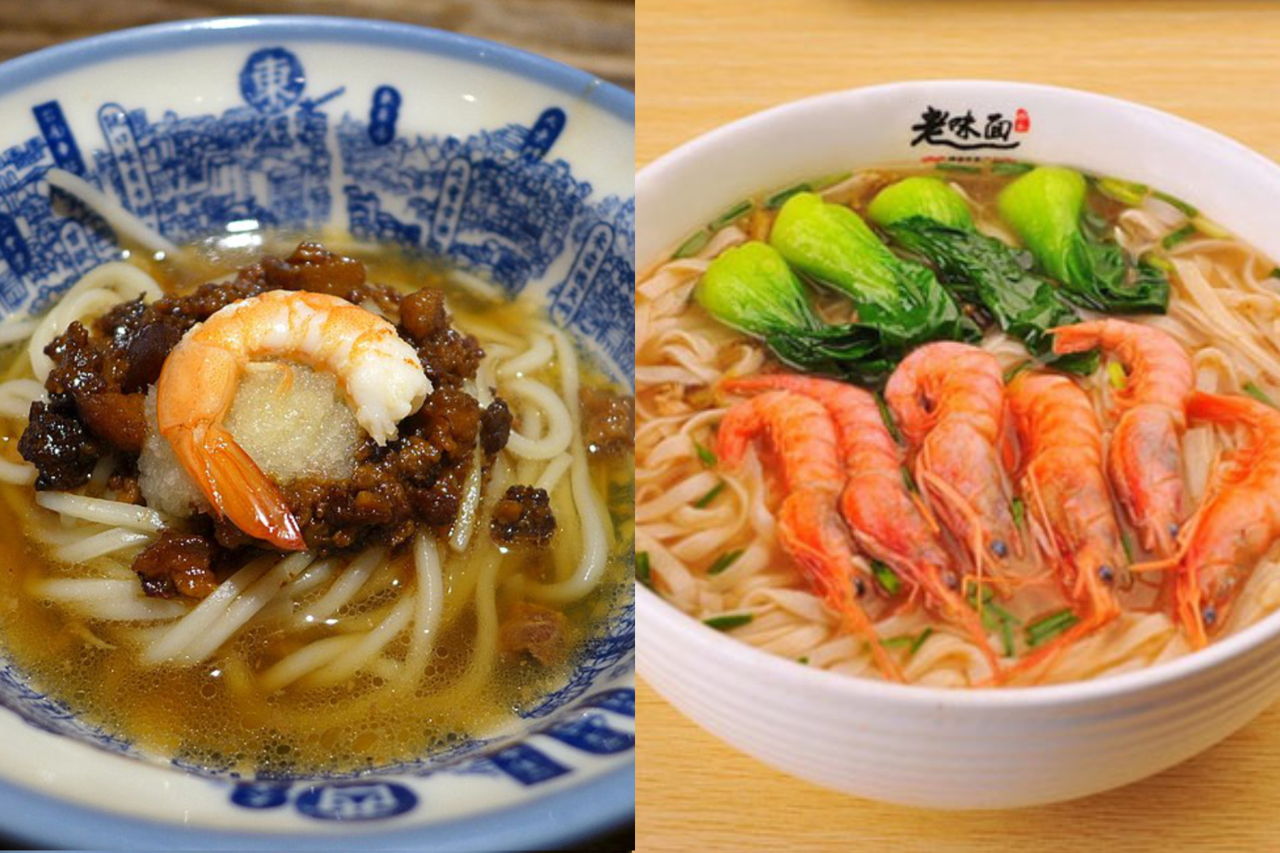 (Credit to Xmgbuy and Wpcpey via Wikimedia Commons.
Penangnites added their own twist using local ingredients like chili paste and Chinese water spinach resulting in a dish we all love.
Tips to Making the Best Prawn Noodle Soup
You need a lot of prawn heads to make the flavourful prawn broth. In our Curry Laksa recipe, prawn heads and shells are sautéed for its flavour as well. Here are some tips I have gathered through my experience when preparing this dish.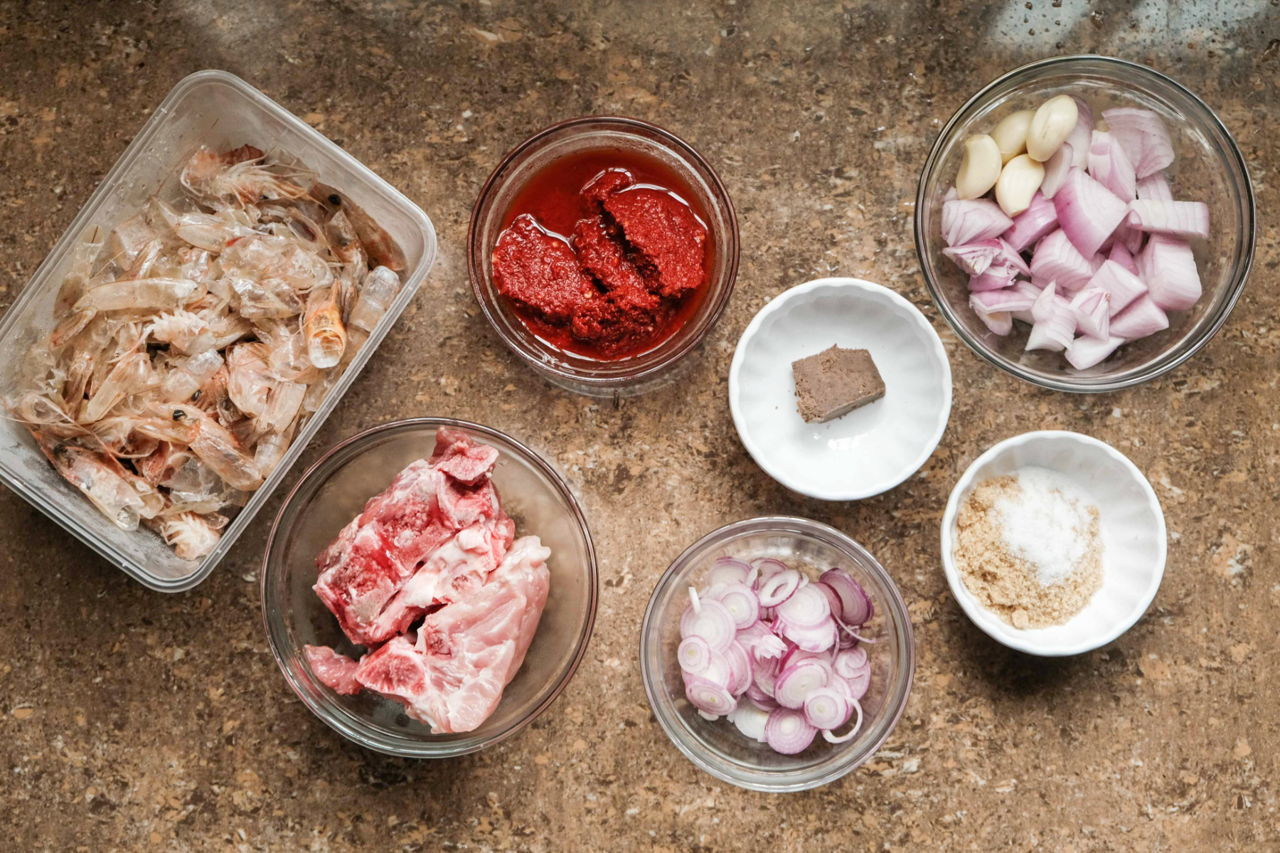 1. Prawn heads are important for their flavour.
You can use any type of prawns. Medium or large sized ones would be the best. Once sautéed in oil, they release a beautiful orange pigment. Sautéing Prawn Heads If you are making another dish like chili garlic prawns or sambal udang, it is best to freeze the unused prawn heads and use them to make this broth.
2. Use pork ribs or pork bones.
No lean meat such as pork tenderloin because it gets tough once it is overcooked. Below is an example when using a leaner piece of pork. Not Recommended: Overcooked Dry Pork We also want the taste of the bones making the broth fuller in flavour. A good substitute will be fresh chicken carcass or from the rotisserie.
3. Never skip sambal in the broth.
It is crucial for the intensity of flavour and colour. Penang Hokkien Mee is of recognized by the colour of the broth. Without the sambal in the broth would mean something was definitely lacking.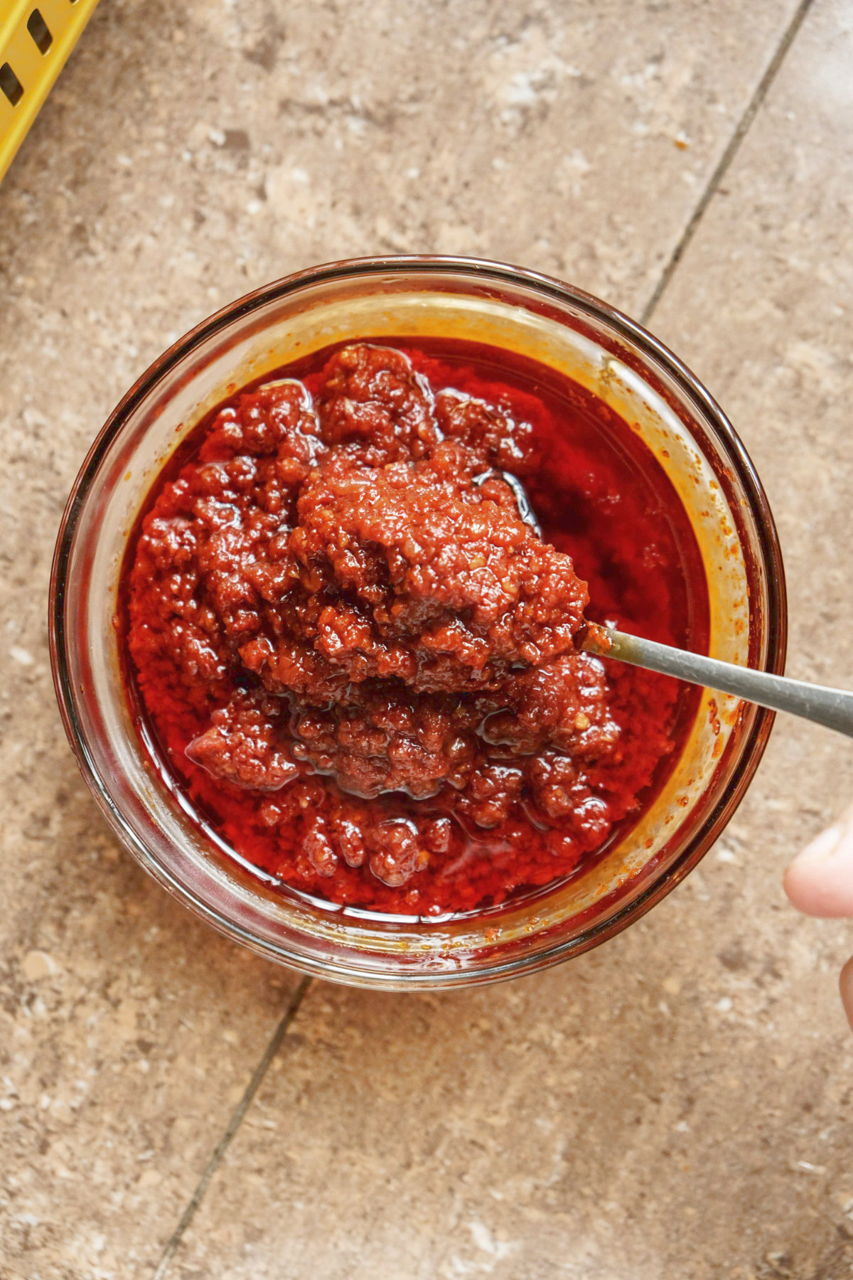 Prawn Mee Sambal Recipe
The sambal is made using chili paste (cili boh) as a base. Onions make it sweeter. Additional sugar may be added if you like it sweeter.
The fermented taste of belacan (fermented shrimp paste) adds more umami to the sambal. If you don't have it, stir in one or two teaspoons of fish sauce in Step 6.
Lastly, use enough oil to sauté the blended chili, onions and garlic. Don't skimp on the oil.The paste has to be cooked until the oil separates. It's a process called 'pecah minyak' in Malay which means breaking/splitting of oil.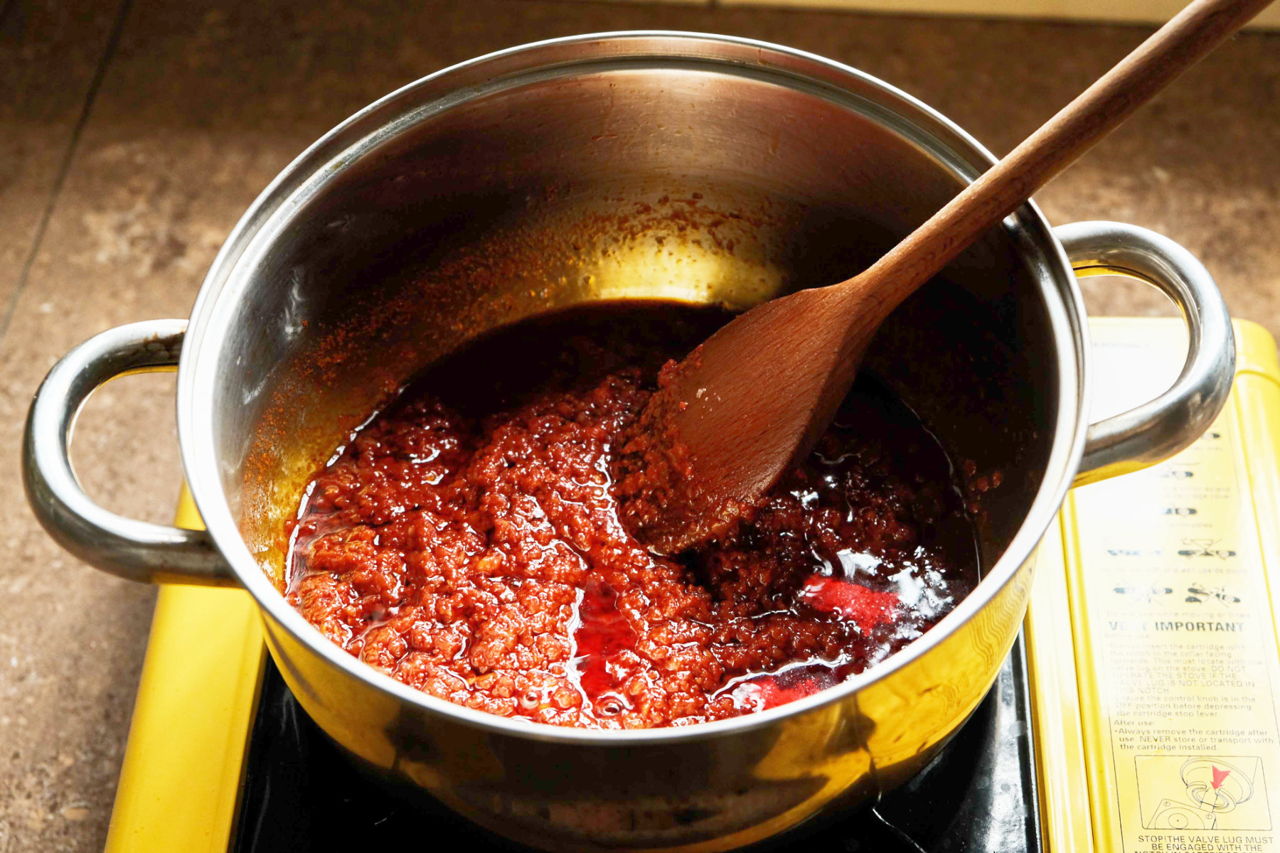 The chili paste will taste raw if it is not cooked thoroughly.
Why Isn't my Broth as Red?
The beautiful redness in the broth is from the red sambal oil. You may reduce the oil for the sambal by half if you don't like it too oily.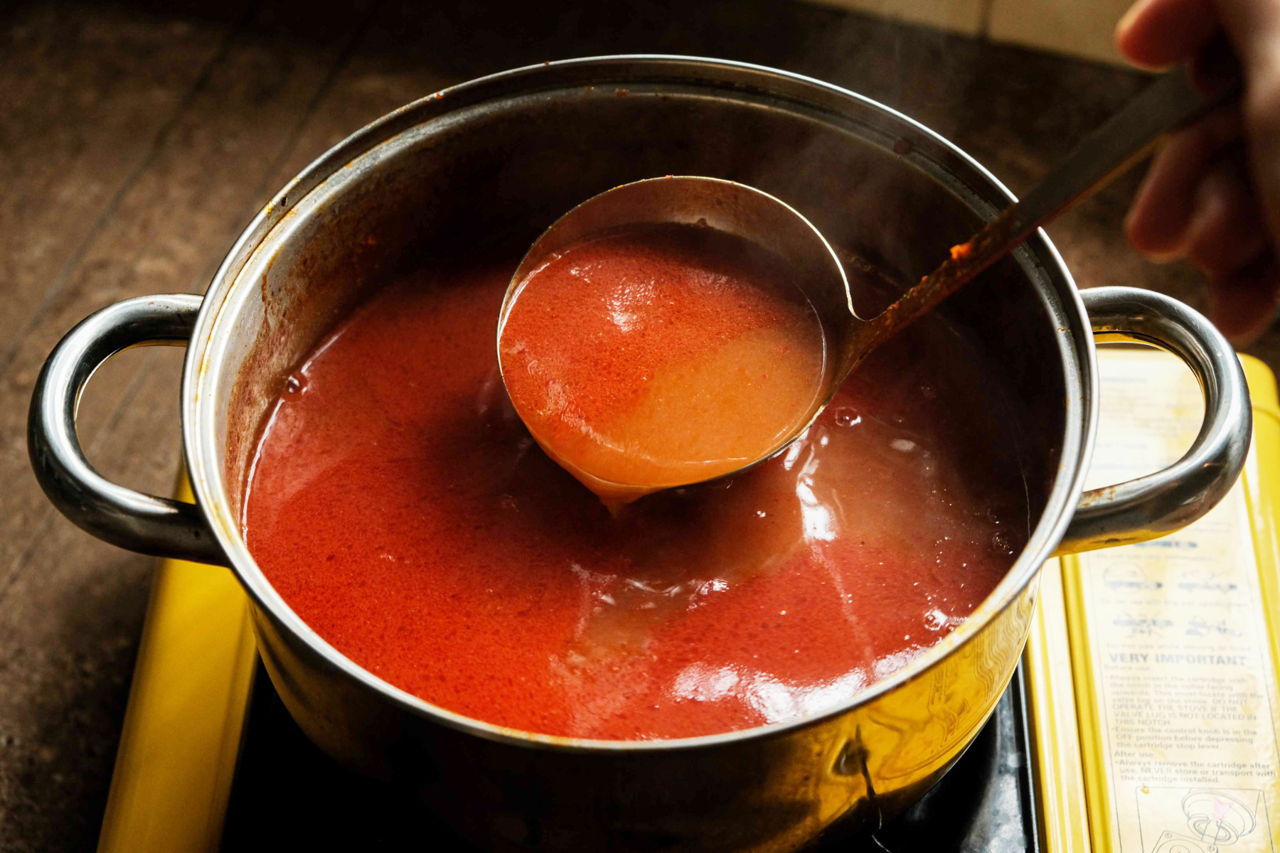 Toppings
All toppings must be blanched before plating. Simply boil a pot of water and cook bean sprouts, Chinese water spinach (kangkung), fish cakes and prawns. Sprinkle some shredded pork meat too.
Same goes to the noodles too. Fresh noodles will need to be blanched for a while, not more than 5 seconds. Dried noodles need to be hydrated before using and then blanched before plating.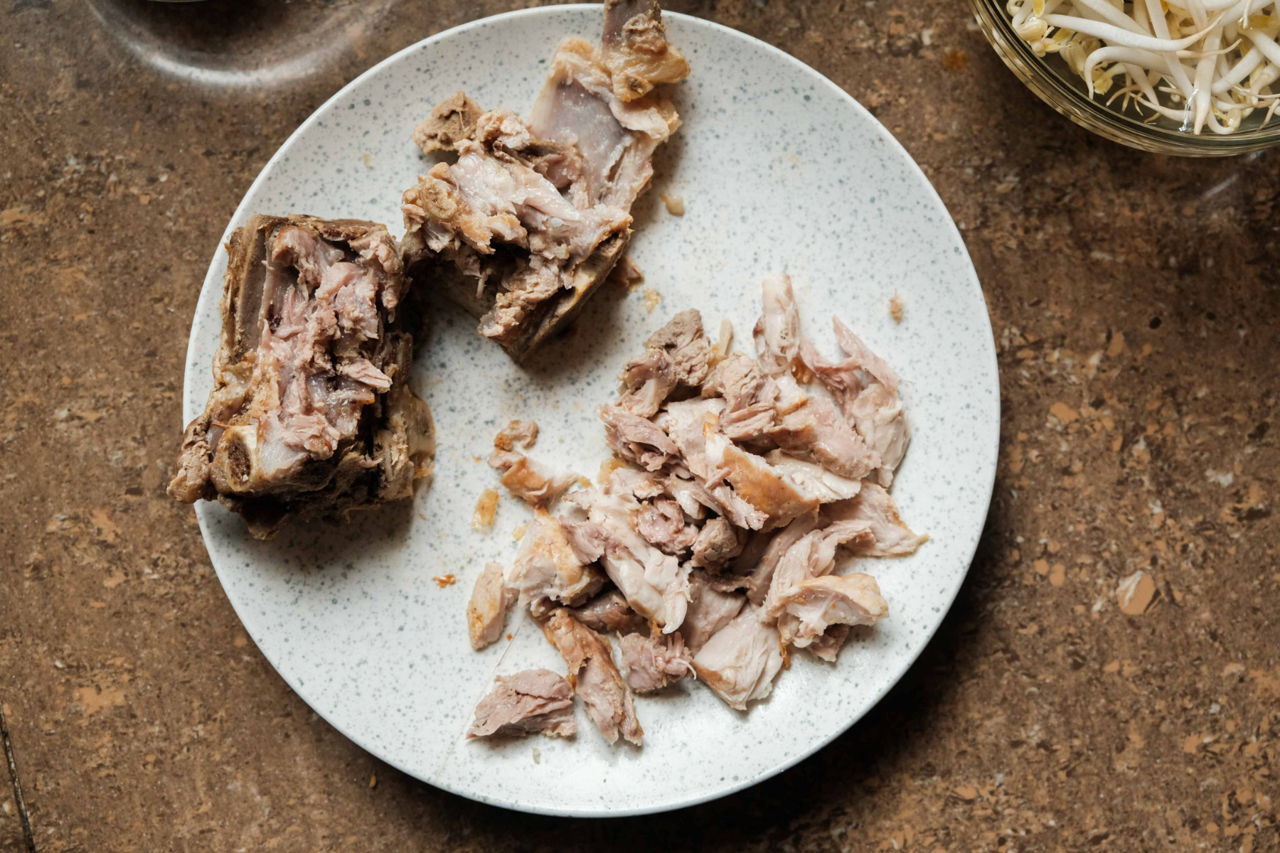 You can play around with the toppings and condiments according to your preference. For example, replace the vegetables with bok choy or other leafy greens.