Curry Laksa
An authentic curry laksa recipe from Malaysia and Singapore, 'laksa lemak' is a typical Nyonya or Peranakan curry noodles dish. The amazing broth of this curry laksa or a.k.a curry mee is a combination of a special chilli paste and rich coconut milk.
Preparation 20 mins
Cooking 90 mins
Malaysian Curry Noodles with Coconut Milk, Laksa Lemak, Nyonya Laksa, Malaysian curry noodles
Malaysian, Singaporean, Thai, Indonesian
---
Ingredients
4

chicken drumstick(s)

2

l

water

1

Vietnamese coriander/daun kesum

400

g

prawns

—

tofu puffs

—

fish balls

3

tbsp

oil

20

g

shrimps (dried)

10

chilli peppers (fresh)

15

g

galangal

6

candlenut(s)

15

g

turmeric powder

3

garlic clove(s)

8

shallot(s)

20

g
shrimp paste (dried)

4

lemongrass stalk(s)

—

salt

100

ml

coconut milk

2

tbsp

chilli boh

15

ml

water

1⁄2

tsp

sugar
---
Community Food Snaps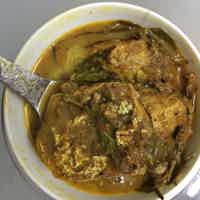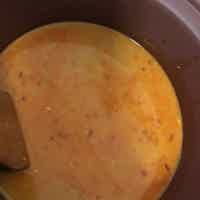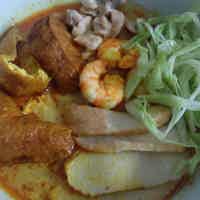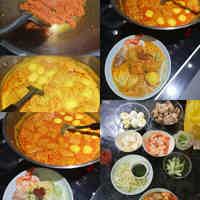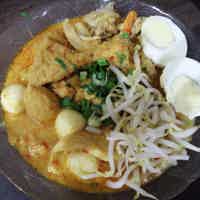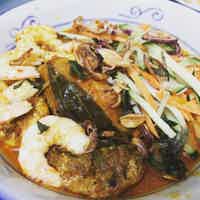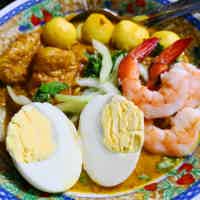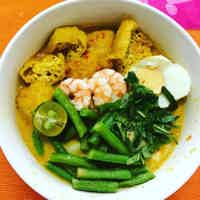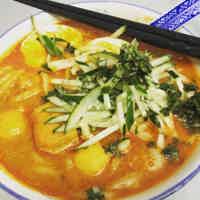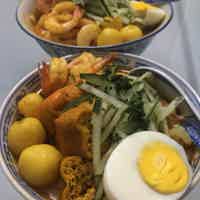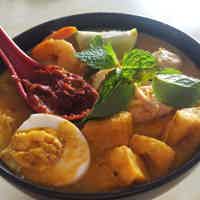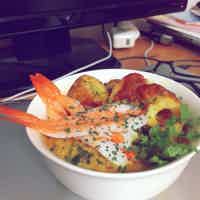 ---
Background
Curry laksa is perhaps the most requested recipe on Nyonya Cooking. Thus, I created this special tantalizing curry noodles with a mixture of spices befitting the dish.
Cooking curry laksa begins with the preparation of the broth followed by the laksa paste. These are the most important components to making a good bowl of curry laksa.
How do I make laksa paste?
You can always prepare a big portion of the laksa paste and freeze it for later use. It would come in handy whenever you feel the urge to have some curry noodles.
How to store laksa paste?
Laksa paste can be stored after stir-frying it in oil. Refrigerate it for up to 5 days or freeze it for up to 6 months.
Is curry laksa dairy free?
Coconut milk is used in the preparation of curry mee or curry laksa. This is very common in many Southeast Asian dishes where coconut milk is added for flavouring or to reduce the spiciness of the dish, therefore making most dishes dairy free.
Substitute for laksa paste ingredients
Laksa paste is made out of several ingredients such as dried chillies, turmeric, garlic, shallots and lemon grass. Just like in most Peranakan curries, candlenuts are included. For natural umami flavours, dried shrimps and shrimp paste are added. Substitute the ingredients accordingly with dried or frozen options. Visit our ingredient directory to learn more.
Most of the ingredients can be widely found at the Asian grocer. However, it might be difficult to get the Vietnamese coriander (also known as Vietnamese cilantro, Vietnamese mint and Cambodian mint). If you are unable to find it, just omit it. I read that it could be substituted with an equal amount of mint and cilantro but that would not work for this dish.
Improve flavours of broth
Although it is recommended to boil the broth for 30 minutes using chicken bones and prawn skins, the flavours will be enhanced if the broth is boiled for 2 hours or more. To do so, double the amount of water and allow it to simmer. Then, let the broth sit for another 4 hours for the flavours to develop. It is worth the wait if you want to indulge in a bowl of delicious laksa.
Chicken curry laksa
The best curry laksa broth uses both chicken bones and prawn shells as a base. As a result, it has a subtle sweetness. If you do not want to use prawns, feel free to use only chicken bones. Either way, the broth will still be really flavourful and delicious when infused with the spices.
Vegetarian curry laksa
To prepare vegetarian curry laksa, use vegetable broth instead of chicken and prawn broth. A vegetable broth can be made out of onions, carrots, celery, shiitake mushroom and radish. Lightly roast the vegetables before boiling them. Adding kelp helps to provide the missing 'seafood flavour' in vegetarian curry laksa. The broth needs to be boiled for at least 2 hours for best flavours. As for dried prawns and shrimp paste, omit them from the list of ingredients.
No doubt, the preparations may seem complicated but you would be encouraged with the result. Trust me, you would love to have this captivating dish over and over again. If you have not tried curry laksa noodles before, you are missing out.
---
Steps to Prepare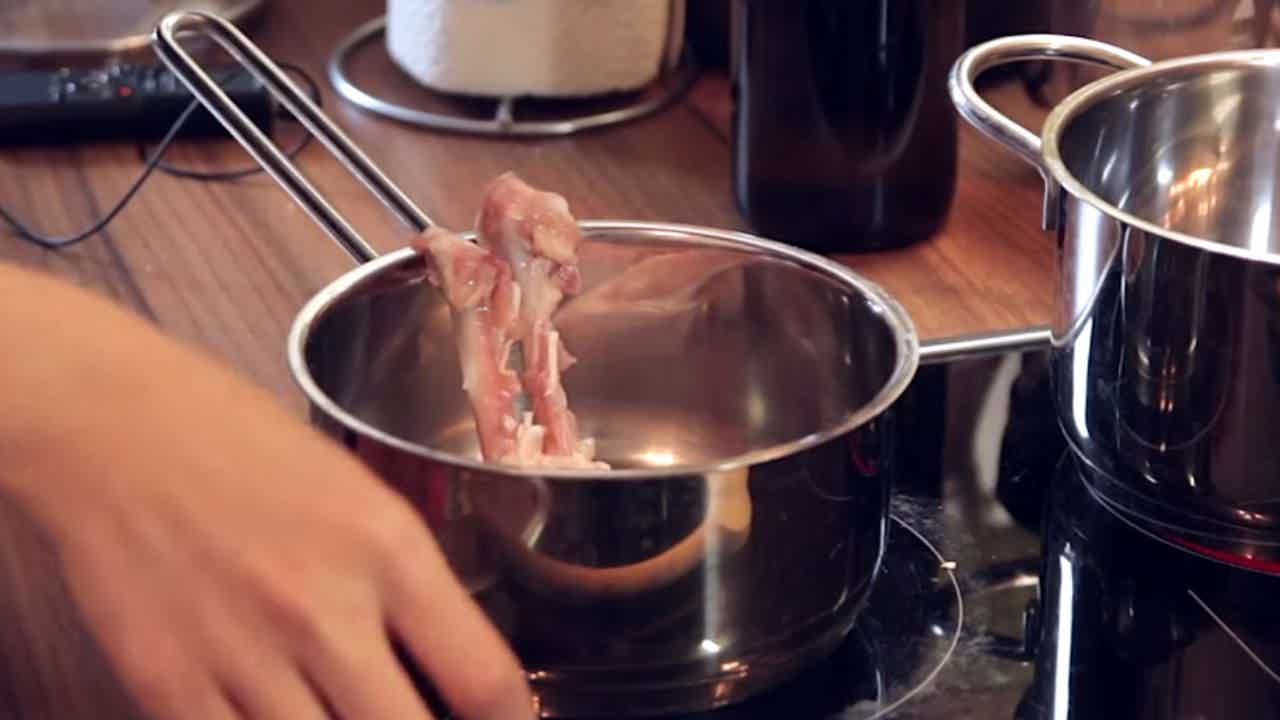 Step 1 of 7
4

chicken drumstick(s)

1

l

water
Prepare the stock by adding drumstick bones and water into a pot and bring to boil. Once it boils, lower heat and allow to simmer for at least 30 minutes. After that, use a spoon to remove any impurities.
Step 2 of 7
1

l

water

1

Vietnamese coriander/daun kesum
Heat oil in a pot and stir-fry prawns skin/heads until cooked. Add rest of the water into pot together with the Vietnamese coriander. Bring to boil. Lower heat and let it simmer for 30 minutes.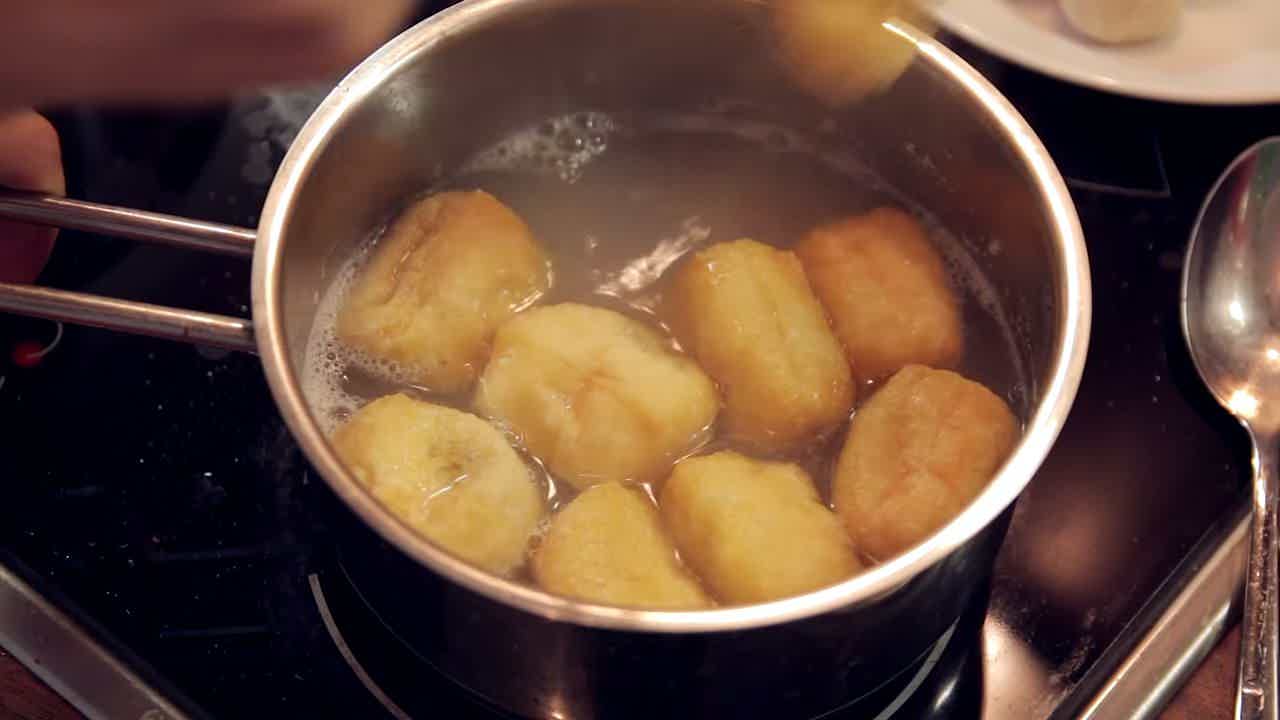 Step 3 of 7
400

g

prawns

tofu puffs

fish balls
In another pot of boiling water, blanch prawns, tofu puffs, fish balls and noodles. Set aside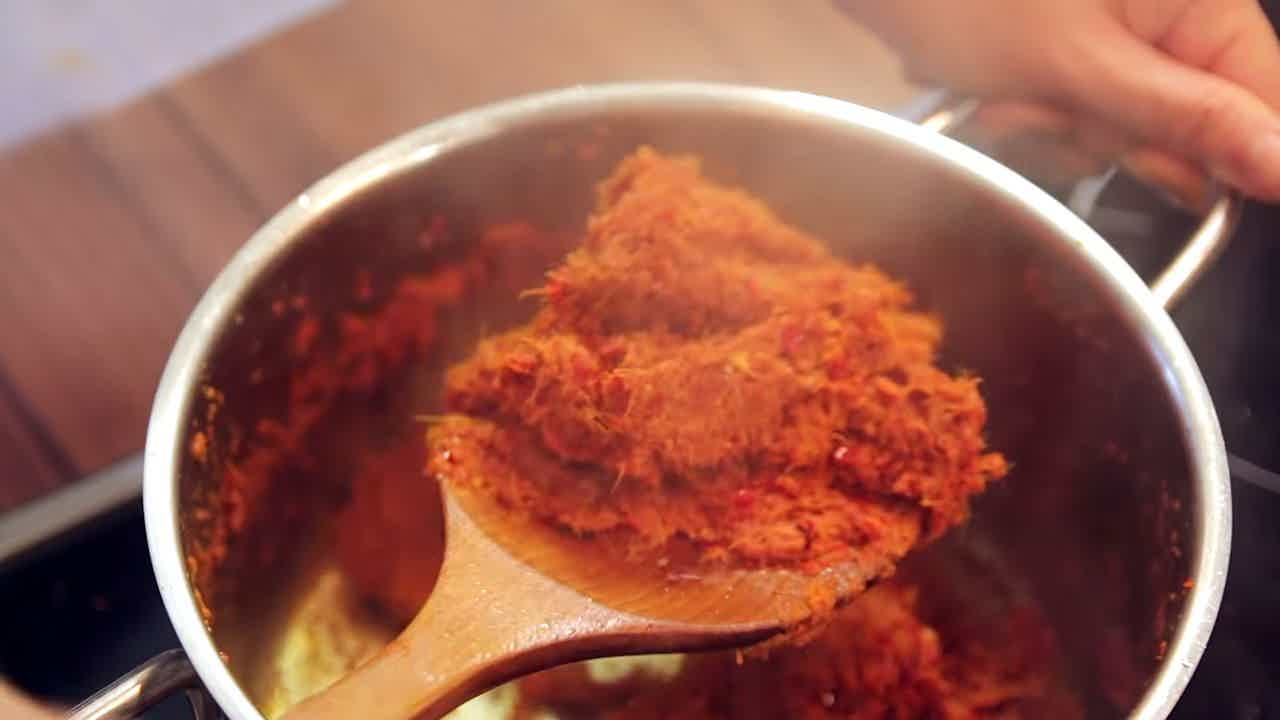 Step 4 of 7
3

tbsp

oil

20

g

shrimps (dried)

10

chilli peppers (fresh)

15

g

galangal

15

g

turmeric powder

3

garlic clove(s)

8

shallot(s)

15

g shrimp paste (dried)
Blend dried shrimps, dried chillies, galangal, candlenuts, turmeric powder, garlic, shallots, shrimp paste and lemongrass until smooth. Heat 3 tablespoons of oil in a pot at medium heat. Sauté blended ingredients until fragrant.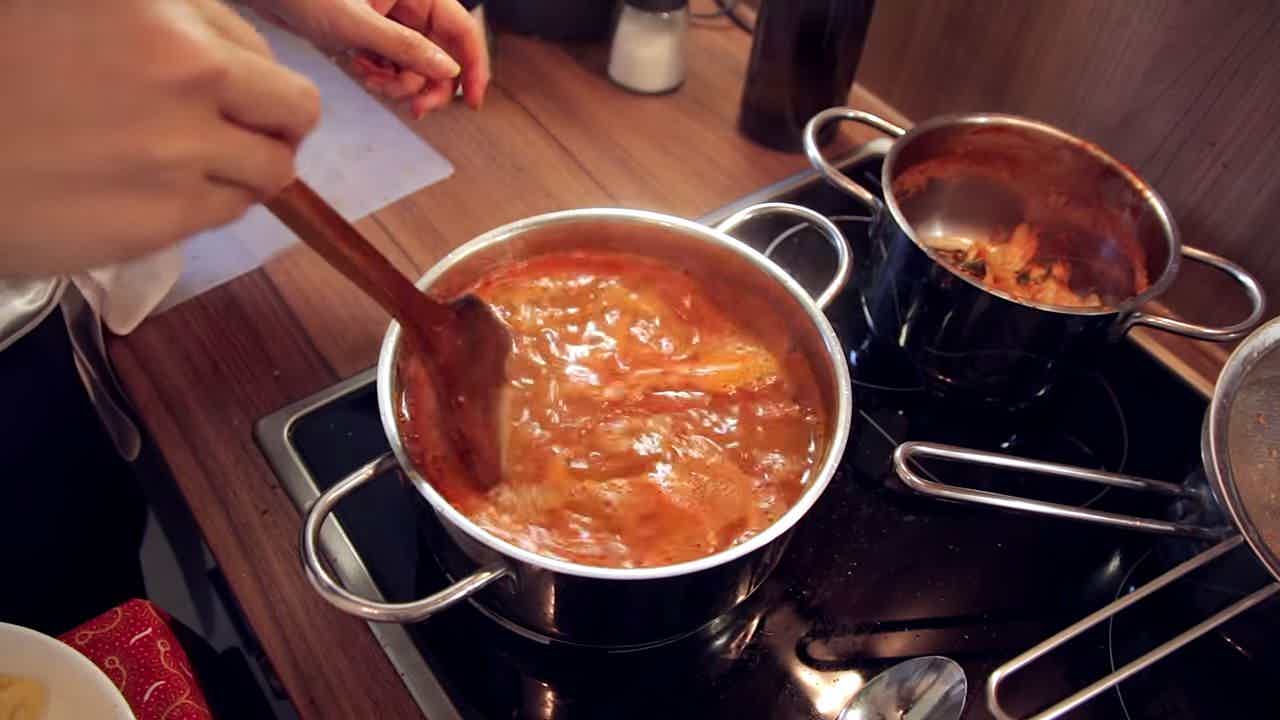 Step 5 of 7
Pour drumstick bones and prawn broths into the pot with the sautéed blended ingredients. Mix well. Add salt to taste. Allow broth to boil at medium to high heat for 10-15 minutes. Add coconut milk. When broth begins to boil, add tofu puffs and fish balls. Bring to boil again. Turn off the stove.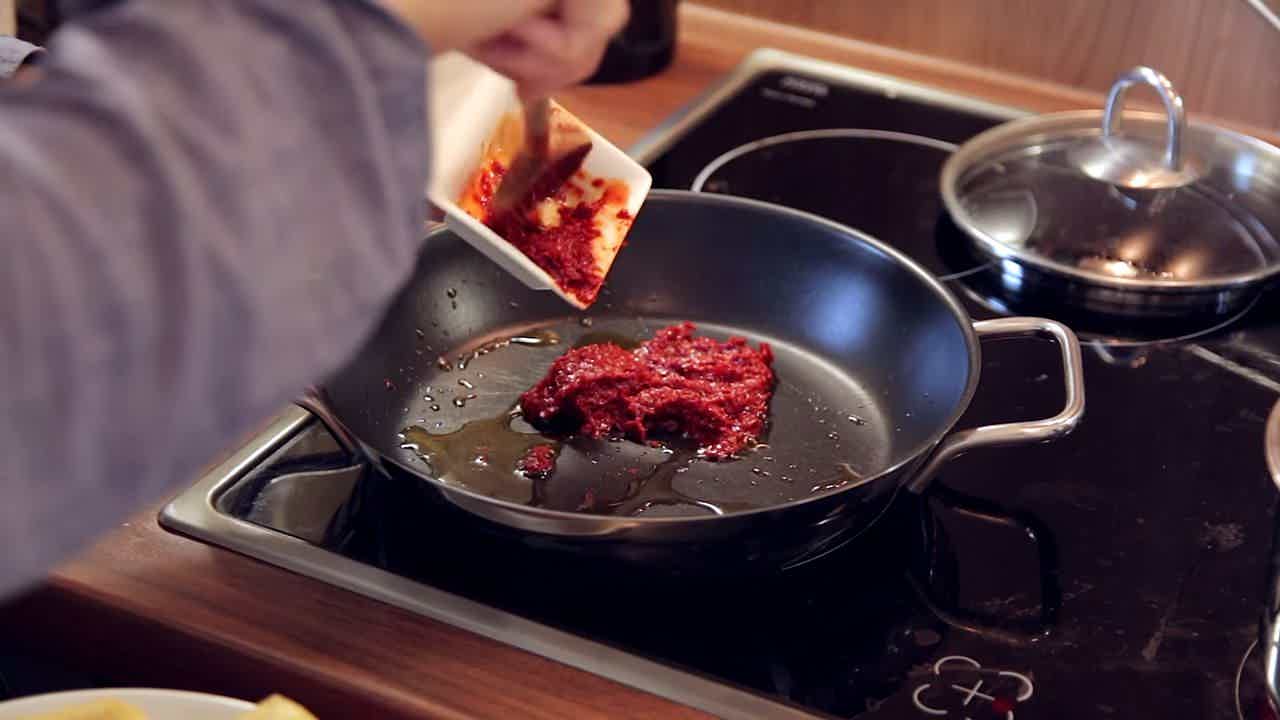 Step 6 of 7
2

tbsp

chilli boh

15

ml

water

1⁄2

tsp

sugar
On a dry pan, toast belacan until fragrant. Set aside. Then, sauté chilli boh with 1.5 tablespoon of oil at medium heat until oil separates. Add 0.5 tablespoon of water and sugar to taste.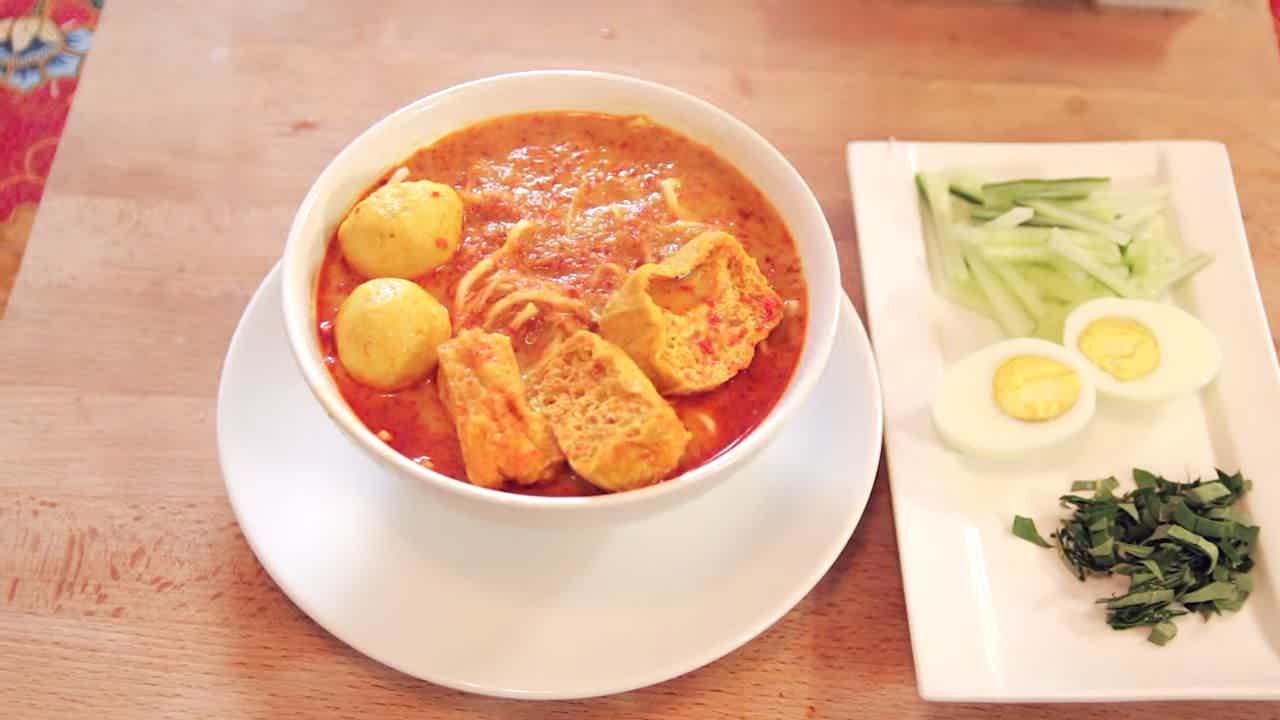 Step 7 of 7
Serve by placing noodles into a bowl. Add broth and garnish with prawns, tofu puffs, fish balls, Vietnamese coriander and hard-boiled egg.
Published: September 21, 2014
---
0 Discussions
Give us your opinion!
Log in
and start posting.