Asam Laksa
'Asam laksa' hails from a state in Malaysia called Penang. This noodle dish has a tangy fish broth that teases and tantalizes the taste buds. Using fresh mackerel to make this dish and a bunch of herbs, an authentic asam laksa soup noodle can be recreated easily.
Total Time
Preparation 30 mins
Cooking 90 mins
Alternate Names
Assam Laksa, Malaysian Sour and Spicy Fish Soup Noodles, Penang Asam Laksa
Cuisines
Malaysian, Singaporean, Thai, Vietnamese, Indonesian
---
Ingredients
---
Nutrition per Serving
Calories
271 kcal
Carbs
34 g
Fat
9 g
Protein
16 g
---
Background
Asam laksa may be the best laksa variation. Even the food explorer guru Anthony Bourdain loved this sour and spicy noodle dish. He claimed that he never fails to have Asam laksa each time he travels to Penang. I can understand his enthusiasm when I sat almost exactly where he had his bowl of Malaysian sour and spicy fish soup noodles.
What type of fish to use in Asam Laksa?
In this recipe, Spanish mackerels are used as the base of the broth. In Malaysia, Indian mackerel (ikan kembung) is the more popular option. Besides mackerels, you may also use sardines or skip jack tuna (ikan tongkol).
How to avoid avoid fishy broth?
Using fresh fish is the key to avoid fishy broth. Ensure that the eyes of the fish is clear and the gills are bright red. Just a reminder, be sure to remove the bones thoroughly after boiling the fish.
What are the ingredients substitutes?
The asam laksa flavour is uniquely sour because of two ingredients - asam gelugor and tamarind paste. Out of Southeast Asia, asam gelugor may not be available. You may add more tamarind paste to have the taste of sourness in asam laksa.
The other special ingredient which is tough to find is ginger torch flower. Ginger torch flower can be bought fresh usually. You may skip this ingredient if you are unable to find it.
What kind of noodles are used in asam laksa?
Asam laksa uses very thick rice noodles, which is not easily found out of Malaysia or Singapore. You can made them yourself using the recipe here. Otherwise, udon noodles are a great substitute. Although made using wheat flour, udon noodles are thick and tender just like thick rice noodles used in asam laksa.
With so many tantalizing flavours coming together, this dish is a definite delight to savour. The smoothness of the noodles, small pieces of fish, shrimp paste, fresh shallots, cucumber, pineapple slices and of course, the slightly spicy sourish soup just complement each other so well. The soup will surely tease your taste buds and stirs up your appetite with every mouthful. Of course, it is such a pretty dish too!
---
Food Snaps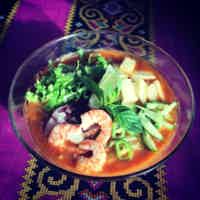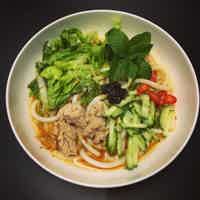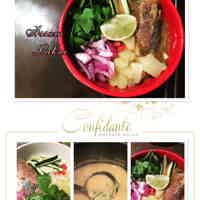 ---
How to Prepare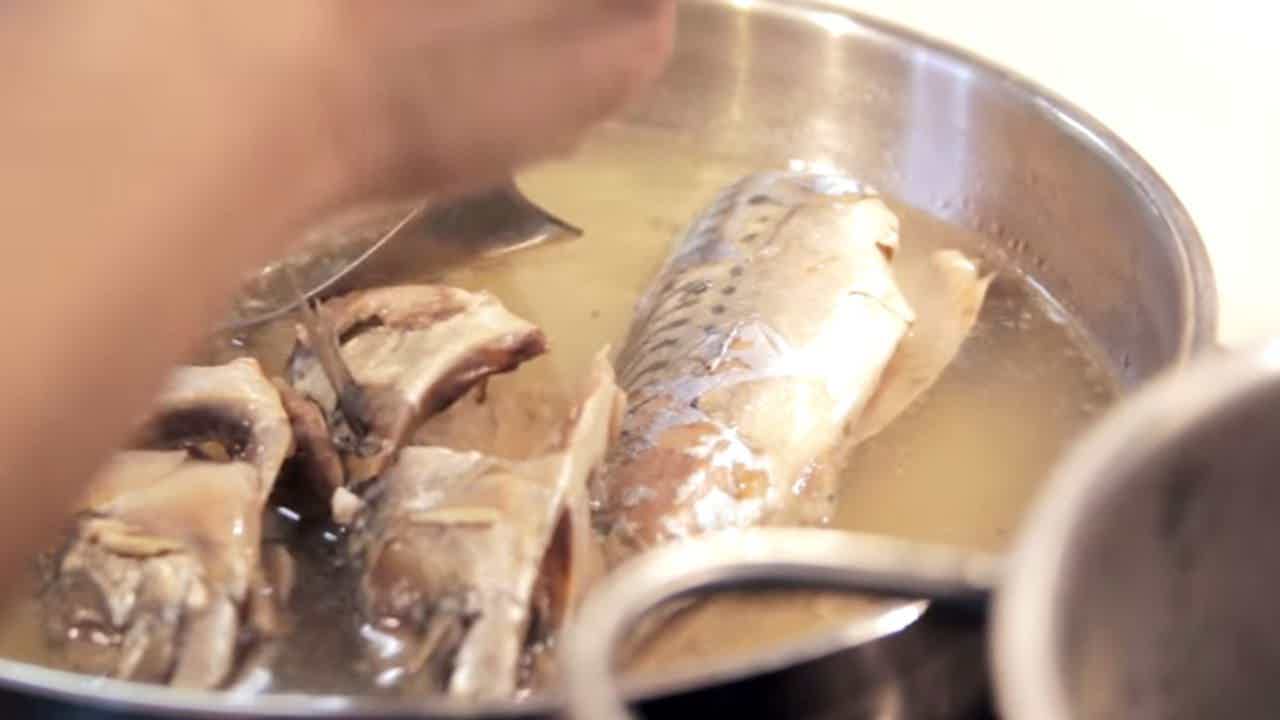 Step 1 of 6
250

g

mackerel(s)

1

l

water
Cook fish in water for 10 minutes at low heat. Remove fish from broth and sift fish broth to remove impurities. Leave broth and fish aside.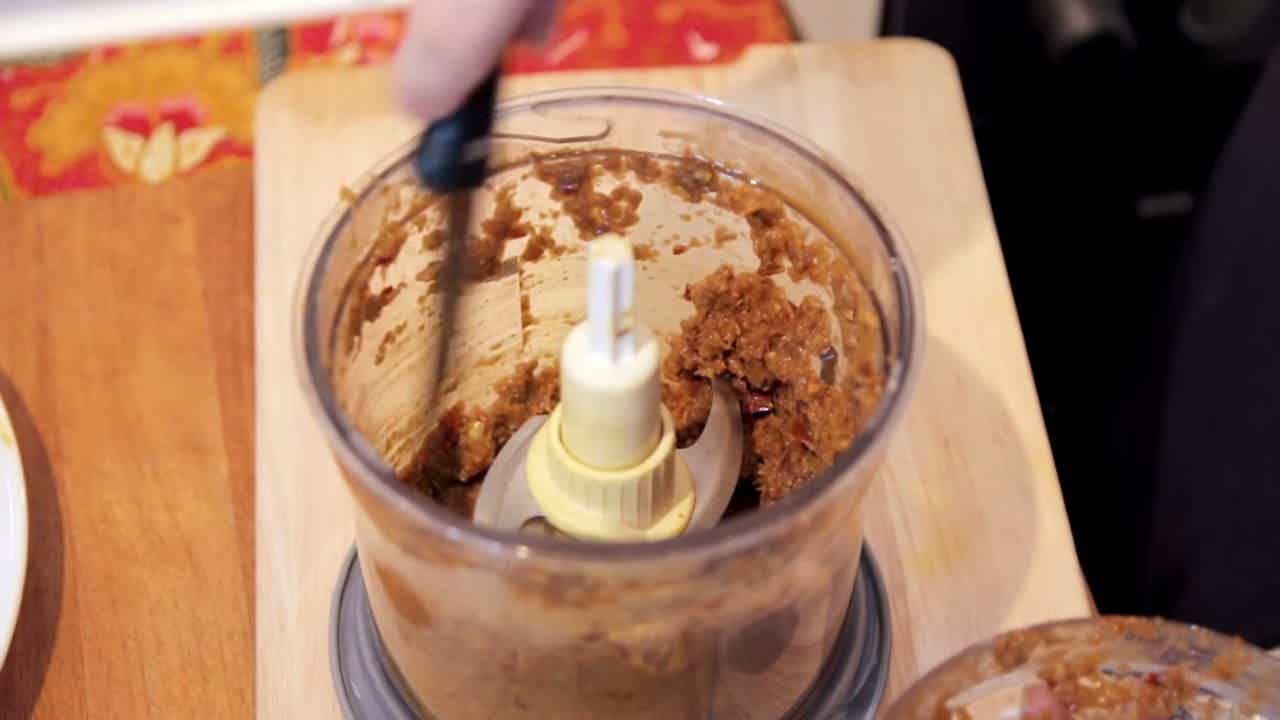 Step 2 of 6
1

l

water

5

g turmeric (fresh)

10

g

galangal

4

shallot(s)

5

Vietnamese coriander/daun kesum
Blend dried chillies, shrimp paste, turmeric, galangal, shallots and lemon grass. Add a bit of water to ease the blending process. Then, add blended ingredients into a pot of boiling water. Once water boils, add Vietnamese coriander and turn the heat down to let it simmer.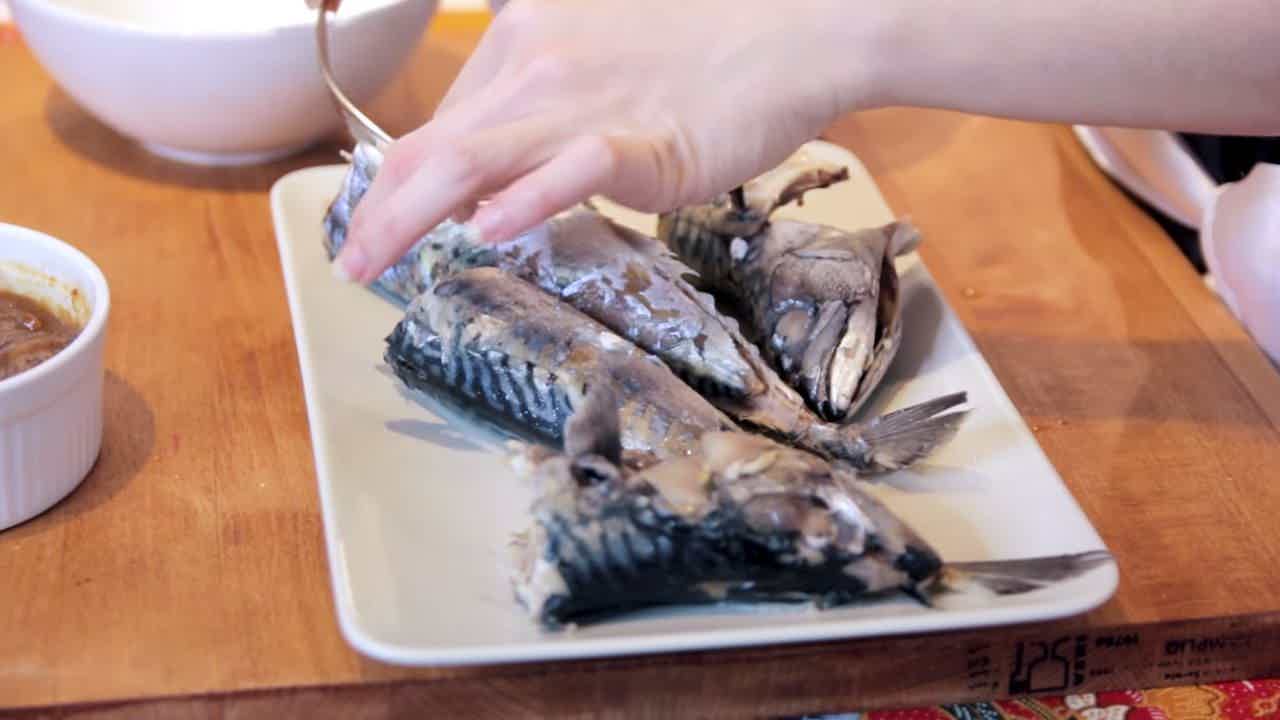 Step 3 of 6
Remove flesh from fish. Discard the skin and bones. Mash half of the flesh with a fork.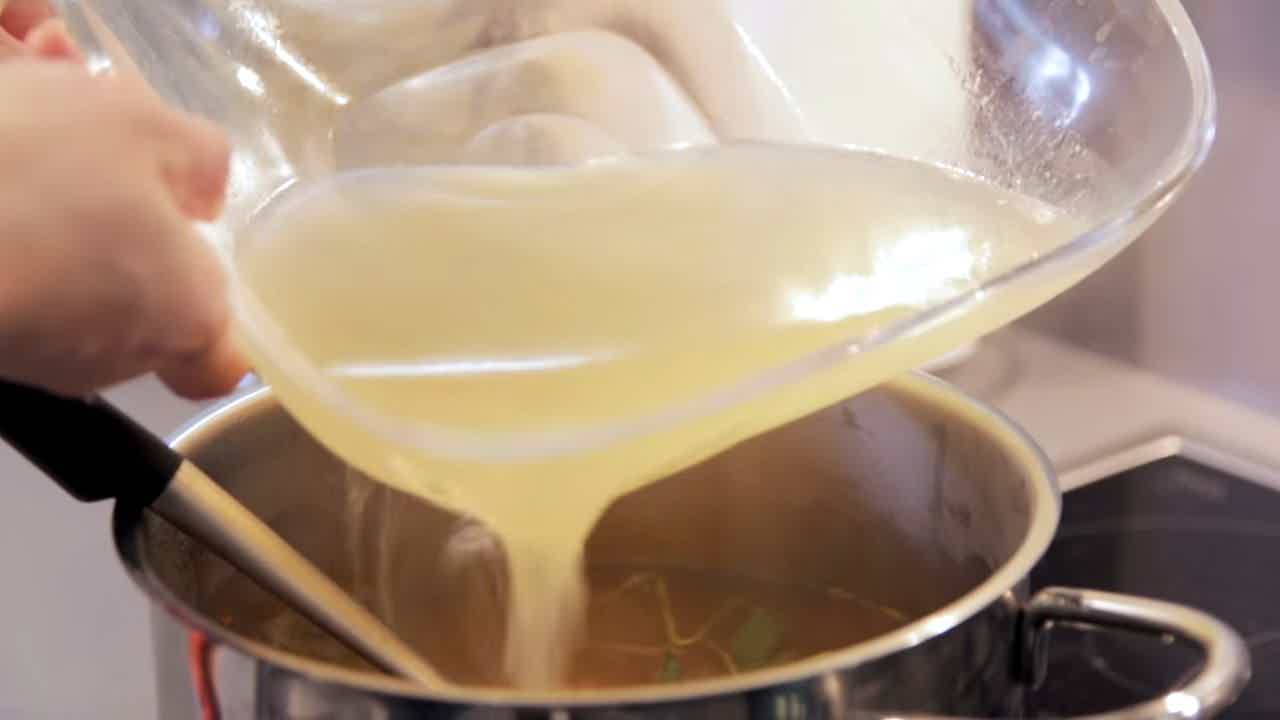 Step 4 of 6
Add fish broth into soup. Increase the heat, add tamarind paste and mashed fish. Bring to boil.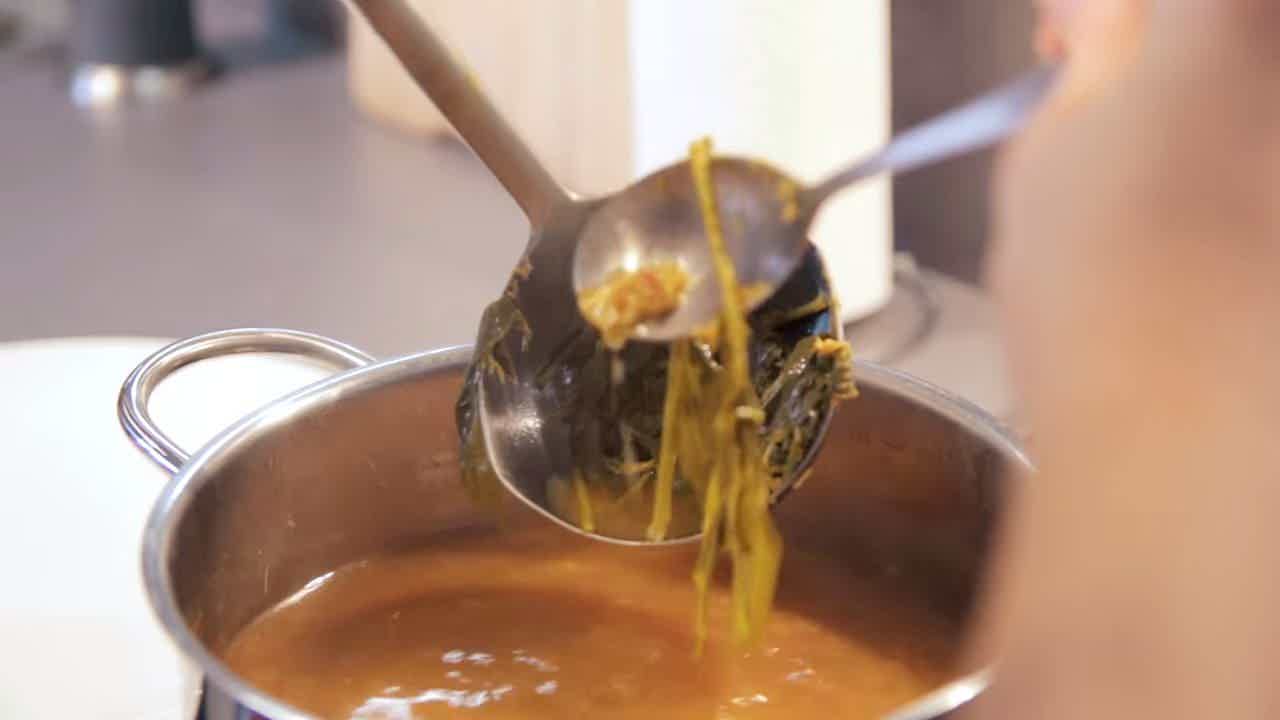 Step 5 of 6
Then allow the soup to simmer at low heat for 15 minutes. Add salt and sugar to taste. Shortly before serving, remove Vietnamese coriander from the soup.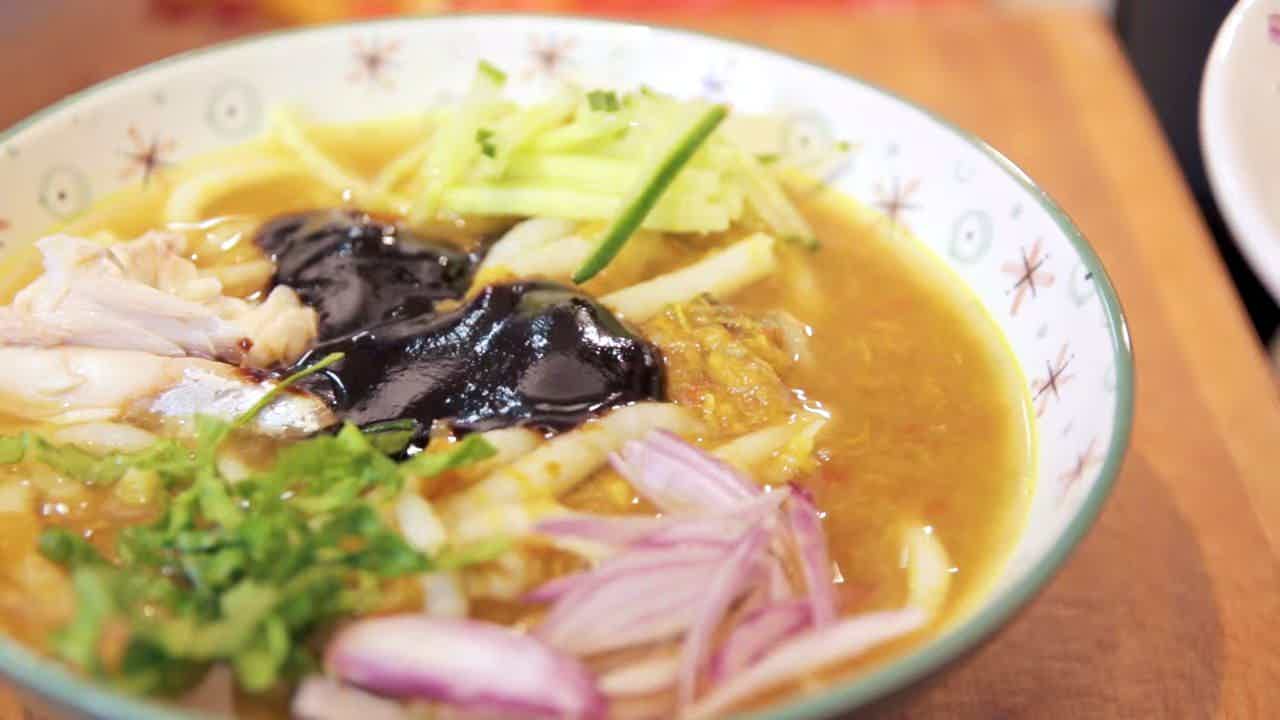 Step 6 of 6
shrimp paste (petis udang)

2

calamansi

lettuce

shallot(s)

chilli peppers (fresh)

cucumber(s)

pineapple cubes
Blanch noodles with hot soup. Then, place noodles in a bowl and top it up with laksa broth, shrimp paste ('petis udang'), pieces of fish, slices of lettuce, cucumber, pineapple, shallot and chili. Garnish with mint leaves and half a Calamansi lime.