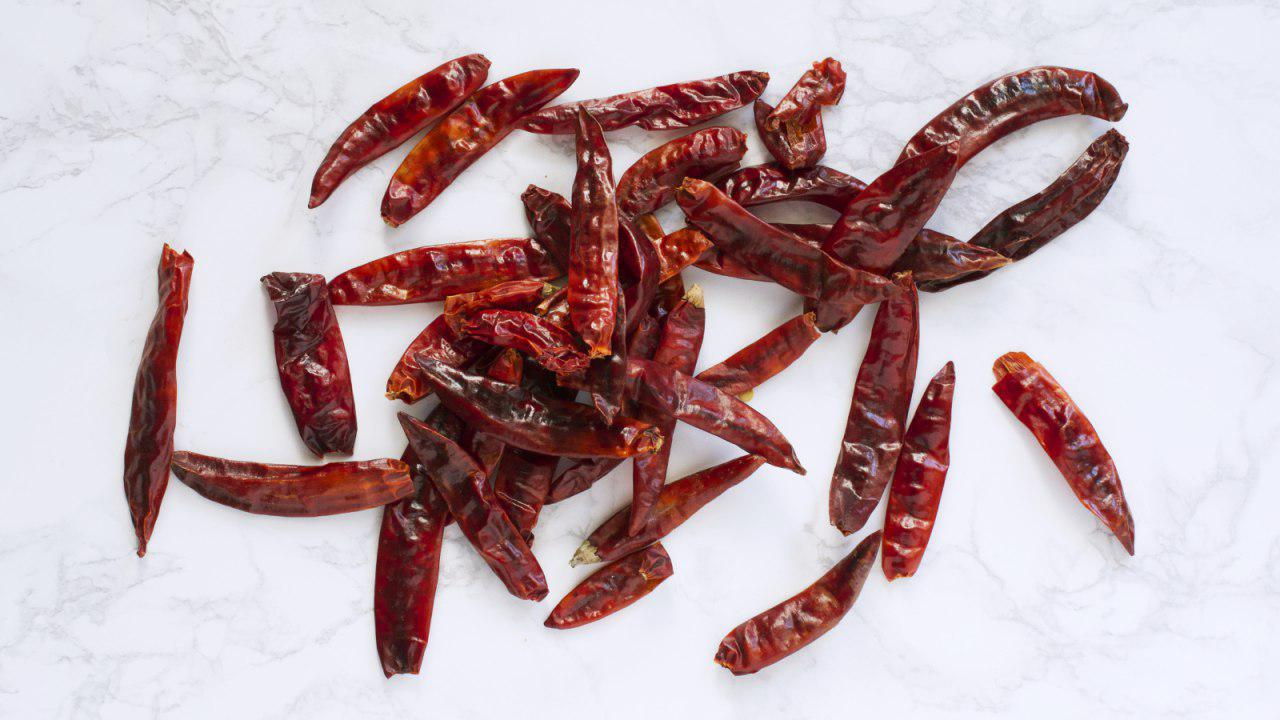 Chilli Peppers (dried)
Dried chillies or dried peppers are added into stir-fries, curries and even soups to add some spiciness to the flavour. The usage of dried chillies does not only makes the dish spicy but also provides a stronger taste and colour to the dish compared to fresh chillies.
Dry Herbs
cili kering
spicy, pungent
chilli peppers (fresh), chilli flakes
---
Background
Dried chillies are one of the most important spices in Southeast Asian cuisine when it involves a spicy dish. In Indonesia, dried chillies are produced for export purposes to neighbouring countries like Malaysia or Singapore. The other biggest exporter of dried chillies to the Southeast Asian region is India. Malaysia, too, has several producers planting and processing chillies. As the demand in Malaysia is much higher than the supply, dried chillies sold in Malaysia are mostly from India or the neighbouring country, Indonesia.
Sun-drying is the most natural method when it comes to drying the chillies as it requires no preparation. Direct sunlight and heat are the only success factors to ensure a bountiful supply of dried chillies. Fresh chillies are dried under the sun for at least 3 days. The moisture available in the chillies should be brought down to 10% to ensure that it stays flavourful and retain its colour. Once dried, the chillies are sold as they are or further processed into chilli powder.
---
Nutritional Information
Dried chillies are often used as a seasoning but there are proven nutritional values according to many studies carried out. According to the study by Chinese Academy of Medical Sciences , consumption of chillies is said to be linked to longevity and good health. Another study which was released in 2016 by Bochum-Ruhr University stated capsaicin, the component which makes chillies spicy helps to prevent the growth of breast cancer cells!
Generally, chillies also contain vitamins such as vitamins A, C and E, beta-carotene, folic acid and potassium. While the amount of vitamins may lessen in dried chillies compared to fresh chillies, nutrients are still found in them.
The capsaicin in chillies is proven to be helpful as it aids in weight loss according to a study by University of Woyming. Therefore, it would be good to incorporate a few dashes of chilli powder into your dishes for the extra flavour and spiciness.
---
How to Choose
Dried chillies are sold in loose form or prepackaged. Choose dried chillies that are not brittle, even in colour (without patches) and most importantly, without any mold on them. Dried chillies sold in South East Asia are usually around 6cm or longer. The best chillies for the recipes on this website would be of type Byadgi or Kashmiri as they have a medium level of spiciness.
Short, small and fat dried chillies the least spicy. Then, comes dried chillies which I would suggest to use. They are long, curly and known to have a medium level of spiciness. These are usually from the Byadgi or Kashmiri dried chilli variety. Shorter and smoother dried chillies (as pictured above) are spicier. Follow the steps to prepare listed below in order to reduce the spiceness of dried chillies.
Dried chillies are found in most Southeast Asian local supermarkets or ethnic speciality stores in other continents. You may also opt for dried chillies or chilli flakes from Mexican or even Turkish stores. Get advice on the level of spiciness from the storekeeper.
---
Storage Tips
Store dried chillies in an airtight container with dry-packs silica gel (food approved). Otherwise, pack them in a ziplock bag and store in a container filled with onions to absorb bacteria in the air that encourages mold growth on dried chillies.
---
How to Use or Prepare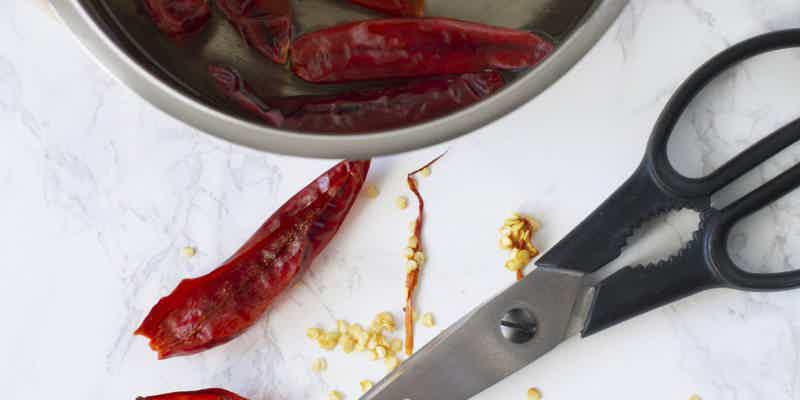 Step 1 of 4
Soak dried chillies in room temperature water until they soften. Rinse well. Tip: To make the dish less spicy, boil the dried chillies instead of soaking them until soft. Then, remove the seeds and membranes of the dried chillies. Use rubber gloves when handling the dried chillies.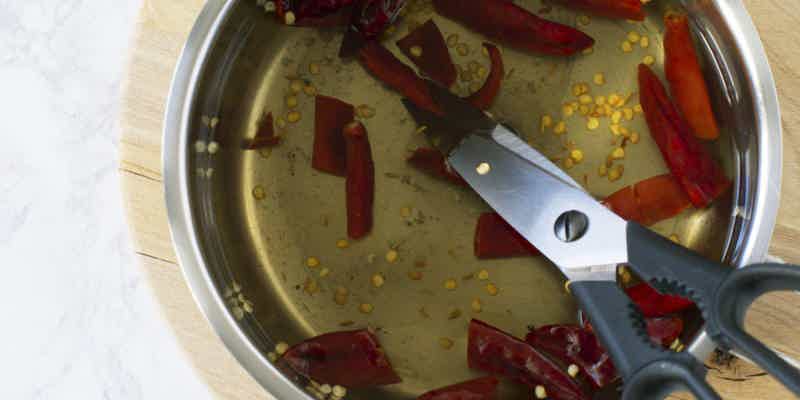 Step 2 of 4
When processing a large amount of dried chillies for example, when cooking sambal, boil them until they softened. Use a pair of scissors to roughly cut the dried chillies to remove the seeds.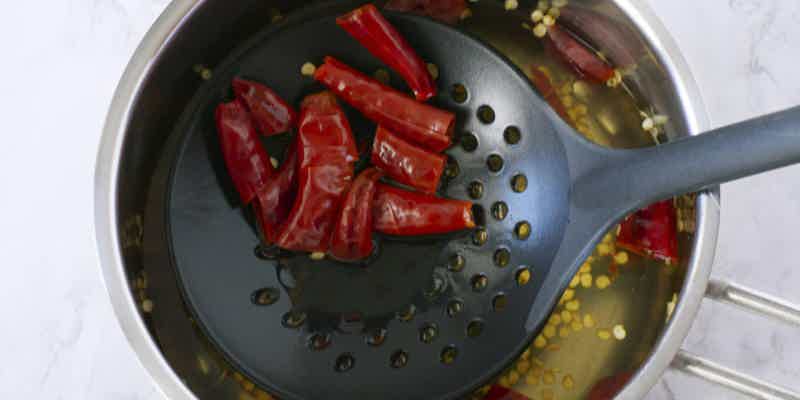 Step 3 of 4
Using a strainer with bigger holes, scoop out the boiled dried chillies. The seeds will sink to the bottom of the pot.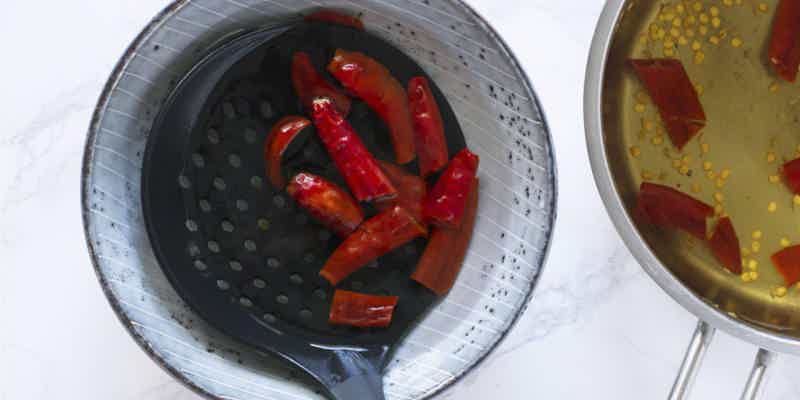 Step 4 of 4
Place the strainer/colander of boiled dried chillies in another bowl of clean water to further remove excess seeds.
Published: April 19, 2018