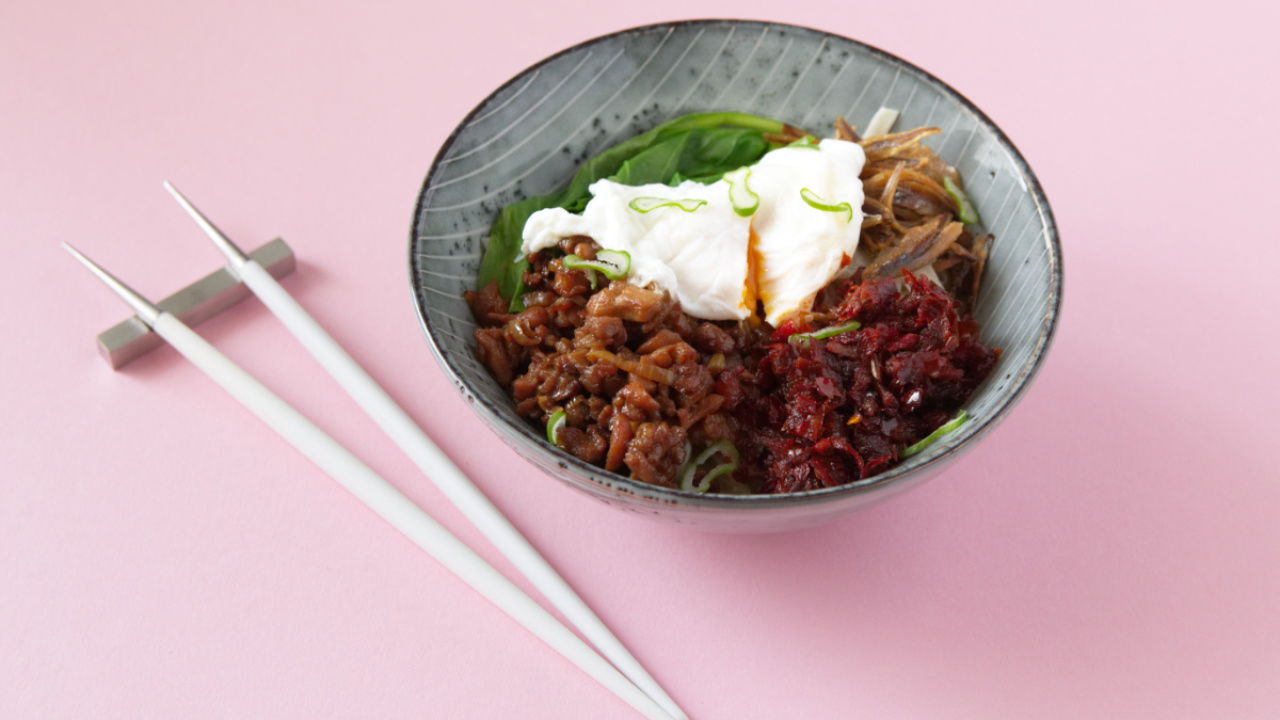 Chili Pan Mee
Chilli pan mee has to be the ultimate spicy noodles to test your tolerance of spiciness. Originates from the Hakka kitchen, chilli pan mee is one of the popular noodle dishes in Kuala Lumpur, the capital city of Malaysia.
Preparation 15 mins
Cooking 45 mins
Ultimate Spicy Noodles, 板麺
Malaysian, Singaporean, Bruneian
---
Ingredients
150

g

minced meat

1

tbsp
light soy sauce

1

tsp

dark soy sauce

1⁄2

tbsp
oyster sauce

1⁄4

tsp

pepper

1⁄2

tsp

sugar

500

ml

water

20

g

anchovies

5

tbsp

oil

1

shallot(s)

1

garlic clove(s)

1

chilli peppers (fresh)

15

chilli peppers (dried)

15

g

shrimps (dried)

2

egg(s)

2

wheat noodles

—

chinese flowering cabbage/choy sum
---
Journal Snaps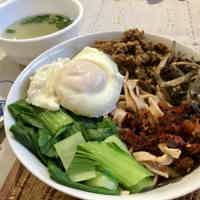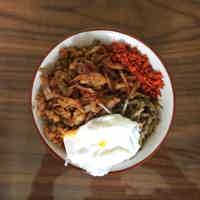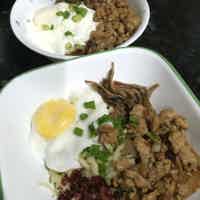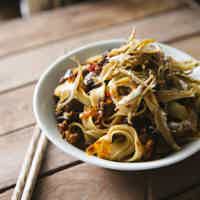 ---
Background
'Chili Pan Mee' should be in your list of must-try food in Kuala Lumpur for it is loved by locals and tourists. 'Pan Mee' (板麺) literally translates to flat noodles. There are many variations of 'Pan Mee' in Malaysia. If you love some spice, then chili pan mee has got to be your favourite. It must be the kick of the chilli pan mee spiciness contributed by the special chili mix topped onto the noodles. This special chili topping is usually placed separately for customers to add on to their noodles, according to their hearts' content.
How to make chilli pan mee less spicy
Homemade 'Chili Pan Mee' allows you to control the level of spiciness. When preparing the special chili topping, remove the seeds and membranes of the chilies to reduce the spiciness.
I'm allergic to/do not like prawns. What I substitute dried prawns with?
If you don't like prawns, you may also blend the dried shrimps finely which is the more common practice instead of chewing into chunks of dried shrimps. Also, it is possible to reduce the amount of recommended dried prawns to half. More dried chilies may be added instead. Do sauté the chili topping until it turns brown as this would reduce the strong taste of the dried shrimps.
However, if you are preparing for guests who allergic to prawns dried shrimps, omit it from your recipe. Add a few dashes of fish sauce to get some umami.
Can I buy wheat noodles?
Of course, wheat noodles (without eggs) are sold dry or frozen in Asian grocers. I used homemade wheat noodles but it is not compulsory. Replace it with store bought thick wheat noodles or egg noodles, if that is your preference. That would work well too.
Once the noodles are cooked, add a few drops of vegetable oil or shallot oil to prevent them from sticking together.
Vegetarian chilli pan mee
As I had mentioned, I made a vegetarian version the very next day after recording this video. All I did was to replace the meat with minced shiitake mushrooms which were first marinated and then sautéed. The result was just as fantastic.
If sweet potato leaves are available, add them to the soup. They add some sweetness to the lightly salted soup. Mix the noodles thoroughly and enjoy 'Chili Pan Mee' immediately.
---
Steps to Prepare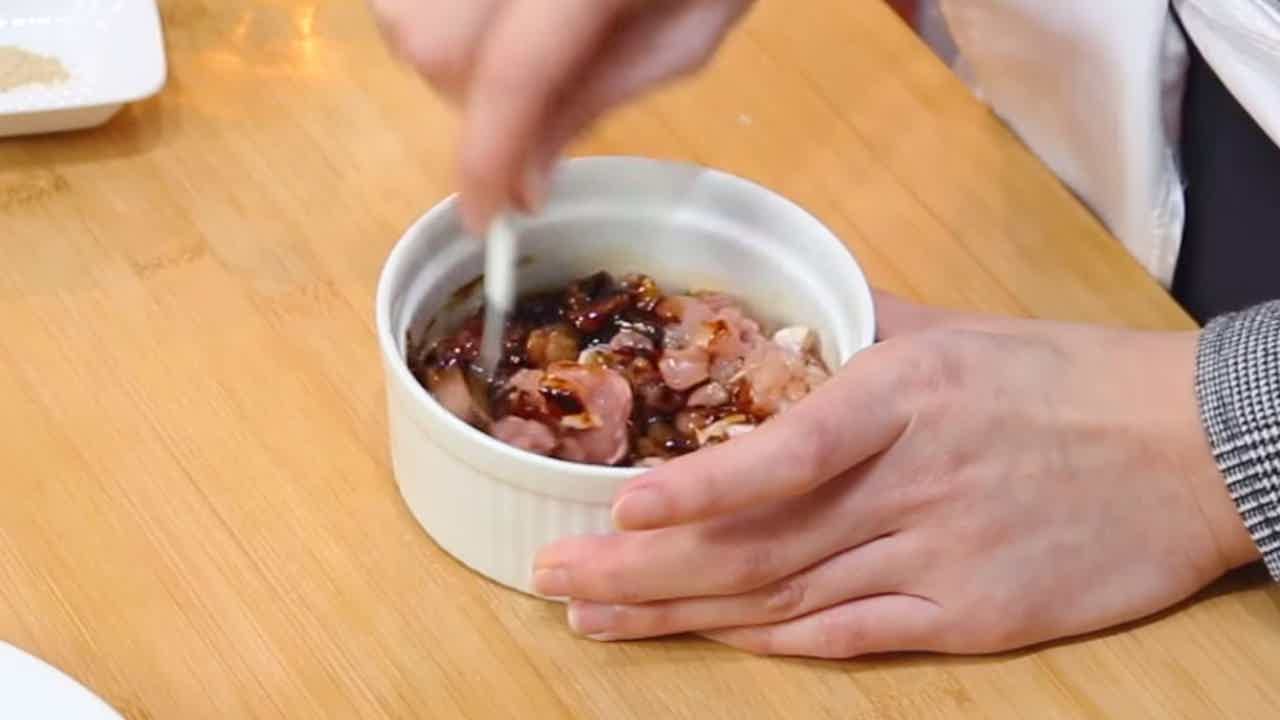 Step 1 of 7
Marinate minced meat with soy sauce, oyster sauce, dark soy sauce, pepper and sugar. Set aside.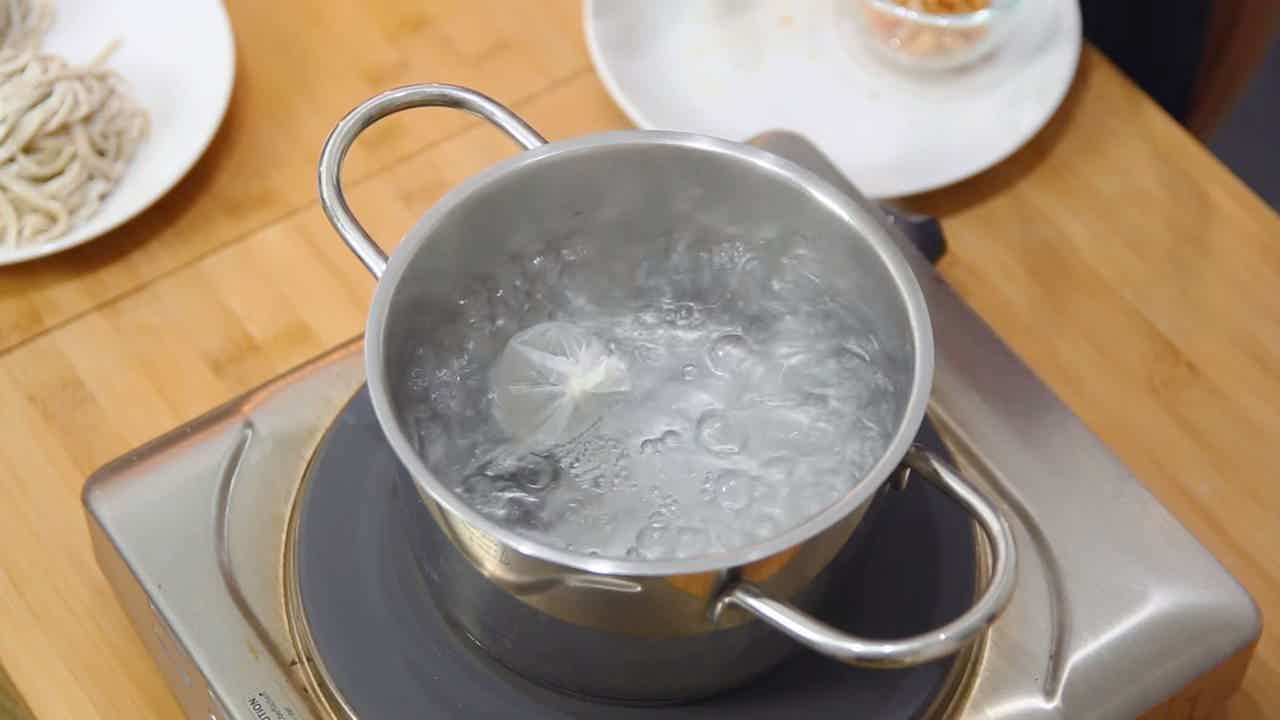 Step 2 of 7
500

ml

water

20

g

anchovies
Boil water, add dried anchovies into the pot and let it simmer for at least 30 minutes.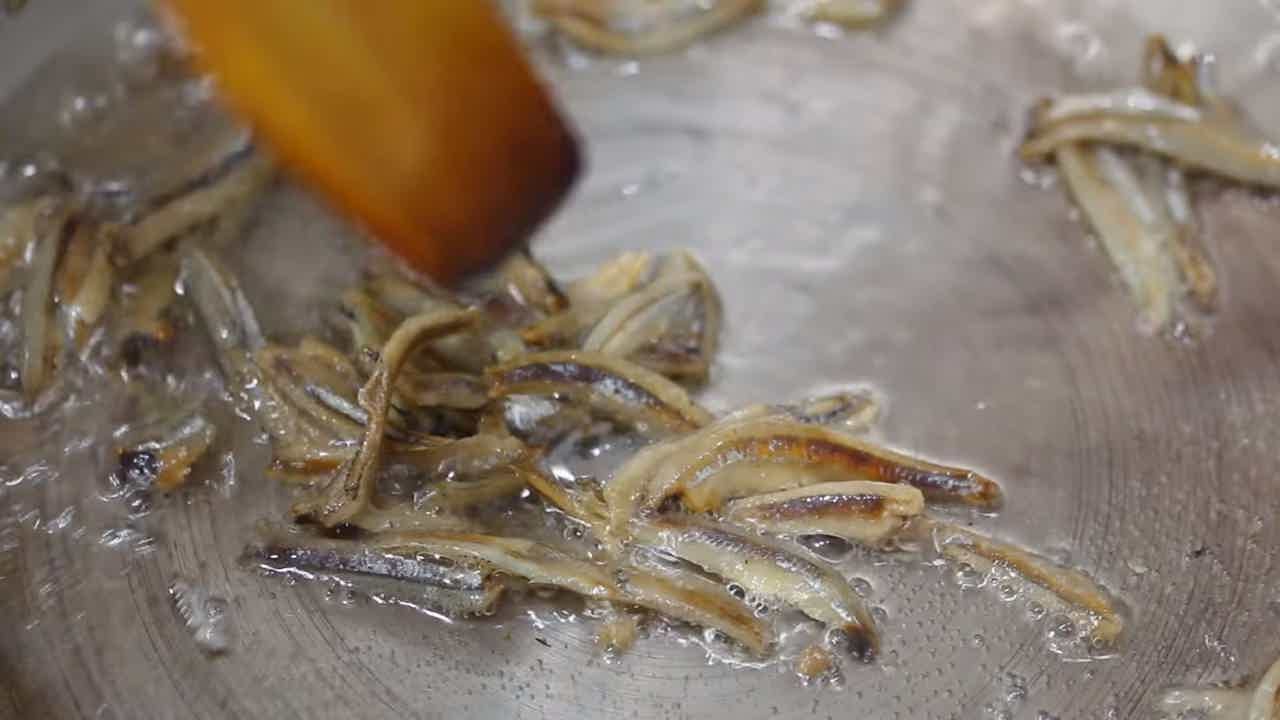 Step 3 of 7
10

g

anchovies

5

tbsp

oil
In a pan, heat oil at medium heat to fry the rest of the dried anchovies until golden brown. Leave aside for garnishing.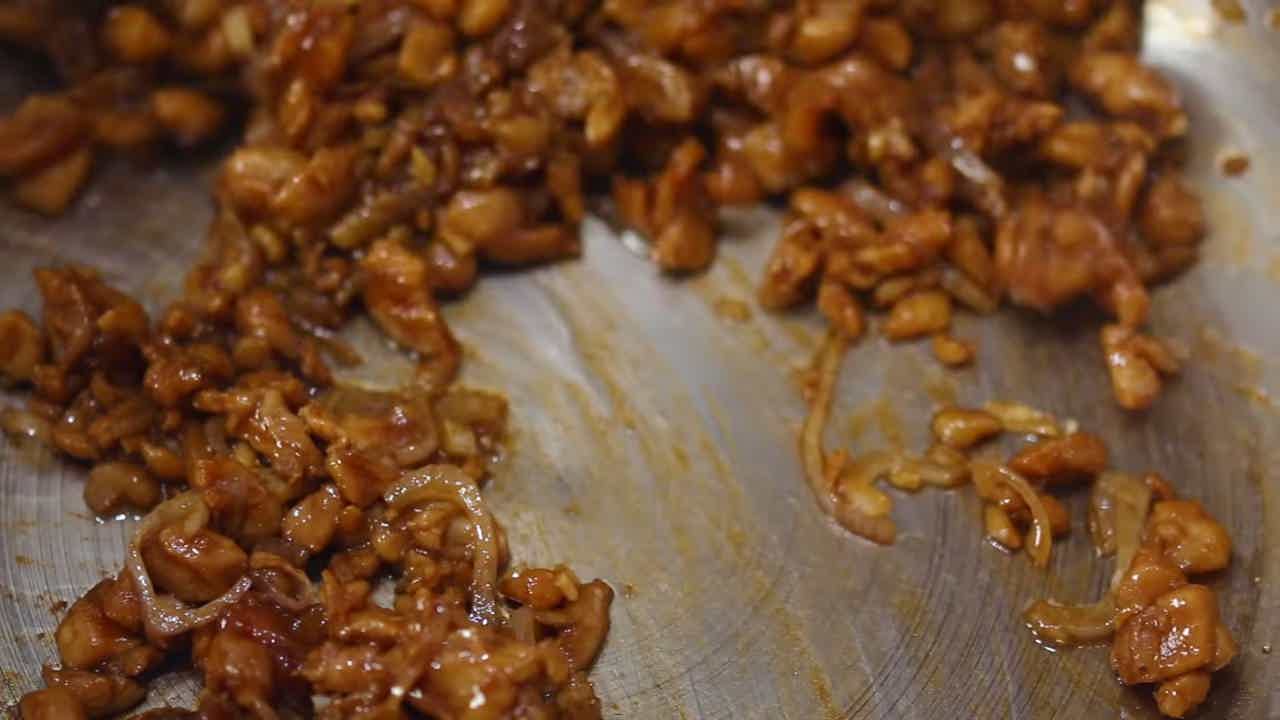 Step 4 of 7
1

shallot(s)

1

garlic clove(s)
Using the same pan, sauté sliced shallots and minced garlic in oil until fragrant. Then, add marinated minced meat to sauté until cooked. Set aside.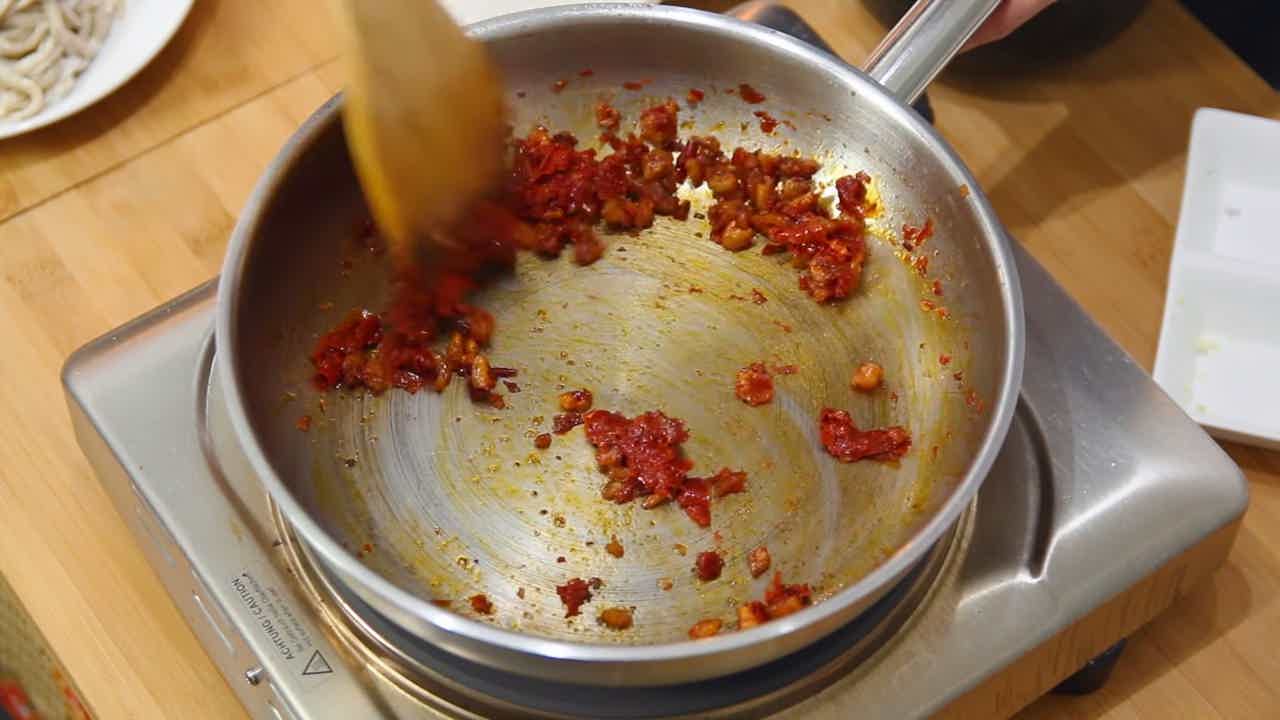 Step 5 of 7
1

chilli peppers (fresh)

15

g

shrimps (dried)

3

tbsp

oil
To prepare chilli topping, pound fresh chilli and dried chillies. Then, separately pound dried shrimps roughly. Heat up oil in a pan. Sauté dried shrimps until fragrant and then add pounded chilli. Continue to sauté chilli topping until the colour changes to a darker shade. Set aside.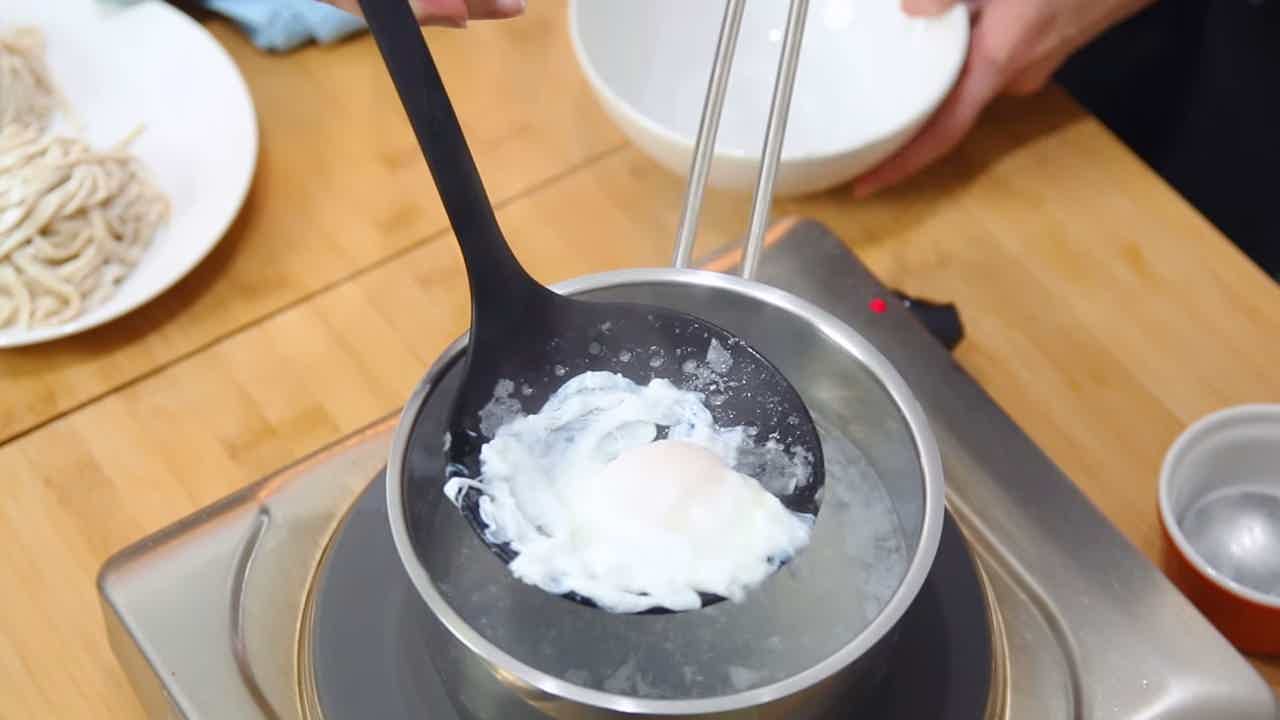 Step 6 of 7
Prepare poached eggs by boiling a pot of water. Stir water in one direction and carefully drop an egg into the pot. Allow egg to cook for 3 minutes and remove from boiling water.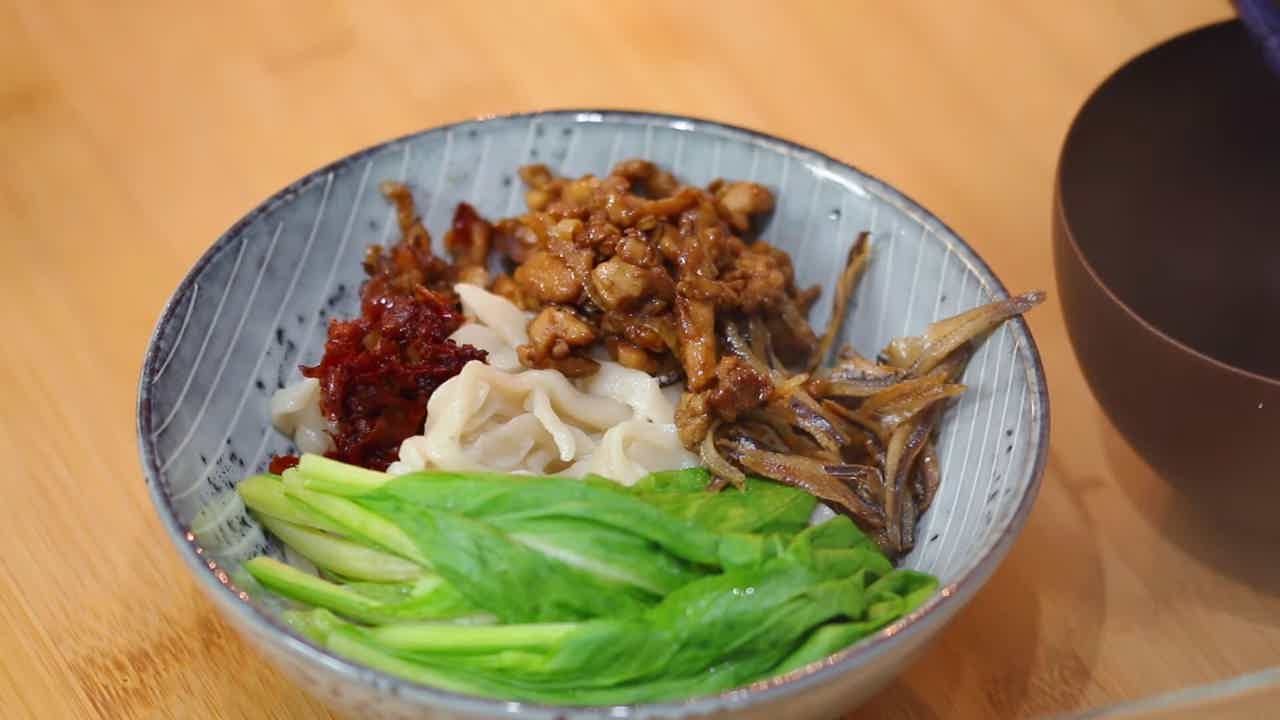 Step 7 of 7
2

wheat noodles

chinese flowering cabbage/choy sum
Boil wheat noodles until cooked. To assemble chilli pan mee, place wheat noodles in a bowl with some fried anchovies, minced meat, chilli topping, 'choy sum' (vegetables) and poached egg. Garnish with spring onions and fried shallots (optional).
---
0 Discussions
Give us your opinion!
Log in
and start posting.