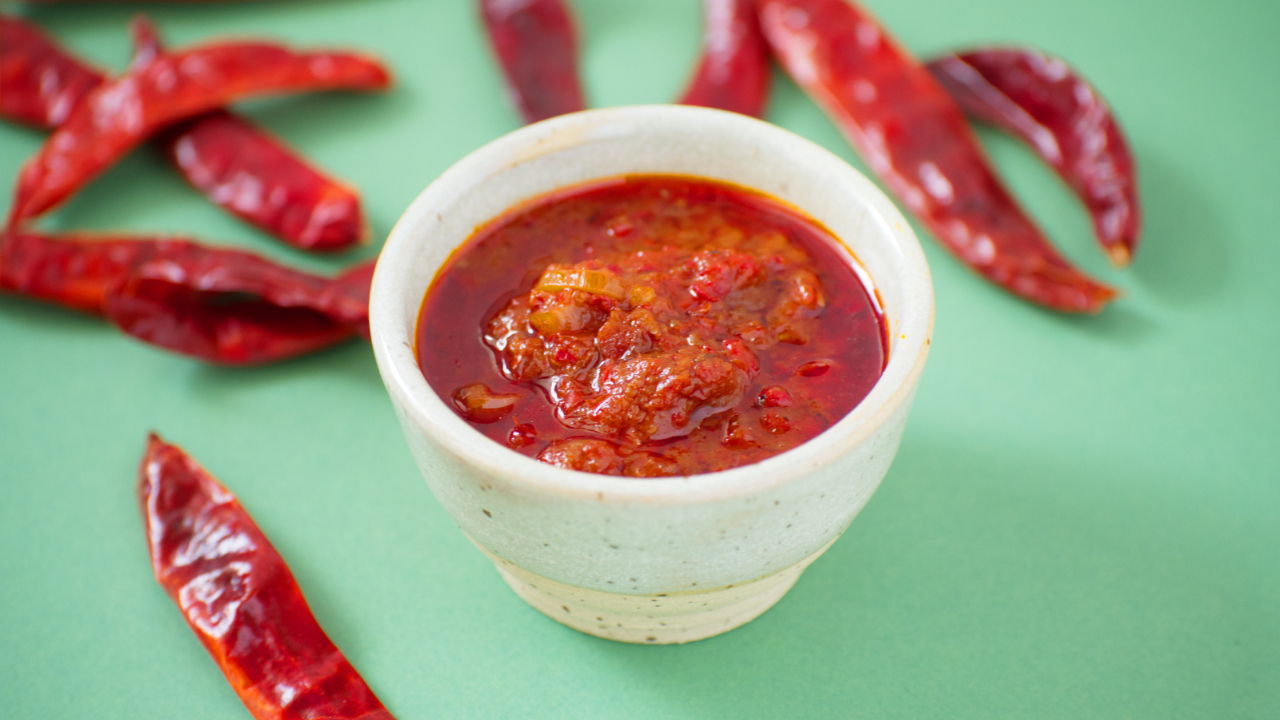 Sambal Nasi Lemak
Sambal is the generic name for a spicy condiment made of chillies plus a combination of aromatics such as onions, garlic and ginger beside others. It is an accompaniment for 'Nasi Lemak' a popular dish in Malaysia and Singapore.
Preparation 10 mins
Cooking 50 mins
Malaysian Sambal, Malaysia Hot and Spicy Condiment
---
Ingredients
3

garlic clove(s)

3

chilli peppers (fresh)

15

chilli peppers (dried)

20

g

anchovies

100

ml

oil

1

shallot(s)

125

ml

water

1

tbsp

coconut milk

1

tsp

tamarind paste

—

salt

—

sugar
---
Community Food Snaps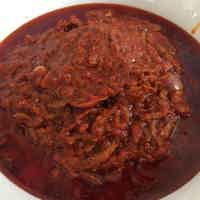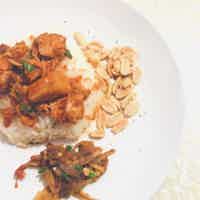 ---
Background
Sambal is a type of spicy sauce or paste where chilli is the main ingredient. It serves as a condiment to complement other dishes. The name is a generic term used for a spicy condiment in countries in the Southeast Asian region.
Can I use only one type of chillies?
Certainly! In this sambal recipe, fresh and dried chillies are used. Dried chillies gives a deeper flavour and colour to this spicy condiment while adding a decent amount of smokiness. Fresh chillies on the other hand are added for its bright red colour and spiciness. Although the heat from fresh cayenne chillies are not as hot compared to dried chillies, it is more intense. Using both types of chillies gives a bolder heat to the sambal.
How spicy is sambal?
Sambal can be made very spicy or almost non spicy. It all depends on the chillies that are used and how they are processed. Cayenne chillies are more commonly used in Malaysia. Sometimes, bird eye chillies which are much spicier are selected instead. To lessen the spiciness of the chillies, remove the membranes and the seeds. Read more to see how dried chillies are made less spicy.
How to eat sambal?
Sambal is so versatile that it can be served with noodles, rice or even flat bread. It goes well with seafood or meat too. Besides nasi lemak, sambal complements noodles such as Mee Goreng (fried noodles) or Nasi Goreng (fried rice). It is also served as an accompaniment with roti canai (Malaysian flat bread). Each type of sambal has its individuality due to the different ingredients used. One of its many variations is sambal belacan which is raw.
Ingredients for sambal
Chillies and aromatics such as ginger, garlic, onions beside others are usually blended or pounded together. The paste will then be either served raw or sauteed in hot oil until it changes into a darker shade of red. This recipe requires the use of coconut milk although it is not commonly used in Malaysian sambal. However, this is my preference as I find the addition makes the taste spectacular! Another ingredient that really makes this condiment stands out is the blended anchovies. It gives the dish its individuality and makes it really delectable. This is possibly the best sambal recipe you can find online. The feedback from viewers who had tried and tested this recipe is certainly very positive and encouraging.
Preparing sambal in advance
I would always cook this in large quantity and store them in containers to be kept frozen. Cooking sambal is quite a task as the heat needs to be well-controlled besides balancing the amount of sweetness, sourness and saltiness that goes into the dish. Above all, this dish requires the usage of quite a bit of oil because the chilli paste needs to be sauteed until it is fragrant.
How to store sambal?
Sambal can be kept refrigerated in a clean and dry air tight container for up to 5 days. Otherwise, freeze it for up to 6 months. It is advisable to freeze it in small amounts as it would be more convenient for later use. However, if kept frozen in a big container, allow to thaw for 10 minutes before using a clean fork to scoop out the desired amount. Before consuming, steam sambal for about 20 minutes.
---
Steps to Prepare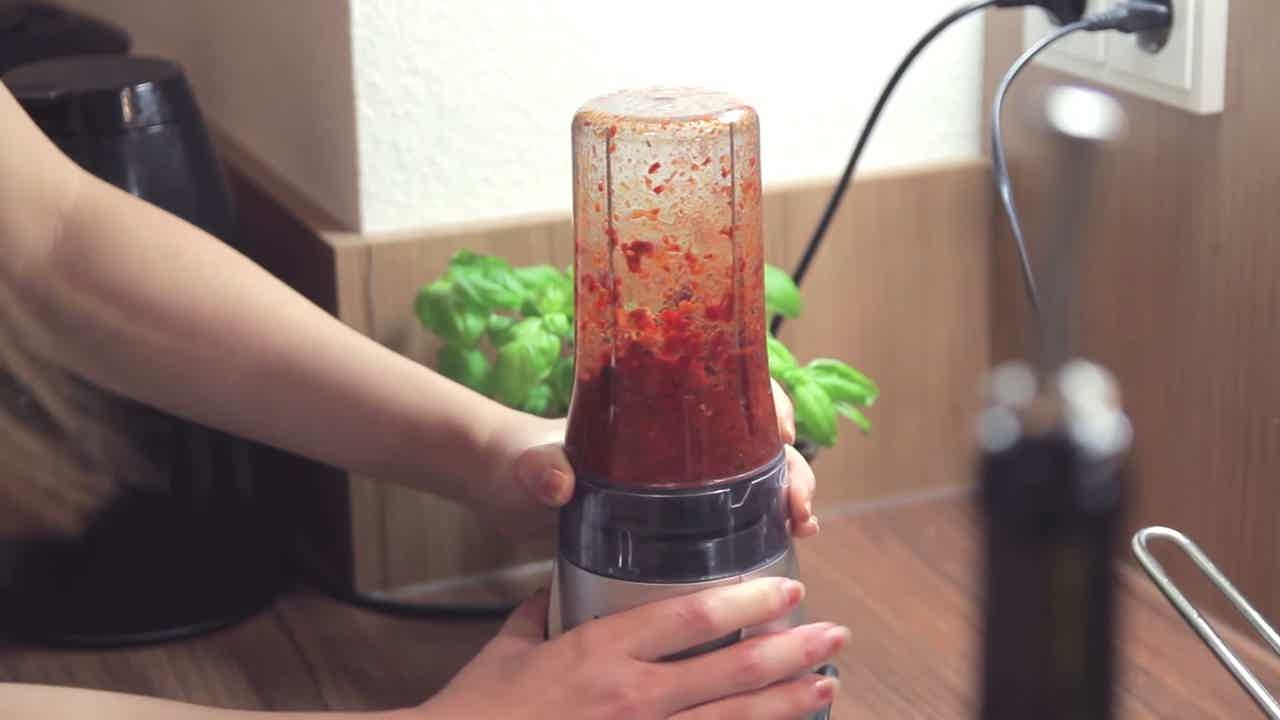 Step 1 of 3
3

garlic clove(s)

3

chilli peppers (fresh)

10

g

anchovies
Blend garlic, fresh/dried chillies and half of the anchovies.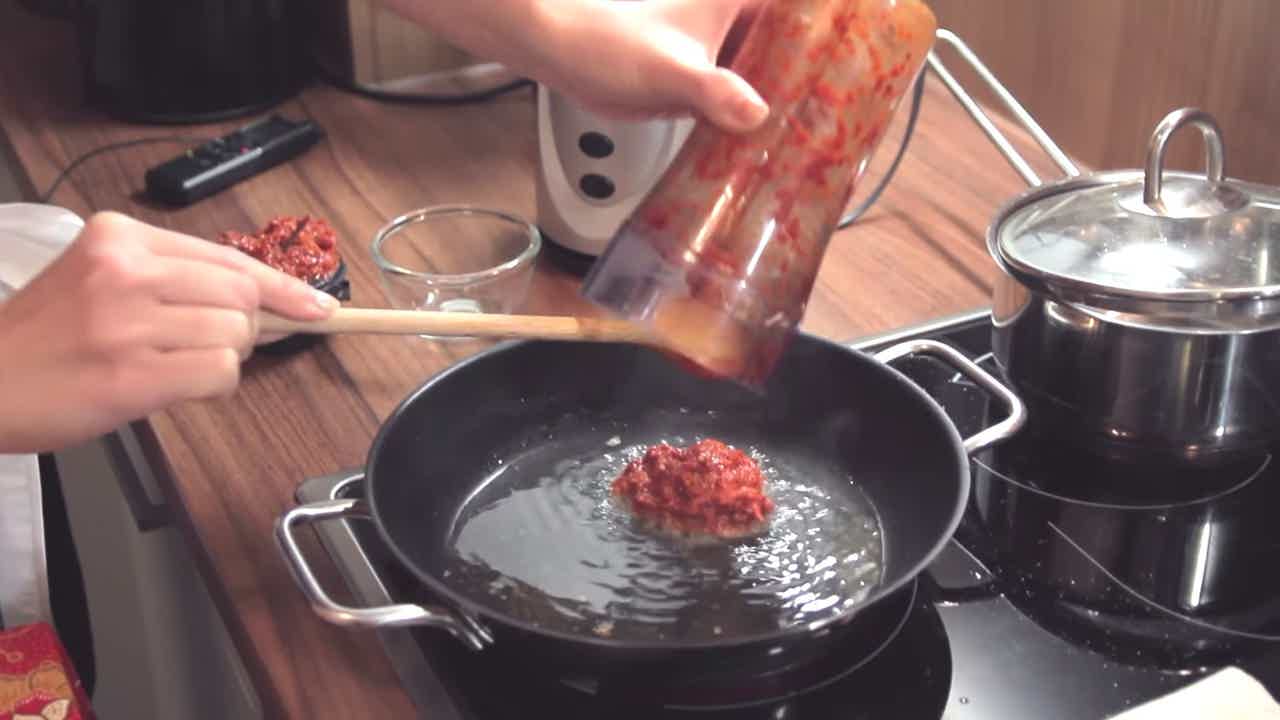 Step 2 of 3
10

g

anchovies

100

ml

oil
Sauté the remaining anchovies until crispy over medium heat. Remove them from pan. Add the blended ingredients and stir-fry until it changes to a darker shade of red.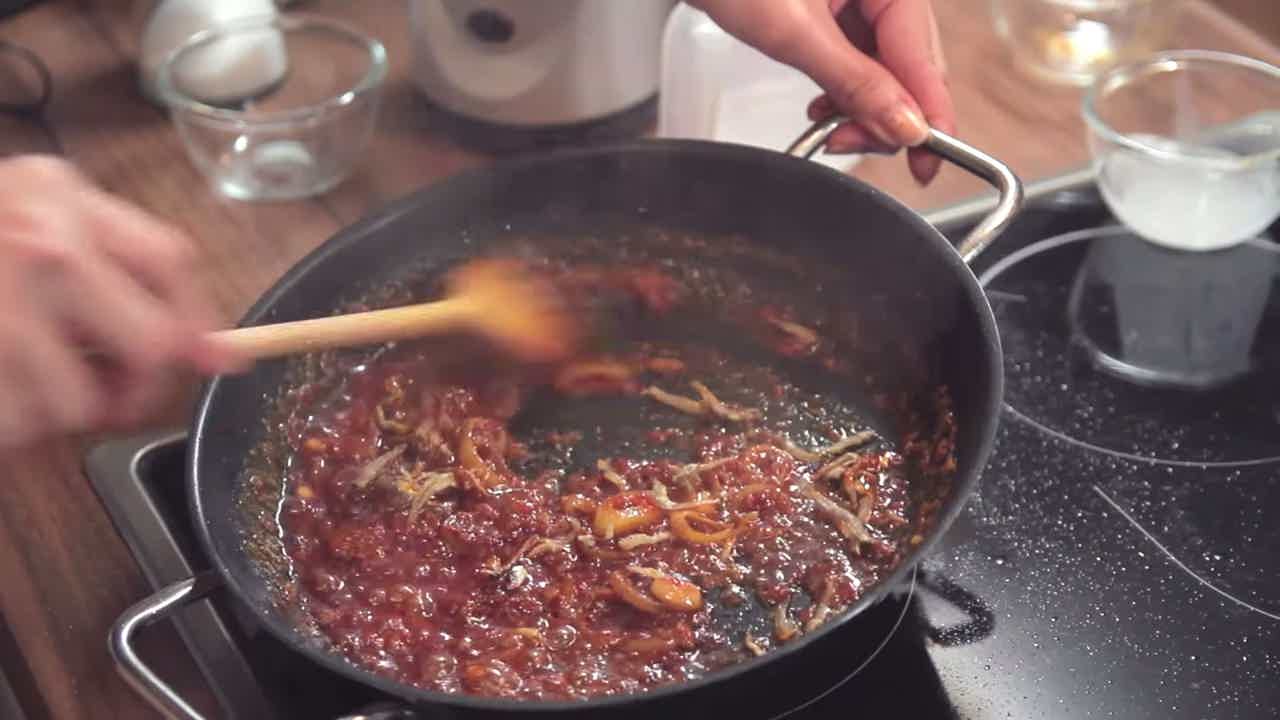 Step 3 of 3
1

shallot(s)

125

ml

water

1

tbsp

coconut milk

1

tsp

tamarind paste

salt

sugar
Add sliced shallots and water. Stir well. Add coconut milk and tamarind paste. Continue cooking for about 4 minutes. Turn off the stove. Add the fried anchovies. Add salt and sugar to taste. Mix well before serving.
Published: January 3, 2014
---
0 Discussions
Give us your opinion!
Log in
and start posting.