Based on 1056 ratings Watch Now
Ingredients
2 tbsp

oil
2

garlic clove(s)
1 cm

ginger
2 tbsp

chilli paste (cili boh)
100 g

chicken meat
0.5

capsicum(s)
1

yellow onion(s)
0.5

tomato(es)
2 tbsp

tomato sauce
0.5 cup

water
1 tbsp

oyster sauce
1

carrot(s)
1 cup

rice
1 tbsp

soy sauce
0.25 tsp

white pepper
—

cucumber(s)
—

tomato(es)
Background
Malaysian fried rice such as Nasi goreng USA is a little spicy and requires a bit more preparation than the usual plate of fried rice. Both the fried rice and the accompanying meat dish are tomato sauce based with a hint of spiciness. They complement each other perfectly.
Meaning of "Nasi goreng USA"
"Nasi goreng" simply means fried rice but Nasi goreng USA is more than the usual fried rice which we are accustomed to. Some believe that USA represents the ingredients that are used in the dish which are 'udang' (prawns), 'sotong' (squid) and 'ayam' (chicken). There is another explanation stating that USA actually refers to the characteristics of the dish which has tomatoes, fried egg, cucumber and sometimes sausages.
Spicy chilli paste
If you already have some chilli paste at home, it would come in handy for this recipe. This scrumptious fried rice is more popular than those usually sold at the stalls in Malaysia. You may check out how to prepare the chilli paste here Cili Boh. Reduce the amount of chilli paste for less spiciness.
Nasi Goreng USA is also known as: Malaysian Ketchup Fried Rice
Steps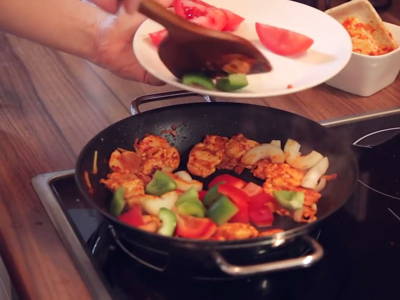 Step 1/4
1 tbsp oil
1 garlic clove(s)
1 cm ginger
1 tbsp chilli paste (cili boh)
100 g chicken meat
0.5 capsicum(s)
0.5 yellow onion(s)
Heat a pan and fry minced garlic and ginger slices. Add chilli paste and saute till fragrant. Add chicken meat and stir-fry until it is almost cooked. Add onions and capsicums and stir-fry until they are fragrant.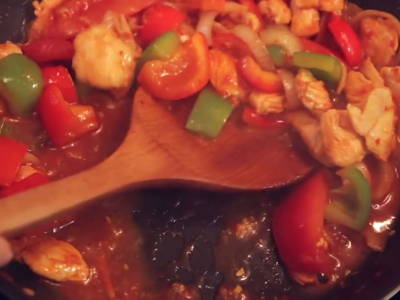 Step 2/4
0.5 tomato(es)
1 tbsp tomato sauce
0.5 cup water
1 tbsp oyster sauce
Add ketchup and oyster sauce. Add some water and allow to simmer over medium heat. Add tomatoes. Cook until the gravy thickens. Leave aside.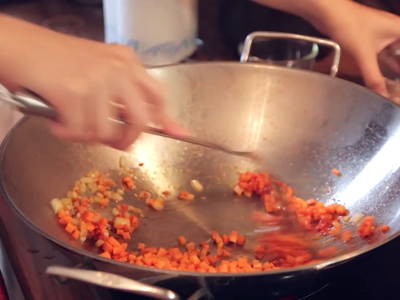 Step 3/4
1 tbsp oil
1 garlic clove(s)
0.5 yellow onion(s)
1 tbsp chilli paste (cili boh)
1 carrot(s)
In a clean wok, heat oil to stir-fry garlic and onions until soft and fragrant. Add chilli paste and diced carrots. Stir-fry for about 2 minutes at high heat.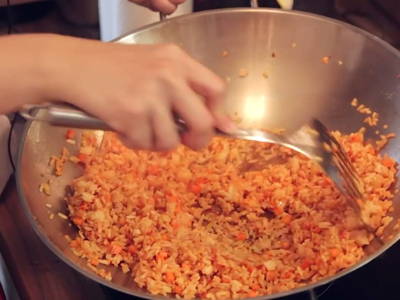 Step 4/4
1 cup rice
1 tbsp tomato sauce
1 tbsp soy sauce
0.25 tsp white pepper
cucumber(s)
tomato(es)
Add cold rice (cooked overnight) and ketchup. Quickly stir the rice to mix it evenly. Add soy sauce and a dash of white pepper. Give the dish a few more stirs. Then, serve together with the side dish prepared earlier. Garnish with cucumber and tomato slices.