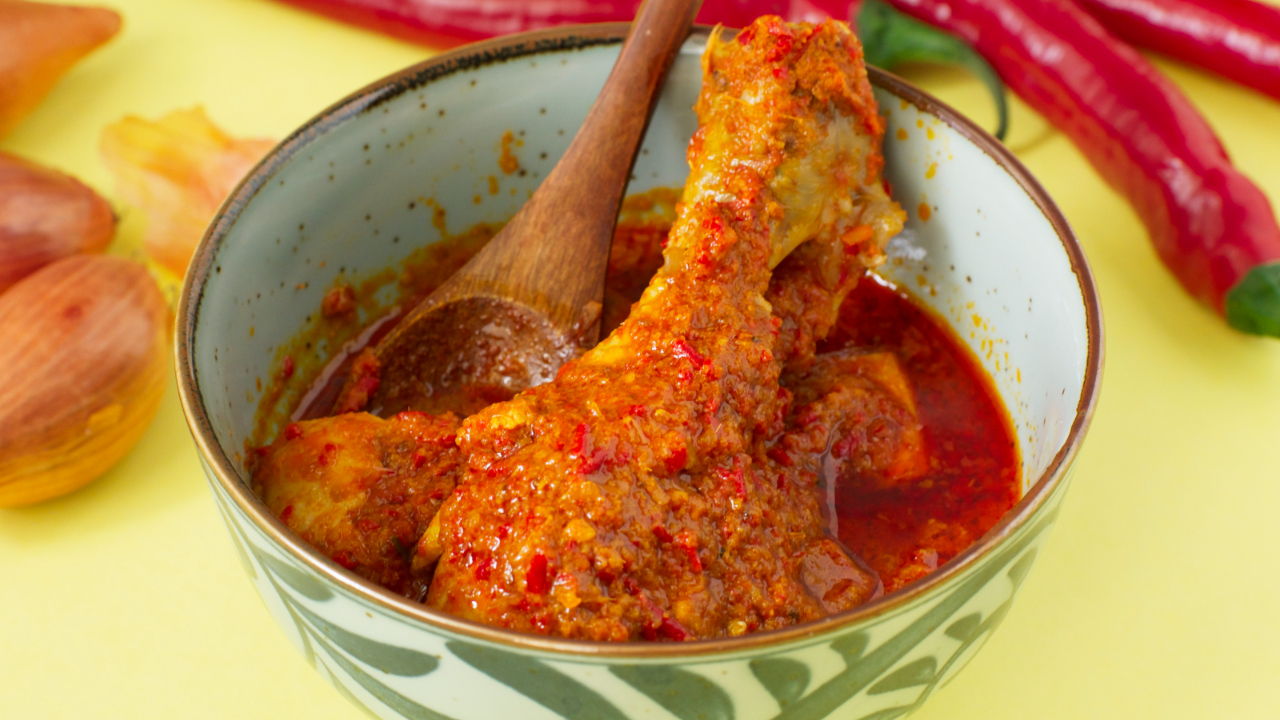 Chicken Rendang
Traditionally a Minangkabau (Indonesia) dish, variations of rendang are now found throughout Indonesia and Malaysia. This rich and flavourful chicken rendang is simple yet delicious. Beef or mutton may be used instead, according to your preference.
Preparation 25 mins
Cooking 60 mins
Malay, Malaysian, Singaporean, Bruneian, Indonesian
---
Ingredients
50

g

coconut (desiccated or grated)

10

chilli peppers (fresh)

3

lemongrass stalk(s)

4

cm

galangal

2

shallot(s)

4

garlic clove(s)

3

tbsp

oil

450

g

chicken meat

150

ml

coconut milk

200

ml

water

—

salt

3

kaffir lime leaves
---
Journal Snaps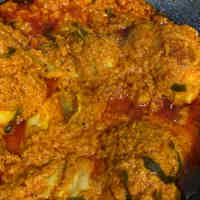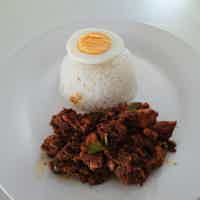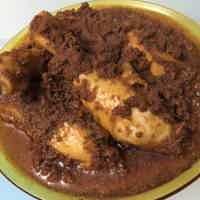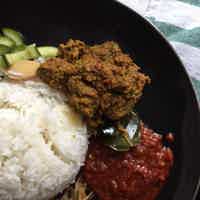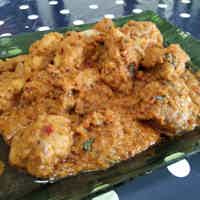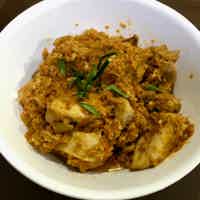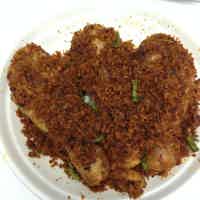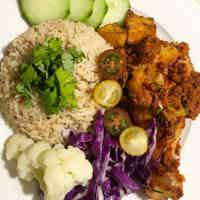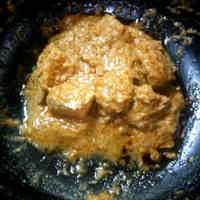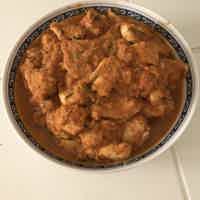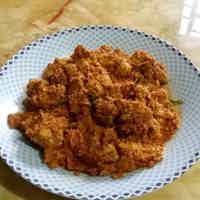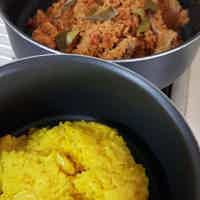 ---
Background
'Rendang' is a traditional Minangkabau dish. Over the centuries, this dish has been adapted to local cooking cultures and is now no longer only found in Indonesia but also available in neighbouring countries like Malaysia and Singapore.
The time taken to cook rendang is much longer than cooking curries as it thrives when cooked slowly. This rendang recipe has been shared by a Malay neighbour of mine using very simple ingredients which are easily found.
Check out the comments and you will agree this is the rendang recipe that you have to try. The key to good rendang is quality ingredients besides its cooking technique. The tips are shared below:
Chicken rendang, beef rendang or mutton rendang
You may use chicken breast for rendang. However, the best part for rendang would be its thigh. Feel free to substitute chicken meat with either beef or mutton, according to your preference.
We have an authentic beef rendang dish, get the recipe! The steps are explained in detail and you'll get all the tips you need for the best tasting beef rendang.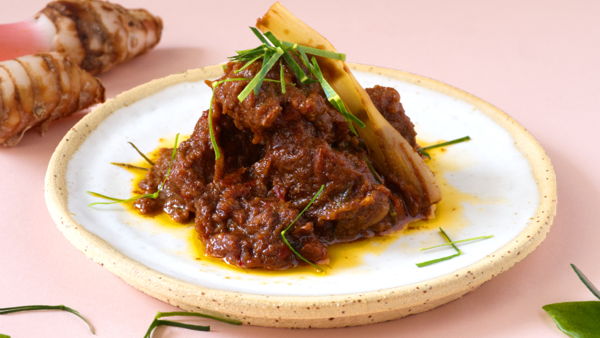 Get beef rendang recipe.
What is in rendang powder or rendang paste?
Rendang paste or powder consists of chillies, galangal, garlic, ginger, lemongrass, shallots, kerisik and sometimes other spices as well. If you want to achieve the ultimate flavours, it is best to saute the aromatics according to this sequence: lemongrass, garlic, shallots and finally, chillies. Ensure that each ingredient is sauteed until fragrant before adding the next.
Kerisik
Kerisik is made by dry frying grated coconut (fresh or frozen) over medium heat until it browns. It is then pounded until it releases oil and creates a paste. Using dessicated coconut as a substitute will not result in a paste. Instead, it will only be in a powder form which is absolutely acceptable too.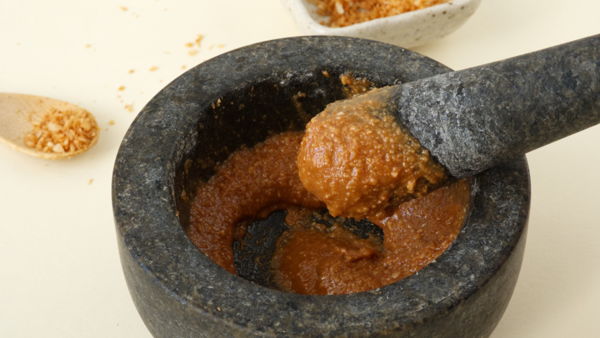 Non-spicy rendang
There are a few ways to reduce the spiciness of the rendang. The first method is the handling of the chillies. Process the chillies by removing the membranes and seeds to reduce the heat. Learn more how to remove chillies membranes and make them less spicy.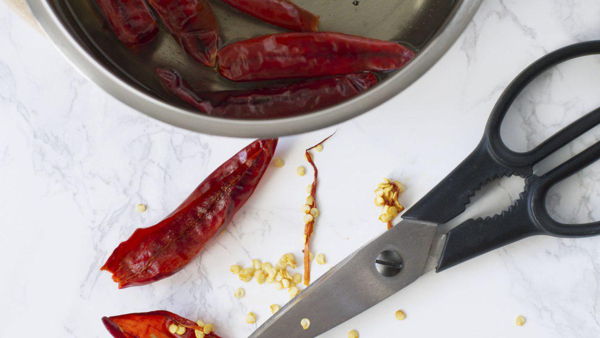 Besides that, adding coconut milk helps as well.
Dry or wet rendang
In the video, you would noticed that there was not much gravy in the dish. If you want the rendang with more gravy, add in some water or more coconut milk. Allow it to simmer until the desired consistency. Do note that coconut milk will reduce the spiciness and makes the appearance of the rendang much lighter.
Slow cooker rendang
You may cook chicken rendang using a slow cooker. Simply put all the blended ingredients, meat, coconut milk and water into the slow cooker and cook for 6 hours. The chicken rendang would be succulent and tender.
What to serve with chicken rendang
Serve this with Nasi Lemak, the popular Malaysian dish, white rice or noodles. Other dishes which would pair well with rendang are acar awak, fish in asam curry and teh tarik.
To many, cooking rendang seems daunting and complicated. Do not be intimidated for this is a simple version. Trust me, this is delicious.
---
Steps to Prepare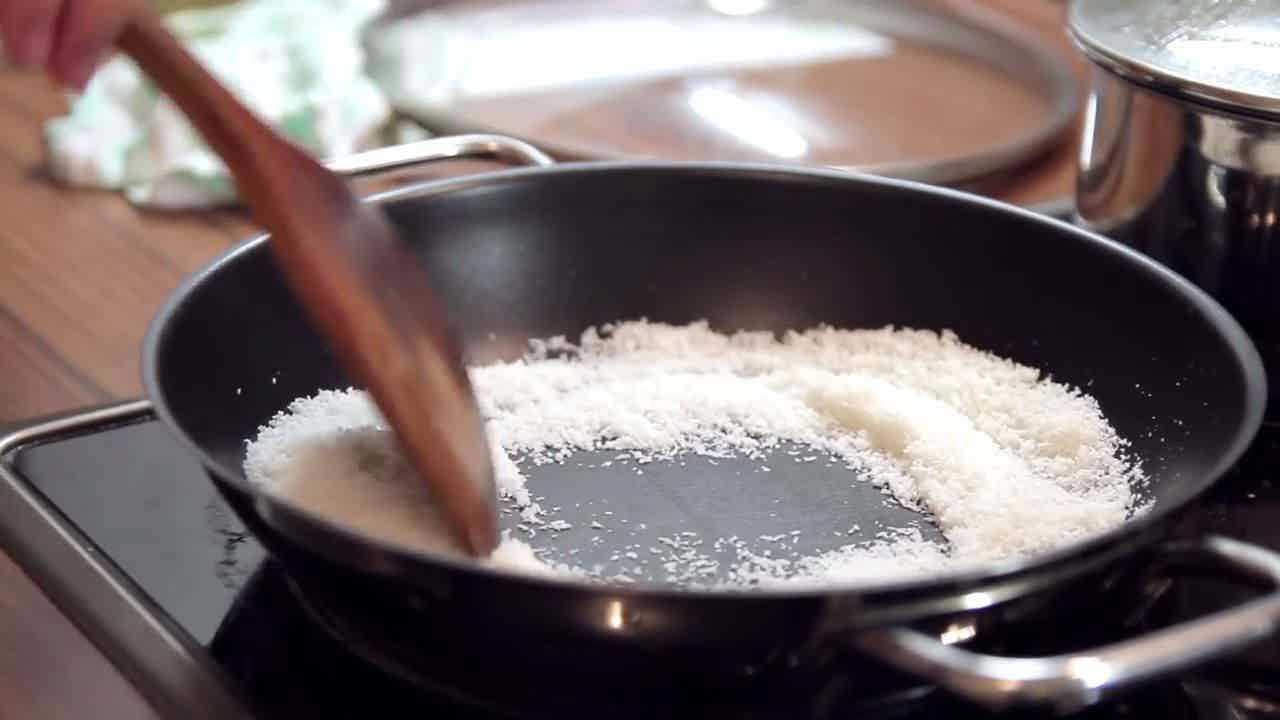 Step 1 of 5
50

g

coconut (desiccated or grated)
In a dry and clean pan, toast desiccated or grated coconut over medium heat until golden brown. Remove from pan. Pound grated coconut until oil is released. If using desiccated coconut, it should be pounded finely.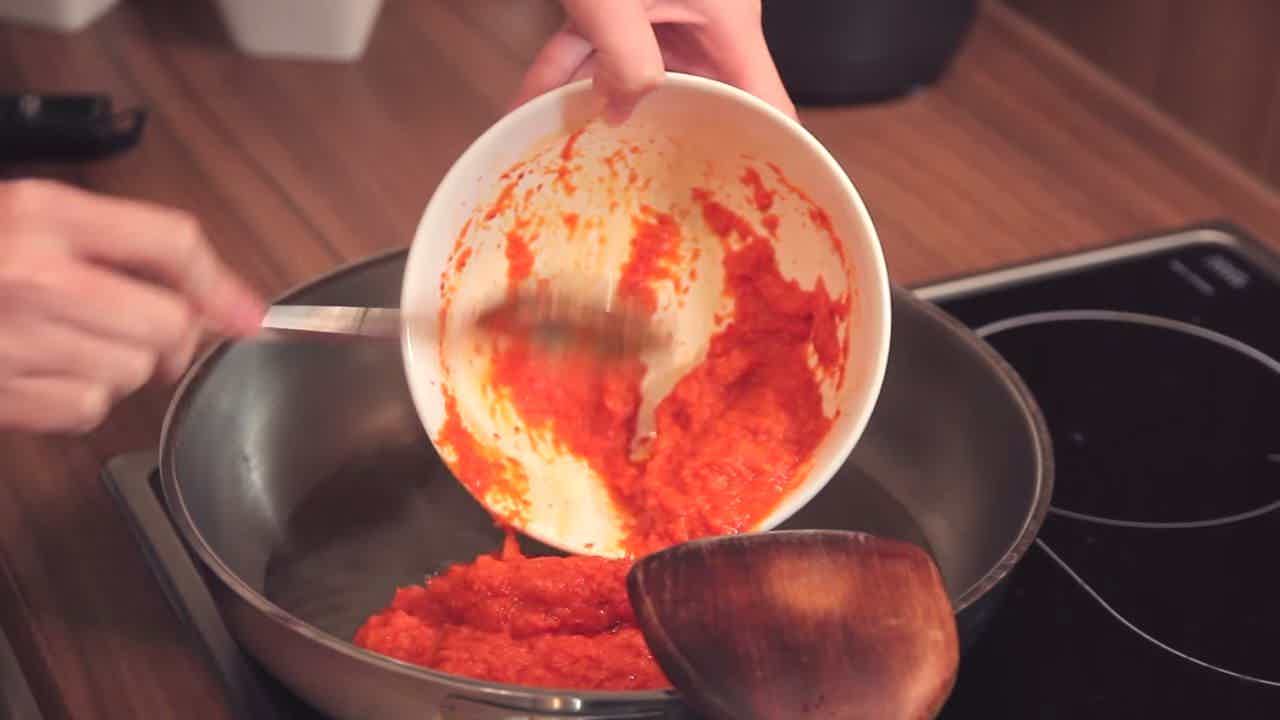 Step 2 of 5
10

chilli peppers (fresh)

4

cm

galangal

2

shallot(s)

4

garlic clove(s)

3

tbsp

oil
Blend dried chillies, galangal, garlic, shallots and lemongrass stalks finely. Heat up a pan with oil over medium to high heat and cook the blended ingredients until fragrant.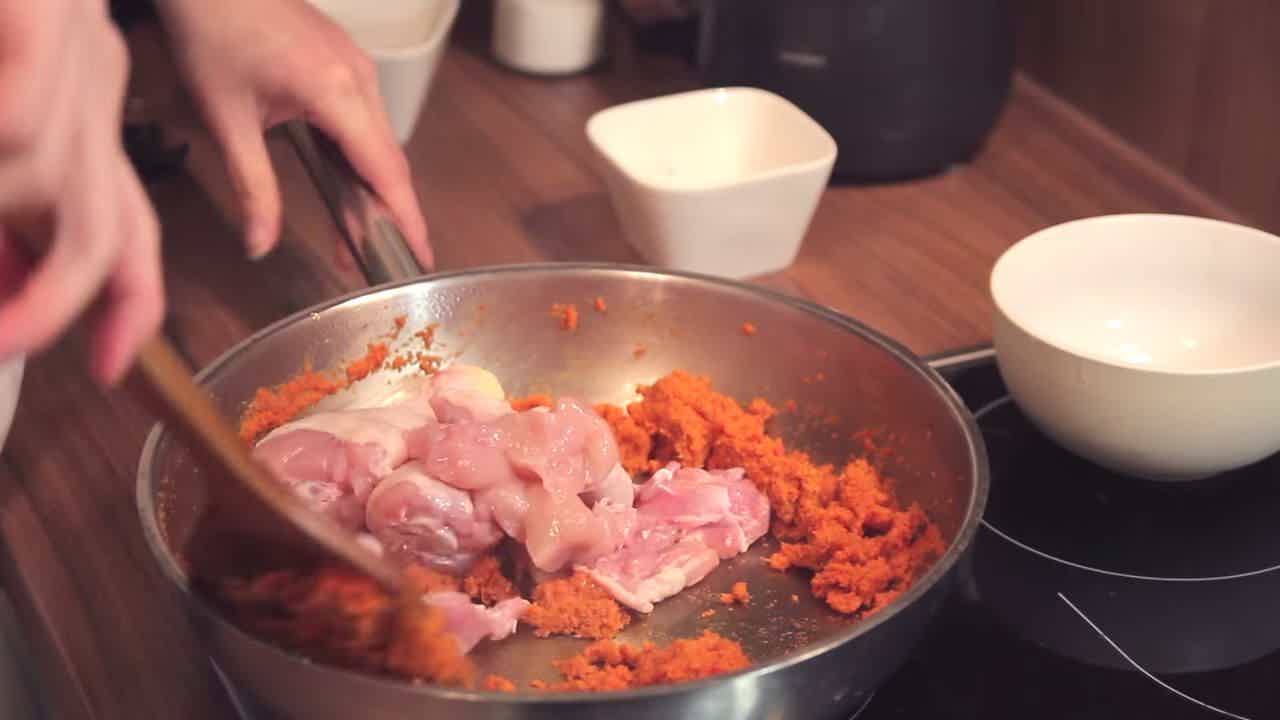 Step 3 of 5
Add toasted desiccated coconut. Mix evenly. Then, add chicken meat and stir-fry over medium heat for 3 to 5 minutes.
Step 4 of 5
150

ml

coconut milk

200

ml

water

salt
Add coconut milk. For more gravy, add some water or more coconut milk. Add salt to taste. Cook until gravy thickens.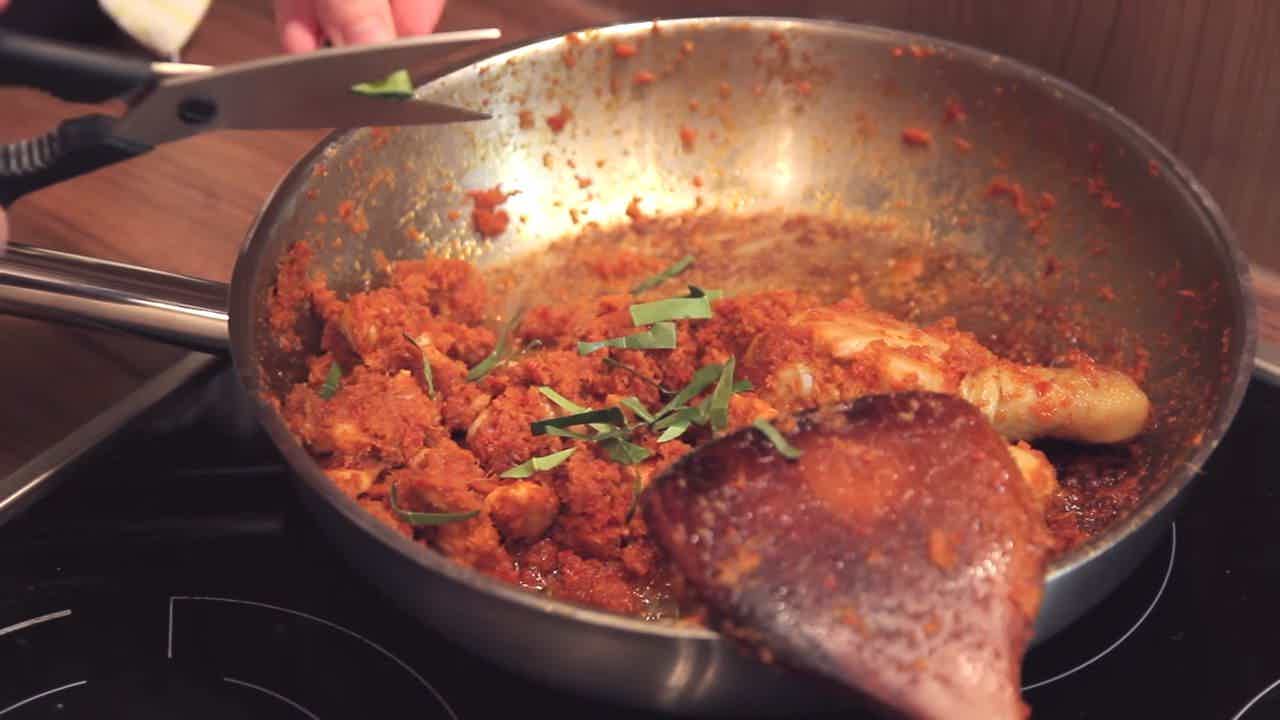 Step 5 of 5
Shortly before dishing out, add kaffir lime leaves. Mix well and serve hot.
Published: January 17, 2014
---
1 Discussions
Give us your opinion!
Log in
and start posting.
2 months ago
My neighbour told me to use turmeric leaf instead of kaffir. May give it a try.

2 months ago
Mira - Community Happiness Manager
My grandmother uses turmeric leaves in her rendang too. She had a huge turmeric plant in her garden. The leaves are added while cooking and the aroma of the dish will be fantastic. Try it out!
2 months ago
I have turmeric plants too. Use the young leaves ya. Stronger aroma. Going to plant galangal soon. Hahaha.