Everyone loves some sweet sticky sauce on juicy chicken. This is the recipe to look for, the five spice chicken which is easy to prepare and great for bulk freezing. There is not much to do but to marinate the chicken pieces and then cook them. As the sauce caramelizes, it coats the chicken with its sweet flavour that goes so well with a simple turmeric rice. A time saver yet extremely delicious, so there is no reason to not try the dish!
What is five spice powder?
Five spice powder is not associated with allspice or mixed spice. This is a mixture of five often used spices in the Chinese kitchen namely cloves, cinnamon, star anise, Sichuan peppercorn and fennel seeds. In Singapore and Malaysia, five spice powder is easily found in either (Asian) supermarkets or Chinese medicinal shops. However, those that are sold in this region is slightly different and may consist of other spices such as cardamon, white pepper (instead of Sichuan peppercorns), tangerine peel, cloves, nutmeg, coriander seeds or ginger.
While it is definitely more than five spices, the mixture has a fragrant smell that can be recognized immediately. In this recipe, you can get any five spice powder of your choice. If you think you would not like the flavour of the five spice powder, you can reduce the amount recommended in the recipe. However, the flavour is really mild.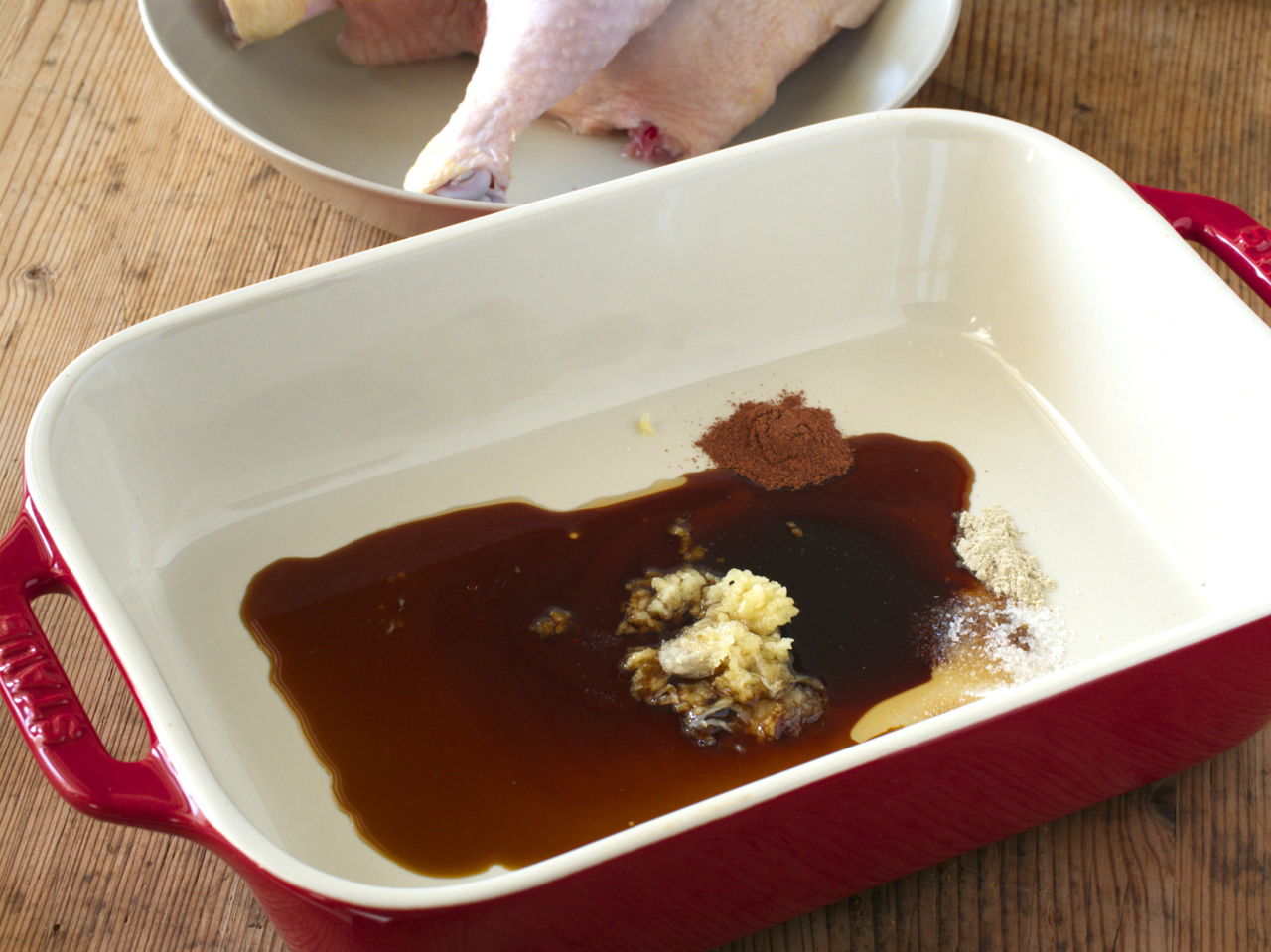 The secret ingredient
That's sweet soy sauce or kicap manis which is savoury and sweet at the same time. Originally from Indonesia, this type of soy sauce works very well with the five spice powder and its sweetness helps to enhance the taste of the dish.
A good substitute of sweet soy sauce would be honey as they have the same consistency but you need to add a pinch of salt to balance its sweetness. Otherwise, adding more sugar and soy sauce would be another acceptable substitute.
Tips during cooking
Cooking drumsticks could be tricky as they need a long time to cook. Besides that, pan frying marinated chicken pieces may cause the oil to splatter quite a bit. Hence, we recommend covering the pan with its lid while cooking. Besides that, adding just enough oil as recommended helps to further reduce splattering.
Oven-baked five spice chicken
It is possible to bake the dish in an oven too. Bake the marinated chicken in a preheated oven at 200 degrees Celsius for 20 minutes before turning them over to bake for another 10 minutes. Remember to baste the chicken with the marinade every 15 minutes to create the desired sticky coating.
'Cheat' turmeric chicken rice
Of course, the dish can be served with plain white rice. However, if you are in the mood for more flavourful rice, here is a quick 'cheat' method to prepare delicious turmeric rice inspired by the much loved Hainanese chicken rice. Simply saute sliced shallots and ginger with some chicken fats or vegetable oil until fragrant. Add in the rinsed rice along with a pinch of turmeric powder and salt. Then, cook rice as you would usually do.
Note: Chicken fats are from the excess skin and fats which are usually removed when cleaning the chicken pieces.