Kuih Seri Muka
Pandan flavoured 'kuih seri muka' is made of glutinous rice and creamy custard using coconut milk as the key ingredient. It is one of the more popular 'kuih' (sweet dessert) in Malaysia and is great for breakfast and tea time.
Preparation 60 mins
Cooking 90 mins
Kuih Salat, Steamed Glutinous Rice Cake with Pandan Custard, Kuih Seri Kaya
Malaysian, Singaporean, Indonesian, Bruneian
---
Ingredients
400

g

glutinous rice

100

ml

coconut milk

9

pandan leaves

3

tbsp

water

70

ml

water

150

g

sugar

400

g

coconut milk

5

g

corn flour

40

g

rice flour

4

egg(s)
---
Journal Snaps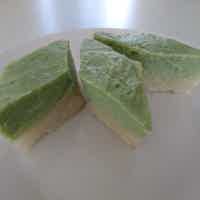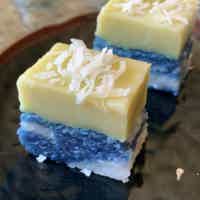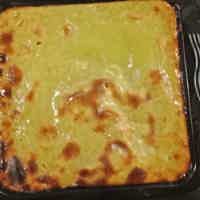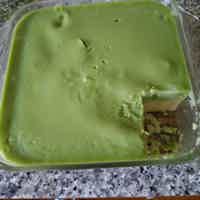 ---
Background
This Malaysian layered cake had been requested many times by our viewers. The recipe is pretty simple but I decided to label the difficulty level of this recipe as "average" as there are a few steps which could make or break the perfection of "kuih seri muka".
First of all, let's get to the basic. The word seri means glow or radiance and muka means face. 'Kuih' generally has fancy names. It does make me wonder how the name, glowing face came about. Weird as it may sound but have trust in the big group of viewers who had requested the recipe. They know how amazingly delicious this kuih is. For your information, if you have any recipe request, submit yours today.
This dessert or kuih is made up of two layers. The bottom layer is made up of glutinous rice steamed together with coconut milk. The top green layer is made up of sweet pandan flavoured custard cooked with coconut milk which makes it creamy. Both of these layers make this kuih stands out among the myriad of kuih available in Malaysia. Pandan extract gives natural colouring to the kuih.
Within the Peranakan community, kuih seri muka is made slightly different as the glutinous rice is coloured using butterfly pea flower. This is an option if you want the kuih to be more vibrant. Soak about 15 dried butterfly pea flower in warm water for 15 minutes and then use the coloured water to soak one third of the glutinous rice. This process is very similar to the recipe I created for Pulut Tai Tai.
During the initial experiment, I had several issues trying to come up with the perfect kuih seri muka. The layers did not stick together and became a complete disaster! The pandan custard was overcooked which made it clumpy and uneven. Honestly, I was so disappointed then. However, it was still edible but kuih seri muka has to live up to its name by maintaining its glowing face and not look unpresentable! Therefore, I will share the tips with you here on how to achieve the best results for this beautiful 'kuih'.
Rice must be pressed
When compacting the glutinous rice to create the bottom layer, do ensure that enough pressure is applied to prevent it from falling apart when it is cut. Once the rice is compacted, concentrate on getting the second layer right.
Create a smooth pandan layer
It is important to tap the cake mould a few time on the kitchen top to ensure that the batter is poured evenly into the mould and to release any air bubbles. Cook the custard mixture at low heat. When cooked at extremely high heat, the custard layer may begin to have bubbles due to the difference of temperature within the custard batter and the hot steam. This will create an uneven layer. The custard batter is supposed to slowly cook during the steaming process.
Patience is the key here. I learnt the hard way. Do not repeat my mistake or you will end up in disappointment. As mentioned in the video, you have to avoid having water droplets fall onto the surface of the 'kuih seri muka' in order to achieve a smooth surface. Wrap the cover of the pan with a clean kitchen towel or cover the tray with aluminium foil during the steaming process. That would prevent an uneven surface.
To check if the kuih is cooked, poke a toothpick into the custard layer. If it comes off clean, then it is ready.
Kuih seri muka must cool to room temperature
Allow the kuih seri muka to cool to room temperature before cutting. Clean knife with a wet kitchen towel or use a plastic knife for a smooth cut. This kuih can be kept for up to 24 hours if not refrigerated. Refrigerating it makes cutting easier. However, it will harden the layer of glutinous rice. Therefore, wrap the tray with cling wrap to prevent the glutinous rice from drying up.
Once refrigerated, Kuih Seri Muka can be stored for 3-5 days. To sum this up, patience and caution is exercised in every step. I can assure you then that you will be beaming with pride at the perfect outcome of the kuih seri muka if the steps and precautions are adhered. All said and done, do not forget to share a photo of the kuih on this site. We look forward to seeing it.
---
Steps to Prepare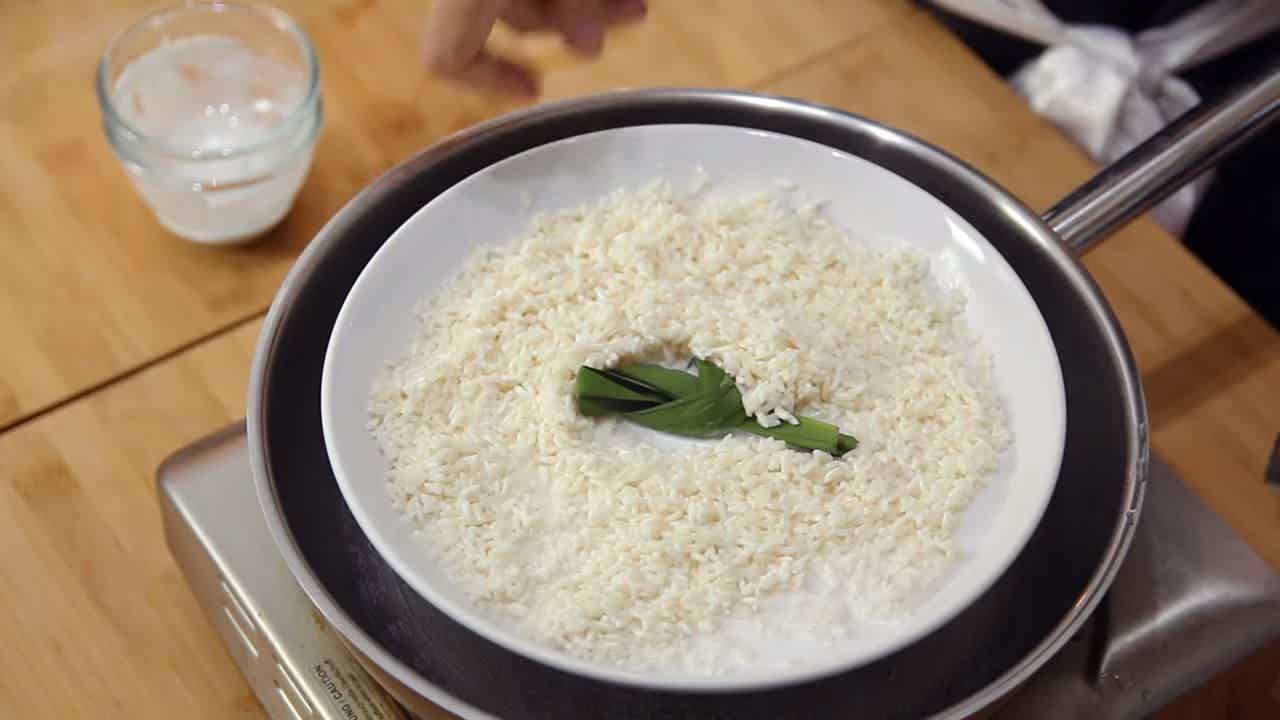 Step 1 of 5
400

g

glutinous rice

100

ml

coconut milk

3

tbsp

water
Soak glutinous rice for at least 4 hours. Mix coconut milk and water with soaked glutinous rice. Then, place a knotted pandan leaf on the glutinous rice and steam for 40 minutes or until cooked.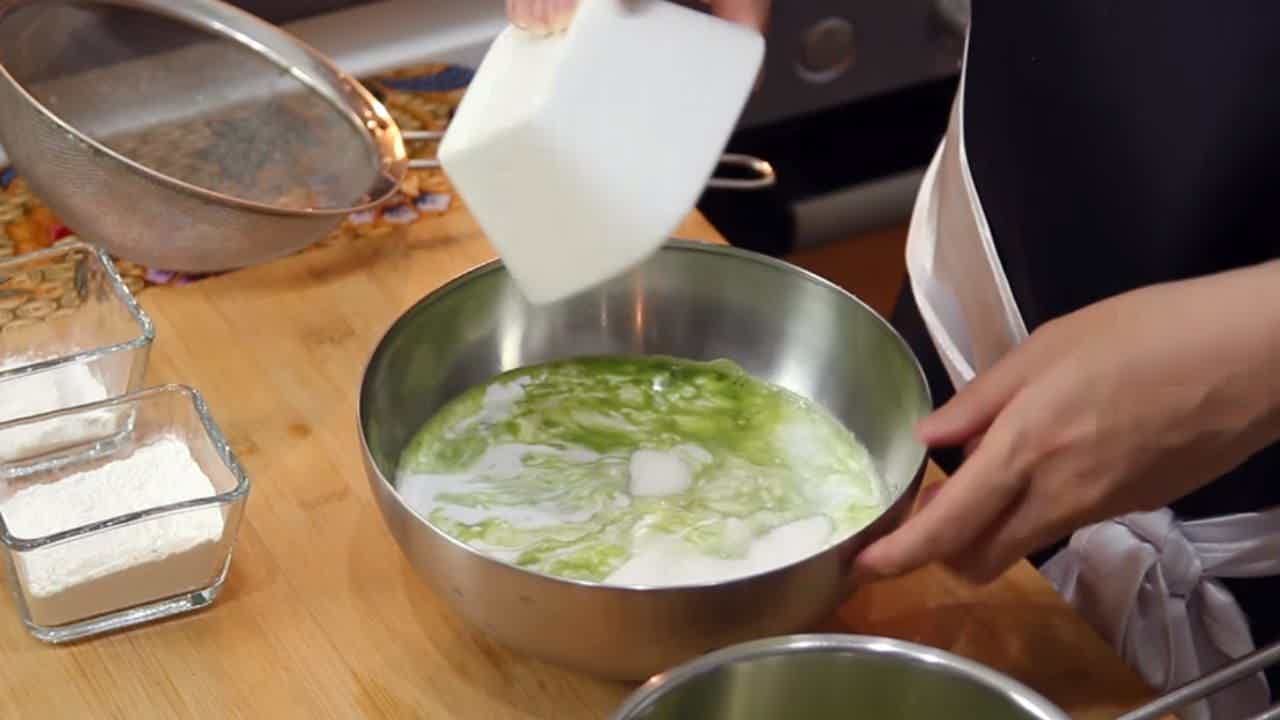 Step 2 of 5
70

ml

water

150

g

sugar

400

g

coconut milk

5

g

corn flour

40

g

rice flour

4

egg(s)
Prepare pandan leaves extract by blending pandan leaves with water. In another bowl, pour pandan leaves extract along with sugar, coconut milk, corn flour, rice flour and eggs.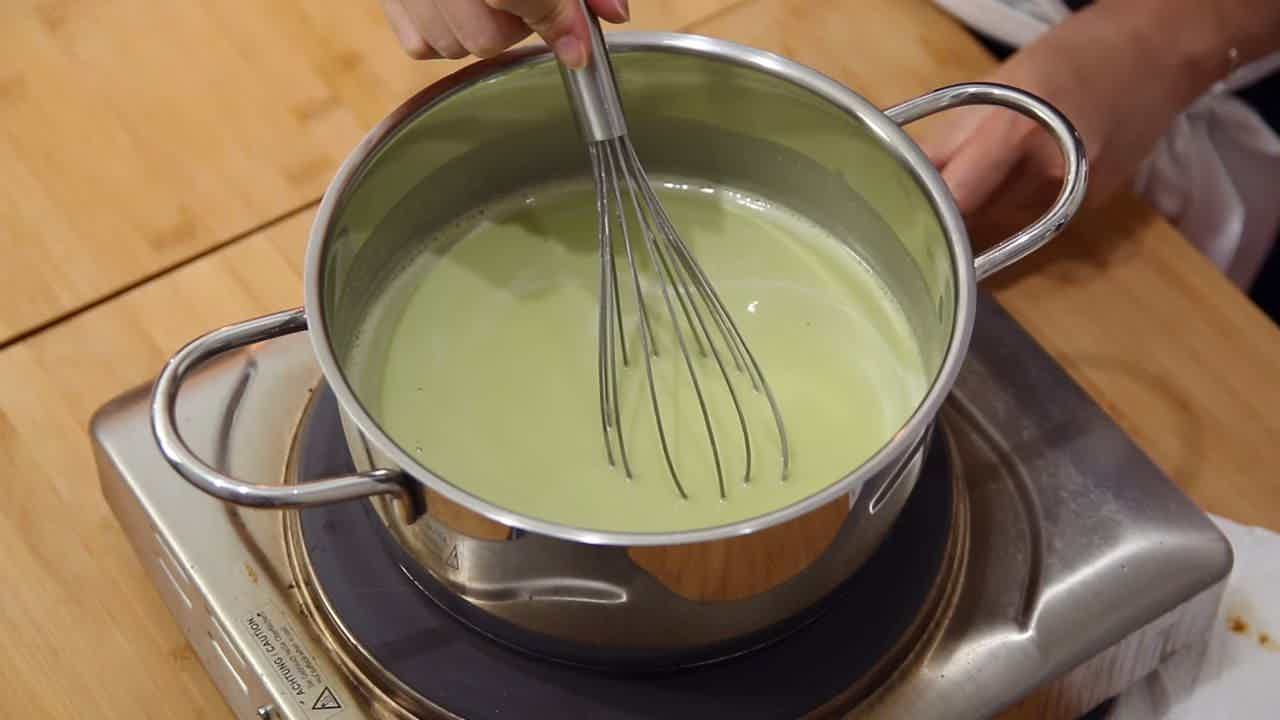 Step 3 of 5
Stir mixture in a pot over low heat until it turns semi-solid. Remove pot from stove and mix thoroughly.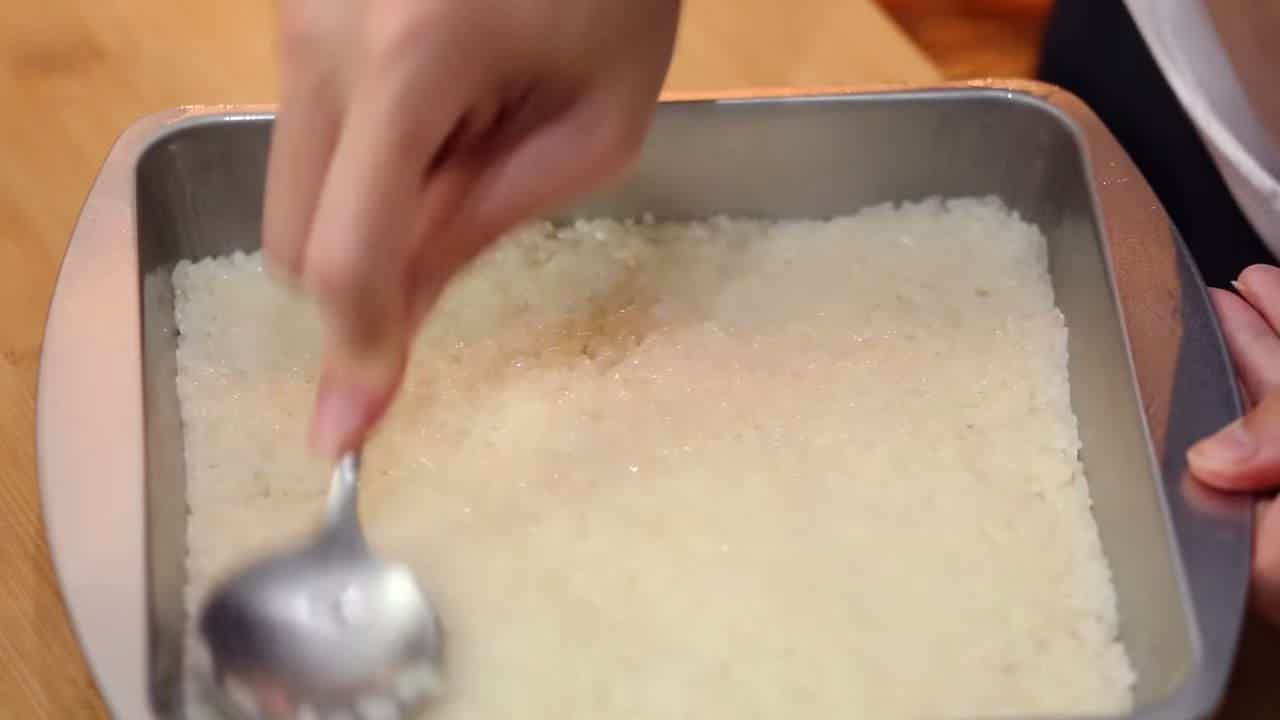 Step 4 of 5
Once glutinous rice is cooked, transfer to an oiled cake pan. Then, compact glutinous rice to prevent it from falling apart.
Step 5 of 5
Pour cooked pandan mixture onto compacted glutinous rice. Steam for about 50 minutes to an hour. Allow kuih seri muka to cool to room temperature before cutting into smaller pieces. It can be kept refrigerated in an airtight container or wrapped in cling wrap for 3 to 5 days.
---
1 Discussions
Give us your opinion!
Log in
and start posting.
18 days ago
I had always wanted to make this. It really doesn't matter where I live, in Malaysia or in Australia; not easy to get kuih seri muka. Let's see how it is going to turn out. Thank you Nyonya Cooking for this awesome recipe and tips!

17 days ago
Most true. Tricky with the bottom glutinous layer, and tricky on the top pandan custard layer, but I some how made it true.