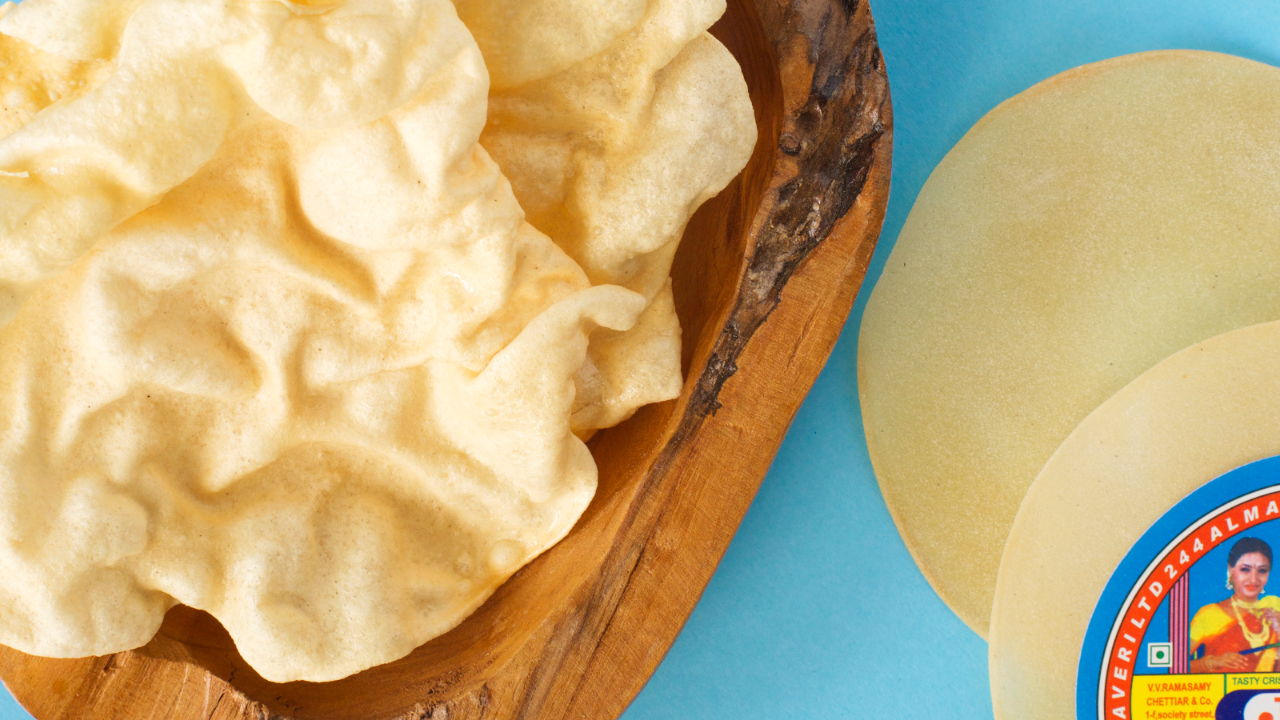 Fried Papadum
Papadum is an accompaniment with banana leaf rice. They are deep fried resulting in crispy light yellow crackers. They are perfect when dipped in curry before eaten.
Preparation 5 mins
Cooking 1 mins
---
Ingredients
---
Community Food Snaps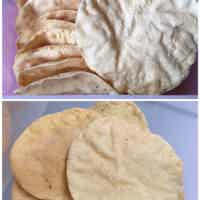 ---
Background
Dried papadums or papads can be found at Indian grocers or Asian grocers. There are many varieties of papadum to choose from. However, those available in Malaysia are the simplest as they are made of split pea flour. No other spices such as cumin or chili powder are added to the dough unlike those in the northern Indian region. Plain papadums are more common in the southern Indian region where it is home to banana leaf rice.
There are many ways to prepare these delicious crackers. For instance, they can be toasted as well but to achieve the crispiness enjoyed by many, dried papads need to be deep fried the traditional way. It has to be crispy enough to hold a small mouthful of rice mixed with curry. It enhances the taste of the meal while adding some crunchiness.
Problems when frying papadum
Frying papadums may appear  to be simple but it is actually quite challenging to acquire the best results.  They could turn out burned, very oily, soggy or curled if not properly handled.
Heat needed to fry papadums
Burned, oily and soggy papadums occurred mainly due to the heat of the oil. Therefore, the right temperature is needed to fry them to perfection. I had specially used wooden chopsticks during the frying process as they are able to indicate whether the oil is ready. Take note that if papadums are placed into mildly heated oil, they end up soggy and oily.
I also love that chopsticks are able to pick up the papadums quickly and gently while removing the excess oil. These gram flour crackers begin to fry almost immediately in hot oil. Do not leave them in the oil longer than required to prevent them from burning.
Curled papadums
While this will not affect the taste, it definitely affects the eating experience. Curled papads somehow makes it more complicated as it is usually used to "scoop" the curried rice. As mentioned, papadum begins to fry almost immediately once it is put into the hot oil. Therefore, it should be fried individually. A pair of chopsticks are used to prevent it from curling during the frying process.
Fried papadum is a mandatory side dish when having banana leaf rice. Enjoy with lots of curries or even chutneys. It will taste just as amazing.
---
Steps to Prepare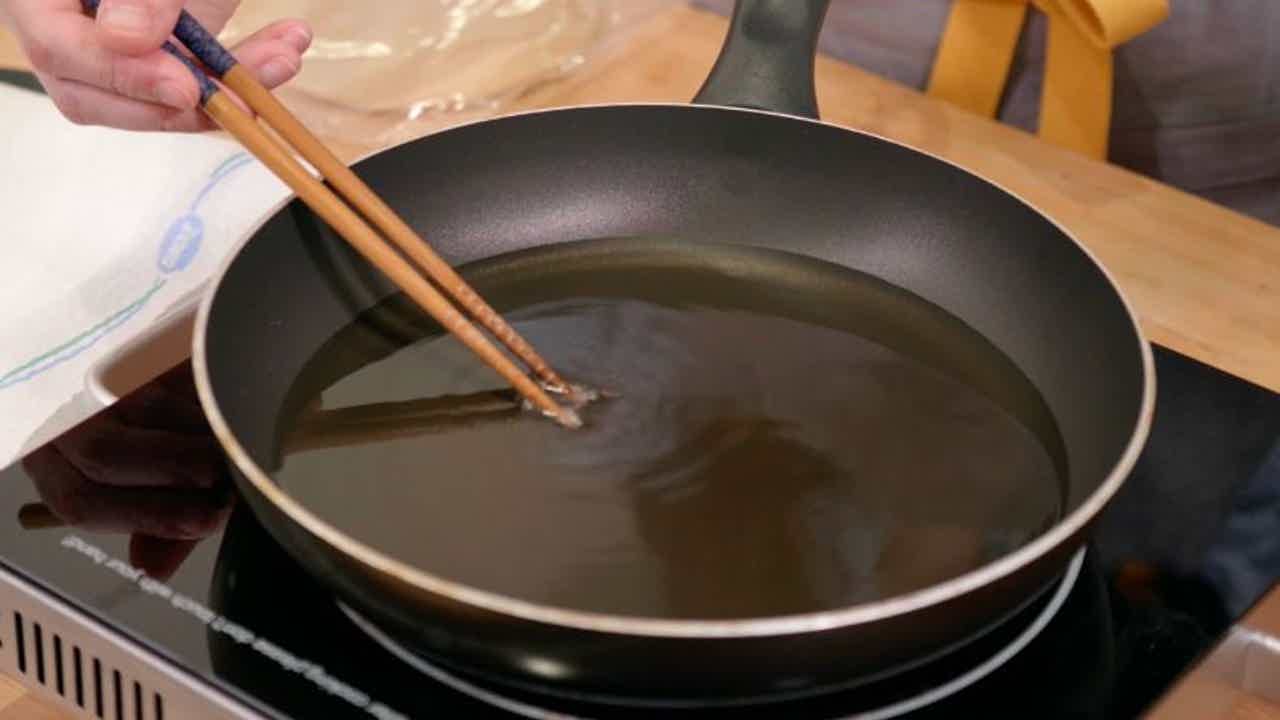 Step 1 of 2
Heat oil at low to medium heat in a pan for 3 minutes. Dip a pair of wooden chopsticks to check if there are bubbles to indicate oil is at the right temperature for frying.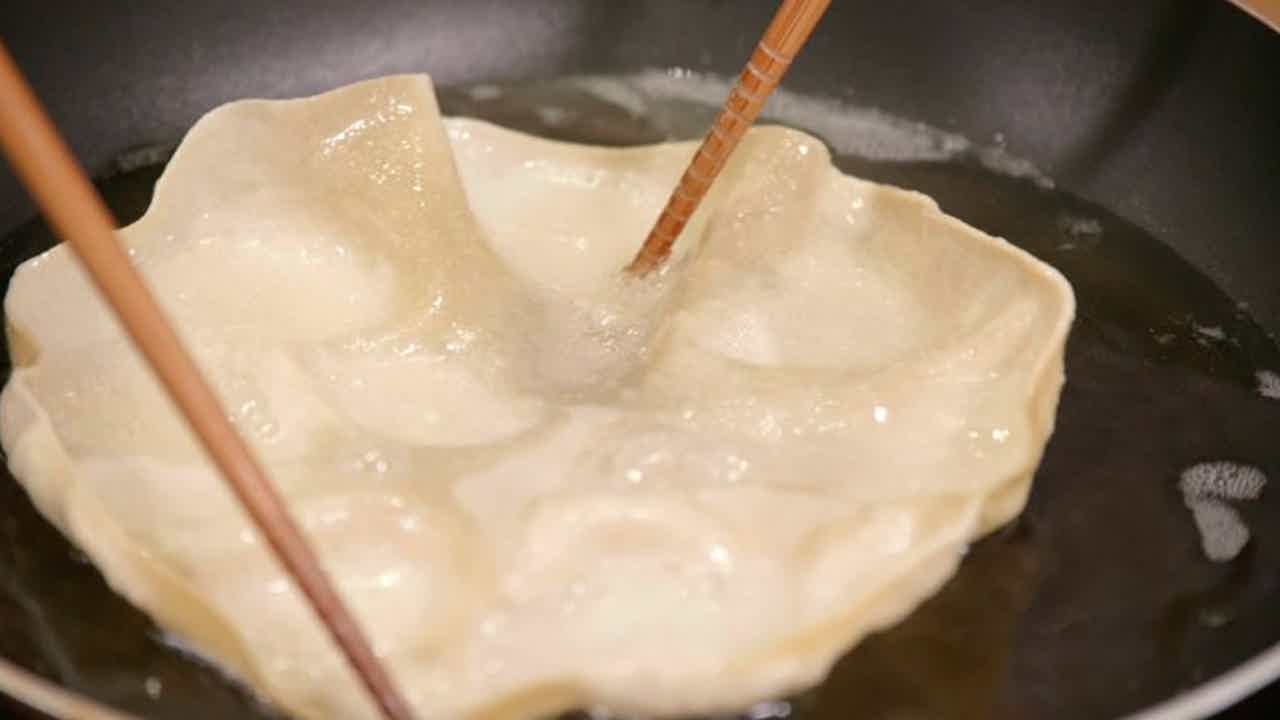 Step 2 of 2
Fry 'papadum' individually. Using one chopstick on each side, lightly press down the sides of 'papadum' to prevent it from curling. Immediately remove from oil when it stops sizzling. Lay fried 'papadums' on paper towel to absorb excess oil.
---
0 Discussions
Give us your opinion!
Log in
and start posting.