This easy curry chicken dish is the standard curry chicken. No fuss, just yummy and creamy curry. Rich in coconut milk and spices, this dish is a must-try. As the chicken pieces are marinated in curry paste before cooking, the taste of the meat is enhanced.
Malaysian curry is made of fresh and dried spices. Along with a special curry powder that is premixed, this curry delivers the punch of flavours in the meat and also the gravy. It's creamy and balanced in aromatics, making one crave for more at every bite.
How is Malaysian Curry different?
Malaysian curry is very special because it has the combines all three cuisine - Malay, Indian and Chinese. It's not as thick as the common Indian curries. It uses aromatics that are usually used in Malay cooking. As for the Chinese component, you'll see the use of ingredients like soy sauce.
Combining these cuisines in a pot, you'll be guaranteed a wonderful curry experience.
Can onions be used instead of shallots?
Yes, they can. Shallots are generally more intense in taste and are also spicier compared to onions. The best substitute would be red onions.
What type of curry powder to use?
In Malaysia and Singapore, you may find curry powders specifically for meat, fish or seafood. The popular brands like Babas, Adabi or those made in Malaysia are the ones to go to.
For this recipe, meat curry powder is used. You may substitute it with any curry powder mixture which contains more chilli powder. Sometimes, dried curry leaves are also added to the curry powder mixture.
Malaysian curry chicken paste
Besides curry powder, you can also opt for Malaysian curry paste which are sold in bottles.
For authentic flavours, avoid substituting with Thai red curry paste as it includes ingredients like shrimp paste. Malaysian meat curry powder has additional ingredients like cumin and fennel seeds.
Adding more aromatics
With aromatics such as cinnamon stick and star anise, they will make the curry even more fragrant. You can add them into this recipe or give this tasty Malay Curry Chicken recipe a try. The other recipe goes really well with roti jala, roti canai or roti prata.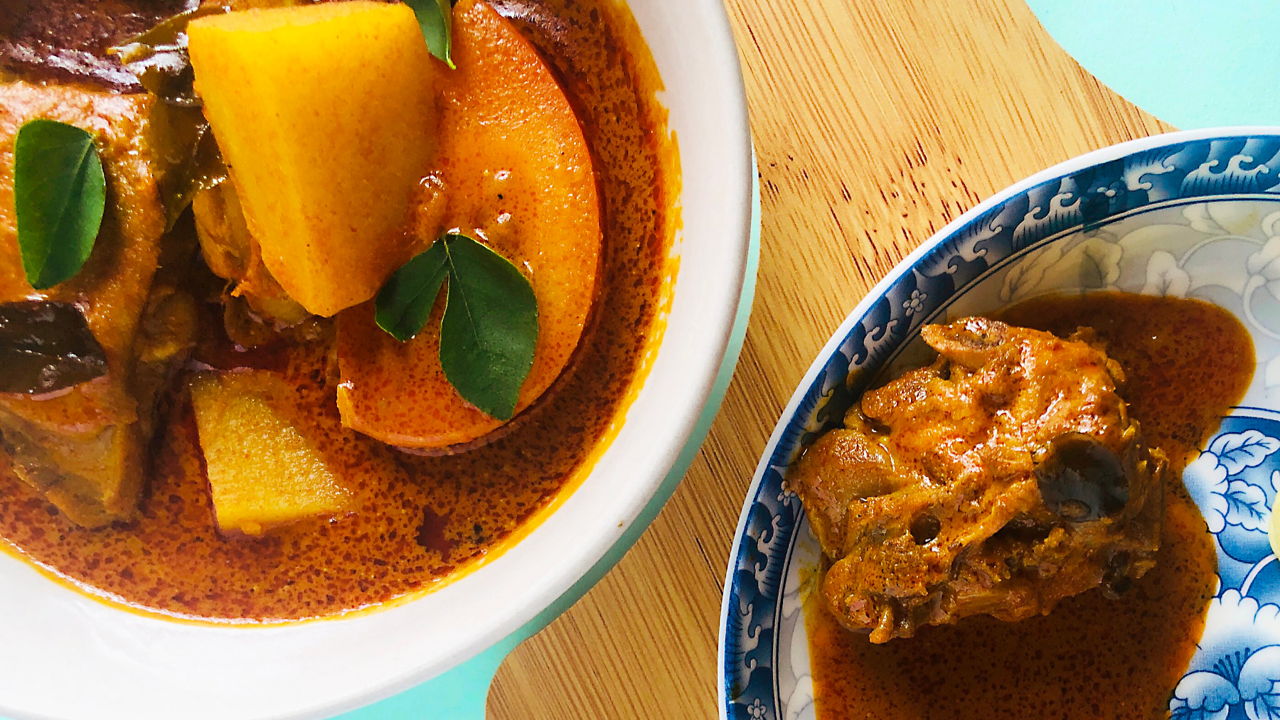 Can candlenuts be omitted?
Candlenuts are added to thicken the curry. You may omit them from this recipe, if you prefer. Otherwise, substitute candlenuts with macadamia nuts.
Milk or yogurt to substitute coconut milk
In the Southeast Asian region, milk and yogurt aren't a common choice to be added into curries. Instead, coconut milk is often used since it is easily available. If you do not prefer coconut milk, you may opt to substitute it with 300 ml milk or 250 ml yogurt. Note that it will not spoil the taste although it would be slightly different.
Reduce the spiciness
Generally, the curry isn't too spicy. The spiciness of the curry is highly dependent on the selection of curry powder and the dried chillies. You can also reduce the heat of the dried chillies by boiling them as explained here.
If the final result of the dish is still too spicy for you, add more coconut milk to reduce the heat.
Cooking curry chicken in slow cooker
Cooking curry chicken in a slow cooker is possible. Simply prepare the ingredients and put them into a slow cooker. Cook the dish for 3 hours on high heat or 5 hours on low heat for tender curry chicken.