Red bean soup is a simple and healthy dessert to have after a heavy meal. Popular among the Chinese, Japanese and Korean cuisine, red bean soup is loved for its flavour. It tastes nutty and earthy. Sugar is added to this soup although the red beans are mildly sweet on their own. If you love the texture of legumes, chestnuts or sweet potatoes, this dessert is a must-try!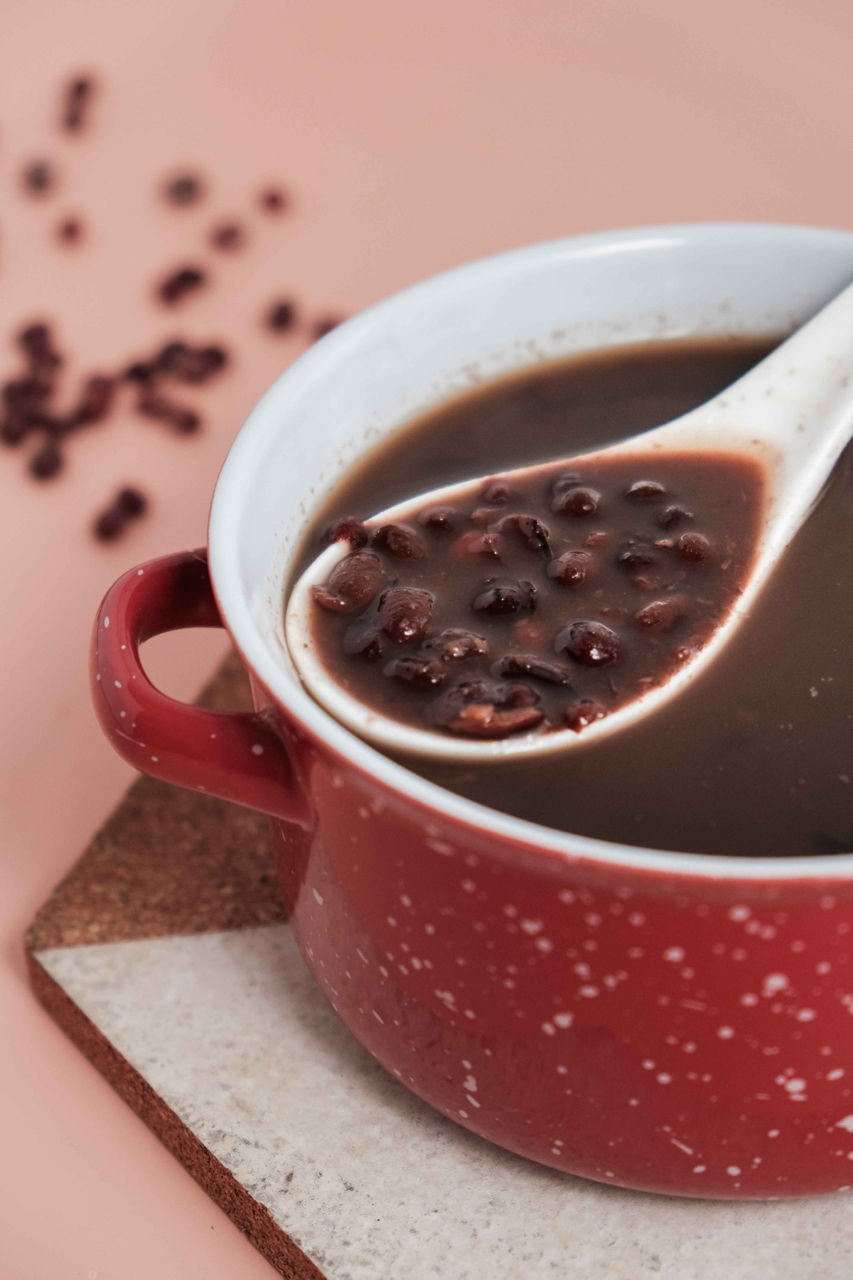 Usually served at big banquet dinners, sweet soups like red bean soup, tang yuan or bubur cha cha are a great palate cleanser. For health benefits, red bean soup is said to be good during pregnancy as it is high in fibre. This makes it great in improving the digestive health.
With warming properties (yang) according to Chinese medicine studies, red beans are suitable during winter or the rainy season. Drinking a bowl of warm red bean soup does warm the body.
Why use this recipe?
Honestly, this is such a simple recipe. You can bet that the ingredients are almost the same in every recipe.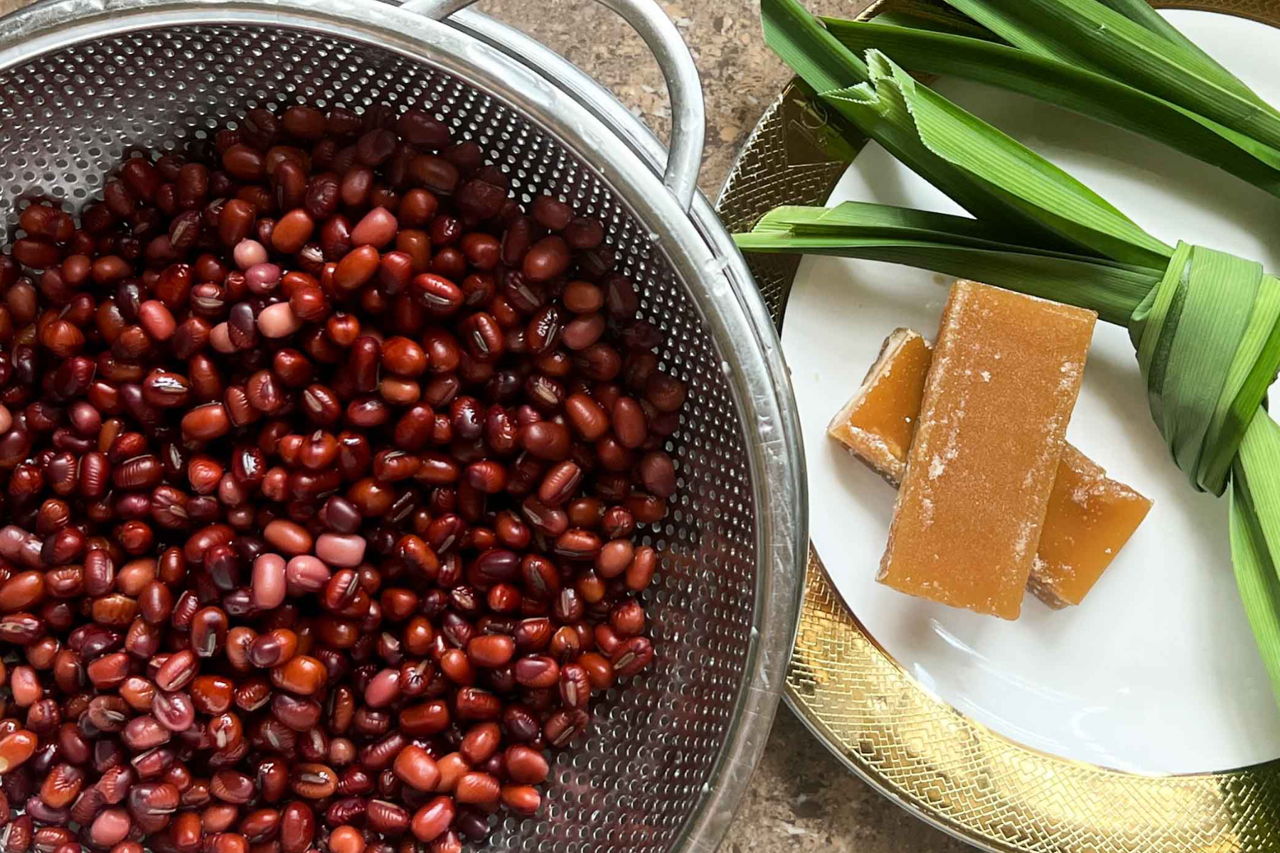 However, red bean soup can be hard even after boiling for hours. That is an indication it is not a perfect bowl of sweet soup.
This recipe teaches you tips and tricks to guarantee softened red beans which are slightly mushy. You can taste the flavour of red beans in the thick soup. You will also learn how to prevent the red bean soup from turning bitter.
Why is my red bean soup bitter?
Red beans naturally have tannin and saponin, a compound that omits a bitter taste during consumption. This is common in other legumes too. To reduce the bitterness, it is important to rinse the beans before soaking, after soaking and even after defrosting. The exact instructions are explained in Steps 1, 2 and 3.
Additionally, old red beans which are no longer fresh can be rather bitter. These beans will not plump up even after soaking overnight.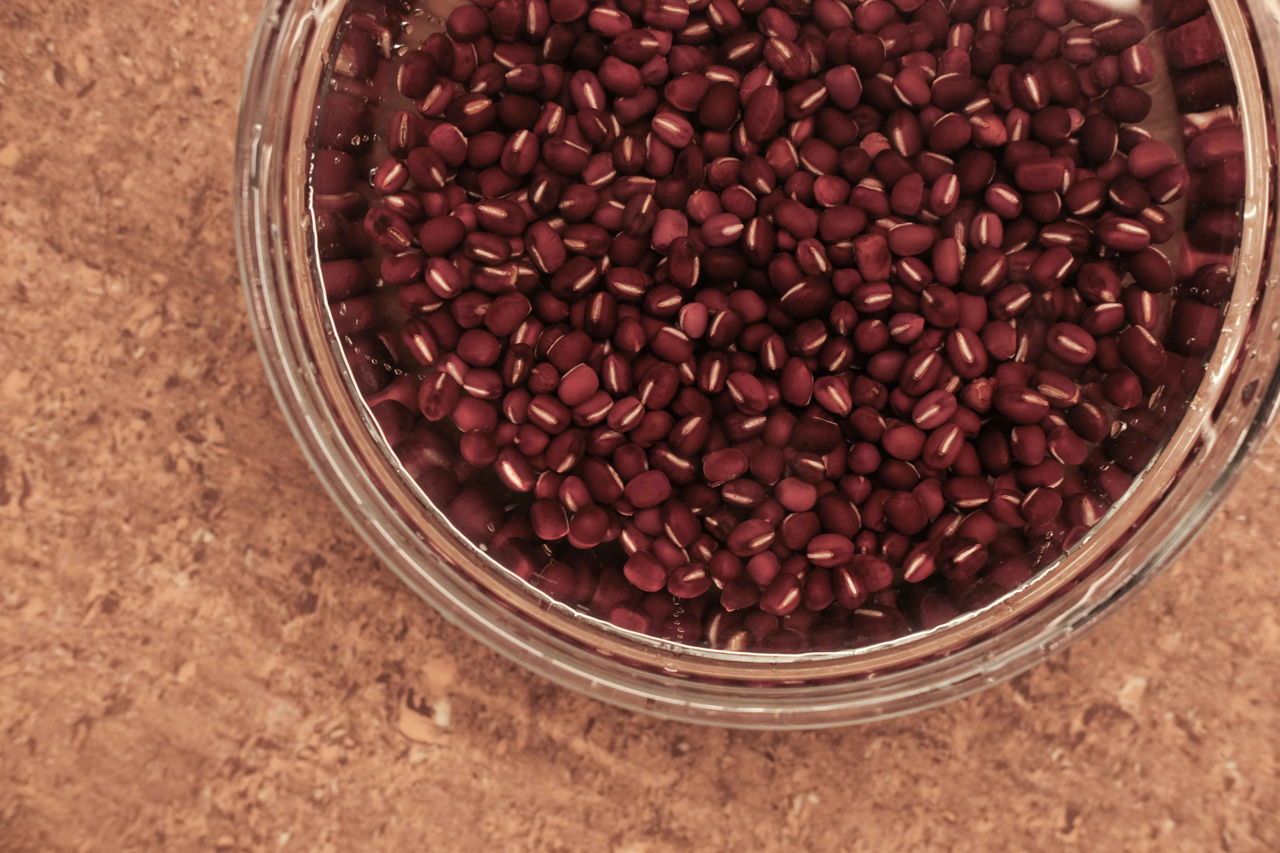 To be very sure that the red beans you have are not bitter, taste the soup after cooking for 30 minutes (Step 4). If it is bitter, discard the water and continue simmering the beans with clean water.
Why is my red bean soup not thick?
The thickness of the soup highly relies on the mushy red beans. The starch in the beans helps to thicken the texture of the soup. The consistency is also supported by the mushy and grainy appearance of the mashed red beans.
If it is still too watery, it could be due to the beans not being mashed enough, there may be too much water or too little red beans are used. Adding cornstarch mixture helps to thicken the soup. You can do so by gradually adding the cornstarch and water mixture on a ratio of 1:1 into the pot of boiling red bean soup.
How long do I need to soak red beans?
At least 4 hours or until they expand. They should double in size once ready. It is recommended to soak the beans overnight for 8-10 hours. Soaking them for more than 12 hours may result in reduced taste and flavour of the red beans.
You can leave frozen soaked red beans for up to 6 months to cut down on cooking time. That way, you can always have a pack ready whenever you feel like having red bean soup for dessert.
Types of sugar
I used cane sugar as it delivers a subtle sweetness. Similar to rock sugar that is often used in Cantonese sweet soups, it is actually made from sugar cane. So you can use them interchangeably.
For a classic Singaporean or Malaysian touch, opt for gula melaka (palm sugar) instead. The caramel toffee-like flavour will give this sweet soup more depth in sweetness. Otherwise, good ol' plain white sugar works too.
Should I add dried tangerine peel?
Some say dried tangerine peel (chen pi) makes or breaks the red bean soup. This ingredient claims to nourish the spleen and lungs making it very good for cough or phlegm. However, I do not really enjoy the citrusy taste of dried tangerine peel (chan pei) in this soup.
If you like the flavour of dried tangerine peel and wants a bit of tanginess to balance the sweetness, add it in Step 6. Below are two ways to use the tangerine peel.
Cook the whole tangerine peel until soft and then mash it to combine into the soup.
Chop it into chunks and add into the soup.
Other Ingredients to add
Glutinous rice balls are popular in the Japanese and Korean versions. You can add cooked glutinous rice balls to the soup shortly before serving.
If you enjoy sago, rinse them quickly under running water to reduce starch. Otherwise, add it directly to the pot of boiling red bean soup in the last step. It should be added 10 to 15 minutes before the cooking time ends.
Serve warm or cold. Drizzle with a bit of coconut milk if you like. The wonderful tropical nutty flavour and the hint of saltiness will further improve the taste.