In Malaysia and Singapore, onde-onde is referred to these delicious glutinous rice balls filled with gula melaka (palm sugar). As you bite into an Onde-Onde, the melted palm sugar flows out. I likened them to sweet little bombs as the sweetness explodes in the mouth.
The slightly salted shredded coconut further enhances the deliciousness of this 'kuih'. While there are many varieties of delicious kuih in the region, onde-onde remains on the top of my list. Our friends in Indonesia call it 'klepon'.
Pandan extract
Pandan extract can be bought at supermarkets or Asian grocers. It can also be made using fresh pandan leaves. Just blend 7 blades of pandan leaves with 60 ml of water. You may refer to the video of kaya to see how it is prepared.
Only glutinous rice flour
Using only glutinous rice flour would make onde-onde rather soft although some do enjoy such consistency. In this recipe, tapioca flour is added to the dough to make it slightly firmer. You may substitute tapioca flour with corn flour.
Where to get grated coconut?
Use freshly grated coconut if you can get hold of it. Frozen shredded coconut can be found at some Asian grocers.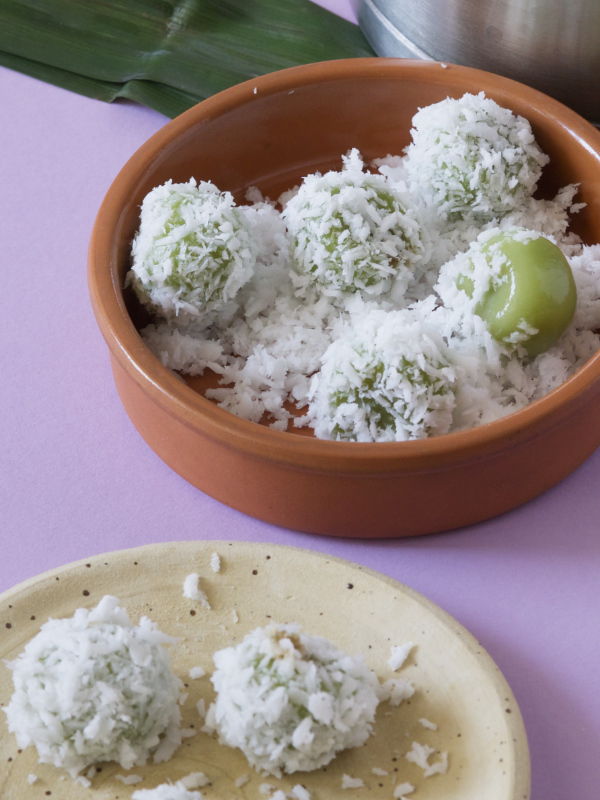 Can I use brown sugar or other sweeteners as the filling?
That would change the taste of onde onde tremendously. The amazing taste of onde-onde comes from the 'gula melaka', a special palm sugar that has a toffee taste to it.
Pure gula melaka is softer and can be chopped and shaped into balls easily. It has a darker appearance compared to other types of palm sugar. However, any other type of palm sugar can be used for this recipe.
Brown sugar is not suitable in this recipe.
Why does the dough crack?
The dough is too dry. Add some water and knead the dough again. Work in batches and store dough in a bowl with a piece of damp cloth over it to prevent it from getting dry.
Onde-onde burst while boiling
Sometimes, the dough may crack during the cooking process. This is due to the thinness of the dough. However, remember not to make the dough too thick either. Wrap it closely around the palm sugar to prevent air from getting in. Otherwise it will burst during the cooking process.
Do not be discouraged if initially, it does not turn out the way you expected. Remember, practice makes perfect.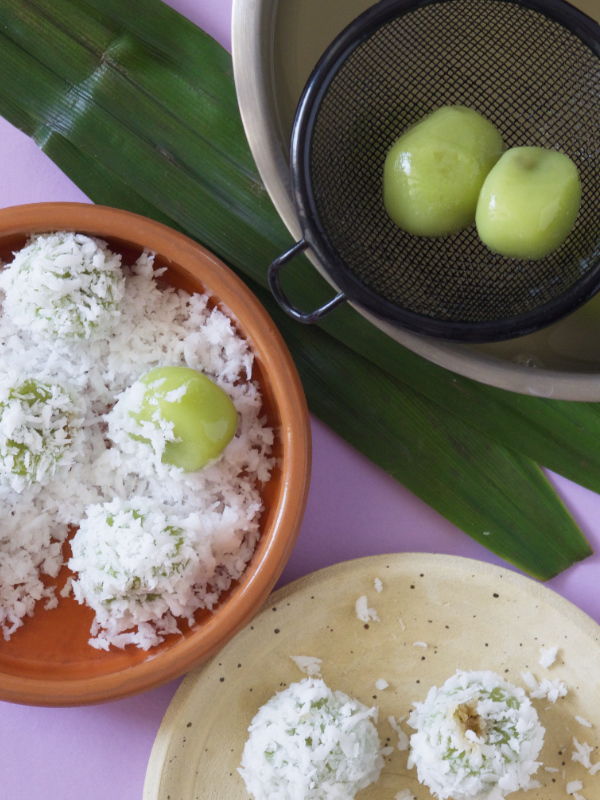 Why did the palm sugar not melt?
The onde-onde were not cooked long enough. I always simmer them over low heat for another 5 to 10 minutes to ensure that the palm sugar has fully melted. The other reason may be due to the quality of the palm sugar.
While original gula melaka is very easily shaped and cut, most gula melaka found in the market has plain sugar added to them. This makes them very hard. So, if the chunks of gula melaka are too large, they may not melt so quickly. The trick is to shave the palm sugar with a knife or mandoline or simply chop them into small chunks. This way, they would melt faster.
How long can onde-onde last?
Cooked onde-onde with grated coconut will only last a day because grated coconut spoils easily. If you would want to prepare them in advance, you may refrigerate shaped onde-onde for up to 5 days. Use a plastic wrap over it.
Shaped onde-onde can also be frozen for up to 6 months if kept in an airtight container or freezer bag. Simply boil refrigerated or frozen onde-onde before coating them with shredded coconut.
Onde-onde cookies
If you love cookies and onde-onde, don't wait anymore. Give these pandan cookies a try! They are created with the onde-onde components. You'll get the flavour of pandan, palm sugar (gula Melaka) flakes and desiccated coconut. Buttery and crumbly!