Flaky Siu Bao (烧包) is a Chinese pastry loved by many for its pastry and filling. The pastry is made light and crispy with many layers of thin flaky dough. The filling of the bao consists of Char Siu that is cooked in a savoury sauce. Its texture is almost honey like making it easy for the meat to be coated in the thick sauce.
Every bite is met with an assortment of flavours and texture. It is salty and sweet at the same time. The crispy pastry and juicy meat is an excellent combo.
The origins
Also known as 芙蓉燒包 or Seremban Baked Buns, they are named after the state that made them popular. Seremban is a state in Malaysia.
Similar to its sister-pastry, the Hong Kong Pastry Pork Buns, the Malaysian version is said to have been created by the Cantonese community when they moved to Malaya in the mid-20th century.
It was only in the 1970s that the buns were brought to the capital city of Malaysia, Kuala Lumpur. Since then, it can be found in most Chinese bakeries in Malaysia and neighbouring countries.
Why is this recipe the best?
It's an easy recipe with simple ingredients. The best Siu Bao has to meet 3 requirements. Rest assured, this recipe guarantees the best result.
Flaky and light pastry: It cannot be too oily or it will be soggy. This recipe recommends the perfect amount of oil needed to prevent the dough from being too soft and falling apart being unable to hold its shape.
Flavourful and golden pastry: Some pastries that are sold look lighter in colour and the pastry tastes bland. In this recipe, the pastry is tasty on its own. When baked, it has a beautiful shade of golden brown.
Delicious and juicy meat: As the meat is wrapped in the pastry, it must have a bold flavour. Additionally, it should not be watery or the bao will end up being soggy.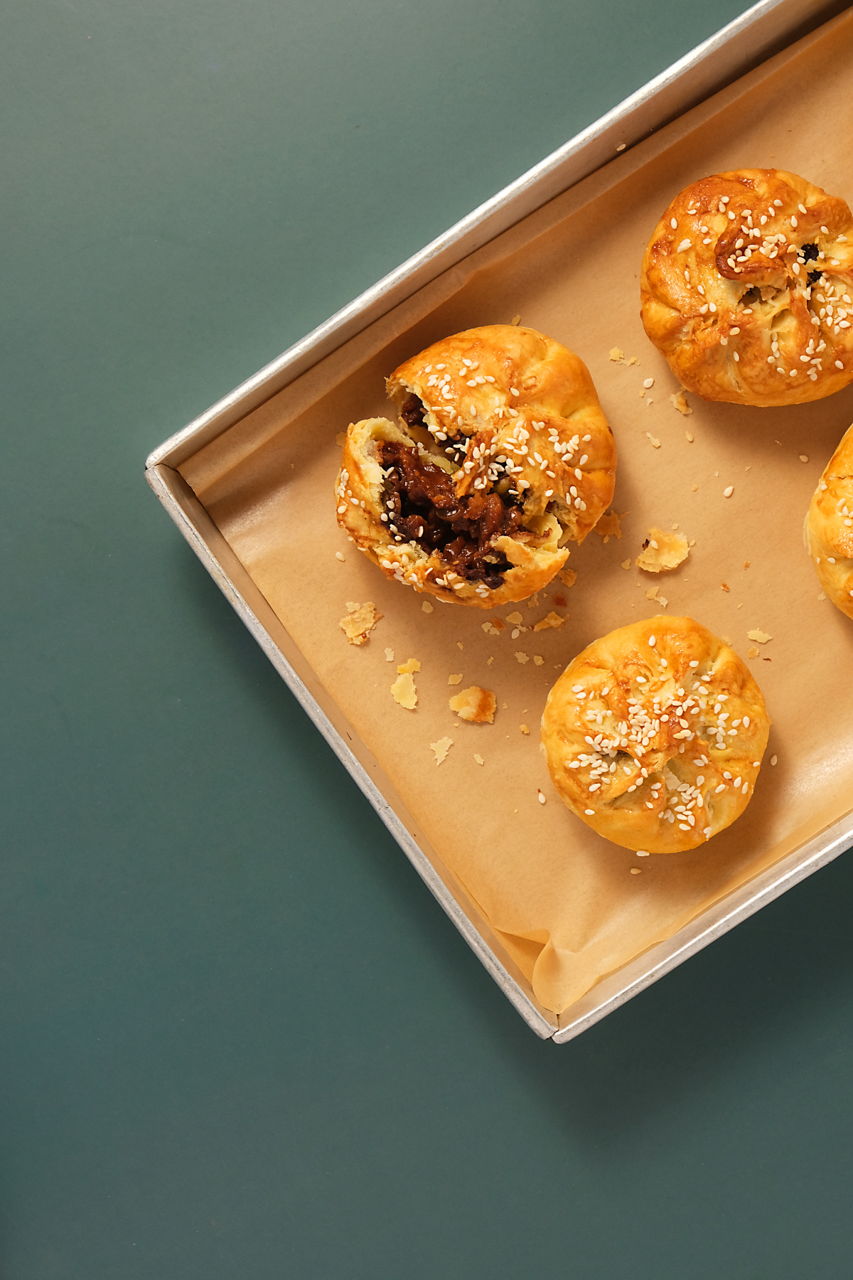 No shortening and no rubbing in
The usual recipe uses shortening for its higher melting point and being able to hold its shape better. However, using plain vegetable oil (peanut, soy, rapeseed or sunflower) does the trick too. The dough is easy to handle and most importantly, it will still be crispy.
Important tips to rest dough
Allowing the dough to rest during the shaping process will allow the gluten to relax. This will let the oil spread more evenly and increase the dough moisture while improving the flaky oily texture.
That is why it is crucial to allow the dough to rest at every step during the flattening and rolling process (Step 9). Avoid completing the shaping process for one Siu Bao before moving onto the next.
Step-by-step guide on shaping the dough
For better explanation, refer to the photos below.
Flatten water dough. Wrap oil dough tightly. Set aside to rest. Continue with the next water and oil dough.

Wrapping oil dough with water dough.

Take the first wrapped dough and flatten it into a rectangular shape. Lift the top of the dough and create a swiss roll. Set aside to rest. Repeat step with the other dough pieces.

First swiss roll

Take the first roll made in Step 2. Flatten it once again to create a rectangular shape. The tips of the roll should be the top and bottom of the rectangle. Once again, create a swiss roll. Lightly compress the sides of the swiss roll to create a square. Repeat step with the other dough pieces.

Second swiss roll

Compressed sides

Rest the dough pieces for at least 20 minutes before wrapping the filling. Dough can be quite resistant after all the rolling and flattening. Time will help to relax the dough a little.
Secret ingredient for the golden shade
Custard powder! That is what you will need to add to the water dough. If you do not have it, substitute it with corn flour. The only difference is the colour of the siu bao will be lighter if corn flour is used.
Can I use uncooked meat?
These flaky pastry Siu Bao is always made using cooked Char Siu. Best if you have leftovers. To save time, feel free to buy them from restaurants or hawker stalls. If you want to make your own Char Siu, here is a tried and tested recipe that is highly rated.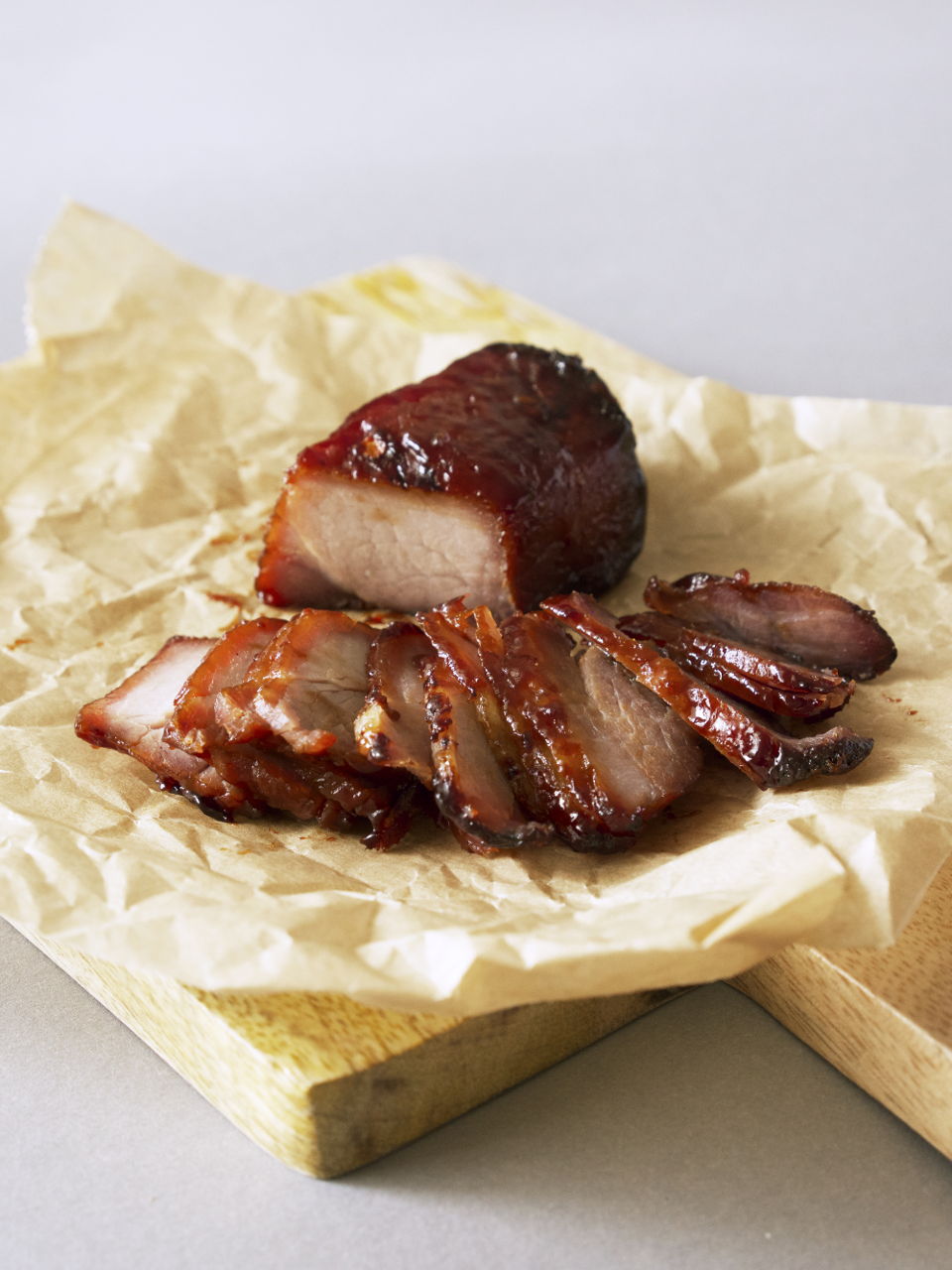 Baking time
Every oven is slightly different. If you find the Siu Bao browning too quickly, place a piece of parchment paper or aluminium foil over them as you continue baking.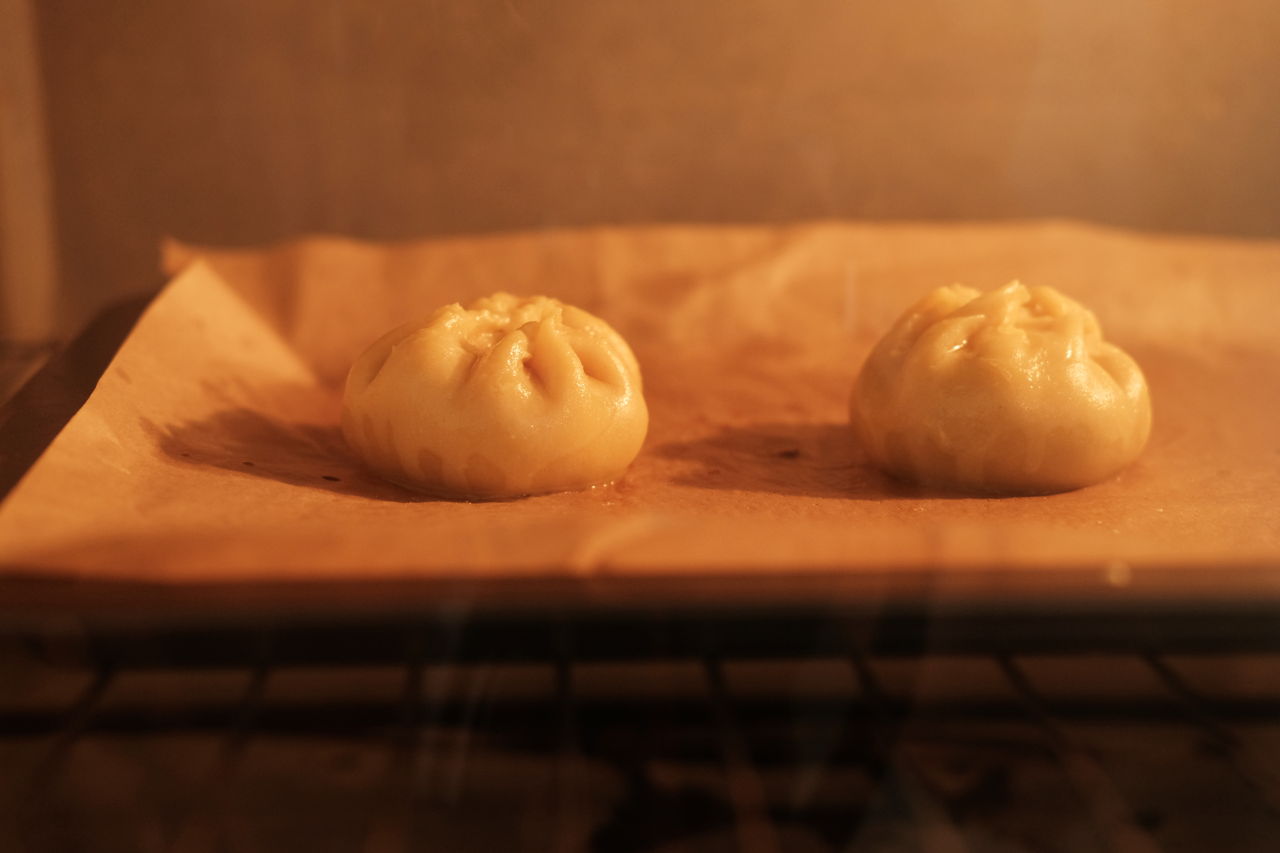 Making Siu Bao ahead of time
You can prepare the filling for up to 5 days in advance before wrapping them up for baking.
How to store Siu Bao?
It is best to keep these crispy Siu Bao refrigerated in an air-tight container for up to 4 days. Heat it up in a microwave oven or bake at 150 degrees Celsius to revive its crispiness.
If left unrefrigerated, it can last for 1 to 2 days.
Frozen Siu Bao
Unbaked Seremban Siu Bao can be kept frozen for up to 2 months. Freeze them individually. Ensure that they are wrapped tightly with cling wrap or aluminium foil. This will prevent contact with air and reduce freezer burn.
Thaw frozen Siu Bao overnight in the refrigerator. Bake according to directions described in Step 10 and 11.