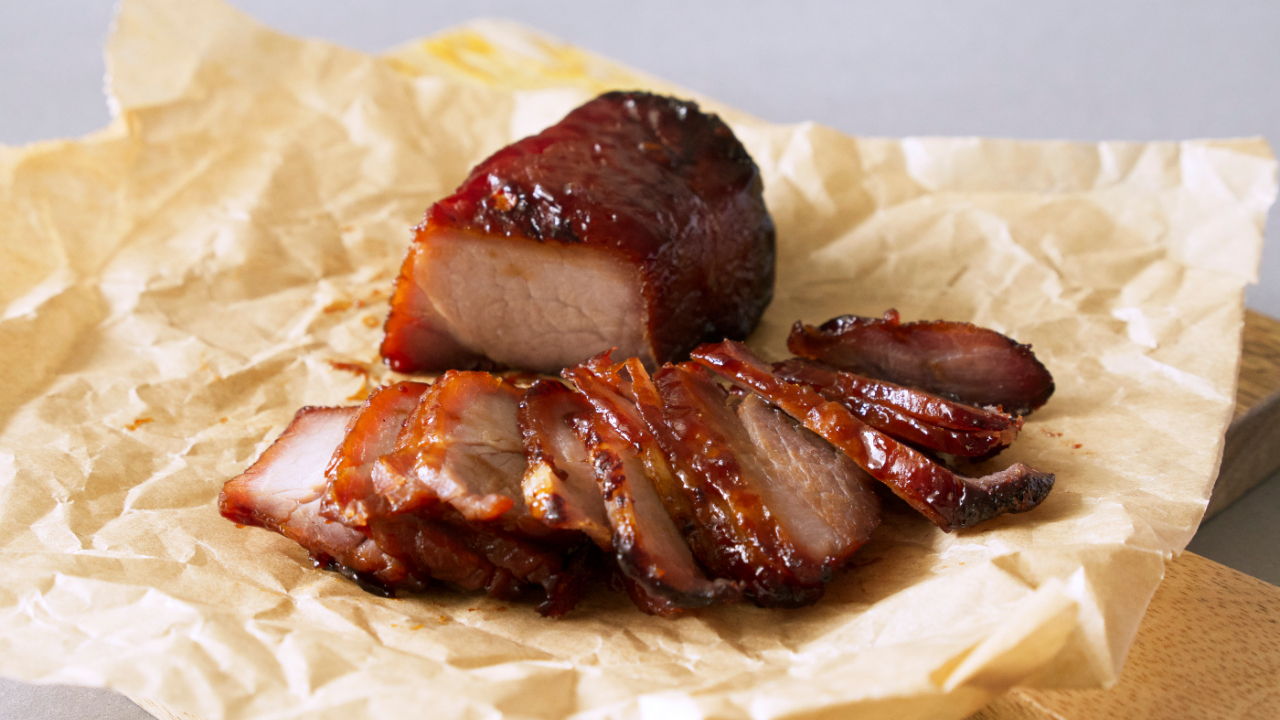 Char Siu
Char Siu is a fragrant and delicious Chinese BBQ pork usually made using pork shoulder or pork belly. It is marinated in a homemade sauce for hours before being cooked over a charcoal grill. This is the ultimate Char Siu pork recipe to cook restaurant quality dish.
Preparation 360 mins
Cooking 40 mins
Char Siew, Chinese Roasted BBQ Pork, 叉燒
Malaysian, Singaporean, Cantonese
---
Ingredients
1

tbsp

water

1

tbsp

honey

1

tbsp

soy sauce

2

tbsp

hoisin sauce

1⁄2

tsp

sesame oil

1⁄2

tsp

five spice powder

1

tsp

rose wine

1

tsp

dark soy sauce

1

garlic clove(s)

1

cube

red tofu (fermented)

170

g

pork
---
Journal Snaps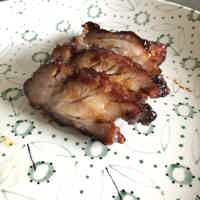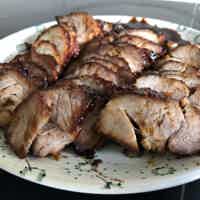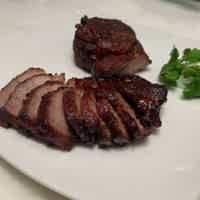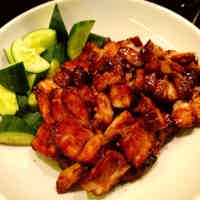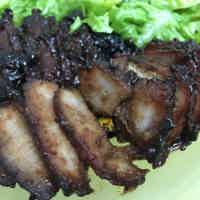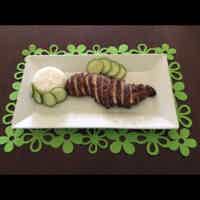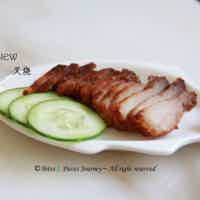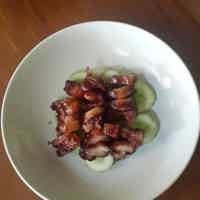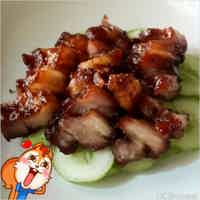 ---
Background
Char siu or sometimes spelled as 'char siew' is a popular Chinese barbecued pork and is one of the most delicious meat dishes. Authentic char siu recipe uses particular pork cuts marinated with a mixture of sauces, condiments and aromatics. The meat is then glazed and roasted using the marinade which is the most important ingredient in resulting the perfect char siu pork. However, choosing the right pork cuts also plays an important role to the taste.
Char siu sauce or marinade
Char siu sauces can be bought off the shelves. This recipe provides you a guide to making your own chinese BBQ pork sauce. The base of the marinade is hoisin sauce, which is then mixed with soy sauce, sesame oil, honey, five spice powder besides others.
Char siu without red food colouring
In many Hong Kong, Singaporean or Malaysian restaurants, char siu has a hint of redness to it. It comes from the red food colouring to give it a nice shade. The red tone causes the char siu to be reddish around the edges which is clearly visible when it is cut into slices. For a natural shade of colouring, red fermented tofu is used instead in this recipe.
Which pork cut is best for char siu?
This depends on your preference. The best cut to use is the pork butt which is also known as boston butt located on the back of the pig, just behind the head. Pork butt is popular for making char siu as it contains a good amount of marbled fats and connective tissues. When grilled or roasted slowly, the fats and connective tissues melt resulting in delicious flavours.
Pork belly on the other hand results in a more fatty char siu. However, if you are looking for leaner char siu, go for pork loin which has a lesser amount of fat.
Char siu over charcoal grill or in oven?
In this recipe, I used the oven to roast the char siu but it would be best if you could barbecue it over a charcoal fire. The smoky flavour would further enhanced the taste of the meat.
For me, the best part of the char siu are the edges that are slightly charred during the roasting process. These makes the meat more fragrant. As it roasts in the oven, it absorbs the honey mixture creating a layer of sweet and savoury coating on the meat, thus making it lips-smacking good.
You may also use a 'S' shaped metal hook sold in hardware stores to hang the pieces of char siu in the oven.
The best dishes with char siu
Char siu may be eaten as it is or together with wonton noodles or rice. Enjoy this dish with some pickled chillies or chilli garam if you need a spicy dip.
---
Steps to Prepare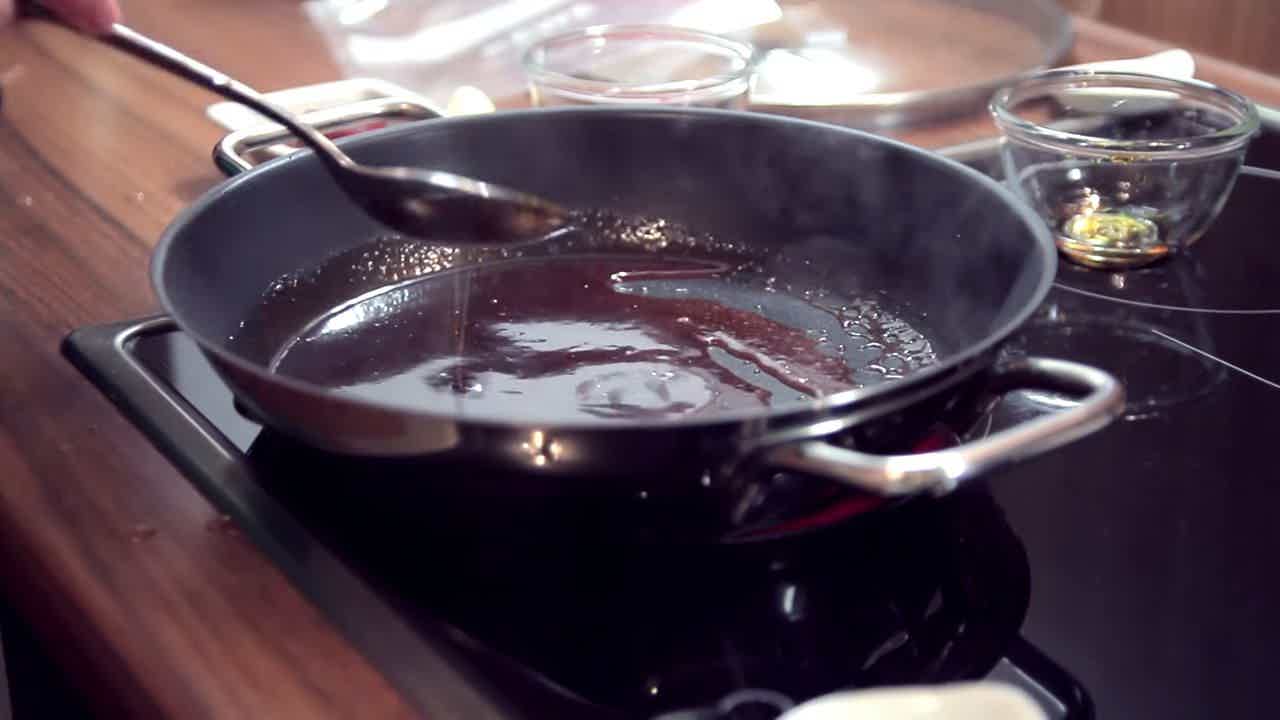 Step 1 of 4
1

tbsp

water

1

tbsp

honey

1

tbsp

soy sauce

2

tbsp

hoisin sauce

1⁄2

tsp

sesame oil

1⁄2

tsp

five spice powder

1

tsp

rose wine

1

tsp

dark soy sauce

1

garlic clove(s)

1

cube

red tofu (fermented)
Mix honey, soy sauce, hoisin sauce, sesame oil, five spice powder, rose wine and dark soy sauce. Then, add the sauce mixture into a pan. Cook at low heat until sauce thickens. Add fermented tofu and crushed garlic to the marinade. Mix well.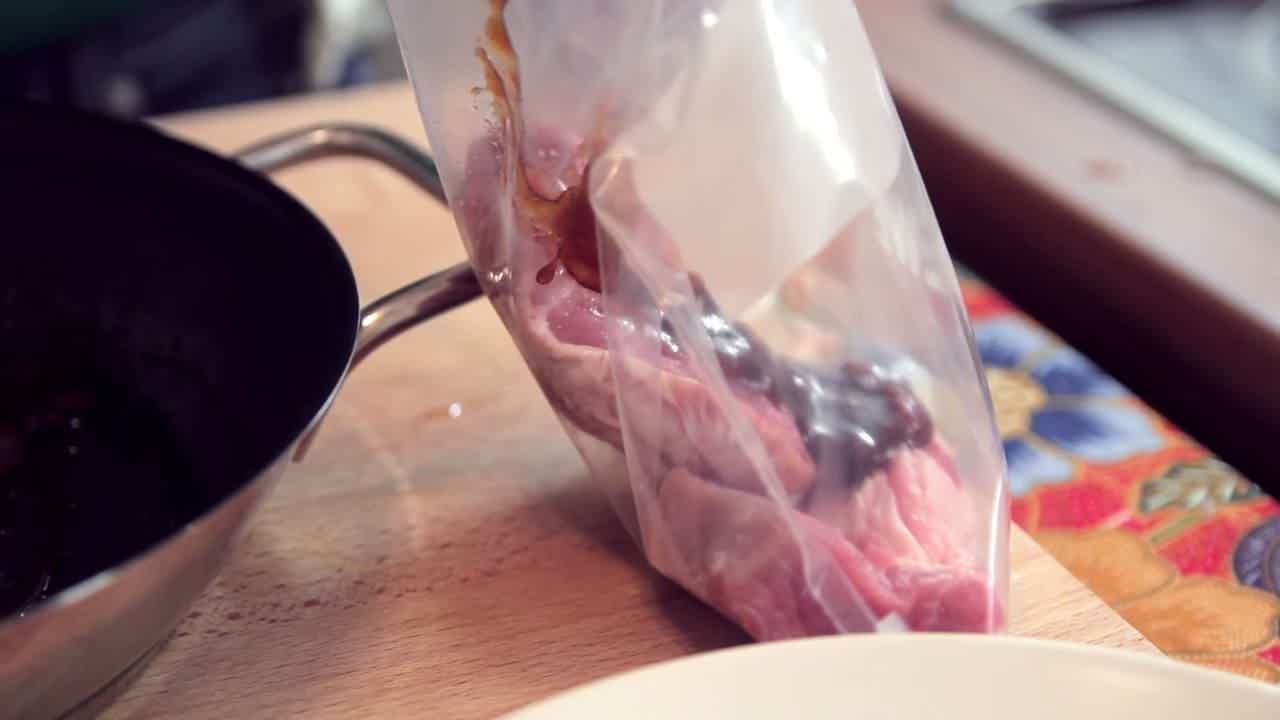 Step 2 of 4
Lightly poke the pork shoulder using a fork. Place pork in a bowl or a zip lock bag and add the marinade. Make sure that the pork is evenly coated. Leave pork to marinate overnight.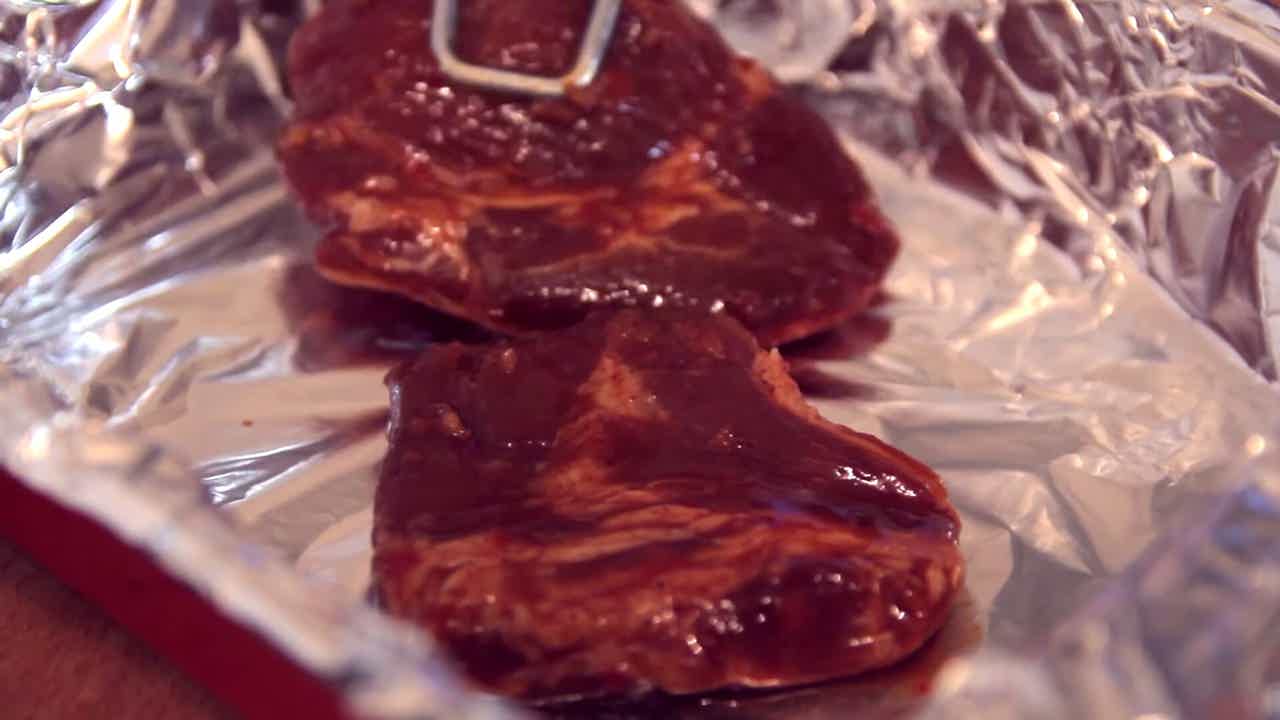 Step 3 of 4
Preheat oven to 220 degrees Celsius. Place marinated pork on a tray and cover with a piece of aluminium foil. Remove the aluminium foil after 15 minutes and glaze the pork with the excess marinade.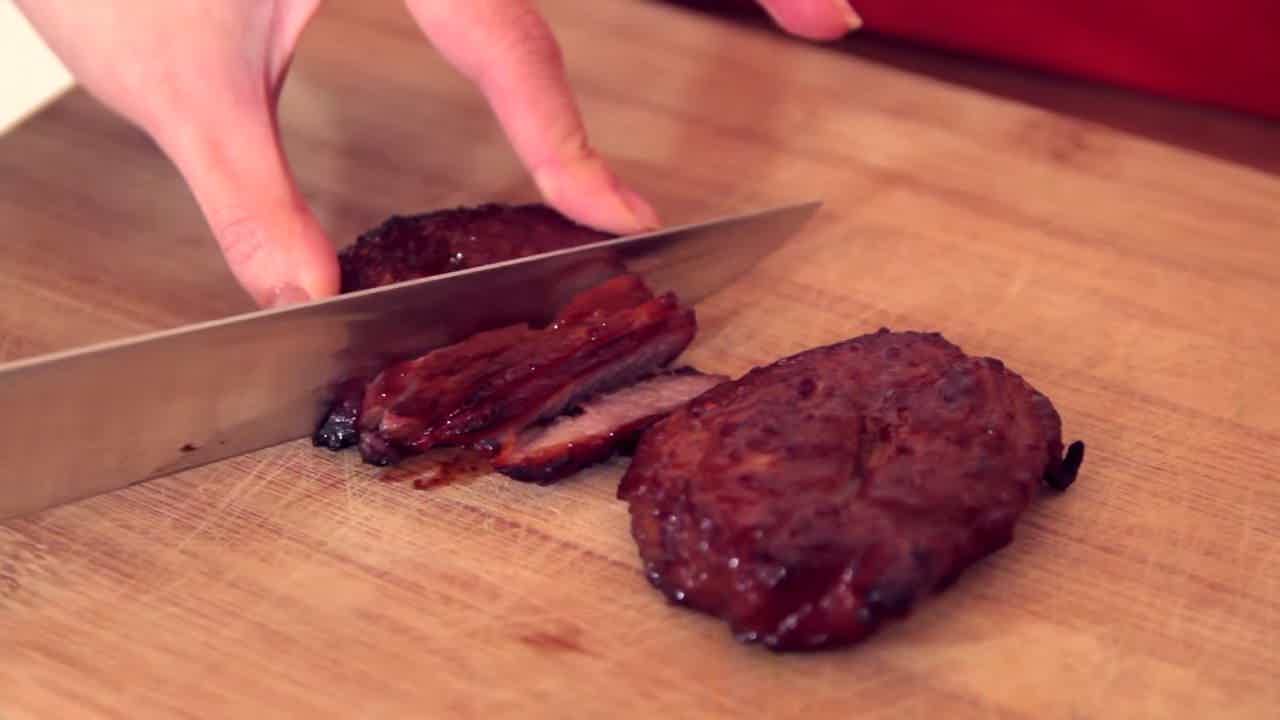 Step 4 of 4
Increase heat to 250 degrees Celsius and let the pork cook for 15 minutes. Glaze the pork again and let it cook for a further 5 to 10 minutes. When cooked, cut char siu into slices before serving.
Published: November 25, 2013
---
1 Discussions
Give us your opinion!
Log in
and start posting.
22 days ago
I kinda improvised since I had to make my own hoisin sauce and only had belly pork , but the recipe and method really helped with timings etc to get the flavours.