Pineapple fried rice is an easy recipe. An authentic recipe must have serve with juicy pieces of pineapples and that bolt of Thai flavour. Add some cashews for the extra crunch!
It is made with jasmine rice, vegetables, pineapple chunks and special Thai seasoning such as fish sauce, turmeric powder and curry powder.
They are tossed over high heat for the extra char and to coat each grain of rice evenly with the seasoning. The savouriness blends well with the frutiness of the pineapples. A pinch of heat helps to round out the flavours.
This is the secret to a mouth-watering plate of fried rice which is so popular in Thailand and even Malaysia. It's a favourite among kids and adults alike.
Why This Recipe Works?
Thai Pineapple fried rice tastes different because it uses fragrant jasmine rice. This recipe shares tips to make the perfect non-soggy fried rice on a busy weekday.
It also has the right portion of turmeric/curry powder. Otherwise, the fried rice will turn out tasting too 'earthy' because of the overpowering spices.
Using butter instead of oil makes this recipe really special. The creaminess of butter caramelizes the vegerables and prawns, bringing out a delicious aroma.
This does elevate the depth of flavours compared to the typical fried rice.
Can You Make Fried Rice Without Overnight Rice?
Overnight rice is always recommended even in our Sinangag (garlic fried rice recipe). While is gives the best outcome, I think it is not really necessary to coming up with the perfect fried rice.
Let's get over the reason to using cold overnight rice. It is used because it doesn't clump together as the grains lose their moisture when refrigerated. When cooking fried rice, high heat is used and this helps the moisture to further dry the rice.
If using freshly cooked rice, ensure that it is washed well to remove excess starch. You may fluff the rice and spread it on a tray or large plate to speed up the cooling process.
Especially during winter, I use to leave a warm pot of freshly cooked rice on the balcony. Cover with a kitchen towel to protect from dirt in the air. Also, do fluff rice if you're doing this or it may cool down into a large chunk.
Can I Use Butter Instead of Oil for Fried Rice?
Of course! Instead of using vegetable oil, butter is the choice in this recipe. Besides the marvelous fragrance, it also adds a light creamy flavour that goes well with the curry powder.
Pineapple Fried Rice Curry Powder
Sweet pineapples are delicious but when mixed with the earthy, mildly spiced curry powder, the sweetness and tanginess develop into a more complex and super delicious fusion.
The curry powder used in this recipe is store-bought. It has a mix of spices such as chilli powder, ground coriander, ground cumin, ground ginger and others. You may look out for other types of curry powder or masala (preferably those meant for meat).
Turmeric for Colouring
Unless you want a bright yellow plate of fried rice, turmeric is really optional in this recipe. It also depends on the curry powder you're using. A more yellow curry powder would most likely mean that it contains a higher percentage of turmeric. In this case, turmeric is not at all needed.
Fresh Pineapple Bowl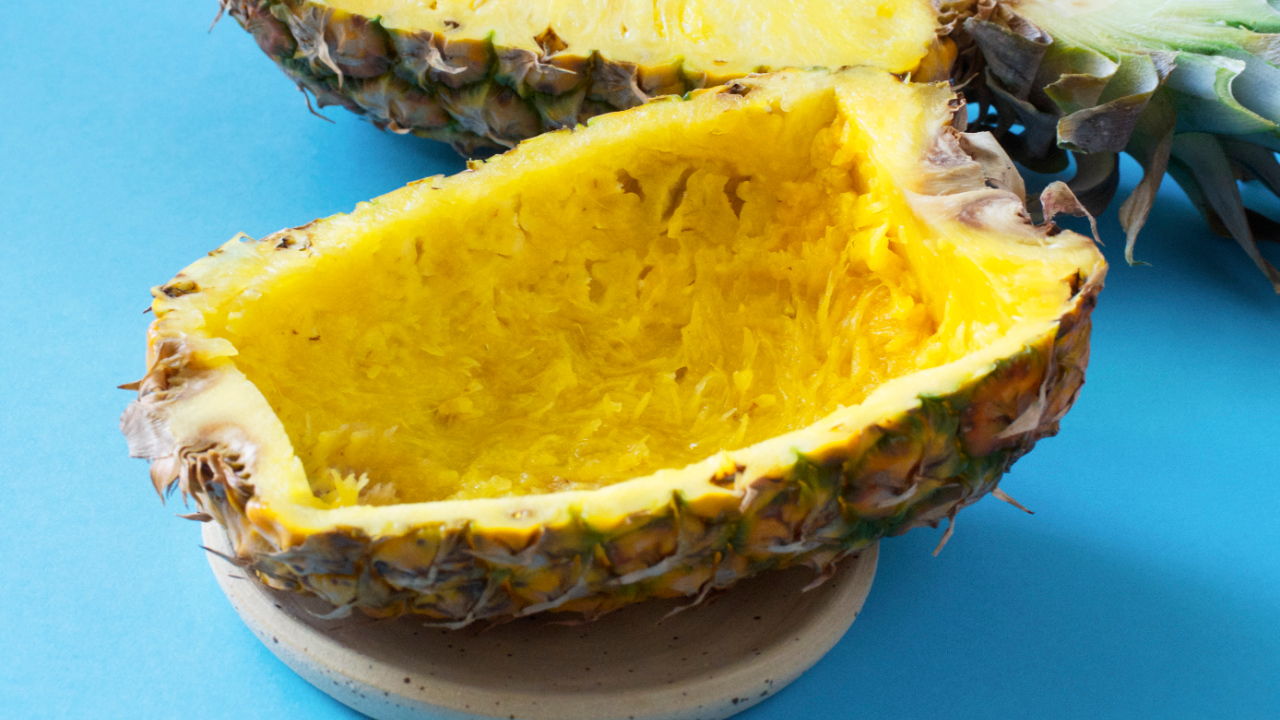 It's always fun to serve in style. Therefore, having your food in a beautiful fresh pineapple bowl is definitely eye-catching and rewarding.
Although it takes a little effort, it is well worth the time. You are assured that the bowl is fresh and clean unlike the stories about eateries reusing the pineapple bowls.
Vegan Pineapple Fried Rice
Fried rice dishes are so versatile. It's easy to swap ingredients to fit dietary requirements. To make this dish vegan, substitute butter with vegetable oil, oyster sauce with mushroom sauce and fish sauce with soy sauce.
Add lots of vegetables of your choice. Some fried tofu chunks will be very delicious in this dish too. Be assured that you'll still be rewarded with a delicious plate of pineapple fried rice.