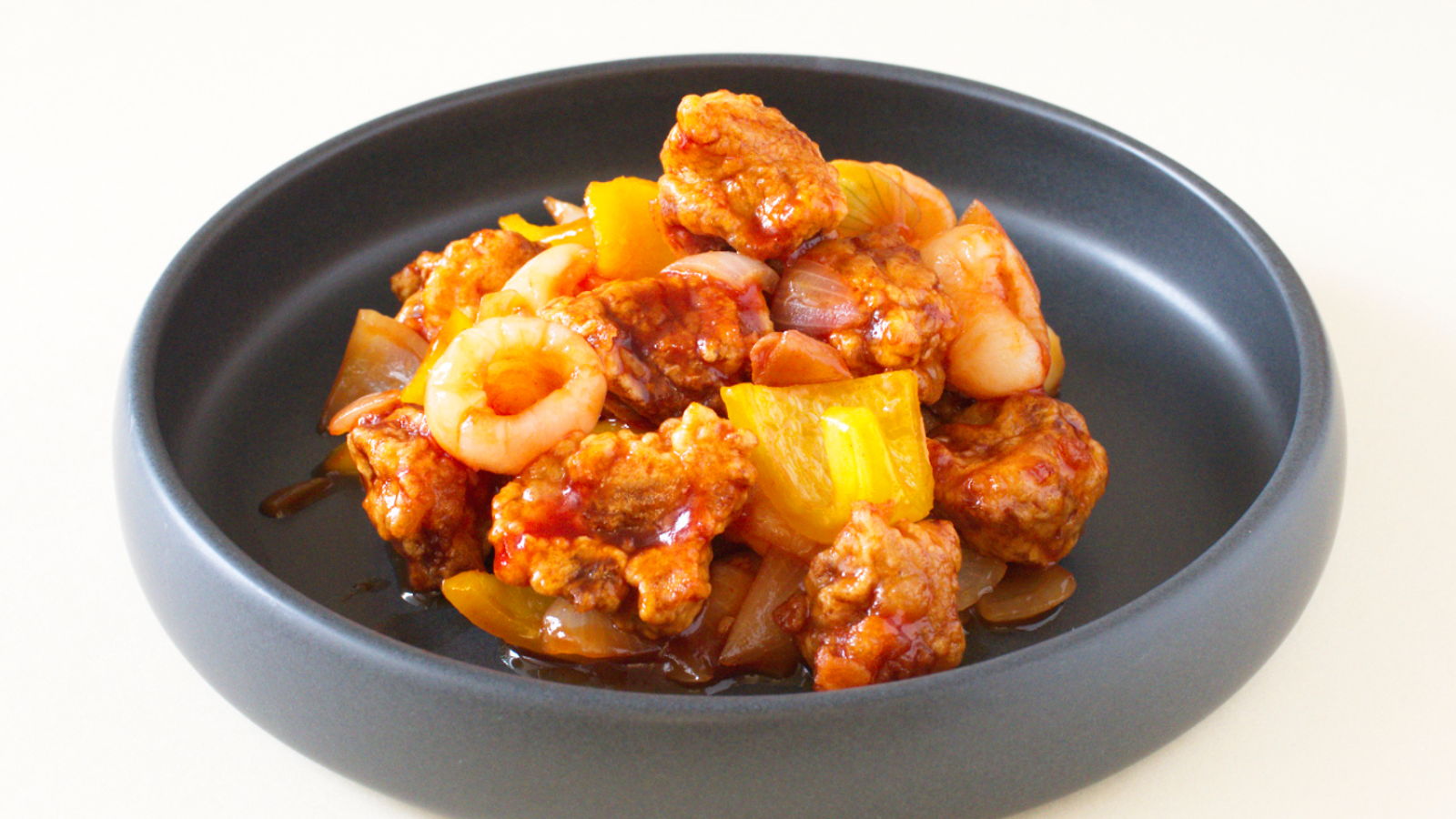 Sweet and Sour Pork
This is the best sweet and sour pork that no take-away outlets or Chinese restaurant can offer. Big chunky succulent meat coated with tangy gravy and super crispy for the extra crunch. The addition of lychees gives the dish a delicious fruitiness to it.
Preparation 10 mins
Cooking 20 mins
---
Ingredients
1

tbsp

water

2

tbsp

vinegar

2 1⁄2

tbsp

sugar

1⁄2

tbsp

soy sauce

4

tbsp

ketchup

1

tbsp

plum sauce

1 1⁄2

tbsp

lychee syrup

1⁄3

capsicum(s)

1

yellow onion(s)

1

garlic clove(s)

2 1⁄2

tbsp

corn flour

1

tbsp

self-raising flour

1

egg white(s)

200

g

pork

—

oil

1⁄2

tbsp

oil
---
Journal Snaps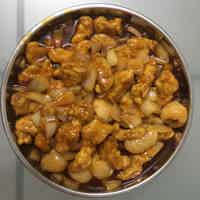 ---
Background
Sweet and sour pork is one of the most common dishes found in Asian/Chinese restaurants throughout the world. The dish is so well received that it is available in typical Asian take-away restaurants as well as authentic Chinese restaurants. Each of these restaurants has its own twist to the dish but will however retain the delicious components of the tangy gravy and the crunchy meat. The signature tangy sauce has a balance of sourish and sweetness while the meat is deep-fried. Understandably, both adults and children enjoy the dish tremendously.
The history
Known as Gū Lǎo Ròu or Gu Lu Yuk literally translates to 'ancient meat' in Chinese Mandarin and Cantonese. The dish is said to have started during the Qing Dynasty in Guangdong. We are familiar with the dish being cooked with boneless meat. It actually originated from sweet and sour pork ribs but foreigners in Guangdong were not used to eating meat with bones attached. That prompted the chefs into working on a different version of the dish which turned into what we are familiar with today.
As to why it is called 'ancient meat', it is still unclear. There are several folk tales regarding the name. One of it is related to the strong smell of the tangy gravy which always makes the people around salivate. The sound of 'gu lu' is associated with the act of swallowing the saliva as they anticipate for the food. The other reasoning which makes more sense lies in the long history of the dish, hence referring it to 'ancient meat'.
The perfect batter
While sweet and sour pork may be easy to prepare, the perfect dish calls for crispy pork. To ensure a crispy layer coating the meat, attention needs to be paid to the batter and the frying process.
The batter consists of egg white, corn flour and self-raising flour. Using only egg white works better compared to using the whole egg in ensuring that the crust sticks to the meat during and after frying. The crust turns out much lighter and airy. The other important ingredient is self-raising flour. Of course, plain wheat flour may be used but the addition of self-raising flour makes the crust fluffs up a little during deep frying.
Corn flour which is a type of starch makes the crust extra crispy when used in deep frying.You can also substitute with tapioca flour.
When mixing the ingredients, ensure that the flour and egg are properly mixed before coating the meat chunks. The consistency of the batter should look like this: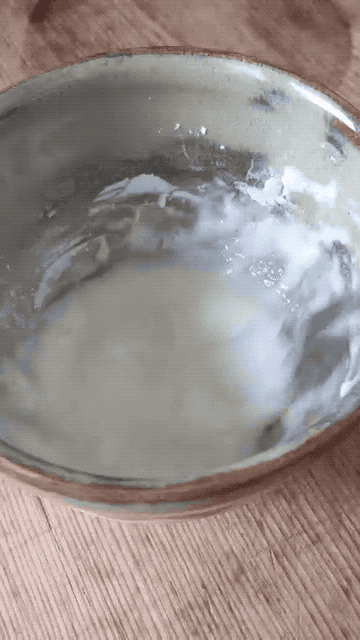 Tips to avoid soggy crust
The oil must be heated up at 180 degrees Celsius/355 degrees Fahrenheit before frying the meat. Use either a thermometer or a wooden chopstick to check if the oil is ready. There are bubbles appearing around the chopstick if the oil is ready.
Don't crowd the pan when frying. Once the meat chunks are fried, remove and place them on a cooling rack with a piece of kitchen paper below to catch the excess oil. Placing them directly on kitchen paper for a long time may cause the crust to turn soggy due to the vapour that is released and trapped between the pieces of meat and kitchen paper as they cool down.
Marinade
Since the gravy has quite intense flavours, no marinade for the meat is needed.
The addition of fruits
It is not unusual to have fruits in the dish. The most usual combination has got to be pineapple for its sweetness and tartness. In this recipe, lychees are used for their juiciness. For an uncommon but also tasty combination, try fresh strawberries if they are in season.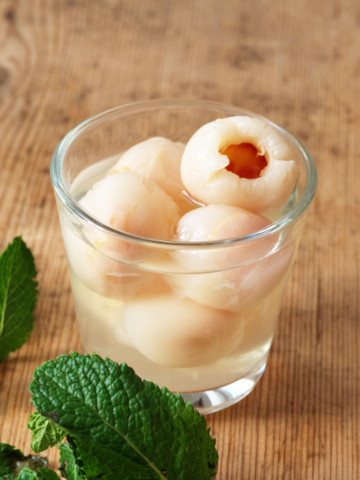 Other type of meat besides pork
For those who do not eat or enjoy pork, sweet and sour chicken is another variation of the dish. Feel free to opt for chicken breast or chicken thigh. In fact, white fishes such as cod, halibut or seabass go really well for this recipe too.
Plum sauce substitute
Plum sauce is a rather crucial ingredient in the dish. Since the perfect gravy needs to have a good balance of sweetness and sourness, the piquant plum sauce gives an extra kick to the gravy.
---
Steps to Prepare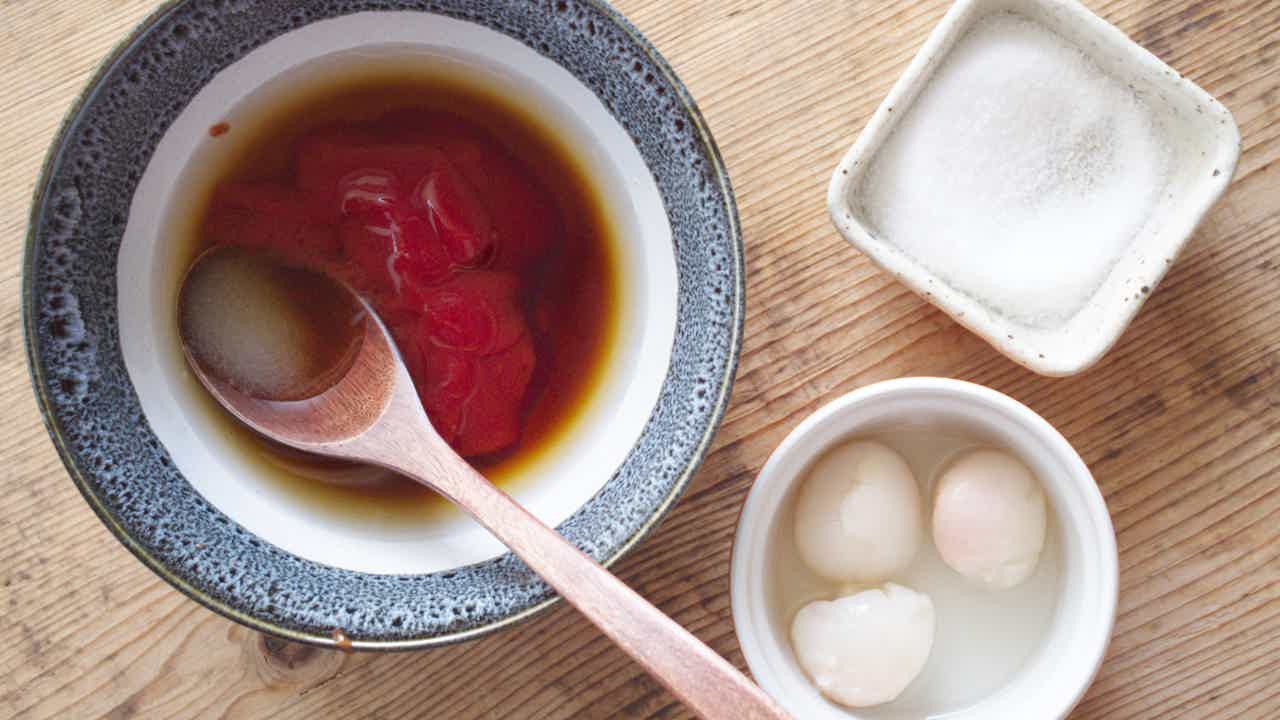 Step 1 of 5
1

tbsp

water

2

tbsp

vinegar

2 1⁄2

tbsp

sugar

1⁄2

tbsp

soy sauce

4

tbsp

ketchup

1

tbsp

plum sauce

1 1⁄2

tbsp

lychee syrup
Mix water, vinegar, soy sauce, sugar, ketchup, plum sauce and lychee syrup (from canned lychees) in a bowl. Set aside lychees in another bowl.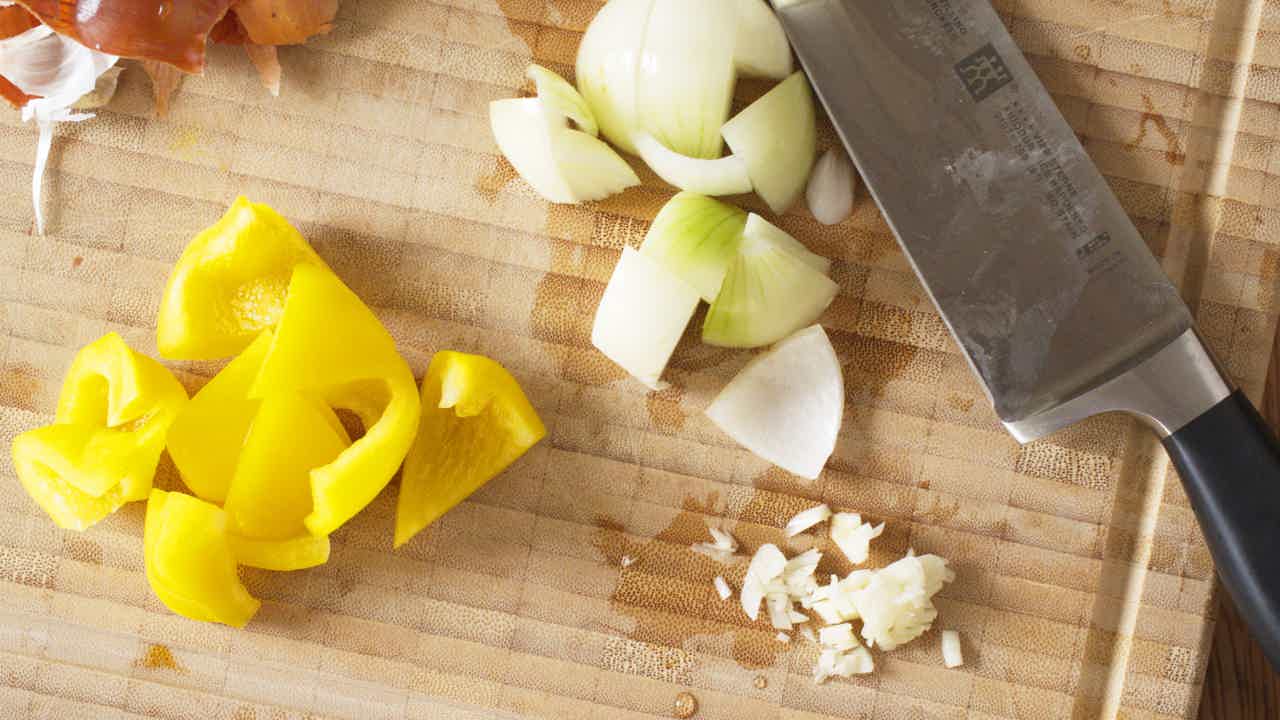 Step 2 of 5
0.33

capsicum(s)

1

yellow onion(s)

1

garlic clove(s)
Chop capsicum and onion into bite-sized pieces. Mince garlic.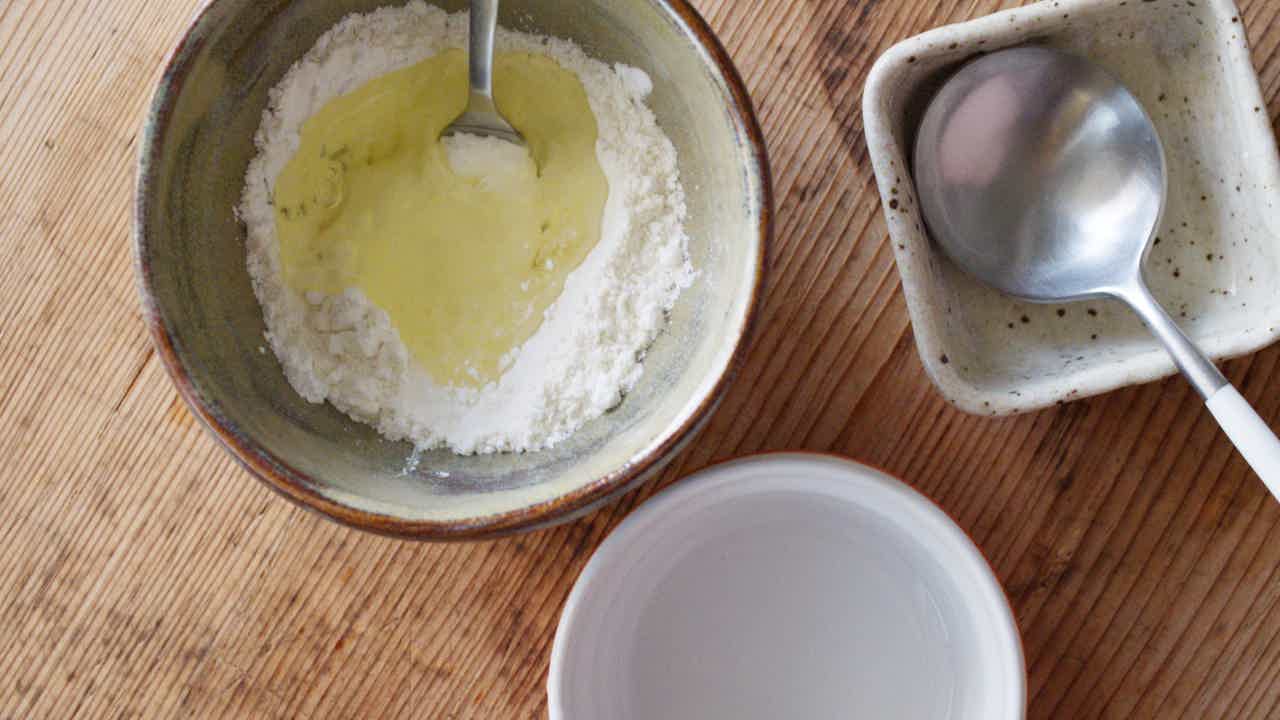 Step 3 of 5
2 1⁄2

tbsp

corn flour

1

tbsp

self-raising flour

1

egg white(s)
Mix cornflour and self-raising flour evenly. Then, stir egg white into the flour until batter is smooth.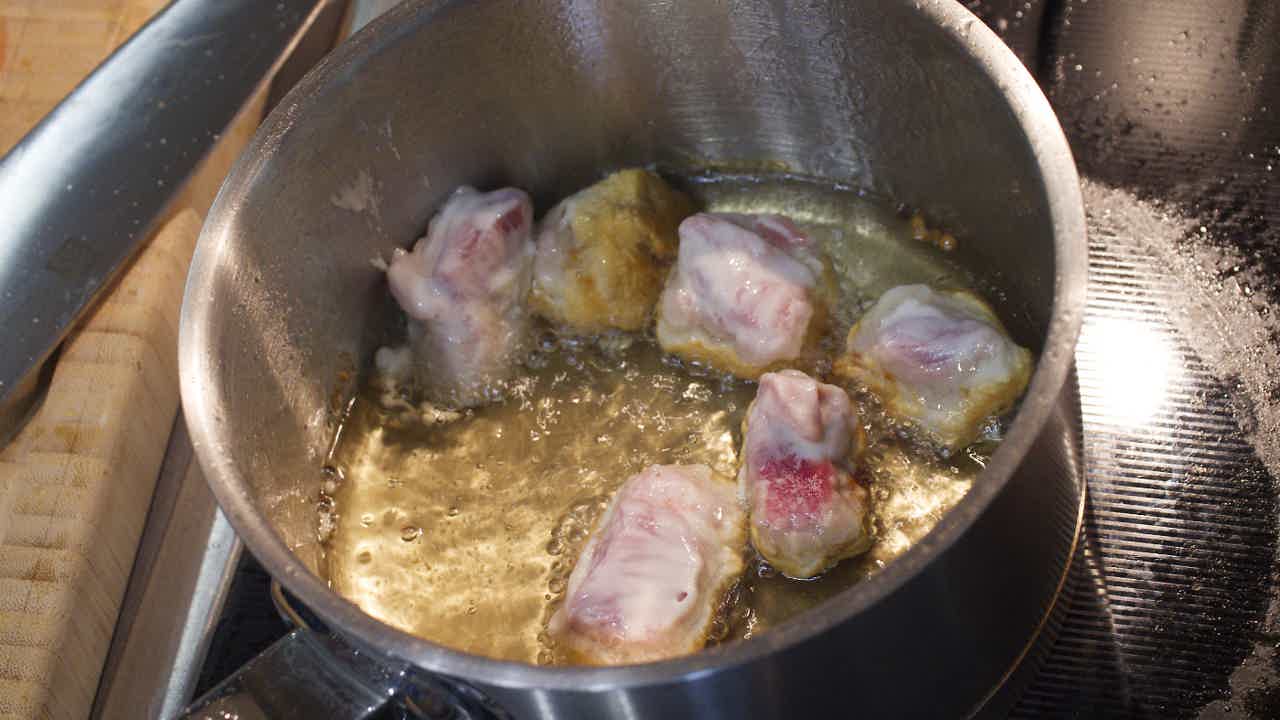 Step 4 of 5
Cut pork into bite-sized pieces and add to the batter. Meanwhile, heat oil in a pot at medium temperature. Coat pork pieces with batter and fry them until golden brown. Remove and set aside. Caution: Do not overcrowd the pot when frying.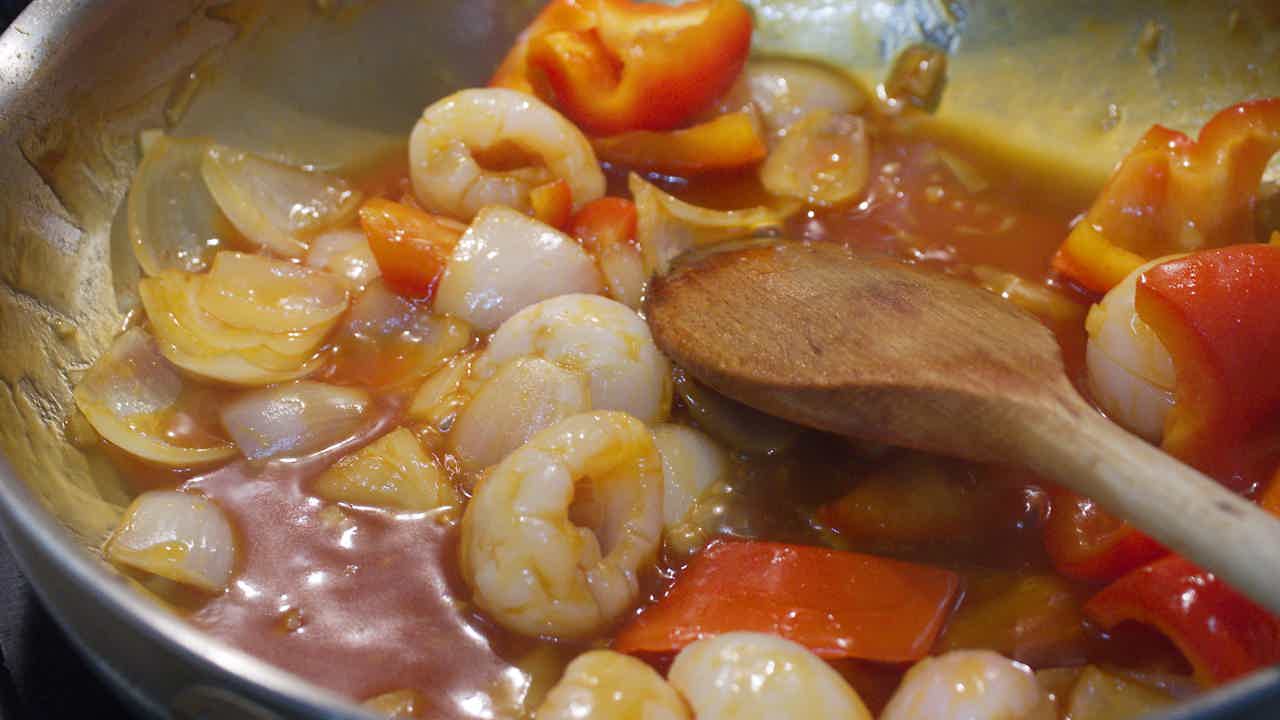 Step 5 of 5
In a pan, heat oil over medium temperature. Then, sauté minced garlic until fragrant. Add capsicum and onion to the pan to sauté for a few seconds before adding gravy. Increase heat to medium-high temperature and allow gravy to thicken. Once gravy thickens, add lychees to sauté for another 30 seconds. Turn off the stove and stir in fried pork. Serve immediately.
Published: October 25, 2019
---
3 Discussions
Give us your opinion!
Log in
and start posting.
15 days ago
Yum. One of my favourites :) Grace, you mentioned that to substitute lychee we could use strawberry or pineapple. I have pineapple juice in the fridge. Can I use that? Terima Kaseh Danke shun :)

14 days ago
Mira - Community Happiness Manager
Pineapple syrup from the can is the most fitting. The juice is a possible substitute. If you have pineapple chunks, those are the best!
18 days ago
Wow. How on earth you know I want to make this dish? Kakakakaka "3"
16 days ago
Natural mind-reading abilities. Haha!
15 days ago
Grace, you are the best!