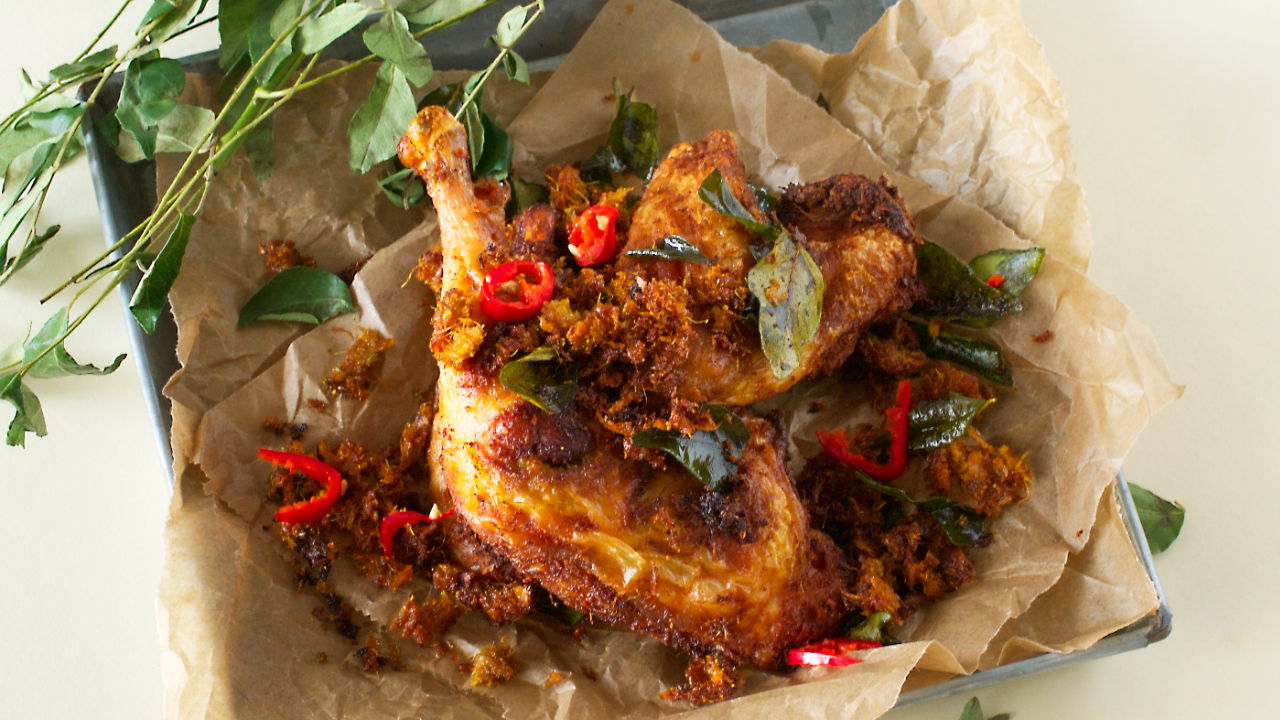 Ayam Goreng Berempah
Literally translated from Malay, ayam goreng berempah means 'spiced fried chicken'. Infused with a mix of herbs and spices, this fried chicken dish is incredibly crunchy, juicy and accompanied with heaps of crispy addictive crumbs.
Preparation 45 mins
Cooking 30 mins
马来香料炸鸡, Malay Spiced Fried Chicken
---
Ingredients
---
Community Food Snaps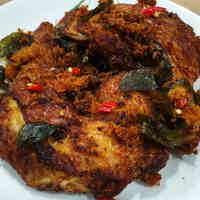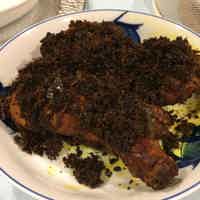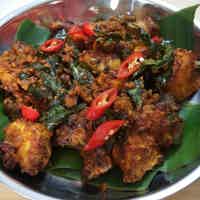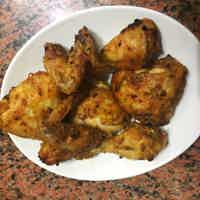 ---
Background
Every country has its own style of fried chicken. Malaysian's version is referred to as 'ayam goreng berempah'. This fried chicken goes well with nasi lemak but tastes just as good as it is. Besides the crispiness and extremely tender meat, it also has lots of crunchy crumbs that makes this Malay-style fried chicken so special. I often request the stall owner to scoop more crumbs onto my plate because they taste amazingly great with steamed white rice. These crumbs are actually the marinade which is a mix of local spices such as turmeric, lemon grass, cumin and more. The addition of curry leaves when frying the chicken meat makes it even more fragrant.
A classic dish like fried chicken seems simple to prepare. However, you'll need a few tricks up your sleeve to get the best results. Of course, I am specifically referring to ayam goreng berempah because of the very addictive crumbs which are quite delicate and need some attention.
Which part of the chicken to use?
Technically, chicken breast may be used in this recipe but the meat tends to dry very easily if it's overcooked. However, fats on the chicken thighs and drumsticks will render during the frying process and this add flavours and of course, makes the flesh really juicy. If you're a fan of chicken wings like me, don't stop yourself from using them too.
Duration to marinate chicken
Marination doesn't take long for this recipe. Just leave the chicken pieces to marinate for 30 minutes and the results will be great. Of course, leaving the chicken to marinate overnight will make the dish tastier.
Is double-frying required?
You can use the double-frying technique as shown in the inchi kabin (Nyonya fried chicken) recipe. I managed to achieve crispy fried chicken with only one cycle of frying. However, before frying, remove any marinade that may be clinging onto the chicken pieces to prevent them from burning. Since cast iron pots contain heat very well, they do a great job during the frying process. The chicken pieces were fried at low to medium heat with the lid on to allow the heat to cook the chicken thoroughly. Once the lid is removed, heat is slightly increased to brown the chicken skin and make it crispy.
Prepare crunchy and fragrant crumbs
When adding the spices into the pot for frying, be very careful as the oil may splatter due to the moisture in the spices. As the spices might clump up during the frying process, remember to separate them with a spatula or any cooking spoon. This is very important to ensure that they are evenly fried and not end up soggy.
Freeze marinated chicken
It's possible to freeze marinated chicken for later use as that would speed up the cooking process. Simply thaw the frozen chicken pieces in the refrigerator for at least 6 hours before frying. Sometimes, I soak the frozen chicken pieces (kept in a plastic bag or container) in room temperature water to speed up the thawing process. Frozen marinated chicken should be consumed within 6 months for best flavours.
Baking ayam goreng berempah
For a healthier version, bake the chicken pieces instead in a preheated oven at 200 degrees Celsius for 50 minutes. As for the marinade, spread it on a tray and bake it along with the chicken. It should take about 20 minutes for the crumbs to become crispy. Remove the crumbs once they are ready but allow the chicken pieces to continue baking until they are fully cooked.
Air fryer
Another option is to make ayam goreng berempah in an air fryer. Preheat the air fryer at 180 Celsius and cook chicken for 20 minutes. During the last 5-10 minutes, increase the heat to 200 Celsius. They should be ready by then!
---
Steps to Prepare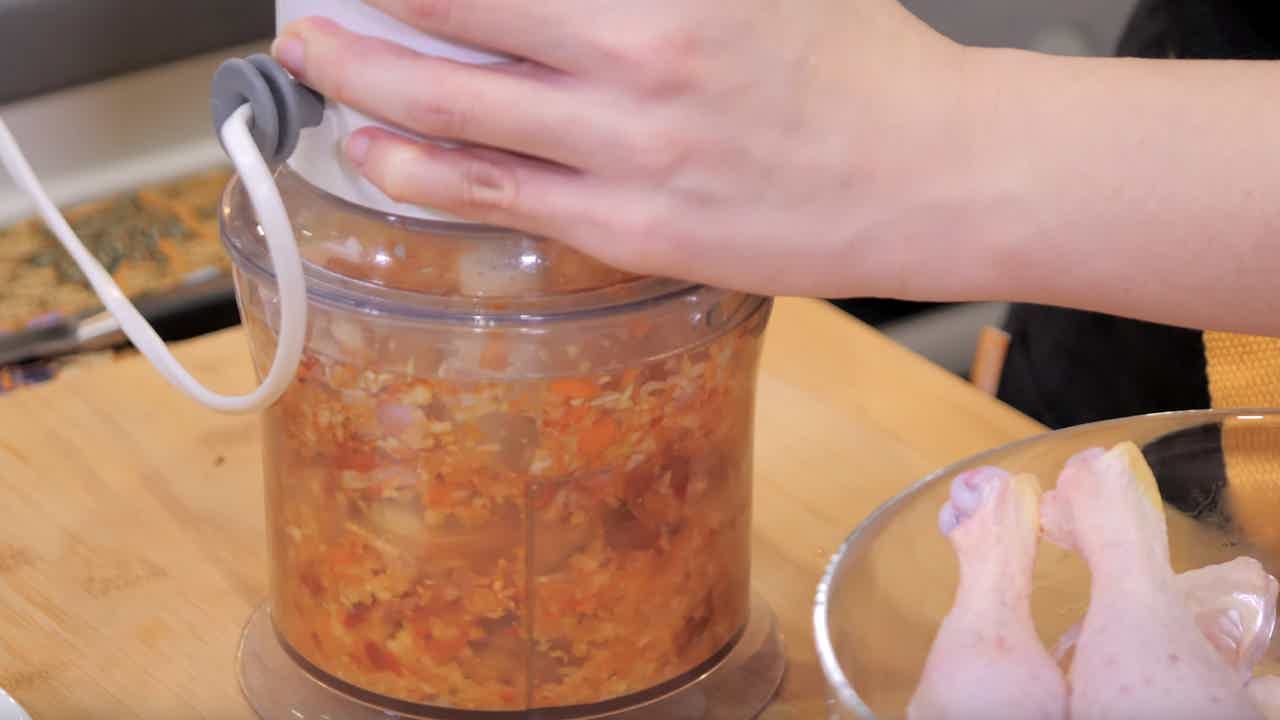 Step 1 of 4
2

shallot(s)

4

garlic clove(s)

3

cm

ginger

3

cm

galangal

3

cm turmeric (fresh)

1

tbsp

coriander powder

1⁄2

tbsp

fennel seeds

1⁄2

tsp

cumin powder

1⁄2

tbsp

curry powder

1

tsp

salt
Blend galangal, shallots, garlic, ginger, dried chillies, lemongrass and turmeric into a paste. In a pan, toast fennel seeds over medium heat until fragrant. Then, pound fennel seeds into fine powder. After that, mix coriander powder, fennel powder, cumin powder, curry powder and salt to blended ingredients.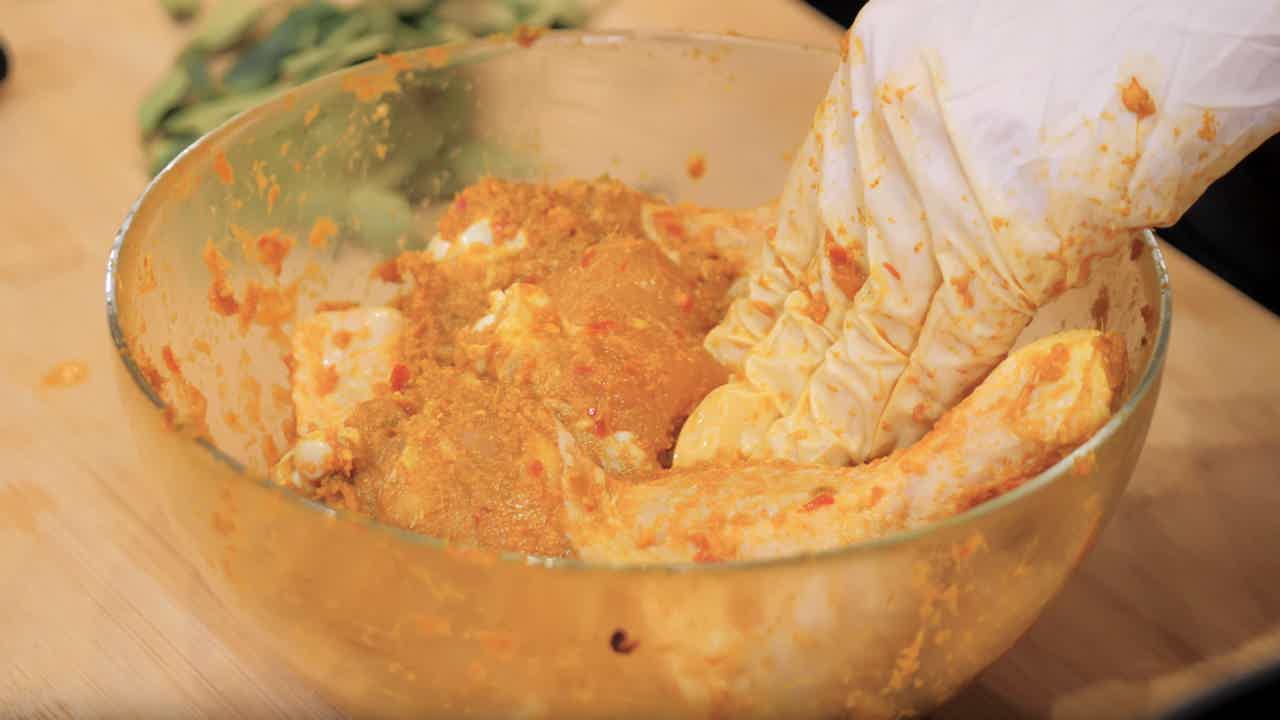 Step 2 of 4
Coat chicken evenly with the mixed aromatics paste and some curry leaves. Marinate for at least 30 minutes.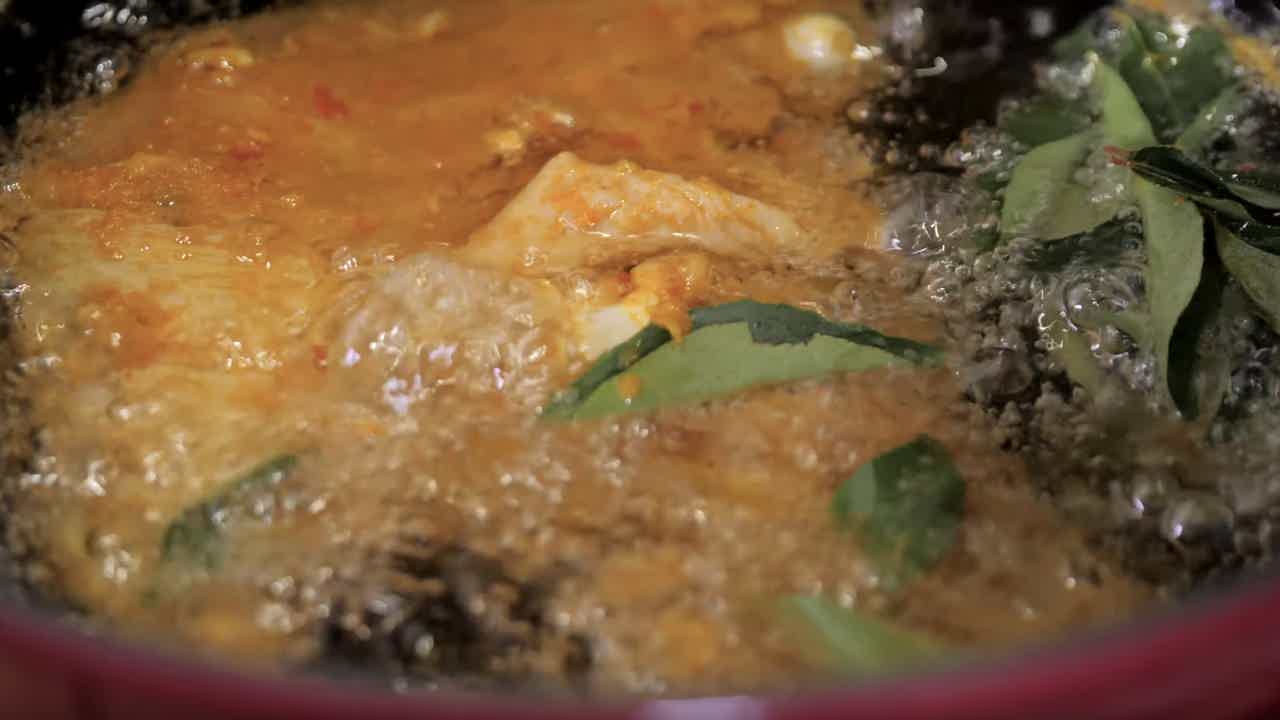 Step 3 of 4
Separate the marinade from the chicken pieces. In a cast iron pot, heat oil over medium heat. When bubbles appear around the wooden chopstick when it is dipped into the oil, add the chicken pieces into the pot. Add more curry leaves. Fry a few pieces at a time. Place the lid on and check every 3-4 minutes to prevent chicken pieces from burning. Fry till golden brown.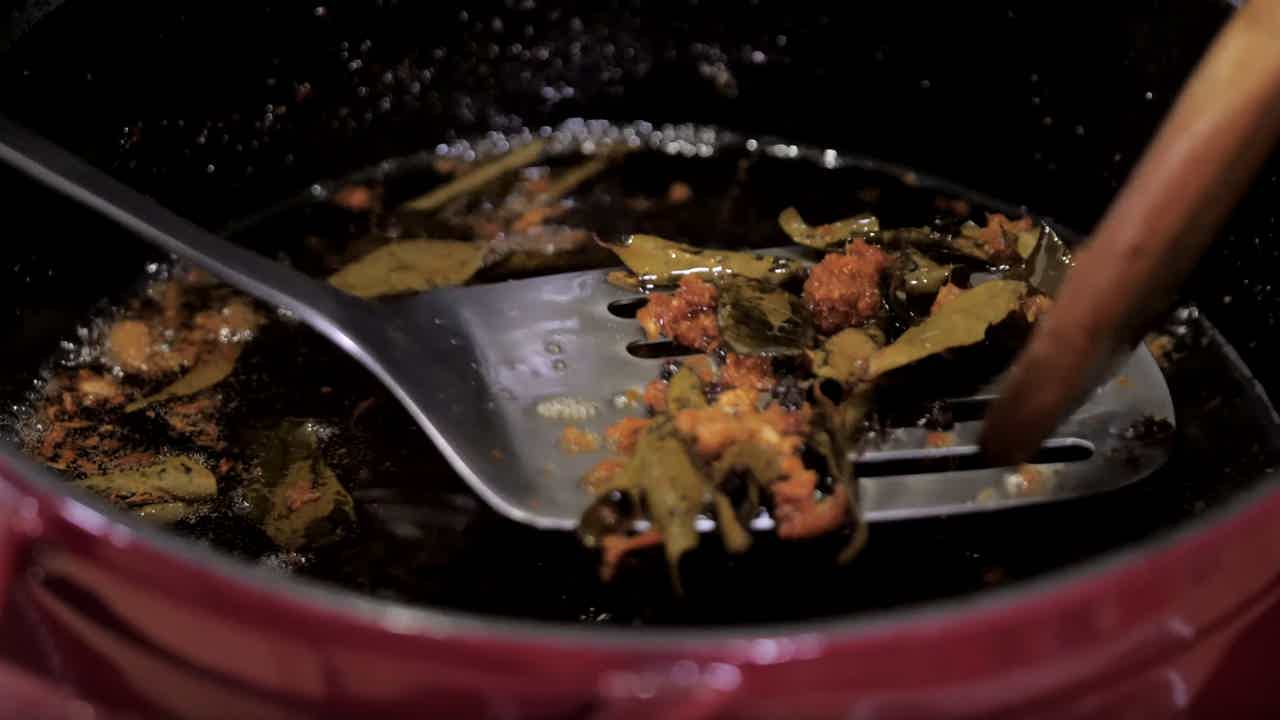 Step 4 of 4
Add the spiced marinade into the oil. Using a spatula, break chunks of spices into smaller pieces to ensure they are evenly fried. The spices are ready when there are no more bubbles in the oil.
Published: April 14, 2019
---
0 Discussions
Give us your opinion!
Log in
and start posting.