Based on 500 ratings Watch Now
Ingredients
A
400 g

chicken meat
60 ml

coconut milk
1 tsp

fennel seeds
3

clove(s)
1

shallot(s)
0.5 tbsp

coriander powder
0.5 tbsp

chilli powder
0.5 tsp

black pepper powder
0.5 tsp

turmeric powder
0.5 tsp

cinnamon powder
0.5 tsp

cumin powder
1 tsp

salt
1 tsp

sugar
B
3 tbsp

worcestershire sauce
1 tsp

sugar
0.5

chilli peppers (fresh)
1 tsp

mustard powder
0.25

lime(s)
Background
Inchi Kabin (Nyonya-spiced fried chicken) is marinated with a host of spices that will tease your tastebuds. The trick to juicy and delicious Inchi Kabin is to ensure that the chicken meat is marinated long enough in order to infuse with the spices. Therefore, let time play its role here. Some of the spices are toasted to enhance their fragrance. The creaminess of the coconut milk and the spices coating the meat makes this dish truly amazing. Moreover, the accompanying sauce complements this dish well.
After the meat is marinated, deep fry them at low to medium heat for about 10 minutes initially. Subsequently, fry the chicken meat again at a slightly higher heat just enough for them to be fried to crispiness on the outside. However, please note that the herbs may develop a bitter taste due to over frying. Have fun trying out this recipe!
Fried Chicken with Nyonya Spices is also known as: Inchi KabinNyonya Spiced Fried Chicken
Steps
Step 1/4
Toast fennel seeds until fragrant. Blend or pound together with cloves and lemongrass.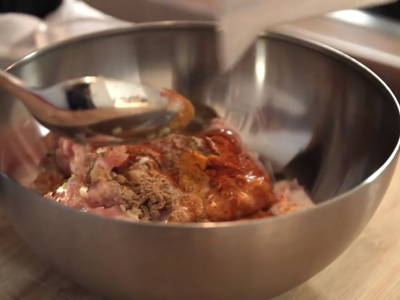 Step 2/4
Marinate chicken meat with all the ingredients and coconut milk. Mix till meat are evenly coated. Leave the chicken meat to marinate for a minimum of 6 hours or overnight.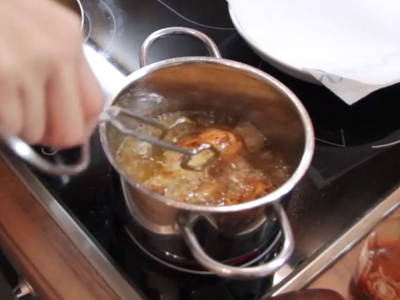 Step 3/4
Fry the chicken meat twice. Initially, fry for about 10 minutes and then subsequently, fry for a further 5 to 10 minutes. Frying the chicken twice will prevent the herbs from developing a bitter taste.
Step 4/4
To prepare the sauce, mix Worcestershire sauce with sugar, chilli slices, mustard powder and lime.