Ngoh Hiang or Lor Bak is a five spice pork roll, a favourite fried food dish in Southeast Asia especially Singapore and Malaysia. Sometimes served as an appetizer, Ngoh Hiang is also popular in the Philippines, Indonesia and also Thailand. This dish is very famous for its crispy skin and flavourful filling. It is made with a variety of ingredients such as meat, crunchy vegetables like carrots and a mixture of sauces. Every bite is delectable especially when dipped in the accompanying sweet or spicy sauces. In this recipe, make the best crispy delicious Ngoh Hiang that even your grandma will definitely approve!
Why choose this Ngoh Hiang recipe?
In this recipe, I used both minced pork and pork strips because Ngoh Hiang ends up too mushy for my liking when made using only minced pork. The addition of the pork strips contributes to a better mouth feel.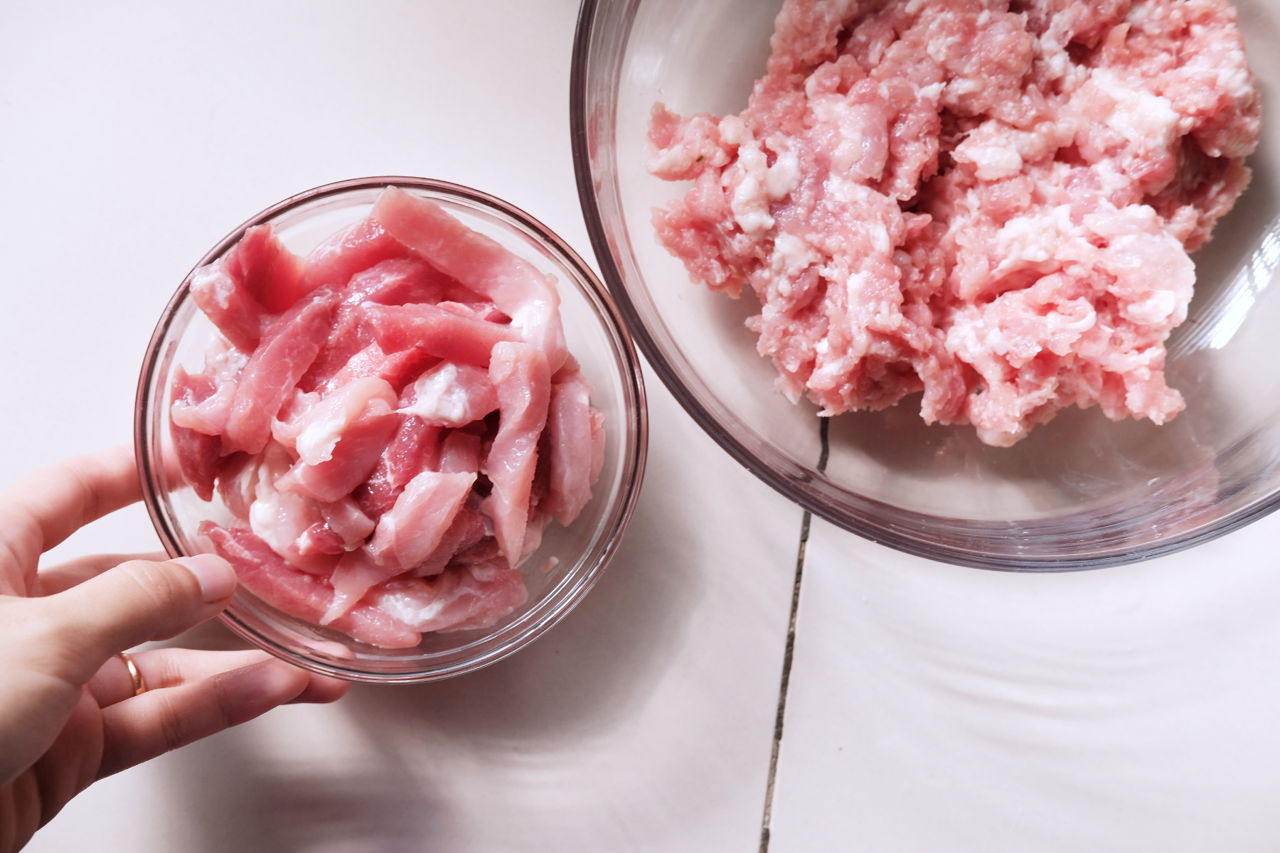 This recipe also shares techniques to keep the skin crispy while keeping the filling juicy. Most importantly, making this five spice roll is a fun activity for the family just like in dumpling making.
Origin of Ngoh Hiang
Ngoh Hiang simply means five spices in the Hokkien dialect, referring to the spice mix that is added to the filling. Originating from eastern China, it is no surprise that this dish is popular among the Chinese descendants especially among the Hokkien and Teochew community. In Singapore, it is more fondly known as Ngoh Hiang while Malaysians call them Lor Bak. Kikiam is what it is known as in the Philippines.
Bean curd skin
Salted bean curd skin is most commonly used to make these five spice meat rolls. It is soft and pliable making it easy to roll and shape. However, if you are living in US or Europe, bean curd sheets which are soft may be used and there is no need to soak before using.
Removing salt from bean curd skin
The skin of the meat roll uses a special salted bean curd skin/sheet which has a salt coating. Using a wet kitchen towel, wipe the salt off the bean curd skins after cutting them into smaller sizes to be used as wrappers. Ngoh hiang will become too salty if there is too much salt on it.
How to wrap?
Use corn starch slurry to glue the bean curd skin together.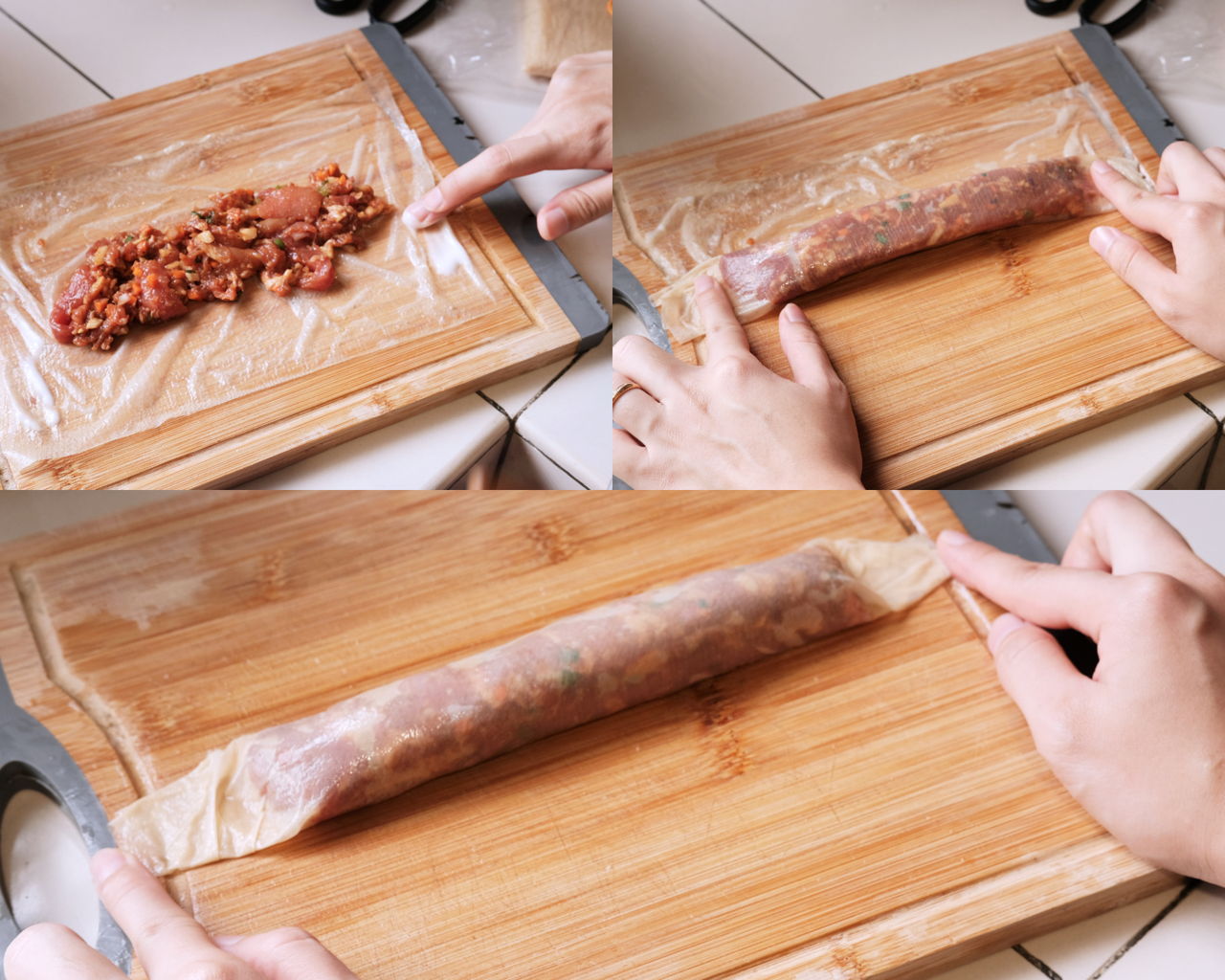 Secret to juicy and crispy Ngoh Hiang
Steaming them first helps to lock in the moisture. However, it is best to discard the excess water after steaming.
Ensure the rolls have a dry surface before frying. This is when the secret ingredient cornstarch is used. It soaks up any excess liquid to prevent oil splatters and makes the meat rolls extra crispy.
Other alternative ingredients as filling
Other than jicama or yam bean, water chestnuts can be used instead for an equally crunchy texture. If you enjoy eating yam, add small yam cubes to the filling. Fish paste or prawn paste can be also added.
Halal Ngoh Hiang
This recipe can be adapted to make it halal. Use chicken instead of pork. As advised, combine minced chicken along with chicken strips to prevent it from having a mushy texture.
Simple sauces
Ngoh Hiang is always served with a sweet sauce which may be spicy or non-spicy. I like to prepare a simple sweet sauce which is mildly hot by combining 1 tablespoon of Hoisin sauce and 1 tablespoon of Sriracha. Dilute the sauces with 2 tablespoons of water.
The pink sweet sauce is another accompanying sauce for the dish. It is made by boiling water with knotted pandan leaf and sugar. Food colouring gives the signature colour and it is thicken with some cornstarch slurry.
You can also serve it with some sweet Thai chilli sauce or garlic chilli sauce.
Freezing Ngoh Hiang
After steaming, use a kitchen towel to dab excess liquid from the rolls. Lightly coat them with cornstarch before storing in an air tight container. Freeze up to 1 month for the best flavours.