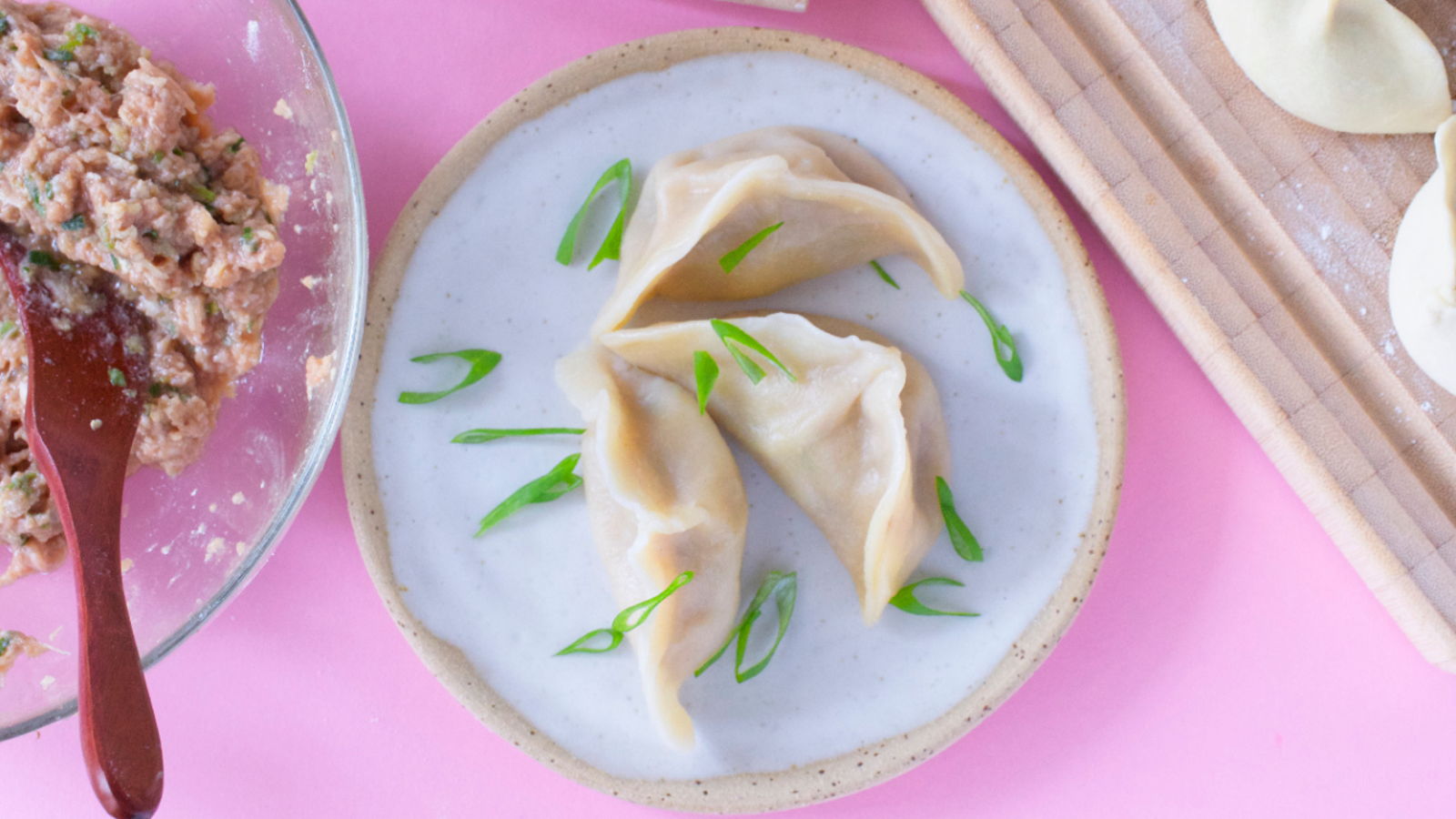 Chinese Dumplings
Jiao Zi or Chinese traditional dumplings made from scratch are the most satisfying. These meat-filled dumplings are very popular in and out of China. Whether boiled or pan-fried, these dumplings using either pork or chicken are extremely succulent.
Preparation 3000 mins
Cooking 180 mins
---
Ingredients
200

g

Chinese cabbage

400

g

flour

180

g

water

400

g

minced meat

1

tsp

Sichuan pepper

1

tbsp

water

1⁄4

tsp

Chinese 13 spices mix

1⁄2

tbsp

ginger

5

tbsp

soy sauce

1⁄2

tbsp

dark soy sauce

2

tbsp

shaoxing wine
---
Journal Snaps
Be the first to take a snap!
Log in
and click the in the top bar.
---
Background
Chinese dumplings or Jiao Zi (in Mandarin) are said to be first made during the era of the Eastern Han dynasty. This means that it has a history of more than 1,800 years. Shaped like the ancient currency, gold ingots, Jiao Zi is therefore known to be a symbol of prosperity.
An easy Chinese dumplings recipe like this is always passed down to generations. It does give a sense of comfort and togetherness as making dumplings is often a family event. This is the best pork dumpling I've ever tasted and this recipe was shared by a Chinese friend. Now, the recipe is here for you to learn how to make Chinese dumplings using the easiest steps. The preparation and cooking tips provided here will be of help to you.
Can I make chicken dumplings with this recipe?
Of course! Simply substitute minced pork meat with minced chicken meat. In fact, you can also used minced mutton in this recipe. It is best to use minced meat with at least 30% fats. If you are mincing the meat yourself, use chicken thighs or pork butt/shoulder where there would be some fats in it. The flavours will develop better with some fat.
Tips for the best dumpling wrappers
Depending on your location, the humidity is the air varies. In this recipe, I used 185 ml of water. However, if you are making the dumplings in countries with high humidity levels, use about 180 ml of water. Generally, the amount water used should be between 180 - 185 ml. NOTE: 1 ml = 1 gram.
Additionally, the dough will need to be kneaded until smooth. Very similar to making bread, the gluten of the dough will develop during the kneading process and this will be useful when wrapping the dumplings to prevent them from tearing or breaking apart.
Why is the dumpling's side not pleated?
There are many types of wrapping for dumplings. This particular method of wrapping uses both thumbs and a loosely clenched fist to pinch the wrapper closed. This method is more common in Northern China where my friend who shared the recipe is from. Bringing both clenched fists together when sealing the wrapper makes it look as if the 'fist and palm salute', a way of Chinese greeting etiquette in showing one's respect. Hence, making dumplings using this wrapping method is very interesting.
Southern China uses the other method of dumpling wrapping where the wrapper is pleated and pinched to seal in the filling like that of the Japanese gyoza.
Can I substitute Chinese 13 spices mix?
Chinese 13 spices mix is made out of ingredients such as orange peel, cinnamon, cumin, star anise and nine other ingredients. You may substitute it with 5 spice powder in this recipe as the ingredients in 5 spice powder are also found in the Chinese 13 spices mix. If you are unable to find both ingredients, omit it from the recipe.
How long do I need to boil the dumplings?
In a pot of boiling water, the dumplings will take only about 1 minute to be fully cooked. The best way to judge is when the dumplings begin to float. Hence, use enough water to boil the dumplings.
Besides boiling, are there other ways to cook the dumplings?
Depending on your preference, authentic Chinese dumplings can either be steamed or pan-fried. To pan-fry dumplings, check out this recipe of vegetable dumplings for the steps and tips.
How to store the meat dumplings?
Once meat dumplings are wrapped, they can be frozen and stored for up to 6 months for the best flavours. Otherwise, they can be kept refrigerated for 3 days. Before freezing or refrigerating them, place a layer of plastic wrapper on a tray or plate. Sprinkle some flour on the tray or plate before laying the dumplings. This recipe is great for bulk preparation.
How to cook frozen dumplings?
Frozen dumplings will need a longer time to cook. Add frozen dumplings into a pot of boiling water and cook over high heat. Once the water begins boiling again, cover the pot with the lid. Reduce the heat to medium and continue cooking for 3 minutes. This will ensure that the dumplings will be fully cooked on the inside. Remove the lid and increase heat to the maximum to cook them until they float.
Chinese dumplings dipping sauce
Authentic dipping sauces for dumplings are soy sauce and also vinegar with some thinly julienned ginger. Besides that, the Chinese loves eating these dumplings with black bean chili sauce. Out of China, some enjoy the dumplings with some sweet chili sauce or even chili garlic sauce. Though not that traditional, the combinations are still very delicious.
---
Steps to Prepare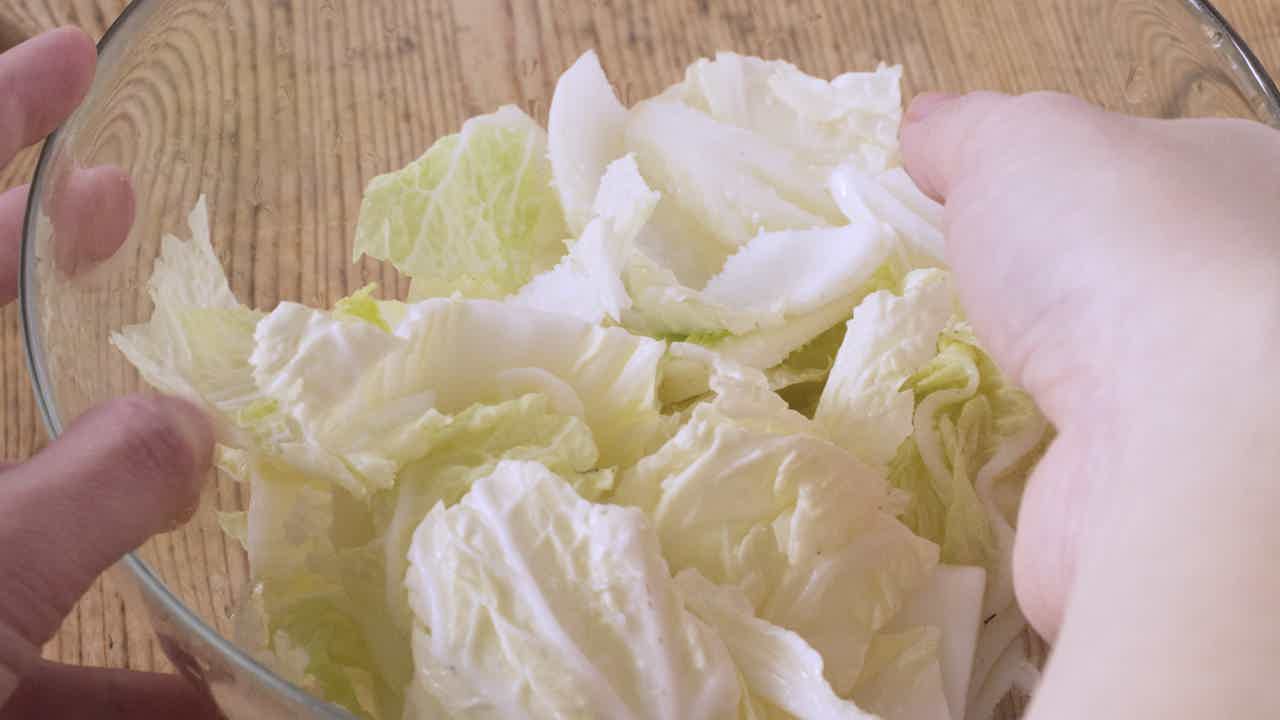 Step 1 of 10
Chop napa cabbage into chunks and rinse under running water to remove dirt. Add salt to napa cabbage. Toss cabbage until salt is evenly distributed. Set aside for 30 minutes.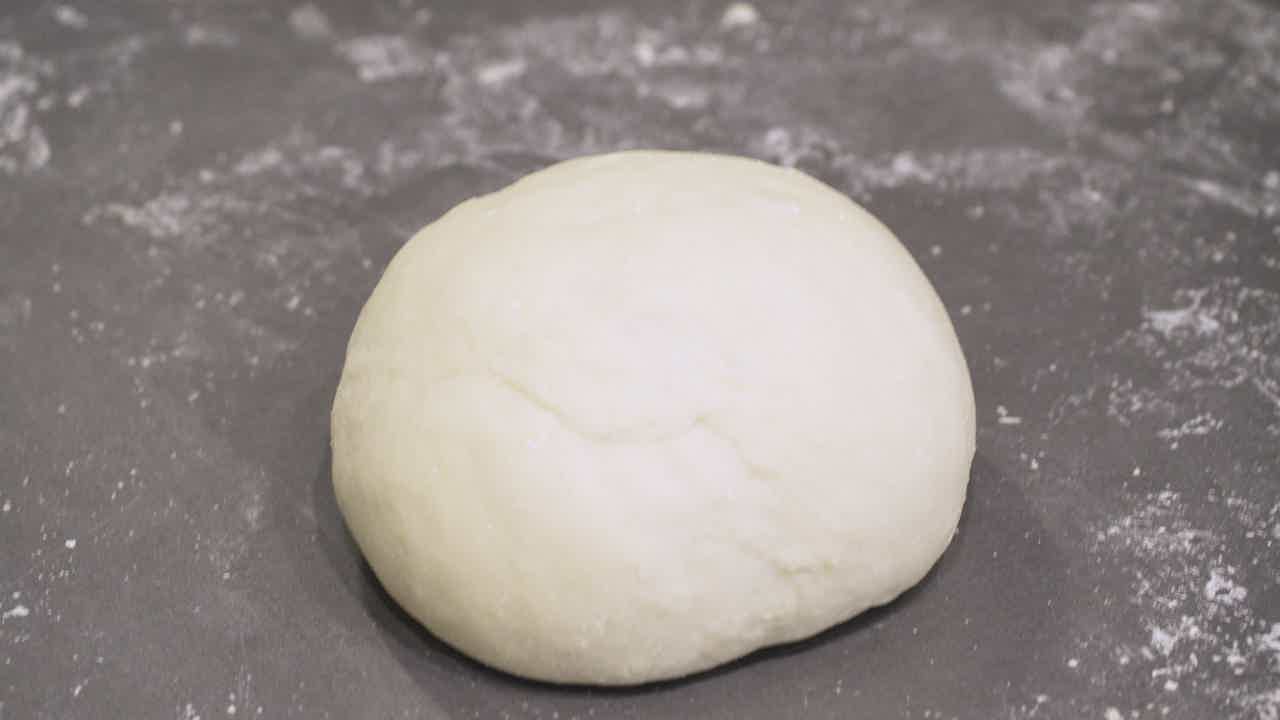 Step 2 of 10
In a bowl, mix flour and water into a dough. Transfer dough to a flat surface and knead until it forms a smooth ball. Cover with a wet cloth. Set aside for at least 30 minutes.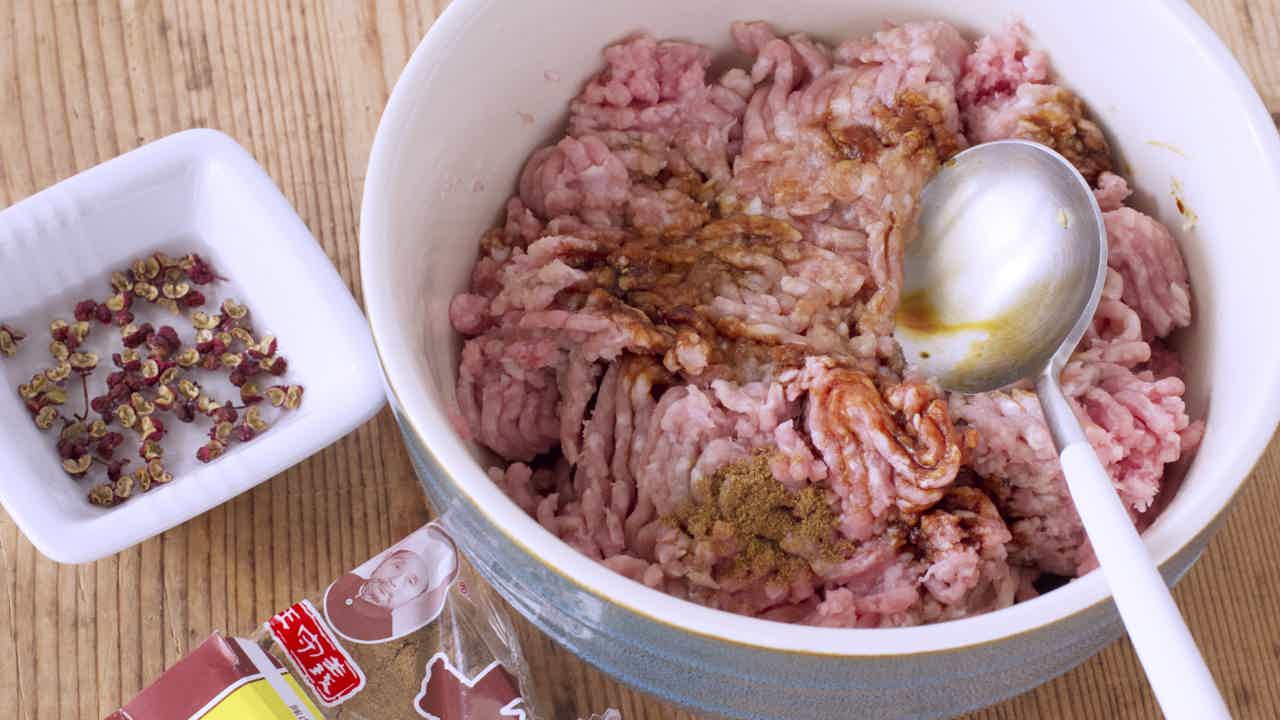 Step 3 of 10
400

g

minced meat

1

tsp

Sichuan pepper

1

tbsp

water

1⁄4

tsp

Chinese 13 spices mix

1⁄2

tbsp

ginger

5

tbsp

soy sauce

1⁄2

tbsp

dark soy sauce

2

tbsp

shaoxing wine
Add boiling water to Sichuan pepper. Allow water to cool to room temperature. Meanwhile, add light soy sauce, dark soy sauce, Shaoxing wine, Chinese 13 spices mix and juice from pounded ginger to minced meat. Discard Sichuan pepper from water. Pour water to minced meat. Mix evenly.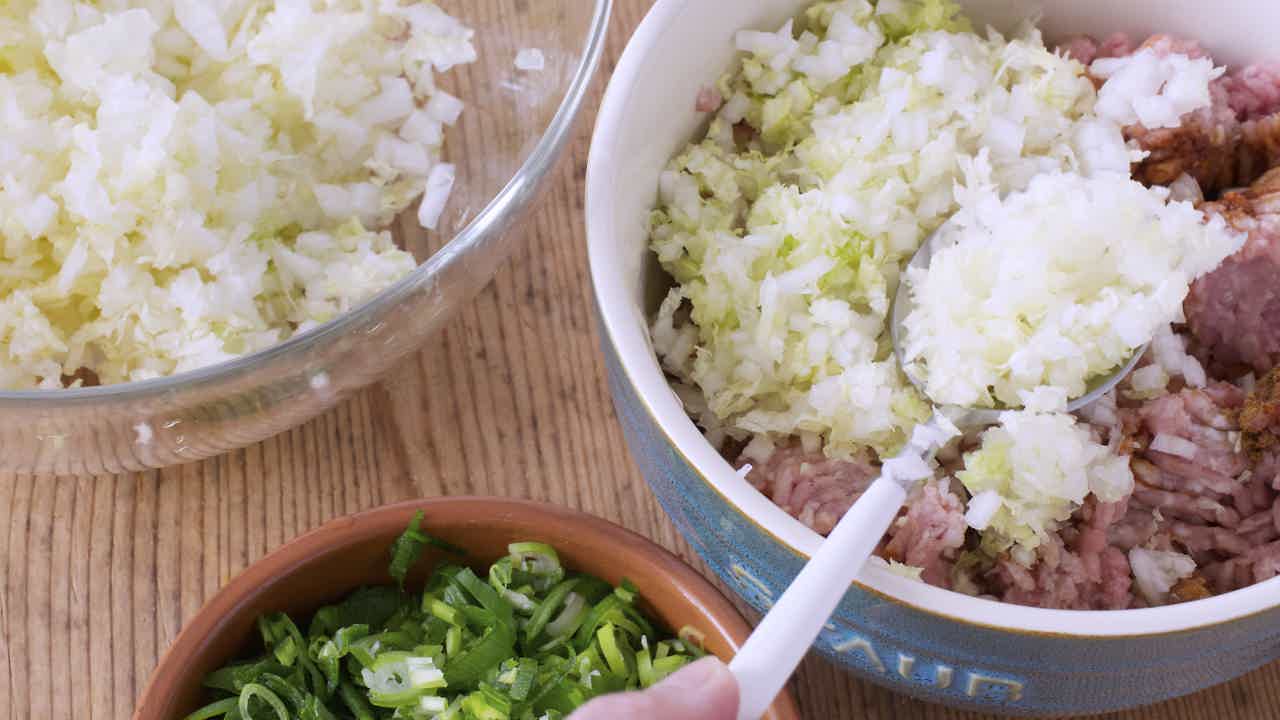 Step 4 of 10
Rinse napa cabbage to remove salt. Remove excess water from cabbage and mince cabbage finely. Also mince scallions finely. Add vegetables to minced meat.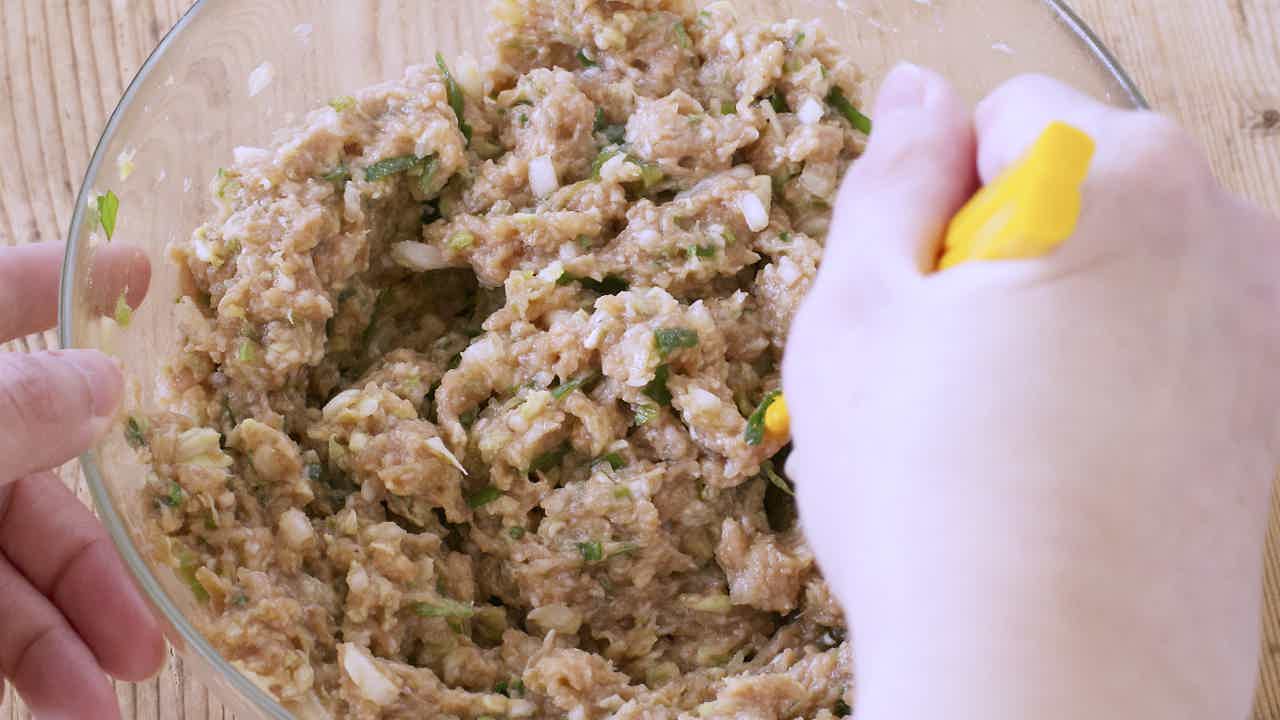 Step 5 of 10
Once filling is mixed evenly, continue stirring until it has a sticky texture. The filling will appear noticeably smoother. This is best done using a pair of chopsticks.
Step 6 of 10
Lightly knead the dough before cutting off 1/4 of it to roll into a log with ca. 2.5 cm diameter. Place the rest of the dough aside with a wet cloth over it. Cut the rolled out dough into smaller portions. Each portion should be about 10g. Lightly dust the working surface with flour and flatten dough using the thenar (fleshy part of the palm). Using a small rolling pin, flatten the sides of the dumpling skin. Roll from the outside to the inside/middle of the skin. Turn the dumpling skin anti-clockwise each time you roll over the skin to ensure it is evenly flattened. Once done, leave aside on the workspace, dusted with more flour to prevent it from sticking.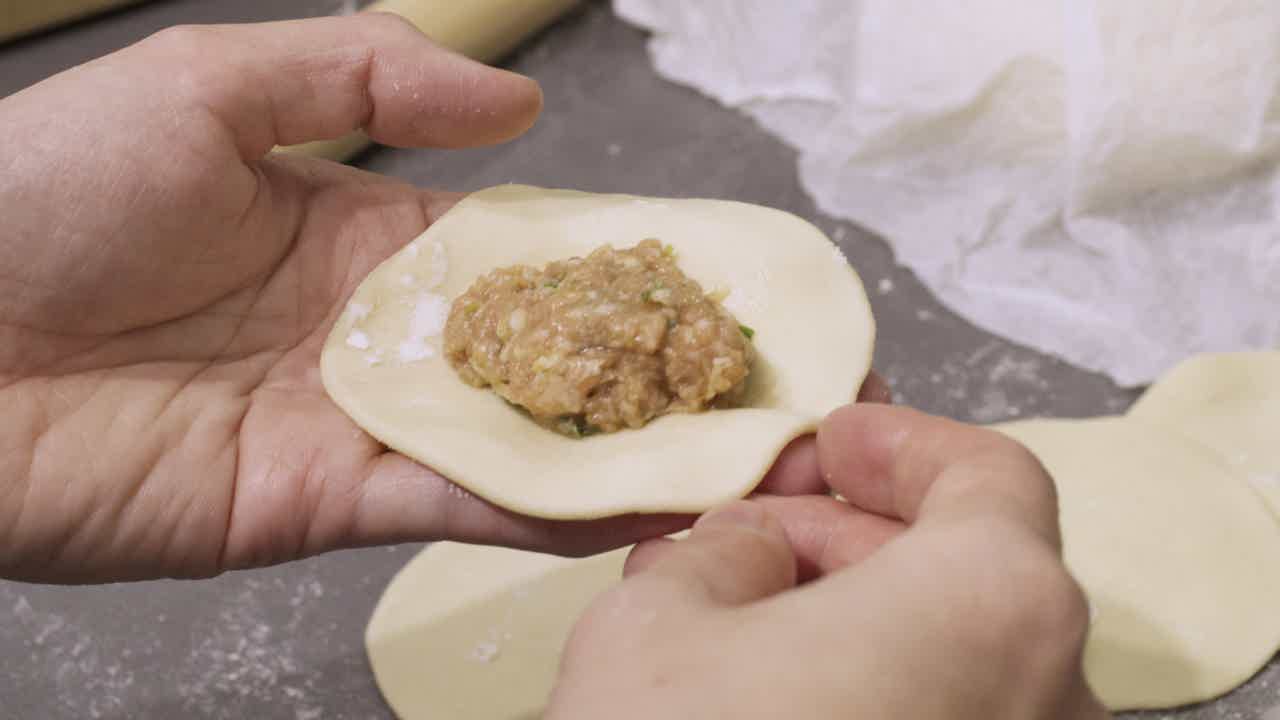 Step 7 of 10
Fill dumpling skins with ca. 10-15 g of minced meat. Ensure that the sides of the skin are left empty.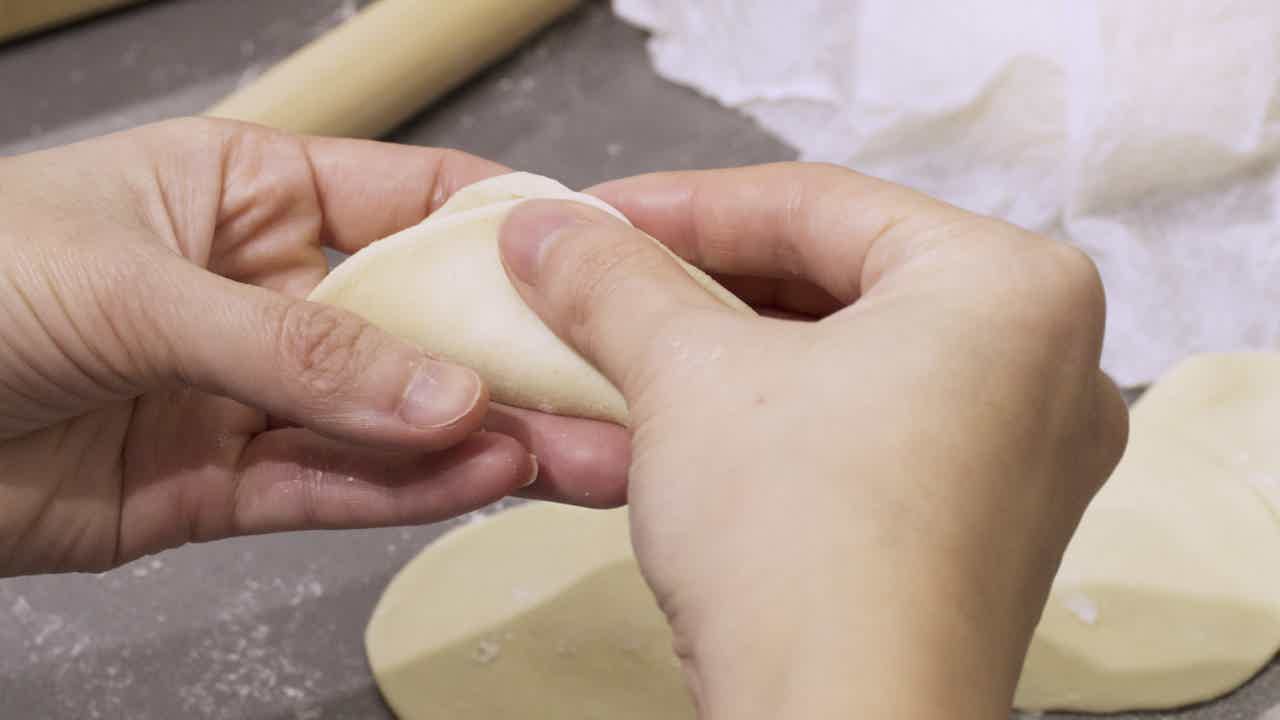 Step 8 of 10
Lightly dampen the top of the dumpling skin. Take the bottom part of the dumpling skin and fold it over to meet the top. Pinch to seal the tip.
Step 9 of 10
Place the dumpling between two lightly clenched palms. The thumbs should be placed on the sides of the dumplings. Press the thumbs down simultaneously towards the sides of the index fingers to seal the sides. Pinch the sides of the dumplings to make them thinner. Repeat until dumpling skins are used up. Then, cut off another quarter of the dough and repeat steps 6-9.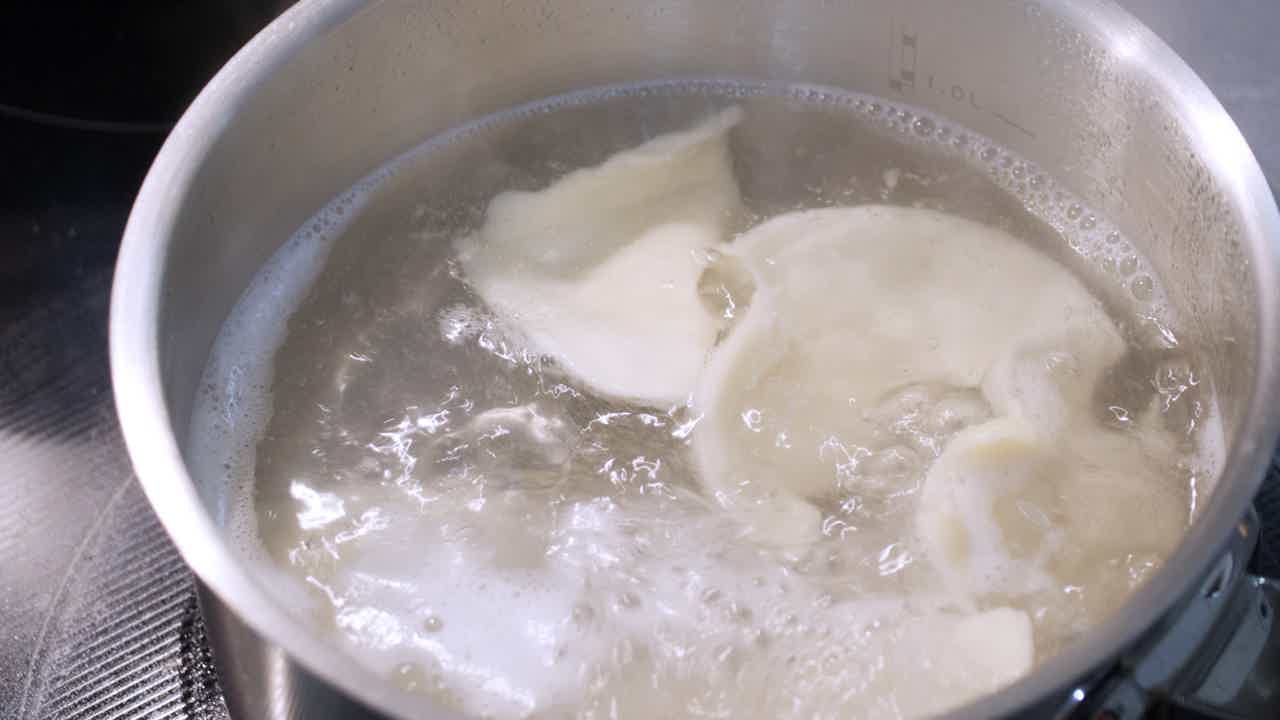 Step 10 of 10
Bring water to a rolling boil over high heat. Ensure there is enough water to allow dumplings to float. Stir water in one direction and add dumplings to pot. Carefully move dumplings as they cook. This is to ensure that they do not settle and stick to the bottom during the cooking process. Dumplings are cooked once they float.
Published: January 13, 2019
---
0 Discussions
Give us your opinion!
Log in
and start posting.