Almond cookies coated in chocolate is a dream come true. It's special because it doesn't use cacao powder but melted chocolate to coat and hide a chunk of crumbly cookie which contains a whole almond in it. Such a pleasant surprise is always welcomed by both chocolate and almond lovers.
In fact, these cookies are not new creations. They are fondly known as London Almond in Malaysia and Singapore. During festive seasons like Eid Fitr, Chinese New Year or even Christmas, these cookies are highly sought after. It's not easy to find tasty ones with high quality chocolate. Therefore, this is a good reason to make them yourself since these chocolate bites are easy to make.
Why should I try this recipe?
Traditionally, these cookies are made with eggs and butter. However, I wanted to make them dairy and egg-free especially for those who are allergic to the ingredients. This recipe is less complicated because no creaming of butter and sugar is required.
The challenge here is to make them taste good even with the lack of ingredients but in my opinion, I made it even better! My whole family was surprised with the outcome. A warning, though. It's dangerously addictive!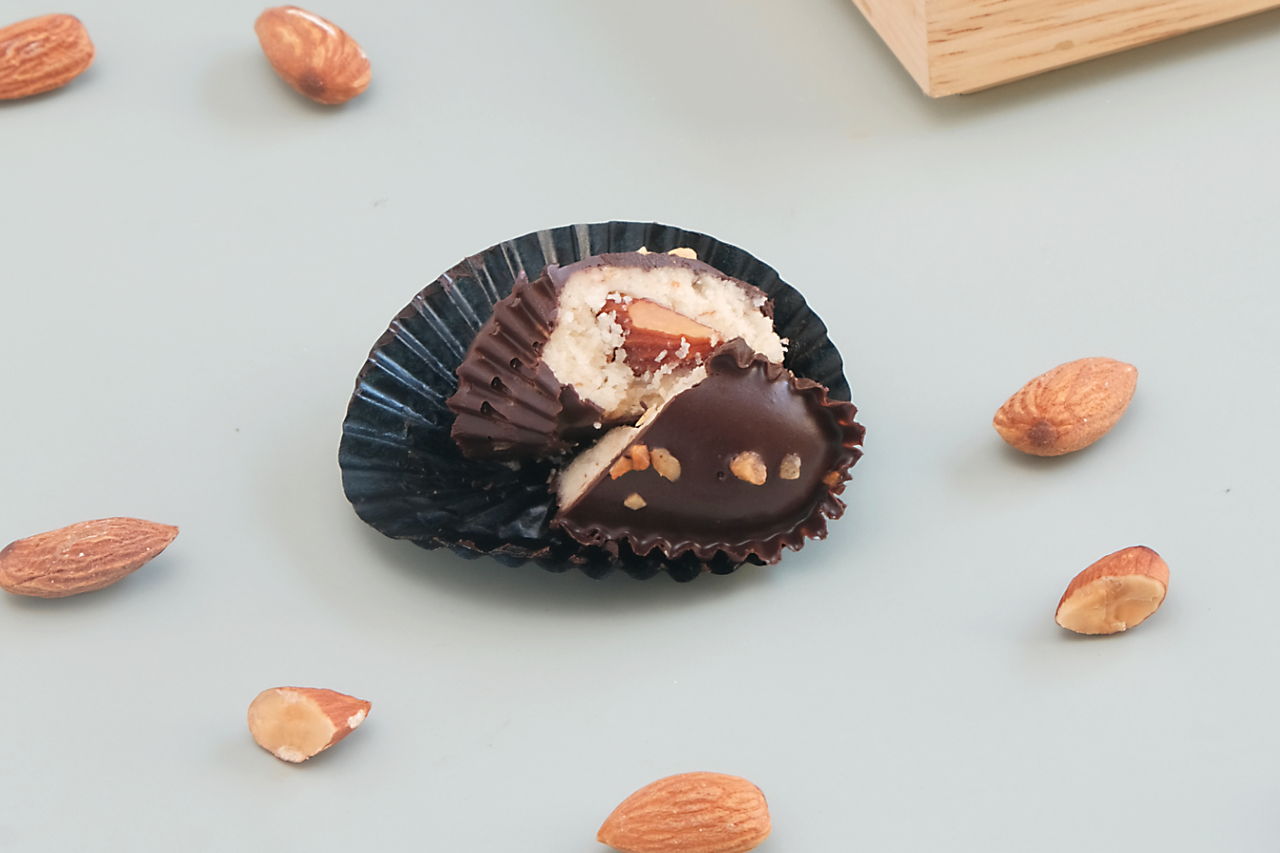 Will they be hard without eggs?
Eggs are usually added to the recipe for moisture. It also helps to bring the ingredients together by creating structure as the protein in the egg traps the air as the eggs are beaten making the cookies airy and crumbly. When omitting eggs, you will need to be very careful with the ratio of ingredients or the cookies may turn out hard. Follow the suggested ratio in this recipe for a superb pliable dough.
Neutral-flavored oil only
I used corn oil to bake these cookies because it's flavourless. Olive oil, for example, is not recommended as it has a distinct range of flavours which affect the taste of the cookies. Other types of neutral-flavoured oils are canola, peanut and sunflower oil.
Roasted almonds
Roasted almonds make the cookies even more fragrant. I recommend roasting or baking the almonds personally. Otherwise, store bought toasted almond are fine too but they must be unsalted.
Besides baking the almonds, you can toast them on the stove too. Simply add them into a dry pan over low heat. Keep stirring until the almonds release a nutty fragrance. Set aside to cool.
Do not over blend almonds
This will cause the almonds to release its oil, resulting in a wet dough later. It's best to use a counter top blender or food processor, as shown in Step 1. An immersion blender will have a tough time blending the almonds finely without over blending.
Substitute for custard powder
Custard powder gives a beautiful light yellow hue and a delicate aroma to the cookies. If you do not have it in your pantry, substitute it with corn flour and a few drops of vanilla extract.
Must cocoa butter be added?
This is optional. Cocoa butter is added to melted chocolate compound for a smooth coating. Another option is to replace it with shortening. These ingredients help to thin the chocolate and give it the shiny look.
Dark chocolate compound and not couverture
Dark chocolate compound tastes the best with London Almond cookies. The richness of the chocolate elevates the flavour of the cookie and almond. Milk chocolate compound may also be used. This must not be confused with couverture chocolate.
The latter has cocoa butter in it while chocolate compound or coating chocolate has other fats such as palm oil or some kind of vegetable fats. If you plan to use courverture chocolate, be extra careful when tempering as it is much more complicated than using chocolate compound and can easily split.
Melting chocolate the proper way
Wipe all utensils dry because any form of moisture will harden the chocolate. When double boiling, ensure that the water is brought to a rolling boil before reducing the heat to the minimum. Then, you can place the bowl on top of the pot to melt the chocolate.
If the bowl is placed on top of the pot when the heat is at the highest, the extreme steam may create droplets of water that may splatter into the chocolate causing it to split or separate.
Coating cookies easily
If you find it tricky coating the cookies with chocolate, try this. Place the cookie into the paper mould first. Then, pour a spoonful of chocolate onto the cookie. Try both methods and see which you prefer.
Decoration
It is common to sprinkle chopped or crushed almonds on top of the chocolate as the last touch.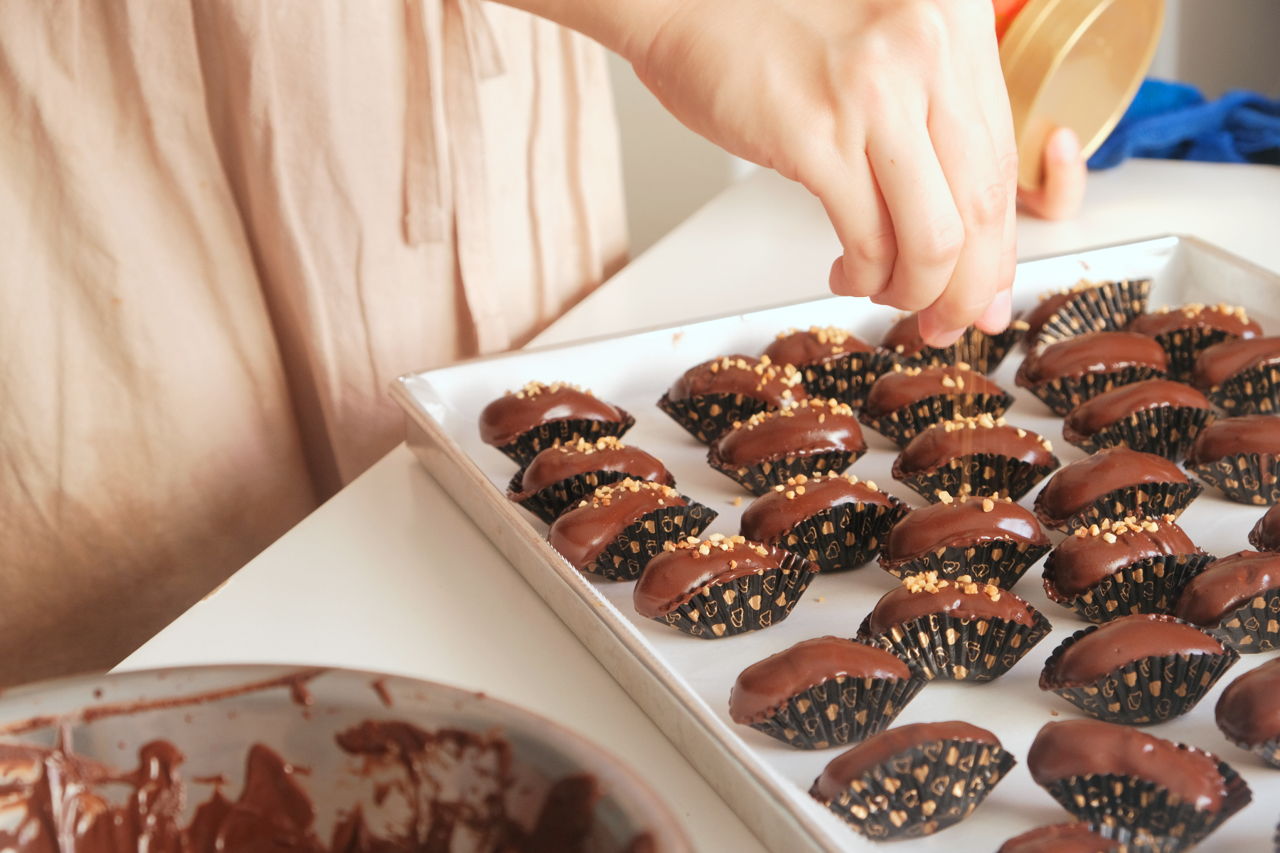 Sprinkles can also add some colour to these beauties. Another option is dessicated coconut or as I have mentioned previously, drizzle some white chocolate.
Can I bake cookies in advance and coat them the next day?
Sure. This divides the process into two days. You can bake the cookies first and once cooled to room temperature, place them into an air-tight container. Proceed with coating the cookies with chocolate the next day.
Do I need to cool cookies in refrigerator after coating them?
After coating the cookies and decorating with some chopped nuts, place them in the refrigerator for about 5 to 10 minutes to harden the chocolate coating. Once the chocolate has settled, you can then place them into airtight containers.
It is important not to leave them in the refrigerator for too long or a condensation layer will appear on the surface of the chocolate.
How to store cookies?
Just like most cookies, arrange them neatly in air-tight containers. They can last for about 2 weeks but I doubt they could last that long because they would be gone in no time!