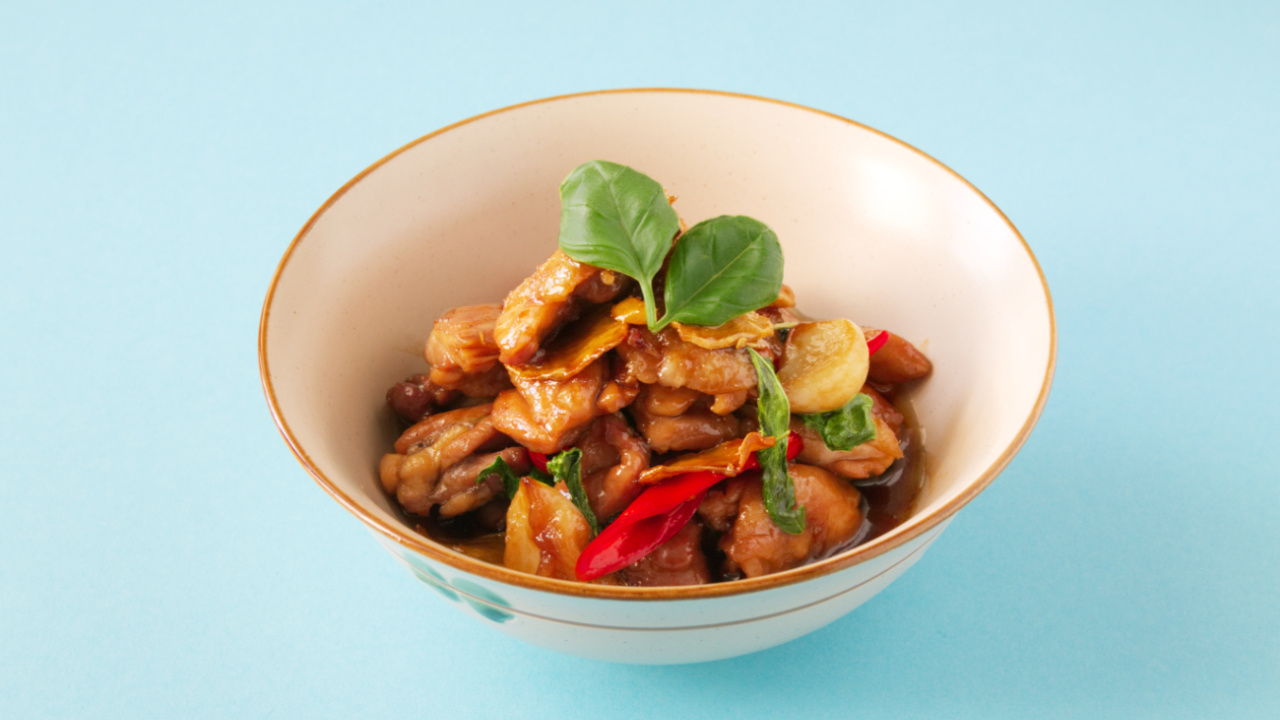 Three Cup Chicken
Three Cup Chicken or 'San Bei Ji' (三杯鸡) is of Taiwanese origins. This chicken dish is amazingly delicious and it is made with only three main ingredients which are rice wine, soy sauce and sesame oil.
Preparation 15 mins
Cooking 20 mins
Malaysian, Singaporean, Chinese, Taiwanese
---
Ingredients
50

ml

sesame oil

15

g

garlic clove(s)

30

g

ginger

400

g

chicken meat

50

ml

shaoxing wine

50

ml
light soy sauce

1

tbsp

maltose

1

chilli peppers (fresh)

—

holy basil

1⁄2

tbsp

sugar
---
Journal Snaps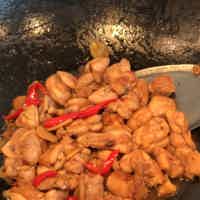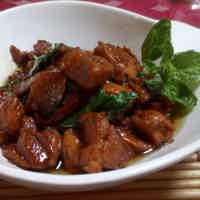 ---
Background
'Three cup chicken' is the literal translation of 'san bei ji (三杯鸡)'. Three cup chicken may be the most popular Taiwanese dish. Originally, this dish is prepared using chicken. However, there are now many variations of it using either seafood or other types of meat. I absolutely enjoy this dish due to the flavourful gravy and the fragrance of the sesame oil.
Why is it called Three Cup Chicken?
Cooking Three Cup Chicken is very simple as the core ingredients are simply soy sauce, sesame oil and rice wine. Traditionally, the recipe calls for one cup of each ingredient. That was how the name of the dish was derived or in Chinese, san bei ji. However, I lessened the amount of ingredients as I did not use much chicken. Therefore, the ratio for each ingredient is 1:1:1.
Rice wine - clear 'michiu' or 'shaoxing' wine
The clear rice wine, sometimes labeled as cooking michiu is most commonly used in three cup chicken. I substituted michiu with shaoxing wine because both are rice wines. Besides this, other options for rice wine are dry sherry and sake. It is very important that wine is not omitted when creating this classic Taiwanese dish.
Toasted sesame oil
If possible, opt for toasted sesame oil when cooking this dish. This is because toasted sesame oil would be reduced and create a thick sauce as the gravy simmers. However, pure sesame oil will not reduce during the cooking process.
Secrets to thick sauce
Subsequently, adding maltose helps to thicken the gravy. In this recipe, you may also use sugar as a sweetener. The outcome of the gravy should be slightly thick and glossy to coat the meat. Personally, I love to brown the skin of the chicken to add a rough texture to it so that the gravy would coat the chicken pieces better and makes them irresistible.
While the three ingredients are extremely important for this classic Three Cup Chicken, garlic and ginger both play equally important roles too. They need to be sautéed in sesame oil until fragrant before rice wine and soy sauce are added. Care should be taken to ensure that the garlic and ginger are not burned.
I have chosen to use sweet basil instead of Thai basil in this recipe. Choose the latter if you want to stay close to the authentic recipe. Either way, the basil will add so much fragrance to the dish. Another element which makes Three Cup Chicken really memorable is the spiciness. It is not overpowering yet definitely enough to tickle your taste buds. I usually use fresh chilies but sometimes, dried chilies are used too.
The recipe is rather simple therefore, I enjoy cooking this dish after a long day at work. Extremely fast and definitely fuss free. Serve sanbeiji with some warm white rice. Let me know if you enjoyed this recipe when uploading your food snap below. Perhaps, you have adapted it in your own way. I would love to hear your experience.
---
Steps to Prepare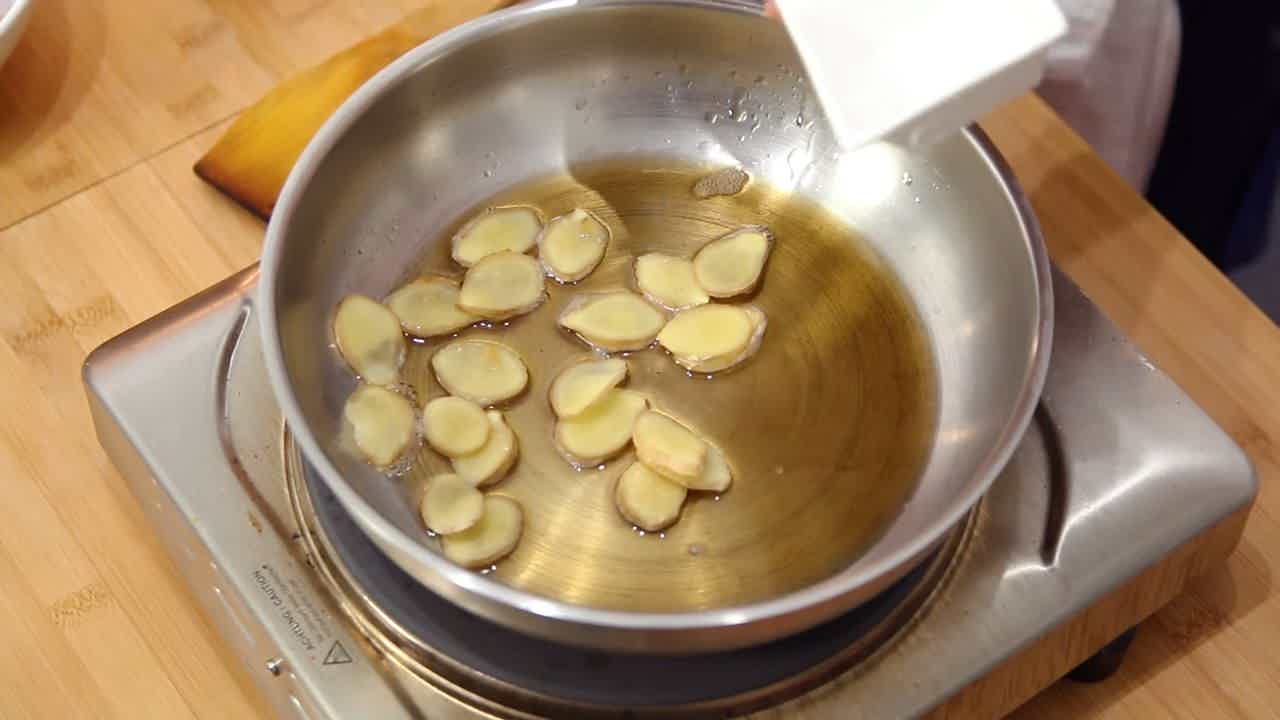 Step 1 of 3
50

ml

sesame oil

15

g

garlic clove(s)

30

g

ginger
Heat sesame oil at medium heat. Sauté garlic and ginger until fragrant.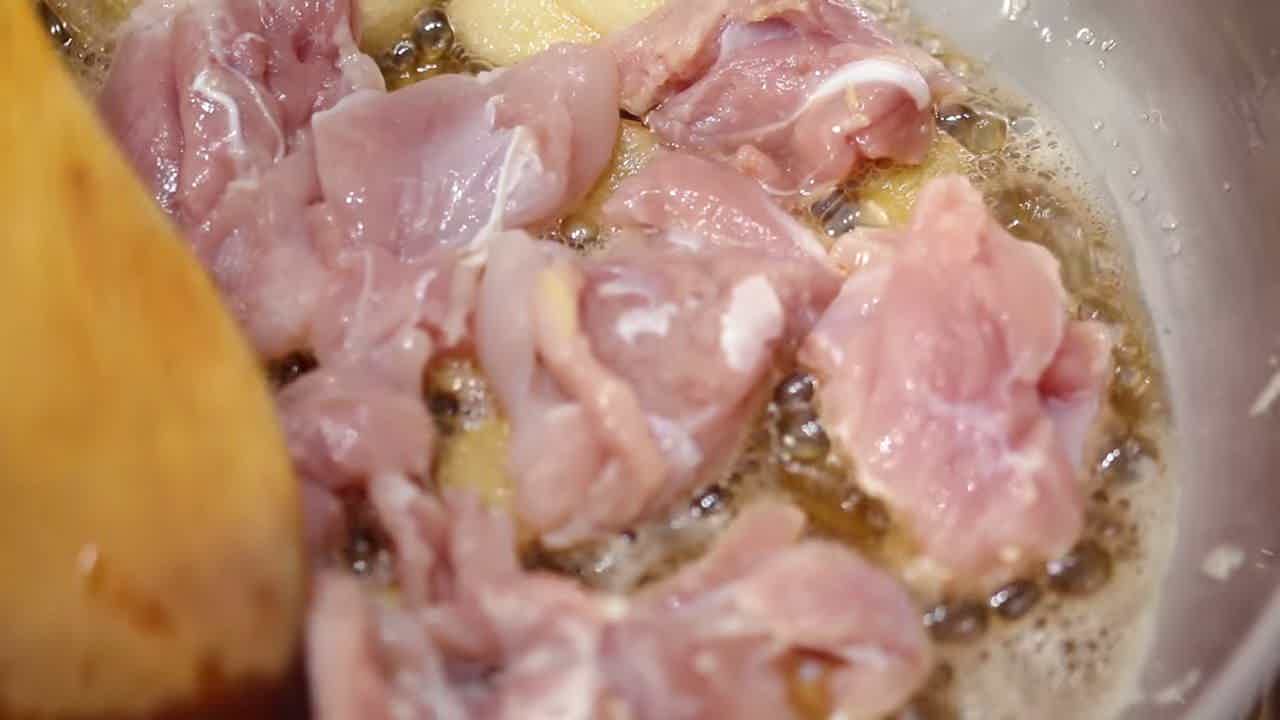 Step 2 of 3
Then, add chicken pieces with skin facing down. Allow skin to brown before turning them over.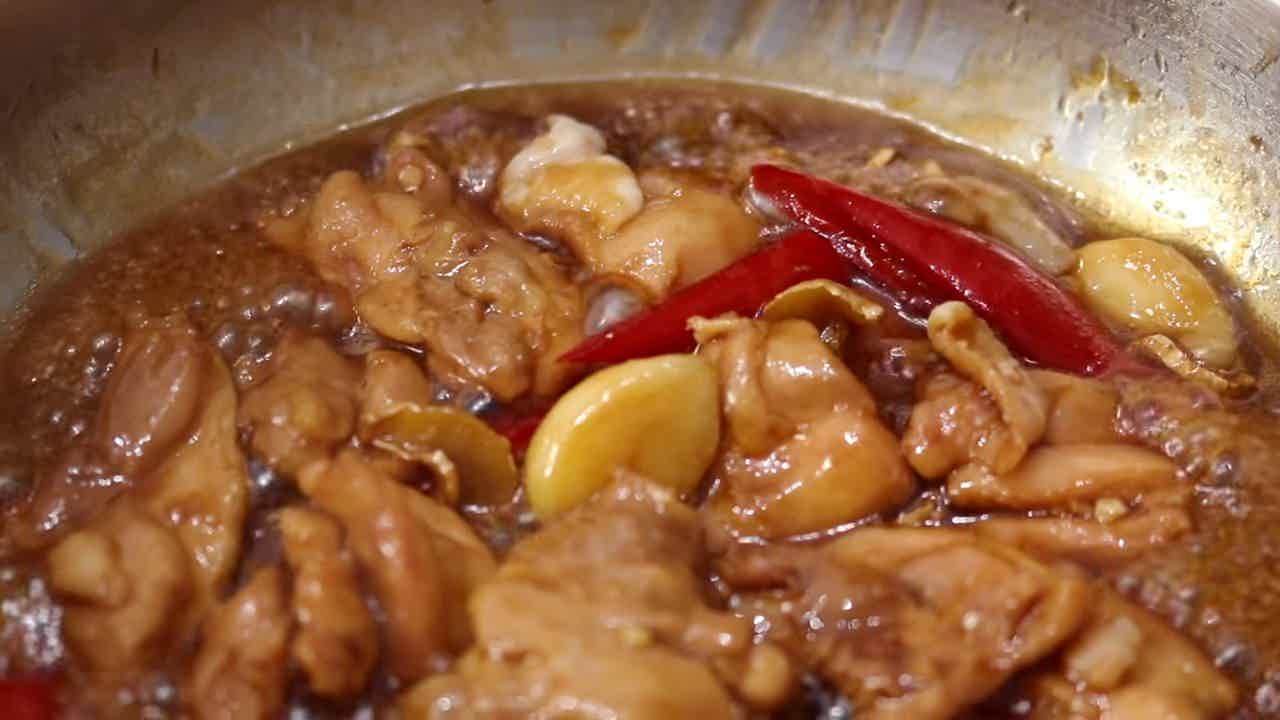 Step 3 of 3
50

ml

shaoxing wine

50

ml light soy sauce

1

tbsp

maltose

1

chilli peppers (fresh)

holy basil

1⁄2

tbsp

sugar
Add shaoxing wine and soy sauce into pan followed by maltose, sugar and chili slices. Allow dish to simmer over low heat until gravy thickens. Turn off the stove and add fresh basil. Give the dish a quick toss. Serve with white rice.
---
0 Discussions
Give us your opinion!
Log in
and start posting.