Hot and spicy peanut sauce or as we call it, sambal kacang is a condiment known for its nutty flavours. Perfect for satay/sate, roti jala (net crepes), nasi impit, spring rolls and even masak lodeh (vegetables in coconut milk). Sambal refers to chilli paste or sauce that is easily found in Indonesia, Malaysia and the region as there is a large variety of sambal available. Kacang simply means peanuts in Indonesian or Malay, hence, spicy peanut sauce. This spicy peanut sauce is tangy, spicy and above all, amazingly appetizing! Besides, it has a unique dried prawn taste which I love so much.
Cooking peanut sauce from scratch may sound intimidating. However, it is really easy. I have been taught to perfect the sauce. So now, take the recipe and tips to make the best peanut sauce you have ever tasted!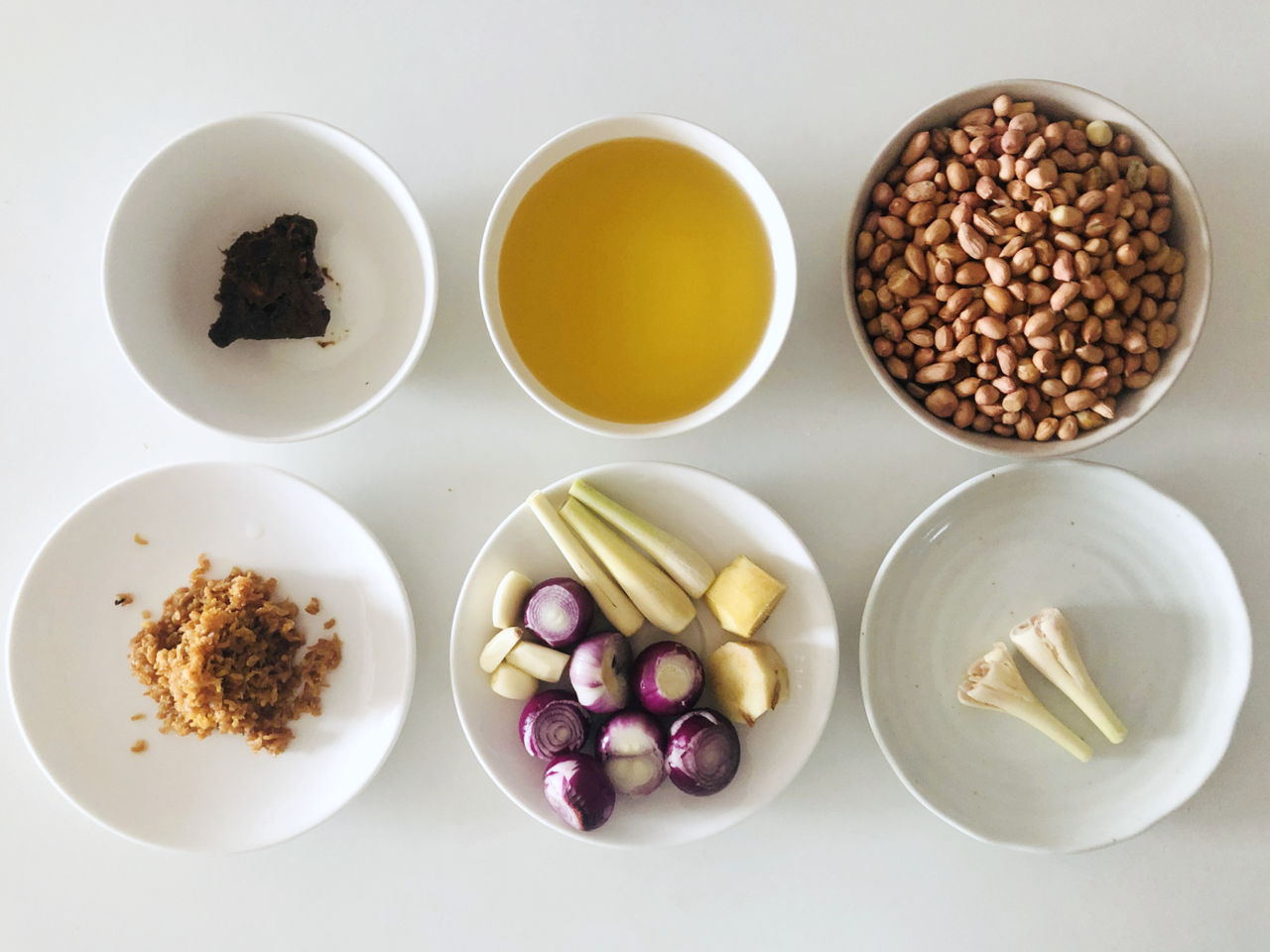 Why not use peanut butter or soy sauce/fish sauce?
This is the real deal. To me, the best sambal kacang must be made using groundnuts and ingredients such as grounded dried chillies (chilli boh), tamarind and fresh herbs. Peanut butter, soy sauce and fish sauce can be used but it will never taste as good if you follow the recommended recipe. Moreover, those prepared ingredients come with additional flavours/ingredients which will affect the overall flavour of the peanut sauce.
What is cili boh?
Cili boh is simply grounded chilli paste and can be homemade easily. Here is a simple and long lasting cili boh recipe. This version of peanut sauce is rather spicy. However, you can always reduce the amount of cili boh to suit your preference. If you are cooking for someone who is not able to withstand the heat, you can just omit the ingredient. This will however affect the colour of the spicy peanut sauce making it look pale.
What if gula Melaka is not available?
Gula Melaka or palm sugar has a toffee-like sweetness which enhances the flavour of the peanut sauce. If you cannot find it, substitute it with brown sugar, white sugar or molasses sugar at a ratio of 1:1.
Secret to a thick and fragrant peanut sauce
Contrary to popular belief, my mom advised using groundnuts with the skin. This will help to thicken the sauce. When the sambal is done, you would not realize that the skin was once there. With their presence, the sauce will not homogenized.
The peanut skin will also bring out the fragrance of the sauce as the peanuts were fried until golden brown. To cut down on the preparation time, you may fry the peanuts up to 2 days in advance. Ensure that they are kept in an airtight container to keep them fresh and crispy.
Lastly, adding some anchovies stock will provide more umami to the sauce.
Avoid the raw flavours
When it comes to spices, it is important to always cook them until the oil separates. To do so, you will need to have enough oil to cook the spices and chilli paste (cili boh). The next important factor is time as the mixture must be cooked slowly until the oil begins floating.
It should look like this: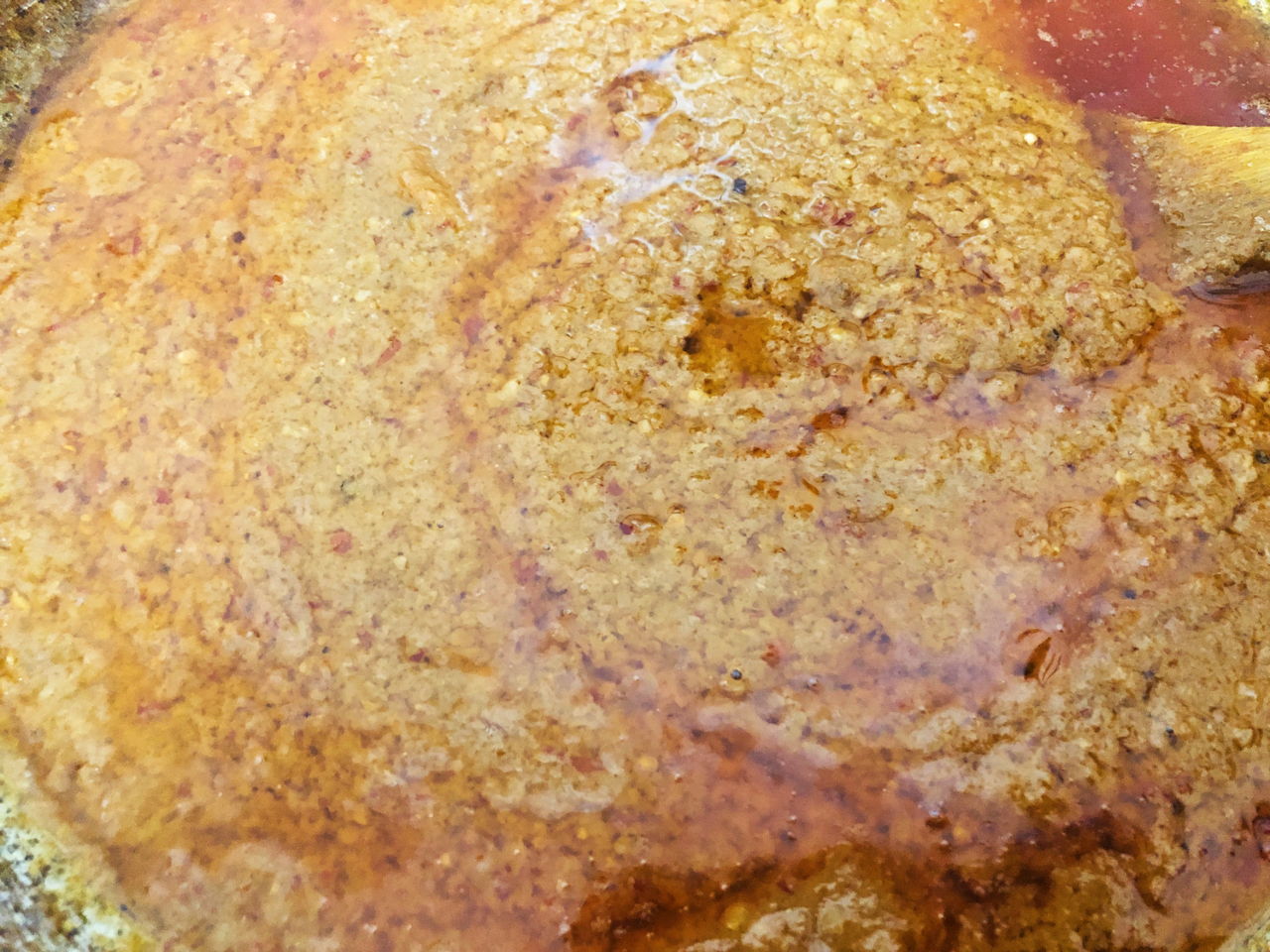 Is peanut sauce healthy?
Generally, peanut sauce is high in vitamins and nutrients. It also depends on the ingredients used. When you are preparing your own peanut sauce, it is always possible to adjust the amount of sugar, salt and oil to your preference. Ultimately, you can also decide when to cook peanut sauce.
How long will this homemade peanut sauce last?
Once done, the sauce can last for up to 5 days if kept in an air tight container and refrigerated. Freezing the peanut sauce can extend its shelf life for up to 2 months. This way, you can have it anytime! However, the flavour of the sauce will be affected if kept any longer than that.
To reheat this condiment, steam frozen sauce for 30 minutes or heat it up in the microwave.
Adding sambal kacang into stir-fry dishes
If you are a huge peanut sauce fan and love eating it with noodles, rice or other proteins such as chicken or tofu, guess what, you can add it to stir-fry dishes even! Add a dollop of this sauce into the pan with other fresh ingredients of your choice. You can further flavour the dish with some oyster sauce, soy sauce and more. Sambal kacang will add a nice nutty flavour and a hint of spiciness to the stir-fries dishes.