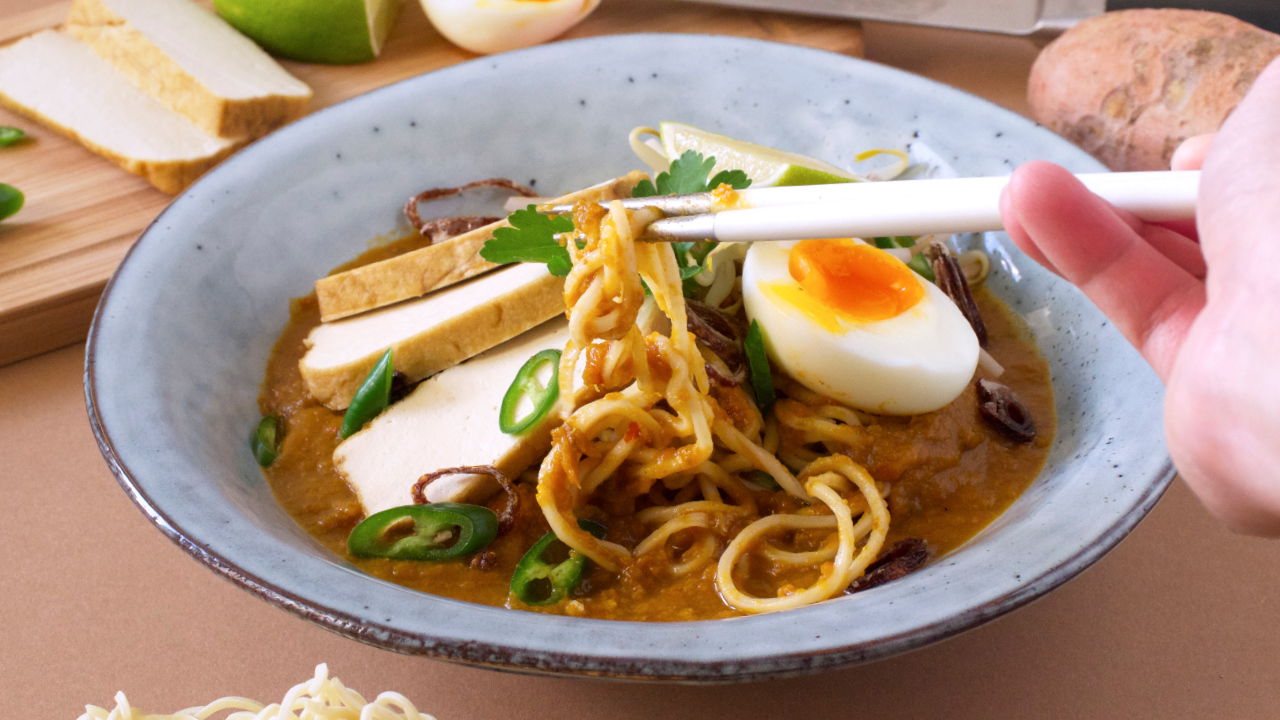 Mee Rebus
Mee Rebus is a Malay noodle dish in a sweet potato-based gravy. The combination of sweetness and savoury flavours are deliciously enhanced with a generous squeeze of lime juice. This noodle dish is commonly enjoyed across Malaysia, Indonesia and Singapore.
Total Time
Preparation 20 mins
Cooking 40 mins
Cuisines
Malay, Malaysian, Singaporean
---
Ingredients
1,105

ml

water

500

g

beef

700

g

sweet potato(es)

4

shallot(s)

4

garlic clove(s)

30

chilli peppers (dried)

1

lemongrass stalk(s)

3

cm

galangal

1

candlenut(s)

1⁄2

cup

shrimps (dried)

3

tbsp

oil

1 1⁄2

tbsp

curry powder

1 1⁄2

tbsp

fermented soybean paste (taucu)

1

tbsp

salt

1⁄2

tbsp

sugar

—

egg(s)

—

green chillies

—

tofu (firm and deep fried)

—

bean sprouts

—

parsley
---
Nutrition per Serving
Calories
469 kcal
Carbs
66 g
Fat
13 g
Protein
29 g
---
Food Snaps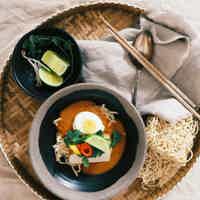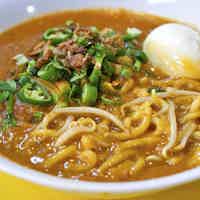 ---
Background
'Mee rebus' in the Malay language, is the direct translation of 'braised noodles'. A typical Malay noodle dish, it is enjoyed by many in Indonesia and the nearby countries. This noodle dish is often referred to as 'mee kuah'. The thick gravy is made by reducing beef broth along with a mix of spices, aromatics and sweet potatoes. Slurping egg noodles wrapped in the thick gravy makes every mouthful a delight.
The different types of mee rebus
Mee rebus differentiates across the region. For example, in the east coast of Peninsular Malaysia, Terengganu, it has a clear broth. Meanwhile, mee rebus in other states of Malaysia may use dhal, peanuts and tomatoes cooked in a chicken or prawn based broth. This recipe is closer to the Johor mee rebus which is made out of beef broth. It is also the noodle dish served with a flavourful gravy which is thicken naturally with sweet potatoes. If you are looking for mee rebus with thick gravy which is most commonly found in Malaysia or Singapore, this is the recipe to try.
Sweet potatoes to thicken gravy
Orange sweet potatoes are often used to thicken the gravy. Besides that, you may thicken the gravy with purple sweet potatoes, the common potatoes or even tapioca. Orange sweet potatoes are the most commonly used for its sweetness and colour as it adds a nice orange hue to the gravy.
Chicken stock instead of beef
Of course, you may always substitute the beef stock with chicken stock. Substitute beef with the same amount of chicken. Chicken carcass may also be used to make the stock. Also, remove fats from chicken, if any before boiling chicken. No additional ingredients are required here.
Curry powder
Meat curry powder mix, a type of curry powder used to cook beef, chicken or mutton is used in this recipe. This type of curry powder is sold in supermarkets or wet markets in Malaysia and Singapore. In other countries, choose the curry powder mix which consists mostly of chili powder and a mixture of spices such as coriander, cumin, fennel, turmeric, white pepper, cinnamon, black pepper, cardamom, star anise, nutmeg, bay leaf and clove.
Mee rebus paste
The mee rebus paste is made out of blended spices and aromatics. Fresh ingredients such as lemon grass, garlics and shallots are used in the paste. The addition of pungent ingredients like fried chilies and dried prawns provides the umami of flavours to the dish. You can prepare the paste in advance and refrigerate it for up to 5 days. Otherwise, the paste can be kept frozen for up to 6 months.
Set aside overnight
The taste of the gravy was much bolder and richer after I left it overnight in the refrigerator. When it comes to soups and broths, it is best to set it aside for at least 6 hours to allow the flavours to further develop.
Freeze gravy for later
If you have extra gravy, feel free to freeze them for later use. For the best flavours, the gravy can be kept frozen for up to 3 months. To reheat, steam the gravy or reheat in a pot with 4 tablespoons of water at medium heat. Continue stirring to prevent gravy from burning.
---
Steps to Prepare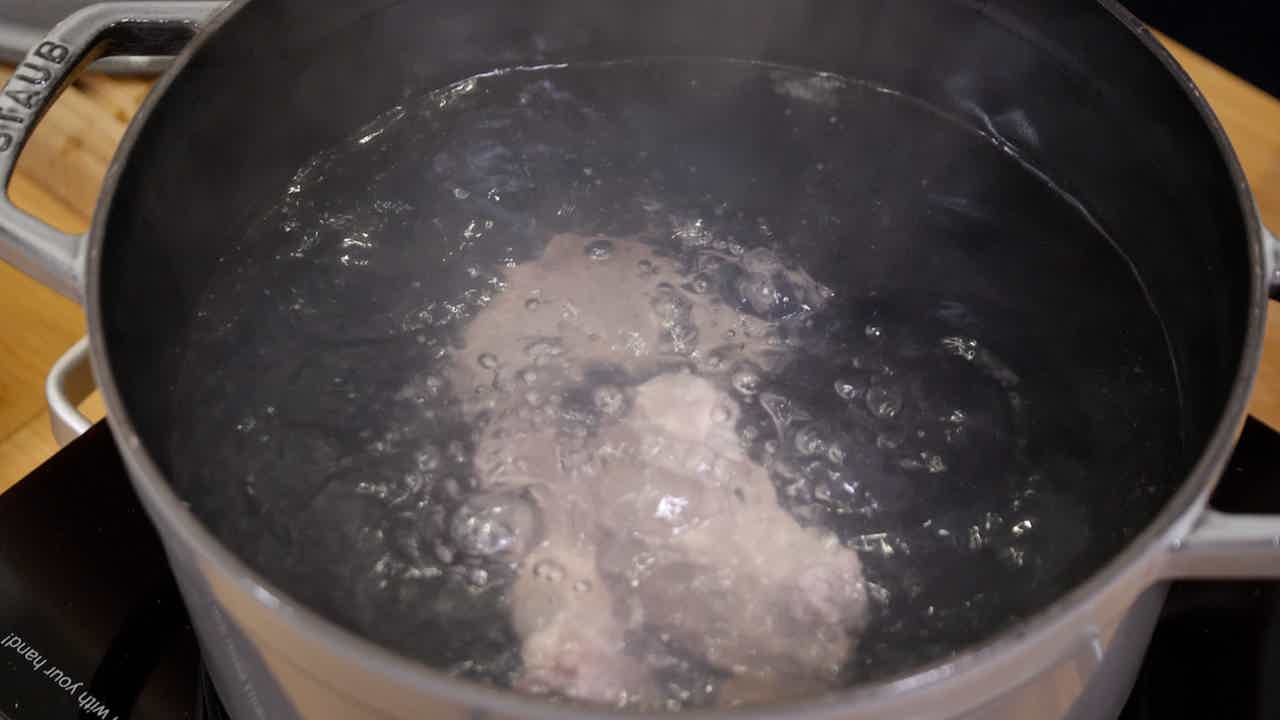 Step 1 of 7
Prepare beef broth
1,000

ml

water

500

g

beef
Bring a pot of water to a rolling boil over high heat. Add beef into the pot. Once water begins to boil again, reduce heat to the minimum and allow it to simmer with the lid on.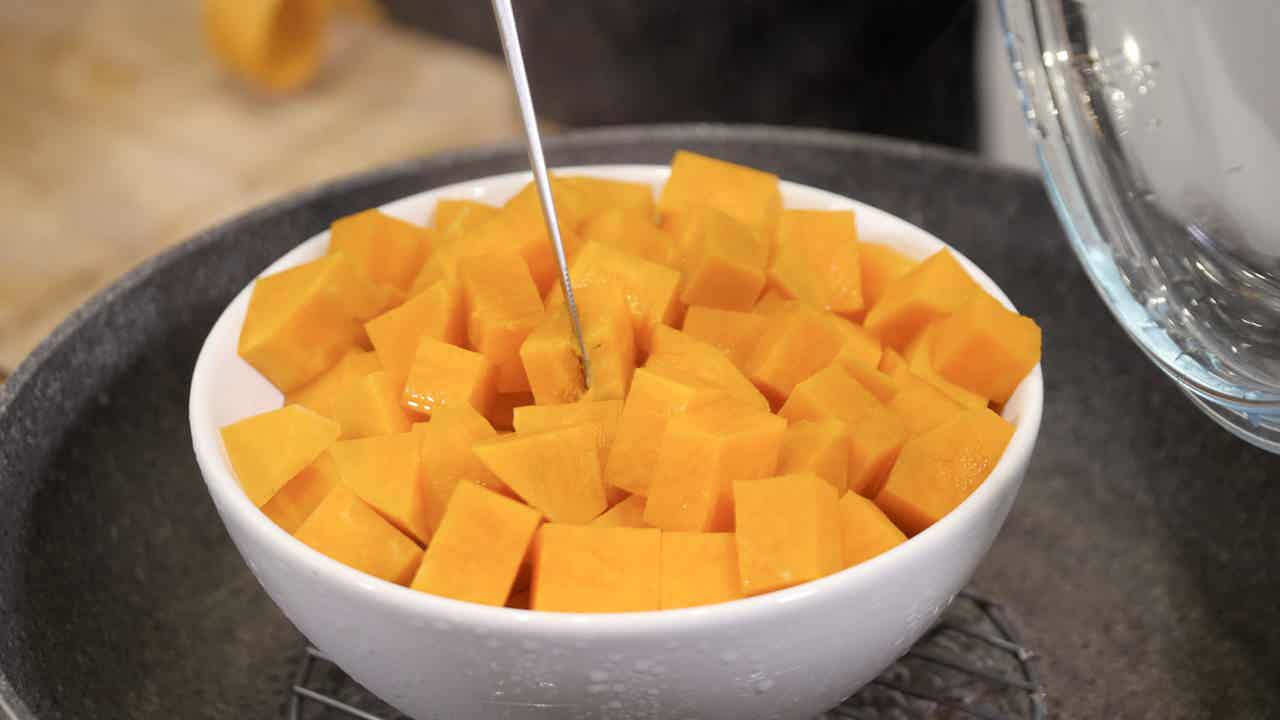 Step 2 of 7
Prepare mashed sweet potatoes
Steam cubed sweet potatoes until soft. A fork should go through easily when they are ready. Mash with fork or blend steamed sweet potatoes.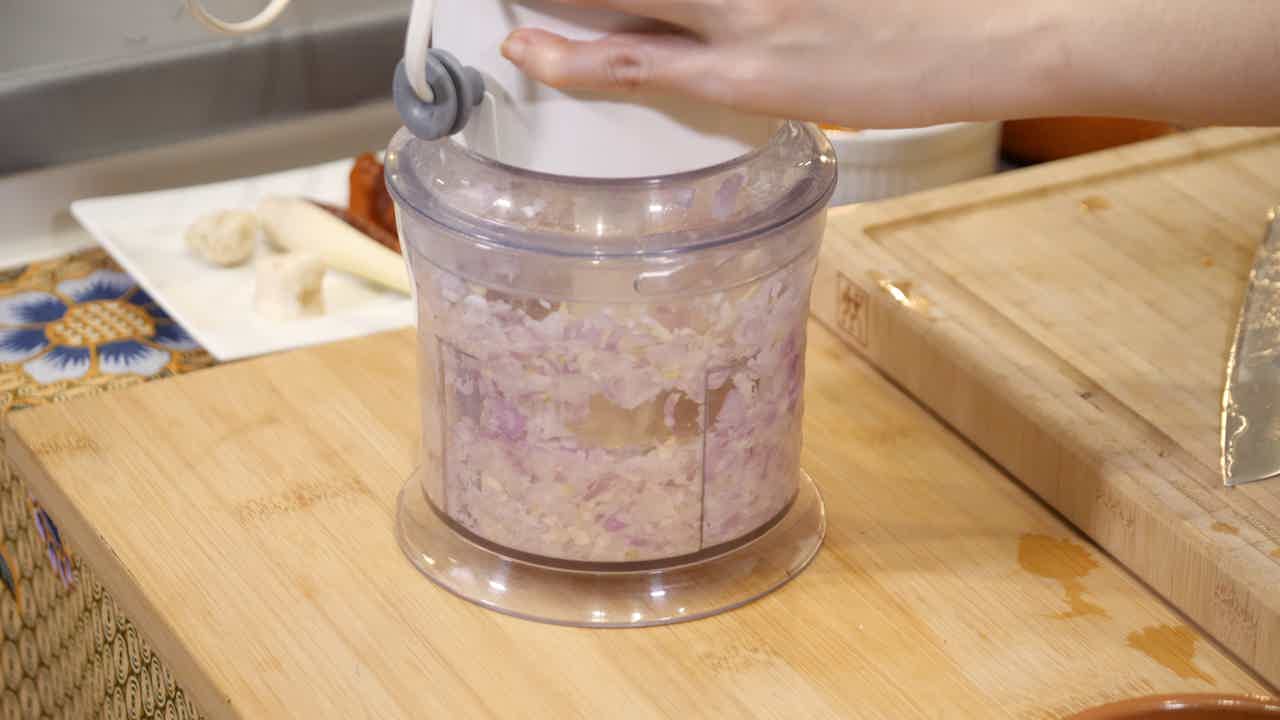 Step 3 of 7
Make shallots and garlic purée
4

shallot(s)

4

garlic clove(s)

45

ml

water
Blend shallots and garlics finely. Add water to ease the blending process. Set aside.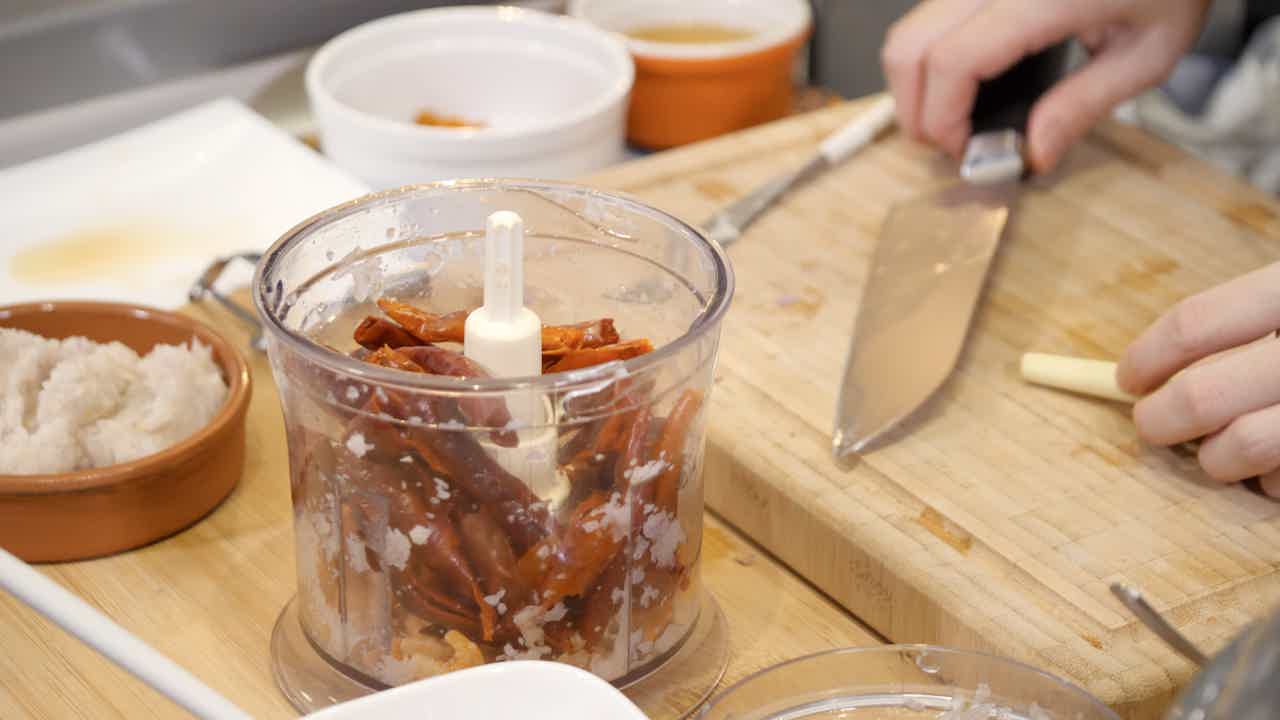 Step 4 of 7
Make chili paste
3

cm

galangal

1⁄2

cup

shrimps (dried)

45

ml

water
Blend dried chillies (soaked), lemongrass, dried prawns, galangal and candlenut until they turn into a paste. Add water to ease the blending process. Set aside.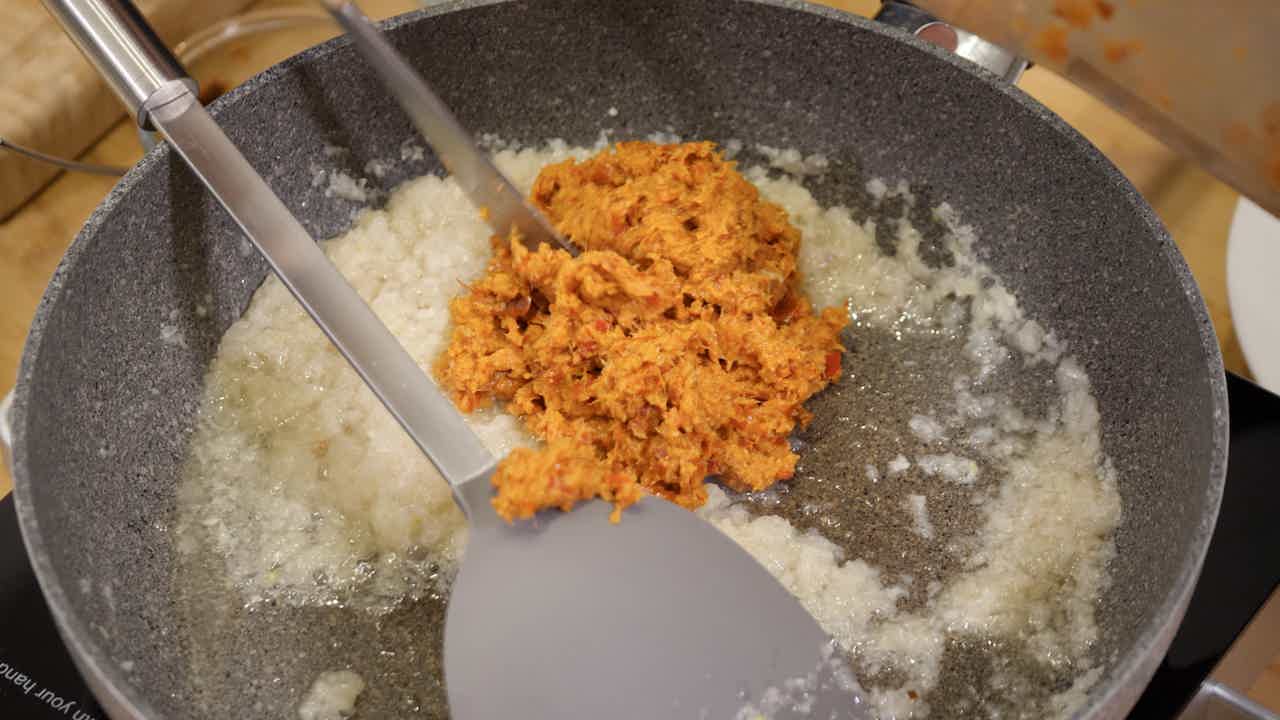 Step 5 of 7
Cook chili paste
3

tbsp

oil

1 1⁄2

tbsp

curry powder

15

ml

water

1 1⁄2

tbsp

fermented soybean paste (taucu)
Heat oil in a pan over medium heat. Add blended shallots and garlic to saute until fragrant and slightly translucent. Then, add blended chili paste, tauchu and curry powder (with water added to create a paste). Continue sautéing until fragrant and oil separates from the paste. Set aside.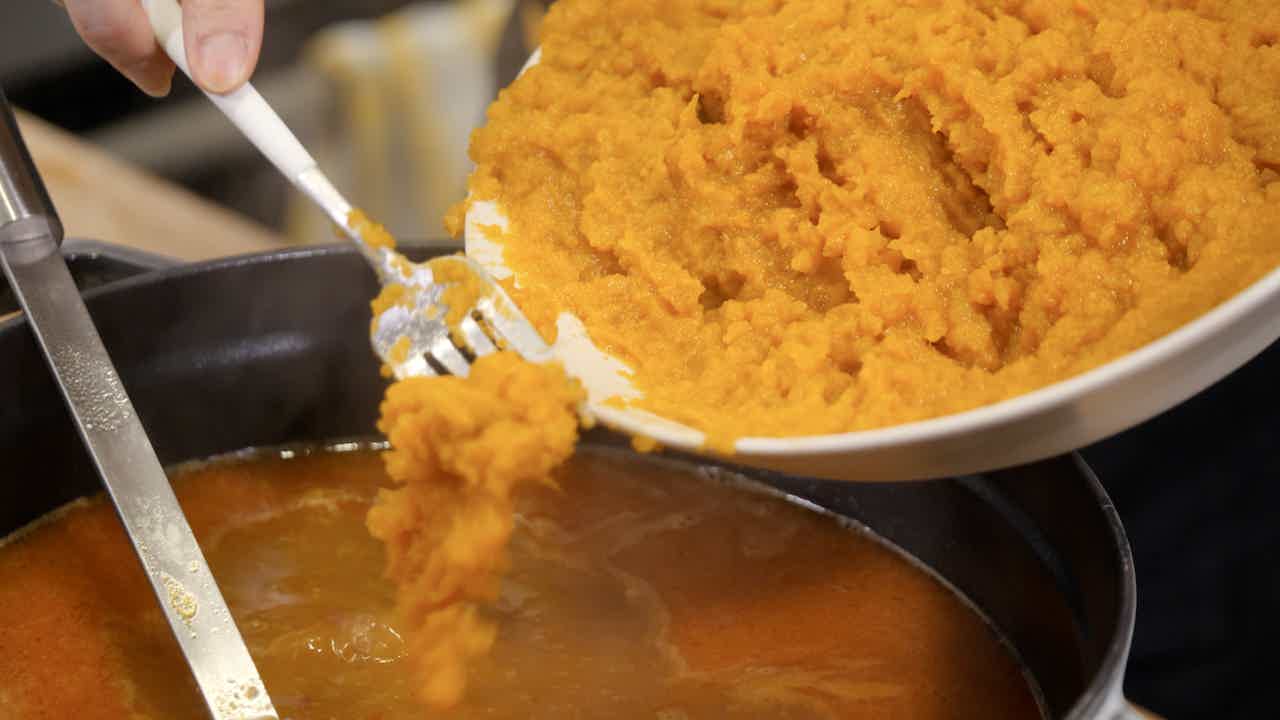 Step 6 of 7
Combine ingredients for gravy
1

tbsp

salt

1⁄2

tbsp

sugar
Remove bones from broth and cut beef into bite sizes. Increase heat to the maximum and add cooked chilli paste into the beef broth. Once chilli paste has been incorporated into the broth, add mashed sweet potatoes. When gravy begins to boil, reduce heat to the minimum. Stir gravy and cook broth until reduced to desired thickness. Add salt and sugar to taste. NOTE: Taste before adding more salt or sugar.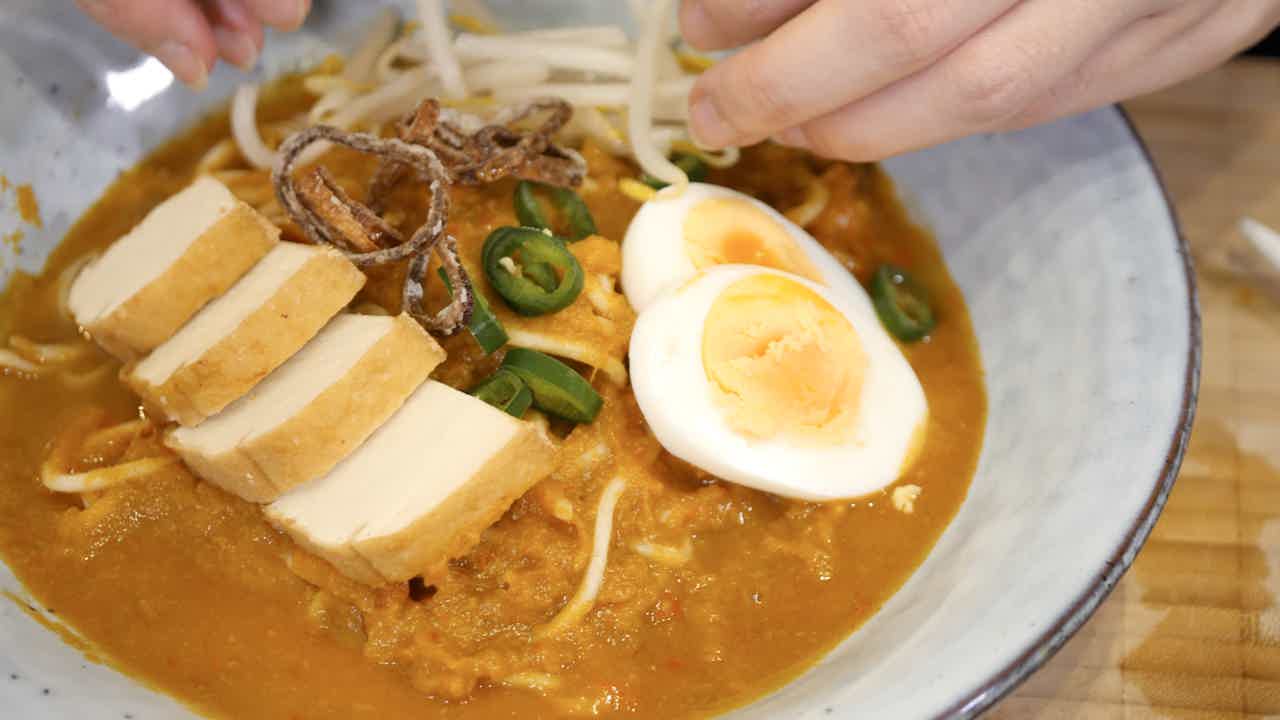 Step 7 of 7
Plate mee rebus
egg(s)

green chillies

tofu (firm and deep fried)

bean sprouts

parsley
Cook egg noodles in a pot of boiling water until soft. Serve noodles with mee rebus gravy. Garnish with fried shallots, blanched bean sprouts, green chillies, fried firm tofu, boiled egg slices and some parsley.
Published: January 6, 2019
---
0 Discussions
Give us your opinion! Log in and start posting.