Tau Yu Bak
'Tau yu bak' is a Fujian dish which is very closely related to the Peranakan cuisine. Literally translated, it means soy sauce pork. It is braised in soy sauce until the pork is tender and succulent.
Preparation 20 mins
Cooking 120 mins
Braised Pork with Soy Sauce
---
Ingredients
1

tbsp

dark soy sauce

400

g

pork

1

garlic head

1

cinnamon stick(s)

1

star anise

2

clove(s)

1

cm

ginger

1⁄2

tsp

five spice powder

1⁄4

tsp

pepper

1

tbsp

soy sauce

10

g

rock sugar

—

water

4

egg(s)
---
Community Food Snaps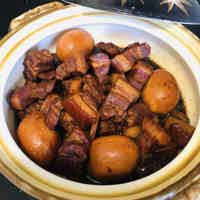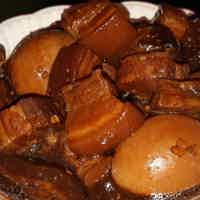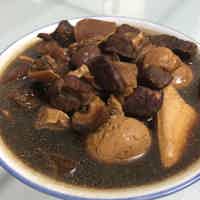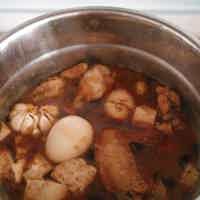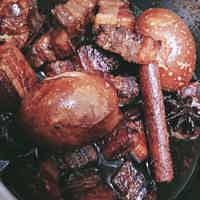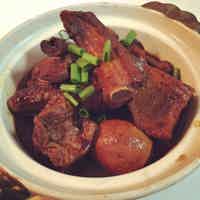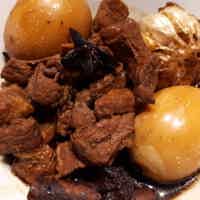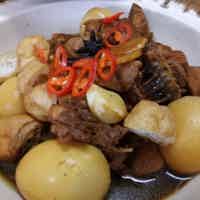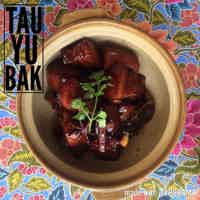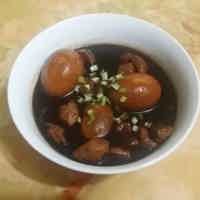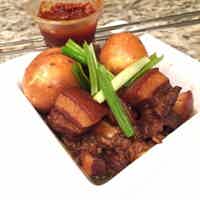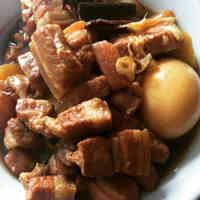 ---
Background
Tau yu bak is more popular in Malaysia and Singapore although Penang is well known for it. The main ingredient of this braised pork dish is light soy sauce. In Hokkien, light soy sauce is known as 'tau yu' while pork is called 'bak'. That is how the dish got its name. Tau yu bak may be deemed as a simple soy sauce dish but do not underestimate its taste. The additional herbs, spices and hard boiled eggs which are infused with the awesome gravy make it an exceptional amazing dish.
Cooking tau yu bak in slow cooker
Tau yu bak can be prepared in a slow cooker. Add all ingredients into the slow cooker and ensure enough water to cover the ingredients. Allow the dish to cook for at least 4 hours at low heat. This applies whether chicken or pork is used. Stir the dish every now and then for the flavours to be incorporated evenly.
Get rid of the boar taint
To get rid of the unpleasant smell of boar taint, bring a pot of water to a rolling boil. Then, add the pork together with a few slices of ginger into the pot. Once water begins to boil again, remove the pork and set aside.
Best pork cut for tau yu bak
Traditionally, pork belly is the favourite choice when it comes to cooking tau yu bak. As the pork belly cooks, the fats melt and enhance the flavour of the dish. However, choose pork butt/pork shoulders if you prefer more meat.
Tips for tender tau yu bak
The only way for tender and succulent tau yu bak is to simmer the dish over very low heat. This will ensure that the flavours of the ingredients and the pork are properly infused together.
Replace pork with chicken
Instead of pork, chicken meat may be used as a substitute. Use chicken thighs for best results.
Trust me, you can never get enough of this awesome dish especially if raw sambal belacan is used as a dipping sauce.
---
Steps to Prepare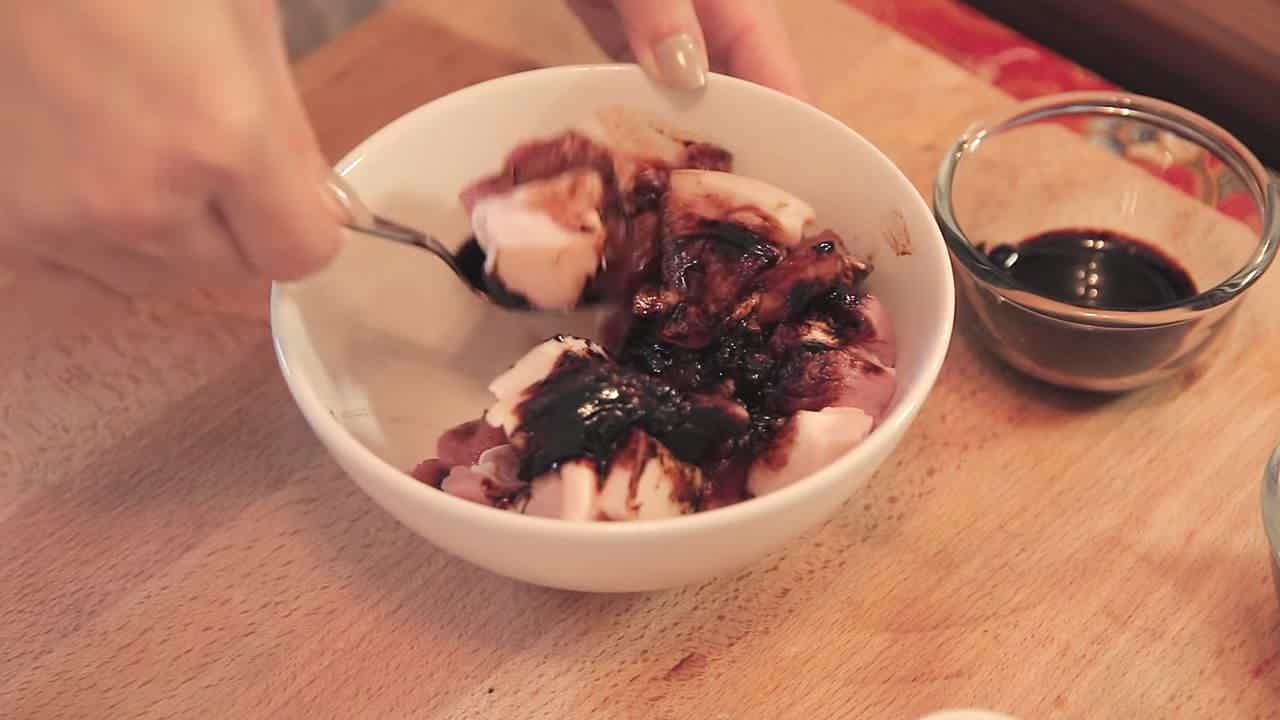 Step 1 of 4
1

tbsp

dark soy sauce

400

g

pork
Coat pork evenly with dark soy sauce. Pan fry pork without oil over low heat for 3 to 4 minutes.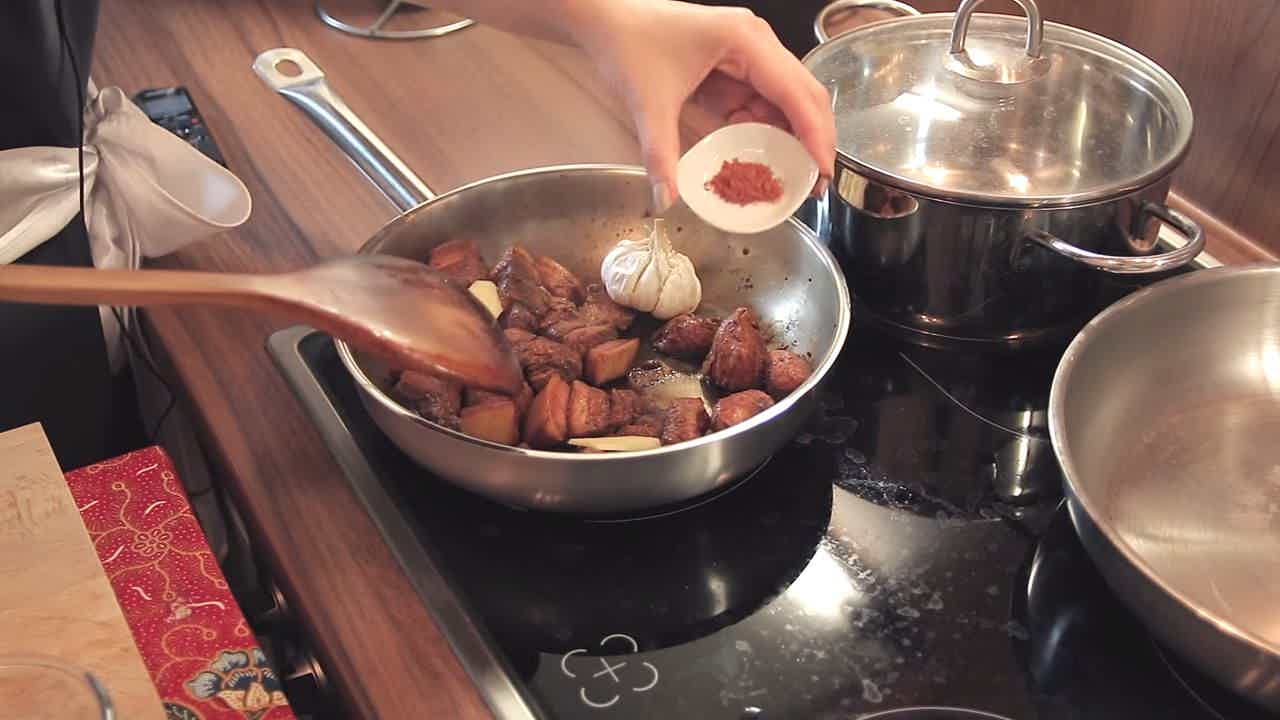 Step 2 of 4
1

garlic head

1

cinnamon stick(s)

1

star anise

2

clove(s)

1

cm

ginger

1⁄2

tsp

five spice powder

1⁄4

tsp

pepper
Toast whole garlic in oven at 200 degrees Celcius for 10 minutes or until fragrant. Then, add cinnamon stick, star anise, cloves, ginger slices, pepper, five-spice powder and also, toasted garlic head to pork.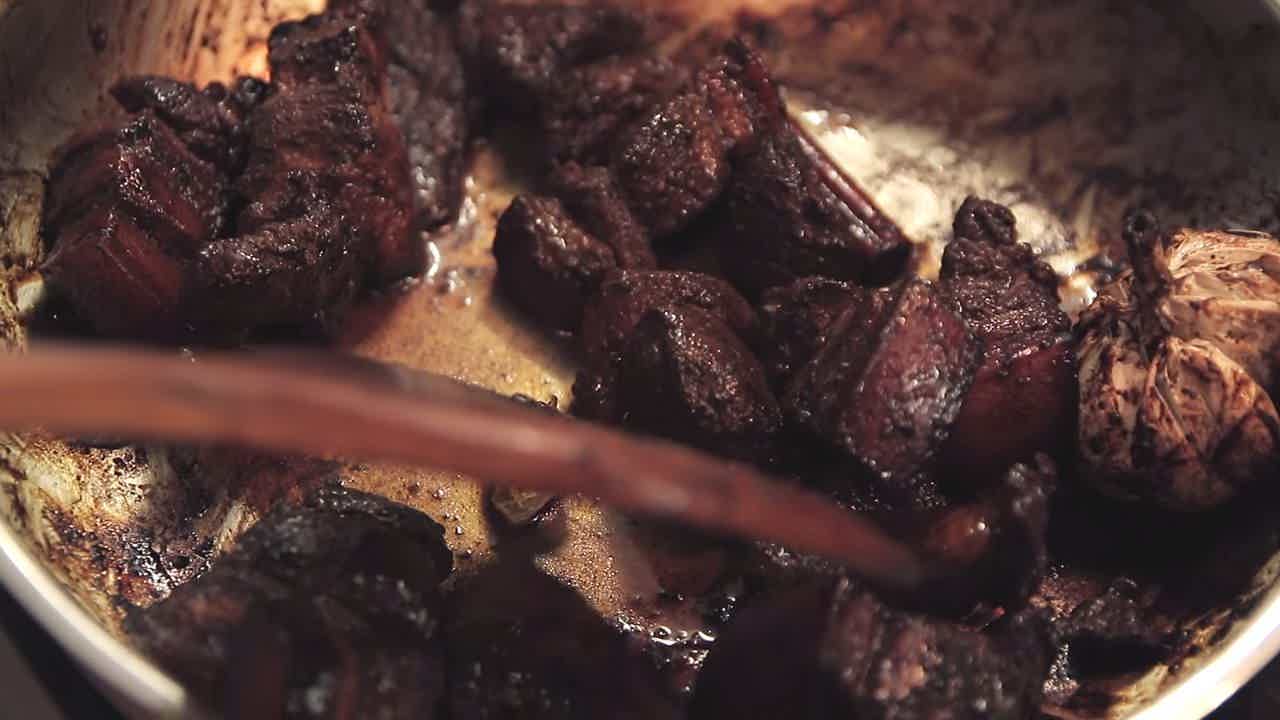 Step 3 of 4
1

tbsp

soy sauce

10

g

rock sugar

water
Add soy sauce and mix well. After 30 minutes, add rock sugar. If the dish is too dry, add a tablespoon of water.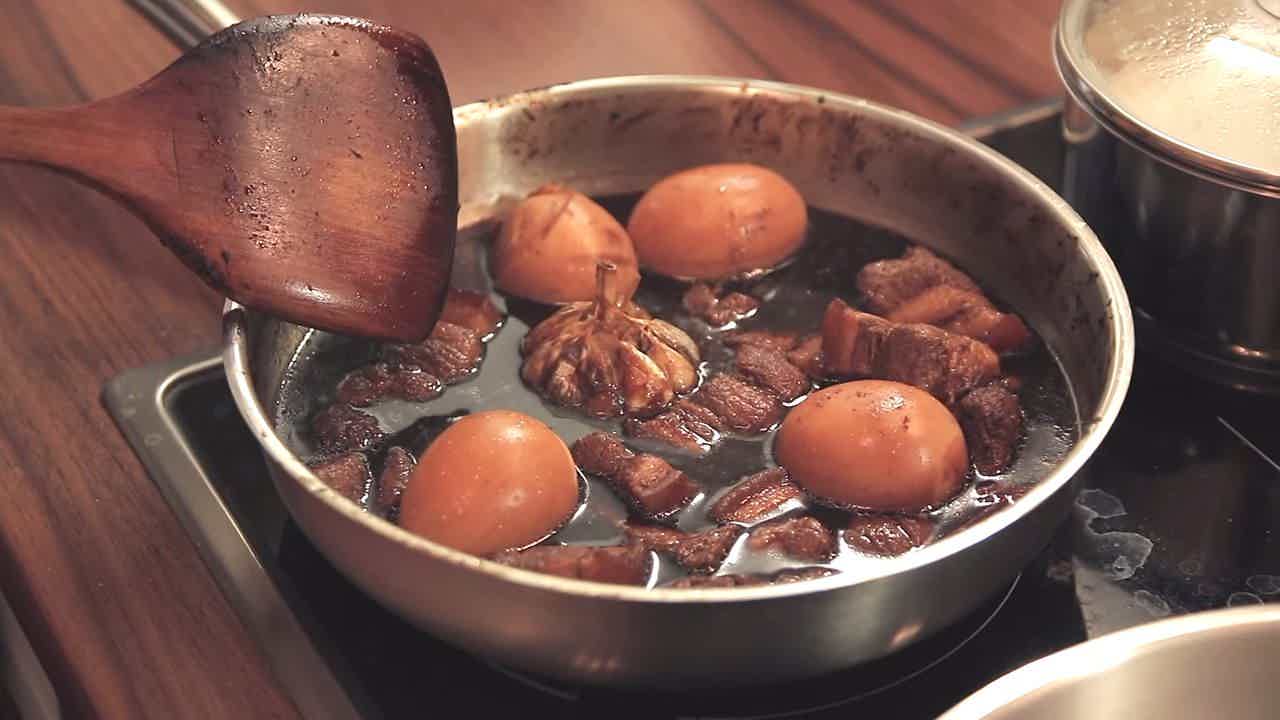 Step 4 of 4
Once sugar melts and thickens, add enough hot water to cover pork. Add hard-boiled eggs. Cook dish at medium heat for at least 1 hour or until meat is tender. Serve with 'sambal belacan'.
---
1 Discussions
Give us your opinion!
Log in
and start posting.
2 months ago
Dear Grace, I recently discovered your website and I have already made two recipes from the site. I made Tau Yu Bak using the slow cooker and to go with this dish I made sambal belacen. I used 2+kg combination of pork shoulder and pork belly. I served the tender pork over a bed of white rice. Wow, wow, wow! The slow cooker help a lot in that I don't have to watch the stew all day. I love your website and you hooked me on it. THANK YOU so much. Steve in Los Angeles.
2 months ago
Hey Steve, thank you so much for the awesome feedback. This dish is a personal favourite and I'm glad you love it too! Do try out other dishes too. Oh, don't forget to take food snaps of the food you make and upload them to your profile. We'd love to see what's cooking in your kitchen. ;)