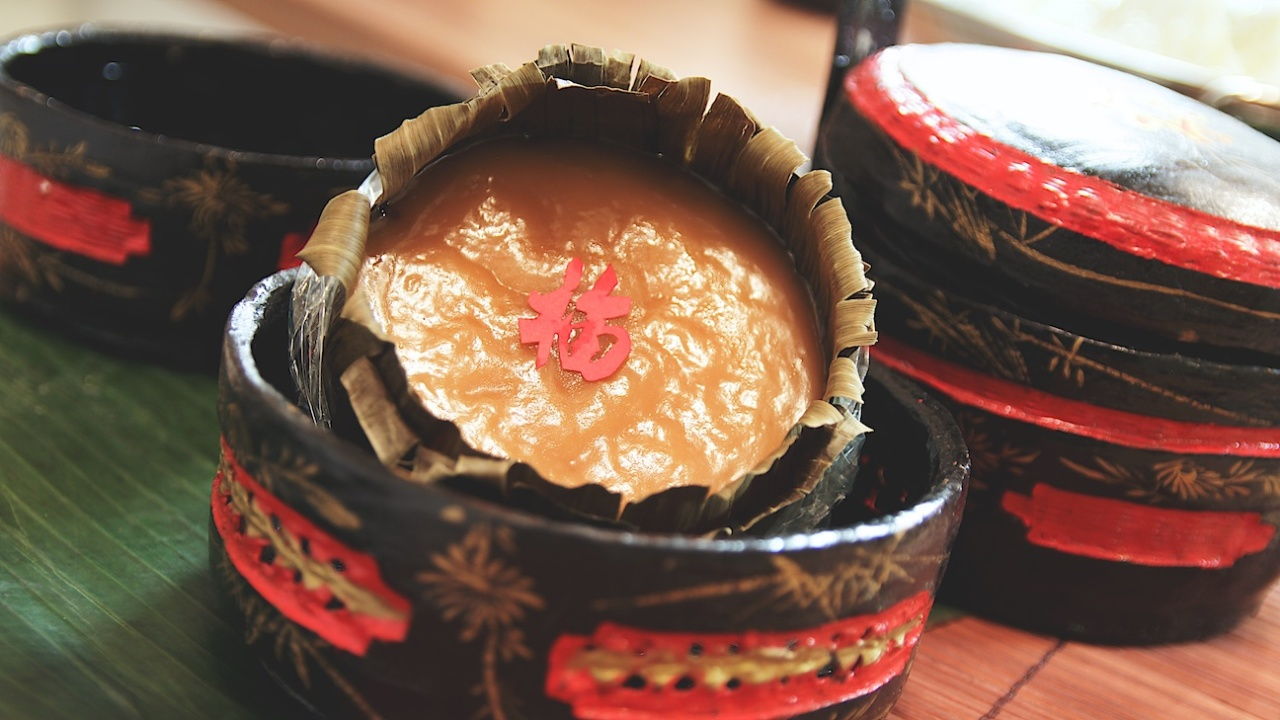 Nian Gao
'Kuih bakul' or in English, glutinous rice cake is a must-have to usher in Chinese New Year. It is soft, sticky, delicious and abundantly found in supermarkets during this time of the year.
Preparation 20 mins
Cooking 660 mins
Glutinous Rice Cake, Kuih Bakul, Nin Gou, 年糕, Kue Keranjang, Ti Kwe
---
Ingredients
—

banana leaves

220

g

glutinous rice flour

300

g

sugar

220

g

water
---
Community Food Snaps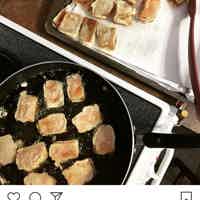 ---
Background
Nian gao or kuih bakul is significant to the Chinese community especially during Chinese New Year. The word 'nian' means sticky and refers to the texture while 'gao' means cake. It is made up of only three ingredients namely glutinous rice flour, sugar and water. Although the steps are very simple, it requires a long time to cook.
Tale behind kuih bakul
There is an interesting story behind this glutinous rice cake which is a must-have especially during Chinese New Year. Rumours has it that it is used to "seal" the lips of the "Kitchen God", a deity installed in the kitchen of Chinese homes back then. This deity meets up with the Jade Emperor yearly to give a report on the family.
Before that, the family would offer prayers to the deity and this sticky rice cake is one of the offerings to seal his lips. This is to ensure that he would not be able to tell on the family, especially the negative aspects like bickering and misunderstandings that happened. Thus, the family would be in the good books of the Jade Emperor.
Nian gao symbolizes surpass
There is another reason as to why kuih bakul is a must-have during Chinese New Year. Since it is called "nin gou" in Chinese, it literally means high year! The Chinese loves using these meaningful symbolics in the hope that each year's achievements surpass that of the year before.
Traditional vs quick cooking process
The steps to prepare this rice cake are rather simple. However, one would question the time needed to steam the kuih bakul for it takes about 10 to 12 hours for the sugar in the mixture to caramelize. Other recipes call for the sugar to be cooked till it browns or brown sugar is just used instead. Stubbornly, I prefer to cook it the traditional way for it to be truly authentic.
How to store kuih bakul?
After steaming the kuih bakul, allow it to cool to room temperature. Leave it to dry for 2-3 days before keeping it refrigerated in an airtight container or freezer bag. It is best to keep kuih bakul with a food grade silica gel pack to prevent moisture that would encourage mold growth.
There is mold on nian gao
When nian gao is not properly dried and immediately kept refrigerated, moisture would appear and this encourages mold growth. Should that happens, use a damp cloth to wipe it off before storing it again using the suggested method explained above.
Recipes with kuih bakul
Kuih bakul is abundantly found in supermarkets during this time of the year. It is given to relatives and friends as gifts for its auspicious meanings. I especially love those which are home made compared to those that are made commercially.
This kuih stays very well intact if refrigerated. You can then process it further and make it into fried kuih bakul or steamed kuih Bbakul.
Taboos when making kuih bakul
Lots of patience is needed here and there is no shortcut to it. There are some taboos associated with the making of kuih bakul. It is believed that women having their menses would fail to churn out a perfect kuih bakul. There should be no bickering or quarrels during the cooking process for that would also cause the kuih to fail. Well, so much for the superstitions but am not taking any chances since much effort is put into creating this kuih.
---
Steps to Prepare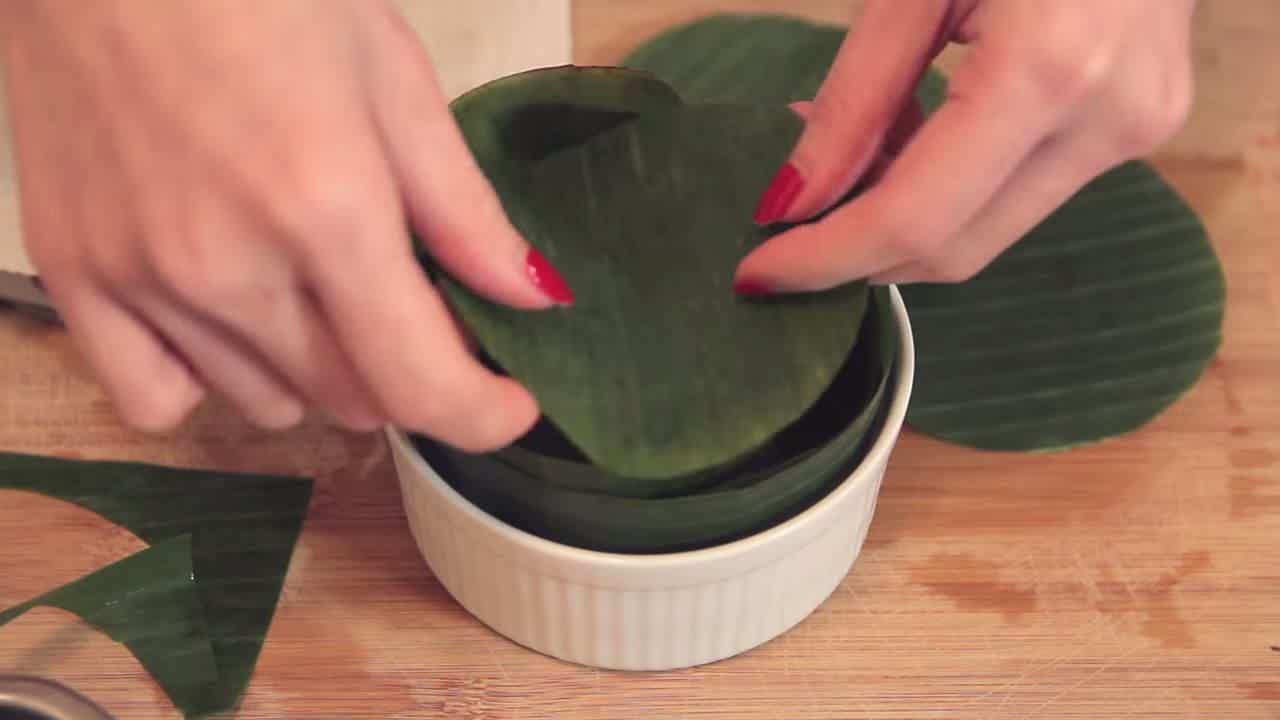 Step 1 of 3
Soak banana leaves in warm water for at least 30 minutes. Cut them according to the shape of the container used. Ensure that the smoother surface of the banana leaf faces upwards. Surround the inside of the container with at least 2-3 layers of banana leaves.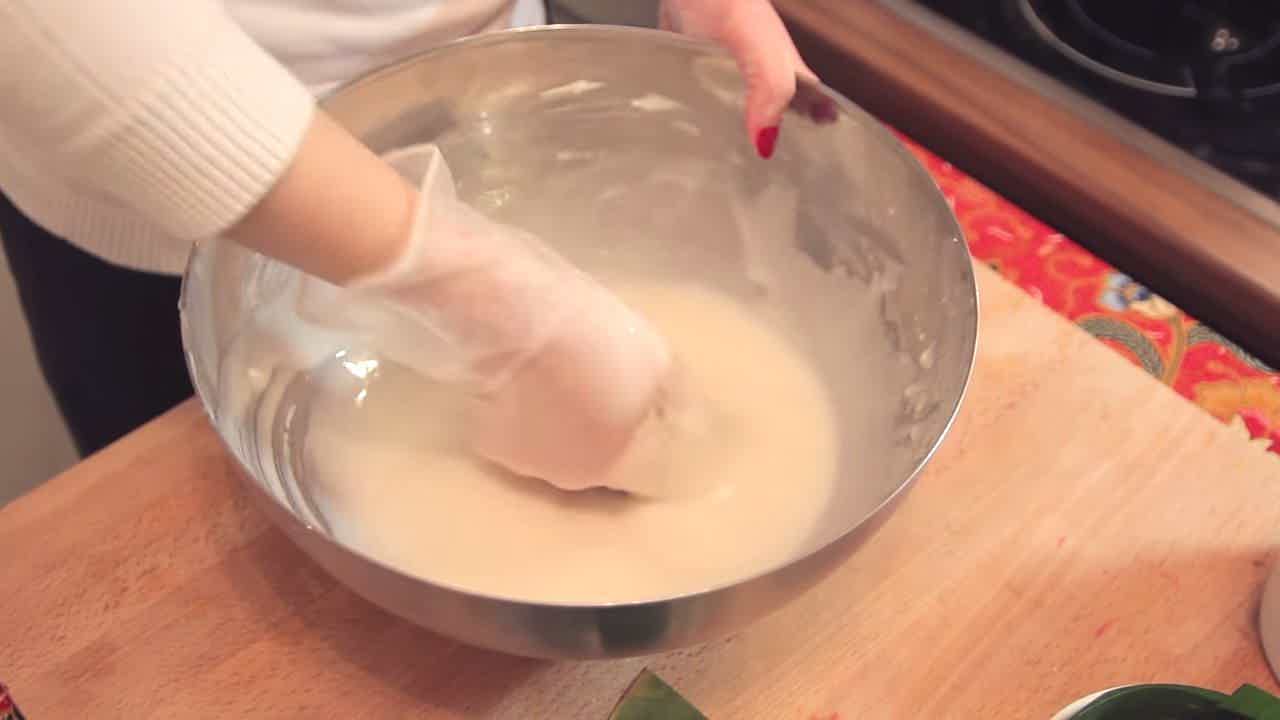 Step 2 of 3
220

g

glutinous rice flour

300

g

sugar

220

g

water
Add water to the flour (sifted) and mix well to create a dough. Then, add sugar and mix until it turns into a fluid mixture. Allow mixture to sit for 15 minutes.
Step 3 of 3
Pour the mixture carefully into the container to get rid of air bubbles. Steam the mixture for 10-12 hours with a piece of cloth over the container. Allow the steamed glutinous rice cake to sit for 2-3 days before consuming.
Published: January 31, 2014
---
0 Discussions
Give us your opinion!
Log in
and start posting.