'Kuih semperit' is a classic butter cookie popularized in Singapore, Malaysia and Indonesia. It is probably one of the easiest to make kuih raya (celebration cookie/snack) that melts in the mouth. Often sold during Chinese New Year, Hari Raya and Deepavali, this cookie is a staple in many households.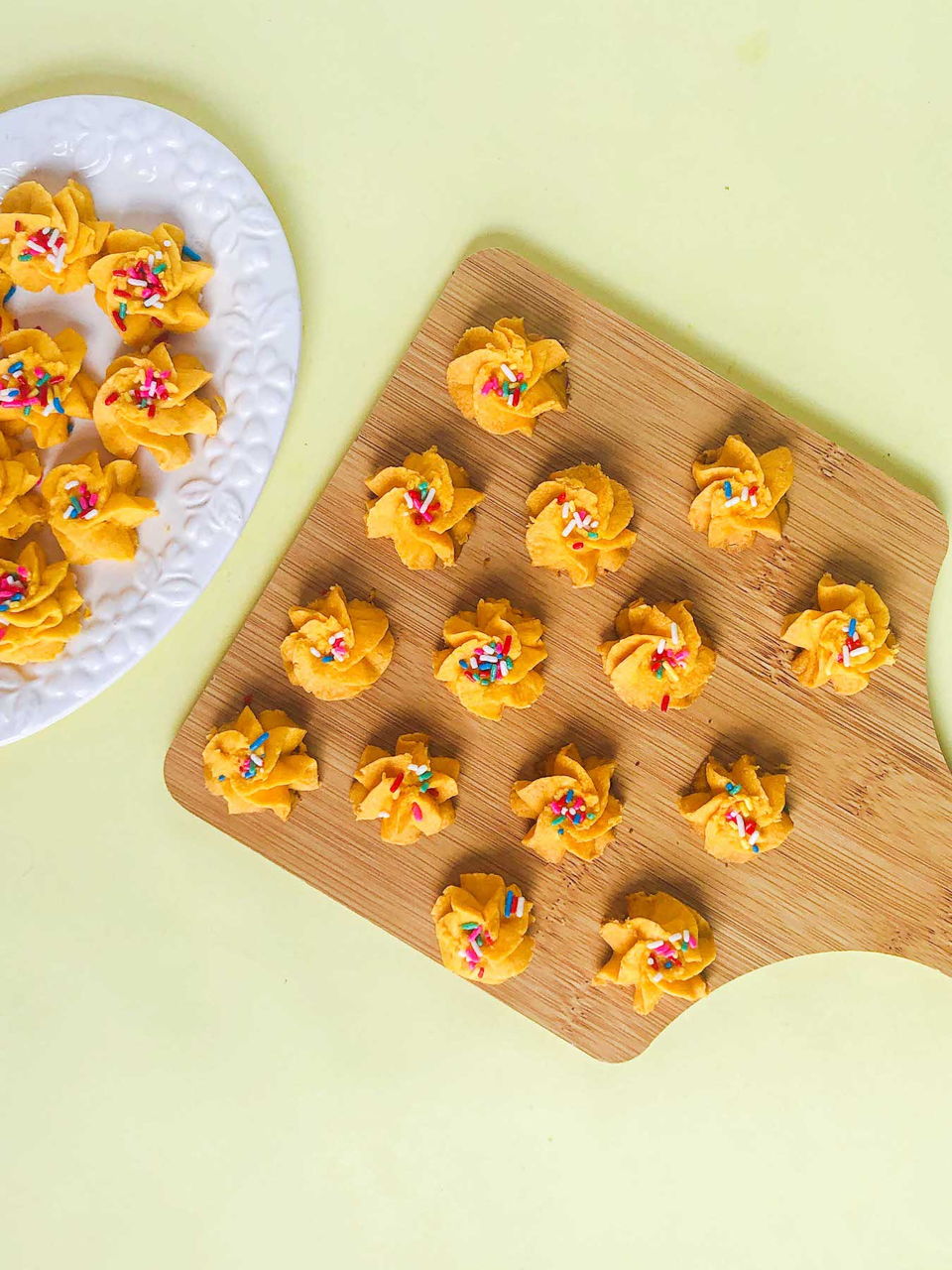 This is not just another butter cookie. Scottish butter cookies are much heavier in comparison. This simple traditional cookie uses condensed milk as sweetener, promising a creamy rich flavour which makes it addictive. The choice of flour, corn starch helps to make the cookie crispier and lighter.
The Meaning of the Name
Semperit does not bring any meaning but the other names for this cookie is based on its appearance. It looks similar to flowers like dahlia and daisy. Hence, these flowers contribute to some of the other names. I have also heard how this cookie is referred to as 'crocodile skin'. I bet it is due to the pattern of the cookie where it is ridged.
Why This Recipe?
This recipe is easy and only uses 5 ingredients. Also, it does not use any egg and wheat flour. A great recipe for those who are allergic to eggs or want gluten-free cookies. The result is light and crispy with a delicious buttery flavour. These cookies are what my guests look forward to whenever they visit my home during the festive season.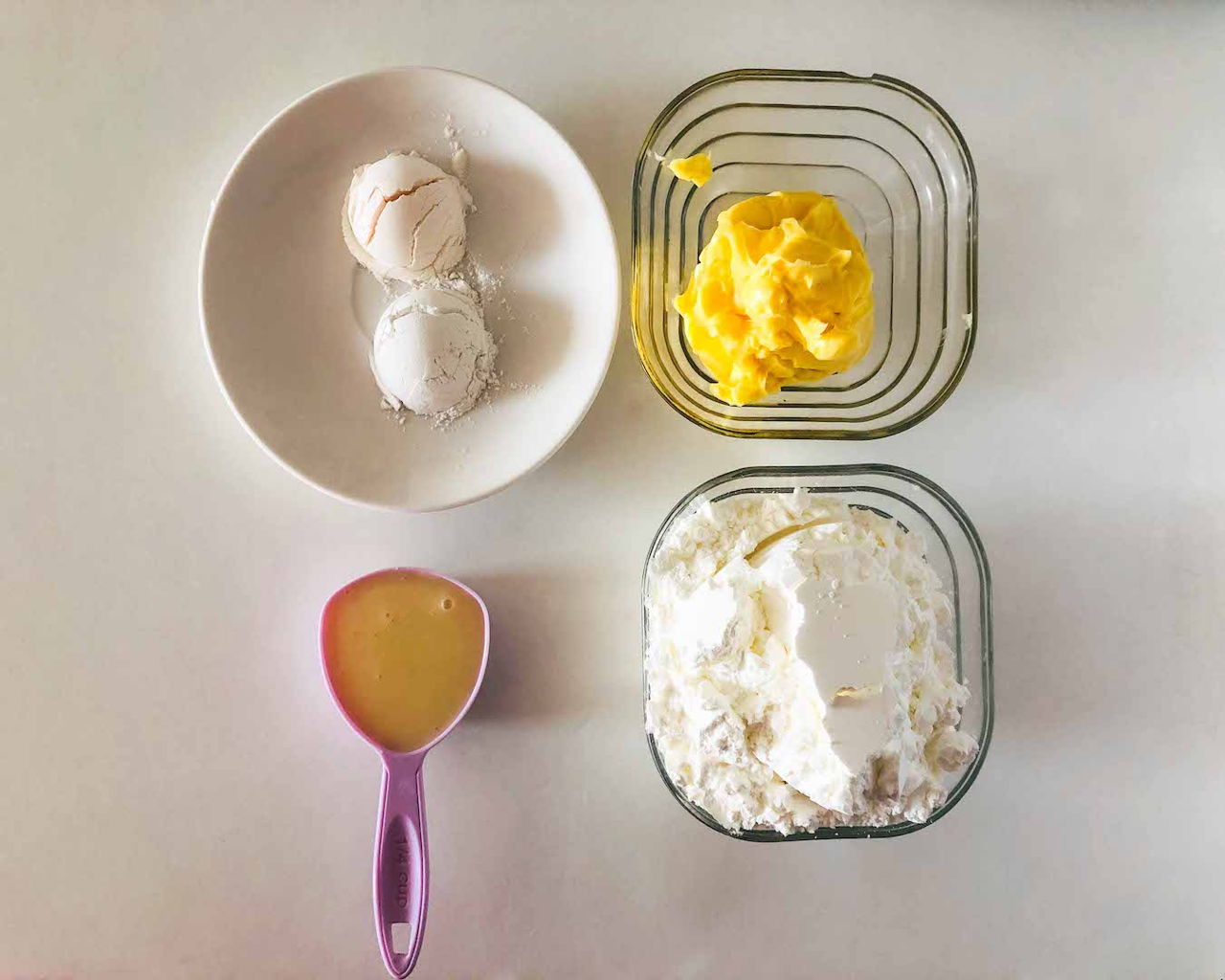 Do I Need A Special Mould?
A specific mould to make kuih semperit is used when the cookies are made locally. Traditionally, it is usually piped into a flower shape as seen below. You may also see them in the shape of rectangles. However, you can use any cookie press shape. Best if it is made into the shape of a flower to replicate the original look.
Another option is to use the dough to make pineapple tarts as it envelopes the pineapple jam perfectly.
Choose High Quality Cornstarch
Not all cornstarch are made the same due to the quality of the grain. High quality cornstarch is usually more expensive. In Malaysia, the preferred brand is Cap Bintang (Star Brand). You can notice the difference in texture when comparing the quality of cornstarch.
The smell should be neutral without even a subtle unpleasantness.That is how you can be sure that the cookies will be fragrant and taste the best. Good quality cornstarch will also elevate the smell and taste of butter. Otherwise, the cookies will have an intense smell of flour even after baking.
Why Did My Kuih Dahlia Spread?
This happens when the mixture is over mixed. Avoid doing so in Step 1. If you continue beating the mixture, air will be trapped in the dough. During the baking process, the air will expand and causes the dough to spread losing its piped shape.
In Step 1, stop mixing once it comes together. To avoid over mixing, use a spatula or mix with hand instead of a mixer. This recipe does not require kneading. As long as the ingredients are combined thoroughly, you are good to go.
Kuih Dahlia should also be able to hold its shape after piping. If it does not, it means the dough has too much liquid. Add more corn flour if that happens or the cookies will fall flat.
Optionally, you can chill the piped dough for about 15 minutes before baking. This will help to solidify the fat and reduces the spread of the cookies.
Creative Options
Since this traditional cookie is rather simple, many are creative with the ingredients to create new flavours in the recent years. You can add some milo or cocoa powder for a chocolaty version.
Pandan extract is added if you love the fragrance of the Asian vanilla. Instant coffee or rose extract are also very popular. Simply swap vanilla essence with the flavour of your choice.
For those who love the mix of sweet and savoury, try adding some grated cheese onto the piped dough before baking.
Can I Prepare The Dough In Advance?
Yes! Mix the dough according to Step 1 and 2 for up to 3 days earlier. You may also freeze it for up to a month. Just ensure that the dough is in an airtight container. If kept in the freezer, wrap it in a cling wrap to prevent freezer burn.
Should I Rotate The Tray During Baking?
Yes, I would recommend that. Regardless of the oven you have, it is tough to guarantee an even bake. Rotate the tray half way through baking or 10 minutes before the cookies are ready. Switch the the levels of the trays if you are baking several trays at one time.
How To Store?
Always cool baked cookies to room temperature. Then, store them in an airtight container for up to a month. They should remain fragrant and still crispy.