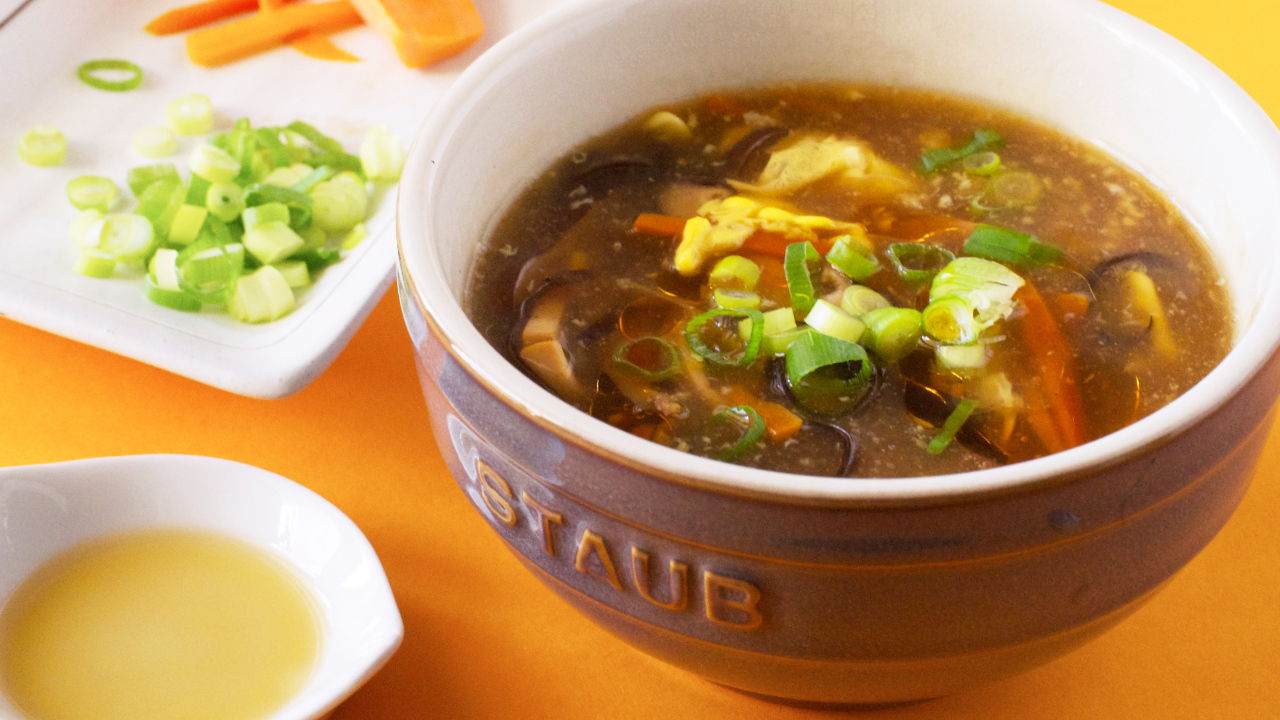 Hot and Sour Soup
Four steps to authentic hot and sour soup! It is very popular in China and Taiwan and now readily available in Chinese restaurants in most countries. This is a quick and easy guide to an authentic Szechuan soup using ingredients you may already have in your pantry.
Preparation 10 mins
Cooking 10 mins
---
Ingredients
25

g

tofu (silken)

2

shiitake mushroom(s)

2

black fungus/mu-er mushroom(s)

50

g

pork belly

400

ml

water

1

carrot(s)

1

l

water

2

tbsp

soy sauce

1⁄4

tsp

salt

1

egg(s)

2

tbsp

corn flour

1

tbsp

water

2

tbsp

black vinegar

1 1⁄2

tbsp

white pepper

1⁄2

tbsp

sesame oil

1

scallions
---
Community Food Snaps
Be the first to take a snap!
Log in
and click the in the top bar.
---
Background
Hot and sour soup got its name due to its distinct spiciness and sourness. It usually consists of a meat based broth, mushrooms, tofu and egg. Although you may be able to find it in most Chinese restaurants abroad, tasting a pot of homemade flavourful hot and sour soup at home is much more comforting to the soul. Besides, you can ensure the freshness of the ingredients without the unnecessary additives.
To make this soup easily with the ingredients you may already have in the kitchen, you need to understand that the core ingredients are white pepper and Chinese black vinegar. These ingredients contributes to the hot and sour flavours of the soup. Meanwhile, below are the other tips that contribute to enhancing the taste naturally.
Which type of vinegar to use?
When vinegar is called for in a Chinese recipe, it usually refers to the Chinese black vinegar or also known as Chingkiang/Zhenjiang vinegar, the most popular choice. Compared to regular vinegar, the Chinese version is less tart and has a hint of sweetness. It is almost like a fluid version of Italian balsamic vinegars. The smoky flavour gives the soup its signature taste. You may also use balsamic vinegar or red wine based vinegar as they are the closest substitutes. Otherwise, regular vinegar or other rice-based vinegar will do as well. While these vinegars do not have the special flavour profiles mentioned, they do make decent substitutes.
Meat in hot and sour soup
Pork is used in this recipe as per the authentic dish. You may substitute it with chicken meat. It is important to note that the fats from the meat does make a difference to the dish. Hence, pork belly or pork with fats are highly suggested in this recipe. The oil rendered from the fats during the cooking process is enough to sauté the other ingredients. If meat without much fats is used, add 1/2 tablespoon of oil to sauté the meat before adding other ingredients. Additionally, using bone broth instead of water will make the soup tastes even better.
Important tips regarding vinegar and pepper
If you're wondering why the soup is still not sour enough even after adding a good amount of black vinegar, it could most likely be due to the vinegar being over heated as this will reduce its sourness. As for white pepper, over heating will result in slight bitterness. Therefore, always remove the soup from the stove before adding the vinegar and white pepper to get the best flavours.
Hot and sour soup noodles
Need more than just a bowl of soup? Add noodles to it. The usual selection of noodles would be la mian (pulled noodles) or Chinese glass noodles. La mian is more chewy while glass noodles are softer. Both types of noodles go well with the soup as the flavourful lightly thickened soup coats the noodles ensuring the deliciousness of each mouthful.
Can I freeze the soup for later consumption?
You may freeze the soup once it thickens. Allow to cool before keeping it in the freezer. Add the Chinese black vinegar and white pepper after the soup is reheated later.
Thaw or reheat soup by steaming or boiling. If you do not have time to thaw the soup, boil the frozen soup with a few tablespoons of water. The water will evaporate while cooking. Frozen soup can be stored for up to 6 months.
Vegetarian hot and sour soup
Omit meat from this recipe. It's best to use vegetable stock instead of water if you want to enhance the flavours. Just avoid using vegetable stocks which contain kombu or seaweed because it will make the soup taste different.
---
Steps to Prepare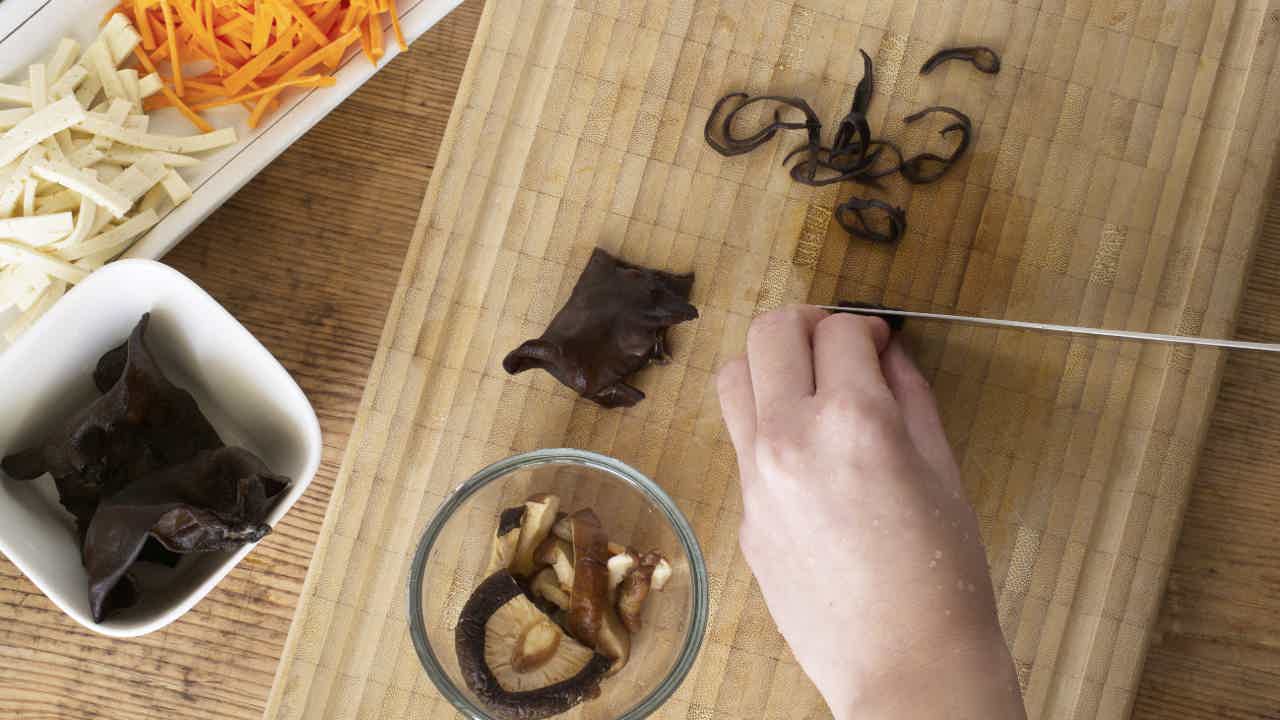 Step 1 of 4
25

g

tofu (silken)

2

shiitake mushroom(s)

2

black fungus/mu-er mushroom(s)

50

g

pork belly

400

ml

water

1

carrot(s)
Soak black fungus and shiitake mushrooms separately in warm water for 20 minutes or until soft. Once hydrated, remove the hard parts of the black fungus. Slice mushrooms and black fungus thinly. Meanwhile, julienne carrot, tofu and pork. Set all ingredients aside.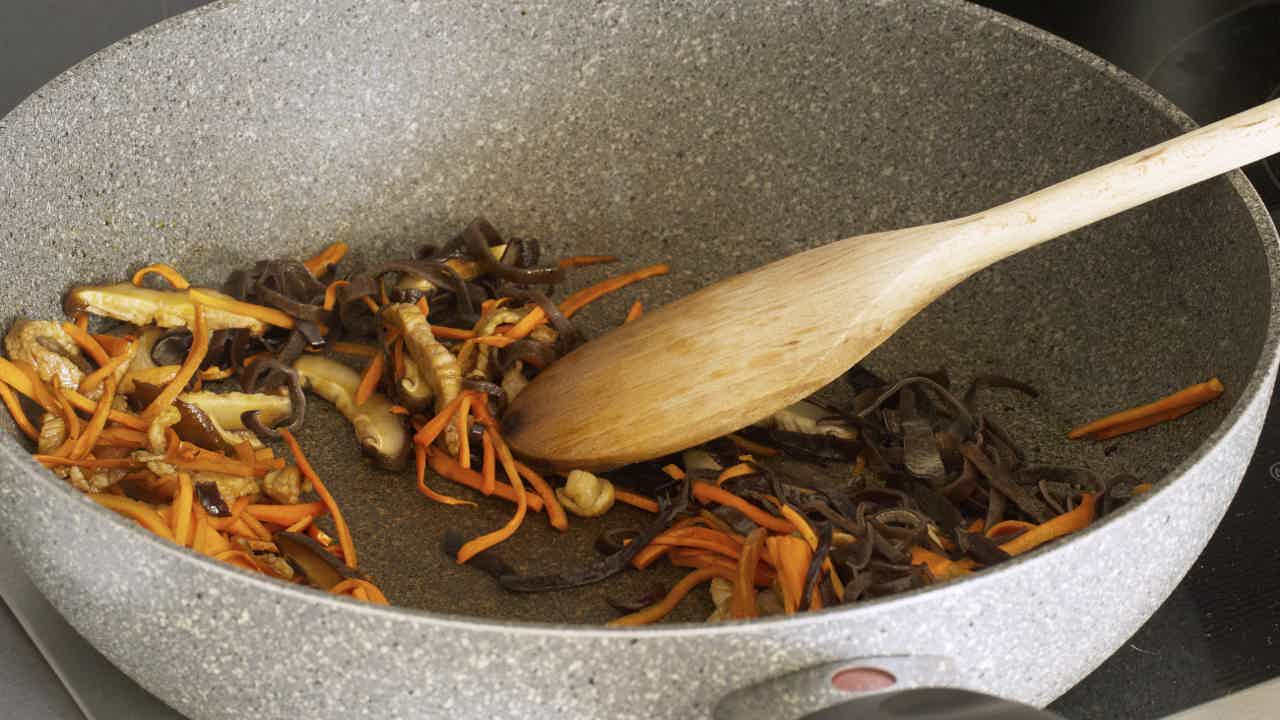 Step 2 of 4
1

l

water

2

tbsp

soy sauce
In a wok heated at medium heat, sauté pork slices to render oil from the fats. Add carrots to sauté until fragrant. Carrots will add a hint of orange colour to the meat. Then, add slices of shiitake mushroom and black fungus. Continue sautéing for another minute before adding soy sauce. Soy sauce will sizzle once it touches the surface of the wok. Then, add water.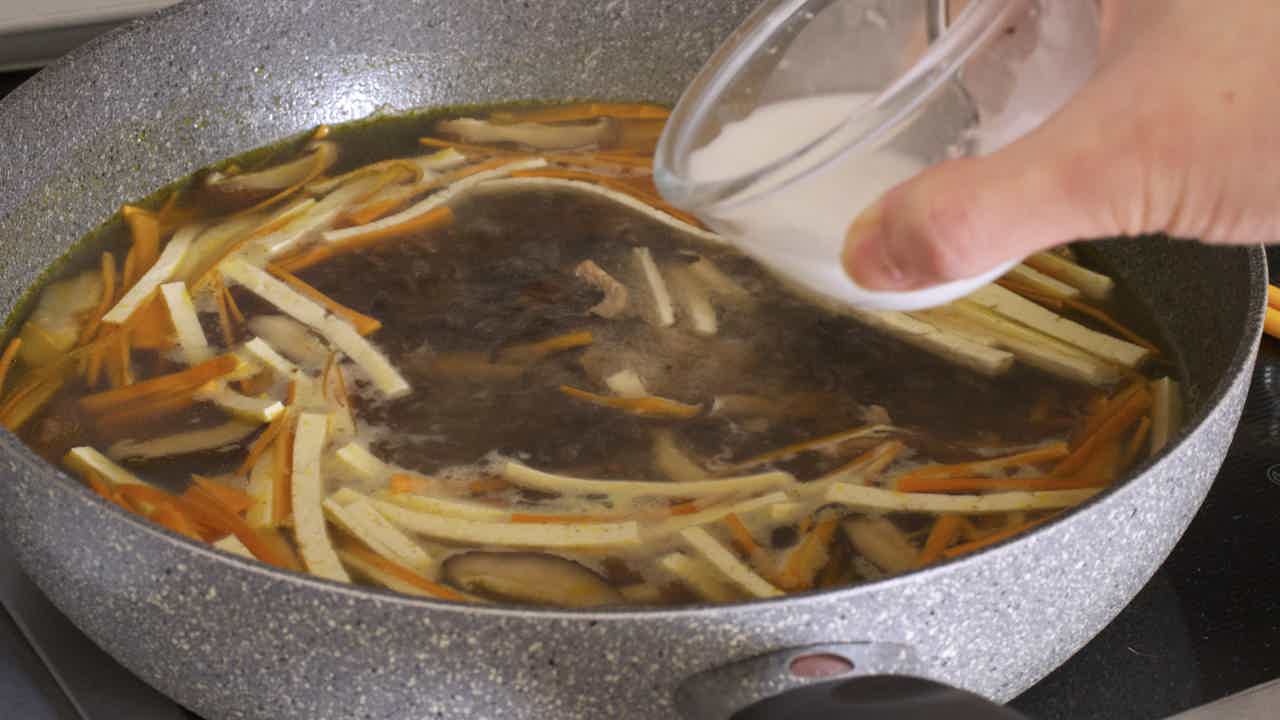 Step 3 of 4
1⁄4

tsp

salt

1

egg(s)

2

tbsp

corn flour

1

tbsp

water
Increase heat to the maximum. Add tofu into soup. Meanwhile, mix cornflour and water to create cornstarch slurry. Once soup begins boiling, stir in cornstarch slurry to thicken the soup. Carefully stir thickened soup while adding a beaten egg into it. Add salt to taste.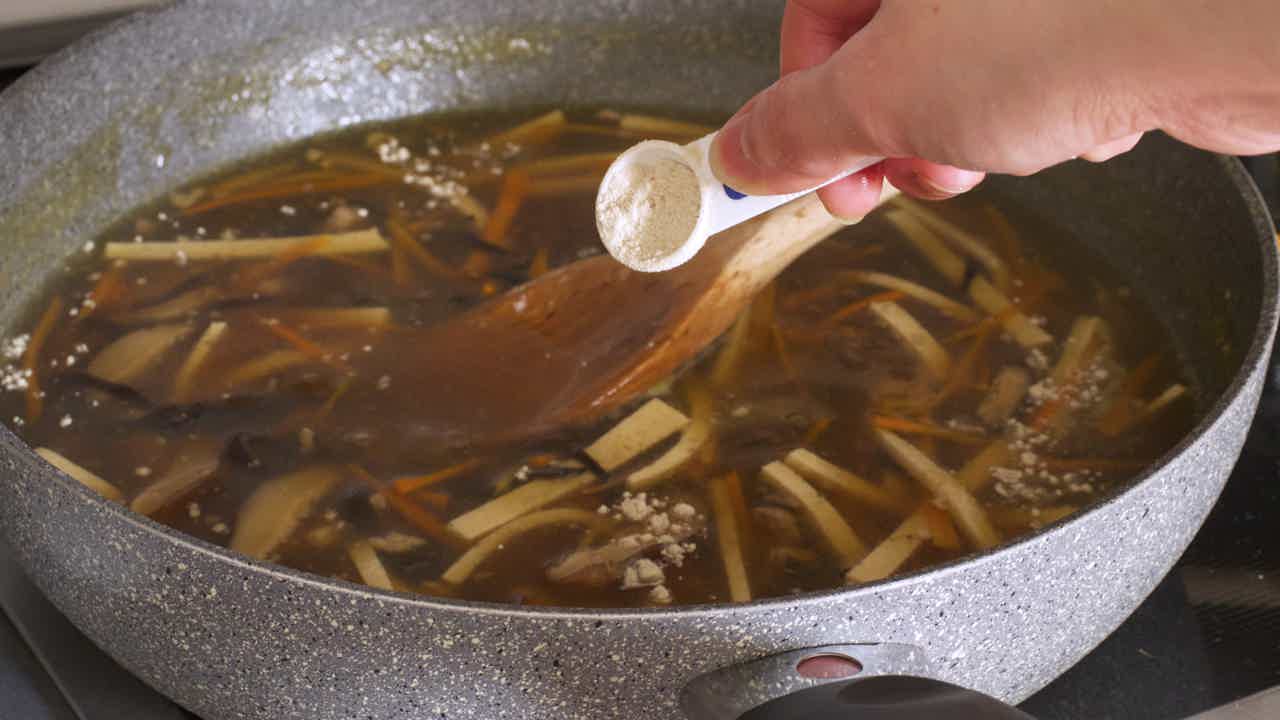 Step 4 of 4
2

tbsp

black vinegar

1 1⁄2

tbsp

white pepper

1⁄2

tbsp

sesame oil

1

scallions
Turn off the stove before sprinkling white pepper into the soup. Then, stir in black vinegar. Garnish with slices of scallions and a few drops of sesame oil.
Published: March 30, 2019
---
0 Discussions
Give us your opinion!
Log in
and start posting.