The best peanut cookies has to be tasty and easy to make. This traditional family recipe delivers exactly such as it uses roasted peanuts instead of peanut butter. Highly praised for its melt-in-the-mouth feel at every bite, these cookies have a fragrant nutty taste. You can find them all over Indonesia, Malaysia and Singapore during local festivities like Chinese New Year, Deepavali and Hari Raya.
Where to get roasted peanut powder?
It is sold in powdered form or you can make it yourself.
1. Buying peanut powder
In the region, peanut powder is sold at stores selling baking necessities. It is sold in several grind sizes. Get those which are finely grounded. In the photo below, you can see the texture of the peanut powder I used.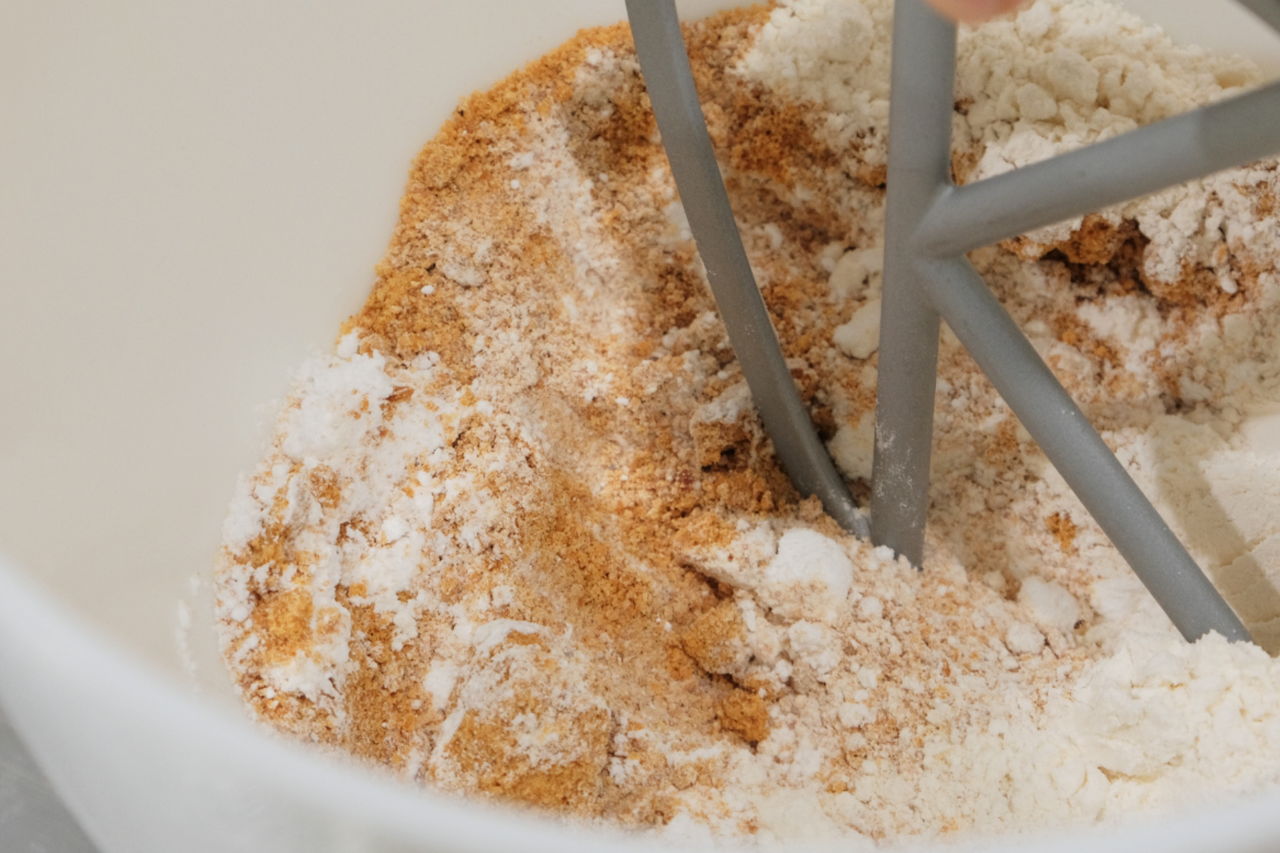 2. Homemade peanut powder
Otherwise, you can make peanut powder by blending roasted peanuts without the skin. When using unroasted peanuts (usually found at Asian grocers or health stores), bake them in the oven at 175 degrees Celsius for 15 minutes or until they begin browning. Allow them to cool before using the food processor to blend them.
Can I use peanut flour?
No, peanut flour or powdered peanut butter are both too fine to be used for this cookie recipe. Moreover, powdered peanut powder has sugar added to it. Substituting peanut powder with these ingredients will affect the texture of the cookies.
Gluten-free flour
Replacing all-purpose flour with rice flour or starches will change the texture of the cookies. However, if you have access to store bought gluten free all purpose flour mix, it could be a good replacement.
Peanut oil is highly recommended
Making the most fragrant peanut cookies requires the use of 100% peanut oil. This helps to elevate the flavour of the cookies. As a substitute, you may use other types of colourless and plain vegetable oil so that it will not affect the taste of the cookies.
Why do the cookies crack?
The cookie dough should not crack while being shaped. If it does, it means the dough is too dry. Add a bit of oil if that happens.
Baked peanut cookies usually have slight cracks on its surface as shown in the photo below. They are perfectly perfect with those lines. For a smooth surface, reduce the temperature of the oven by 10 to 20 degrees Celsius and bake them for a longer time.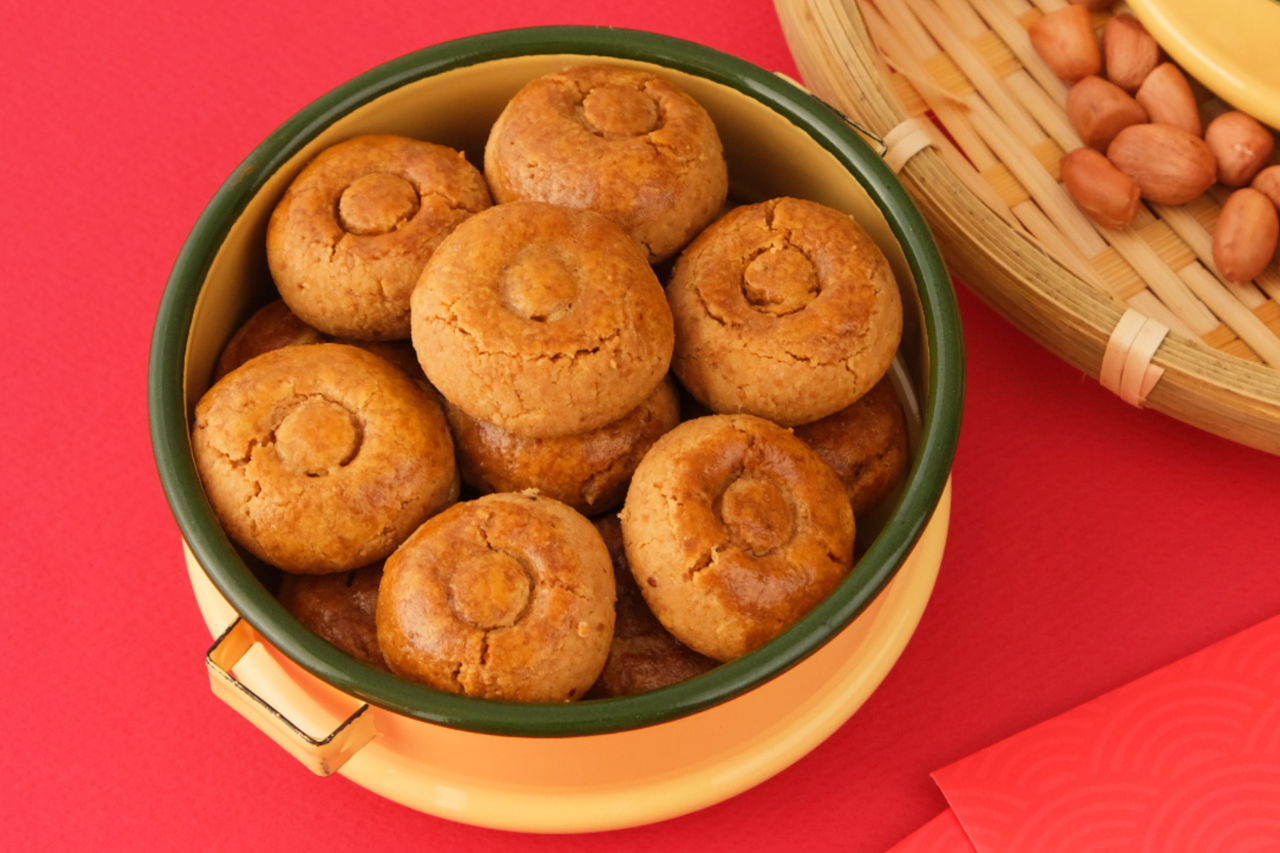 How to shape peanut cookies?
It is possible to use the good ol' cookie cutter. Classic peanut cookies are always shaped into little balls but sometimes flattened with a simple round indentation. This is the shape which I have decided to make here.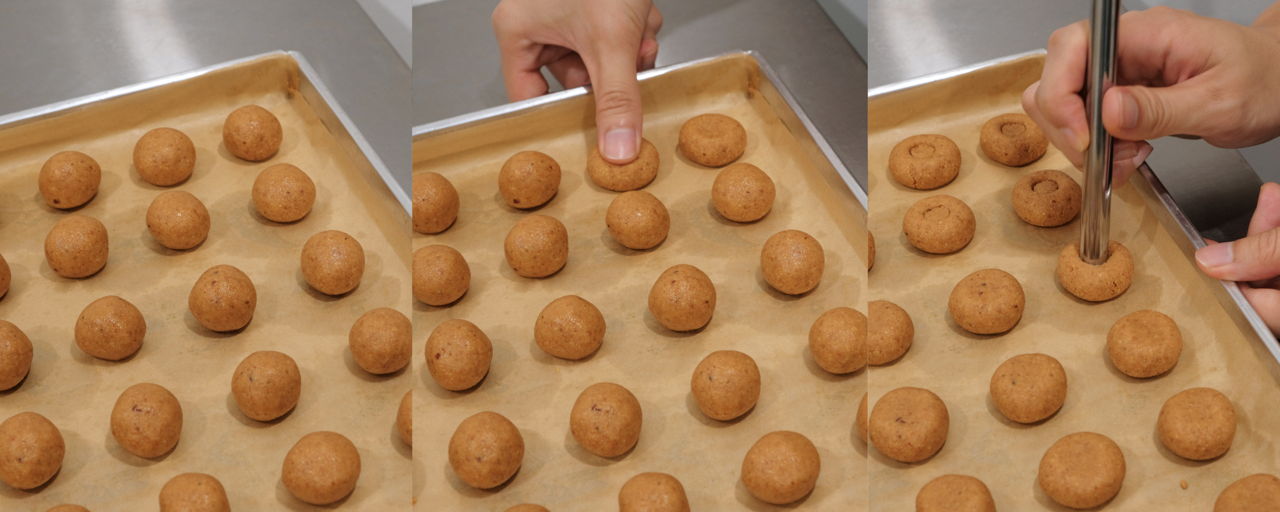 A simple egg wash recipe
Prepare a simple egg wash recipe by combining 1 egg yolk, 15 grams of water and 1⁄8 tsp of salt. Salt helps to make the egg wash more fluid to ease brushing. You may also use leftover egg white from other recipes if you happen to be baking other cookies at the same time.
Can I use caster sugar or brown sugar?
These peanut cookies are made without brown sugar or caster sugar. It is not recommended to use any of these sugar as the grains are rather big compared to powdered sugar. Thus, unmelted sugar grains may end up in the cookies.
Vegan friendly
This is a traditional recipe that uses neither egg nor butter. While egg wash is commonly brushed onto the cookies, you can opt not to do so.
Long lasting peanut cookies
Allow the cookies to completely cool down before storing them in a clean air-tight container. They can last up to a month without any change in flavour and freshness.