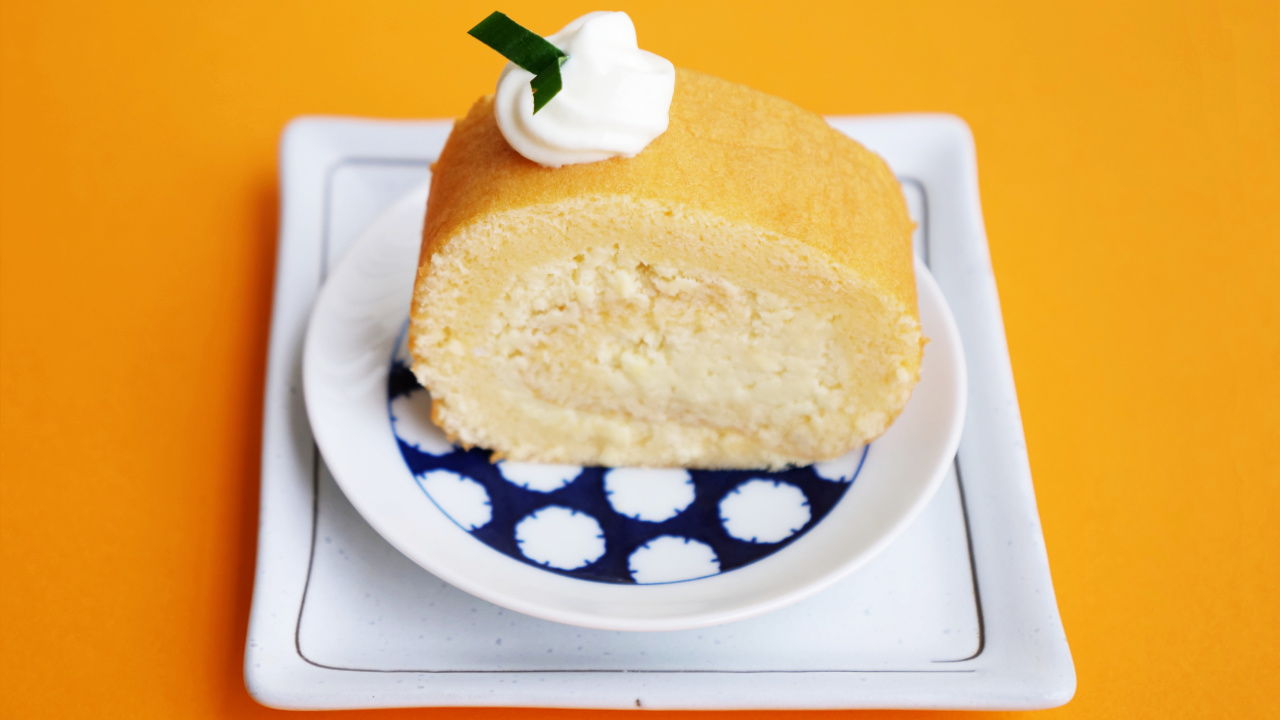 Durian Swiss Roll Cake
Durian swiss roll is a layer of soft and fluffy cake rolled with luscious durian cream. If you easy durian cake recipes, this swiss roll recipe is a must try. For variety, you may use fresh mangoes and strawberries if they are in season.
Total Time
Preparation 20 mins
Cooking 30 mins
Alternate Names
榴莲瑞士卷, Swiss Roll cake, Swiss Roll Recipe, Swiss Roll Cream, Durian Cake Recipe
Cuisines
Malaysian, Singaporean
---
Ingredients
3

egg white(s)

45

g

sugar

3

egg yolk(s)

5

g

corn flour

25

g

wheat flour

1 1⁄2

tbsp

milk

2

tbsp

oil

200

g

whipping cream

200

g

durian
---
Nutrition per Serving
Calories
199 kcal
Carbs
16 g
Fat
14 g
Protein
3 g
---
Community Food Snaps
Be the first to take a snap! Log in and click the in the top bar.
---
Background
Swiss roll cakes are one of the many delicious desserts found in Asia. Durian swiss roll cakes could be one of the many specialities in Southeast Asia since durian is a local fruit which you may love or hate. It had been months since my family kept singing praises over a particular type of swiss roll.
This recipe is not any ordinary swiss roll as it consists of durian which you either love or detest. Durian is one of my favourite fruits and I only get to enjoy it when it is in season. Anyway, my mom first told me about the Durian Swiss Roll (榴莲瑞士卷), raving about its deliciousness yet without it being overpowering sweet. Not to mention, its pleasant aroma too. My sister who really dislikes durian readily seconded my mom's opinion and even went on to describe the texture of the luscious and creamy durian that was spread on the swiss roll. I feel frustrated not being able to actually taste it and could only allow my imagination to run wild.
As a Malaysian living abroad, I always try to recreate Asian food with their authentic flavours using ingredients that I can get my hands on. Thus, in this case, I found some frozen durian and recreated this delectable cake that my mom and sister had been raving about.
Tips for soft and light swiss roll
The goal of this recipe is to get a soft and light Swiss Roll with perfect whipped cream like those sold at most Asian bakeries. Organic eggs work great in Swiss Roll recipes as they do not have a strong icky smell. For those who are living in Germany, I am using 405 wheat flour which is equivalent to normal cake flour in other countries.
Size of pan for swiss roll
I used a 33 cm x 23 cm cake pan but if you like to have a thicker Swiss Roll cake, I would suggest that a slightly shorter cake pan is used. For example, a cake pan of size 27 cm x 23 cm would be perfect. In both cases, you would still have a fluffy light cake. Please note that it must be cooled to room temperature before spreading a layer of durian/whipped cream on it. If not, you may end up with a watery creamy mess!
Other swiss roll filling
Besides durian, I had also experimented using fresh mangoes and strawberries when they were in season. The results were really great too. Feel free to come up with your creation using the fruits you love. I am sure you will be just as amazed with the outcome.
---
Steps to Prepare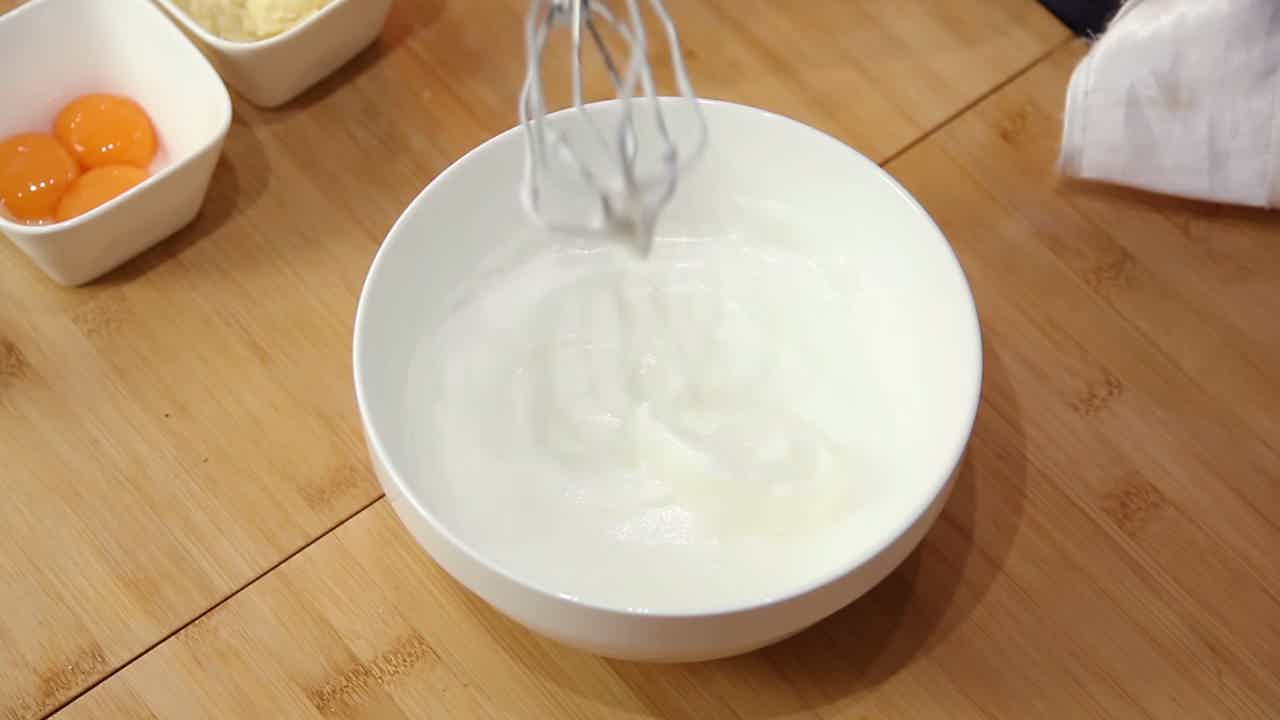 Step 1 of 8
Prepare egg whites
3

egg white(s)

15

g

sugar
Beat egg whites at high speed until it starts to have a layer of large froth. Then, add sugar a little at a time. Once the froth gets finer, reduce to medium speed and continue beating until it forms a soft peak.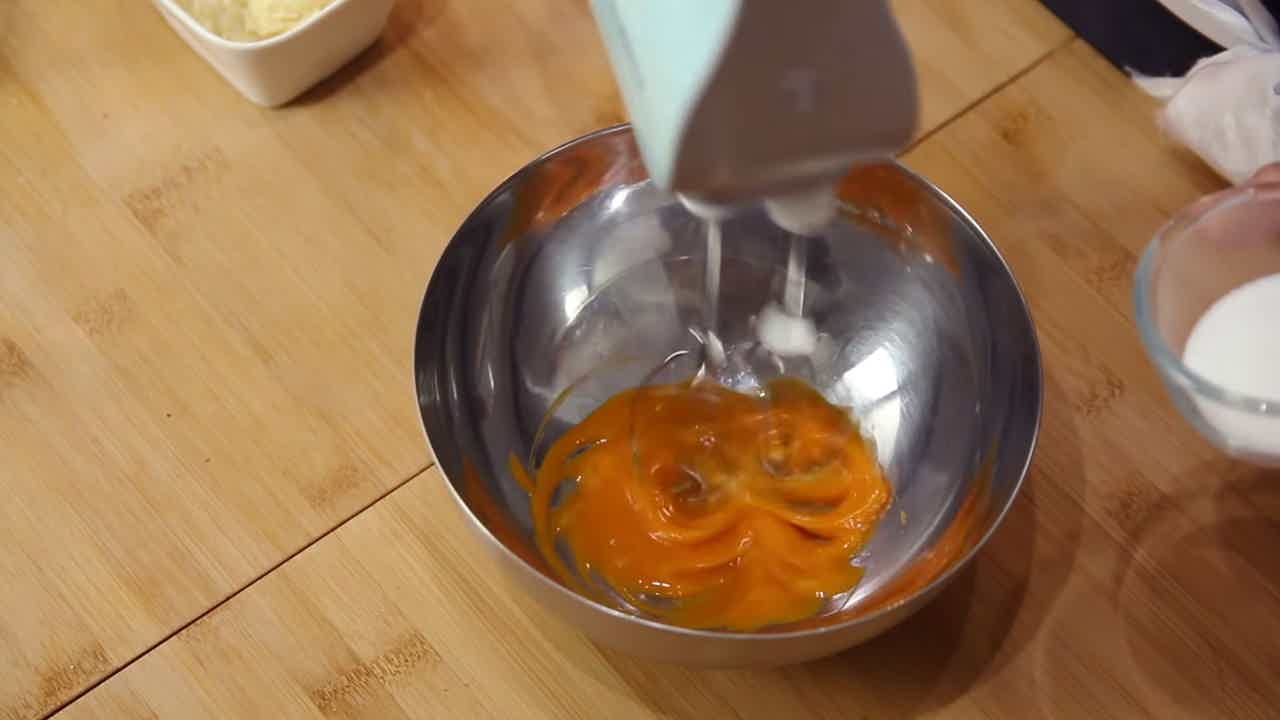 Step 2 of 8
Prepare egg yolks
Beat egg yolks at medium speed. Add sugar a little at a time. Continue beating until the colour of egg yolks turns a pale yellow.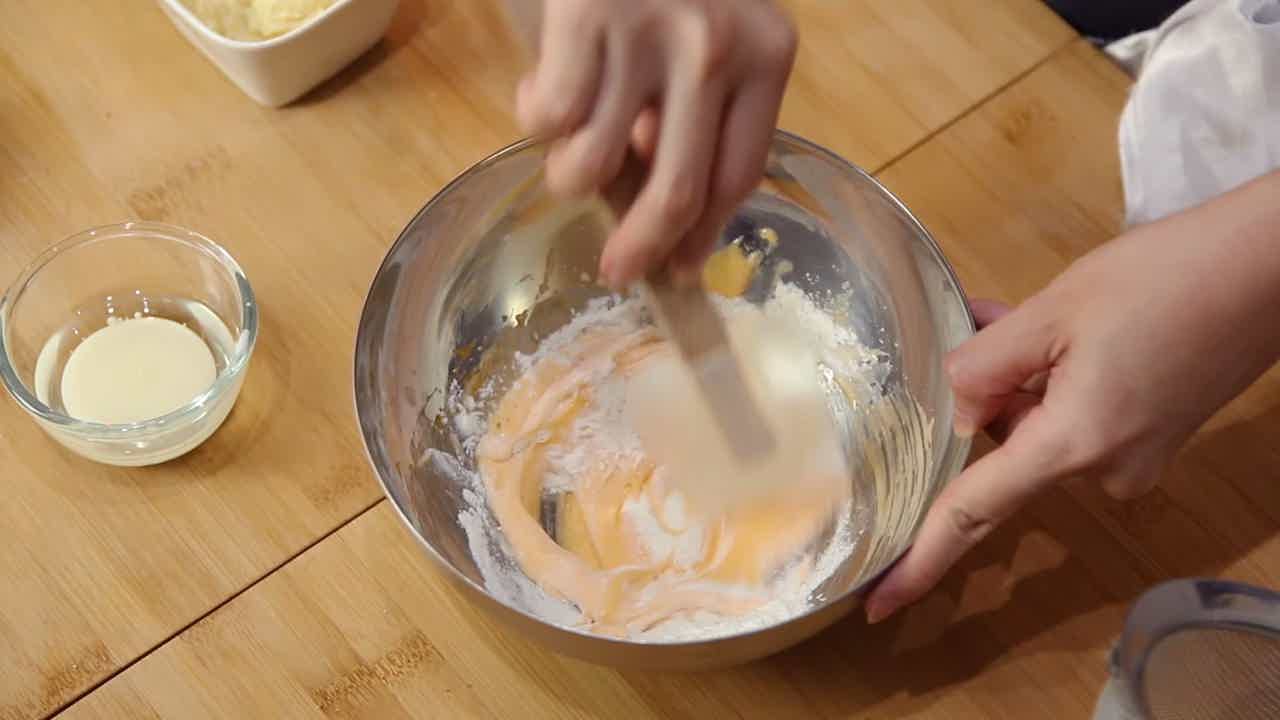 Step 3 of 8
Mix ingredients to egg yolks
5

g

corn flour

25

g

wheat flour

1 1⁄2

tbsp

milk

2

tbsp

oil
Sieve mixture of wheat flour and corn flour into beaten egg yolks. Mix well using a spatula. Add milk and oil to the egg yolks mixture.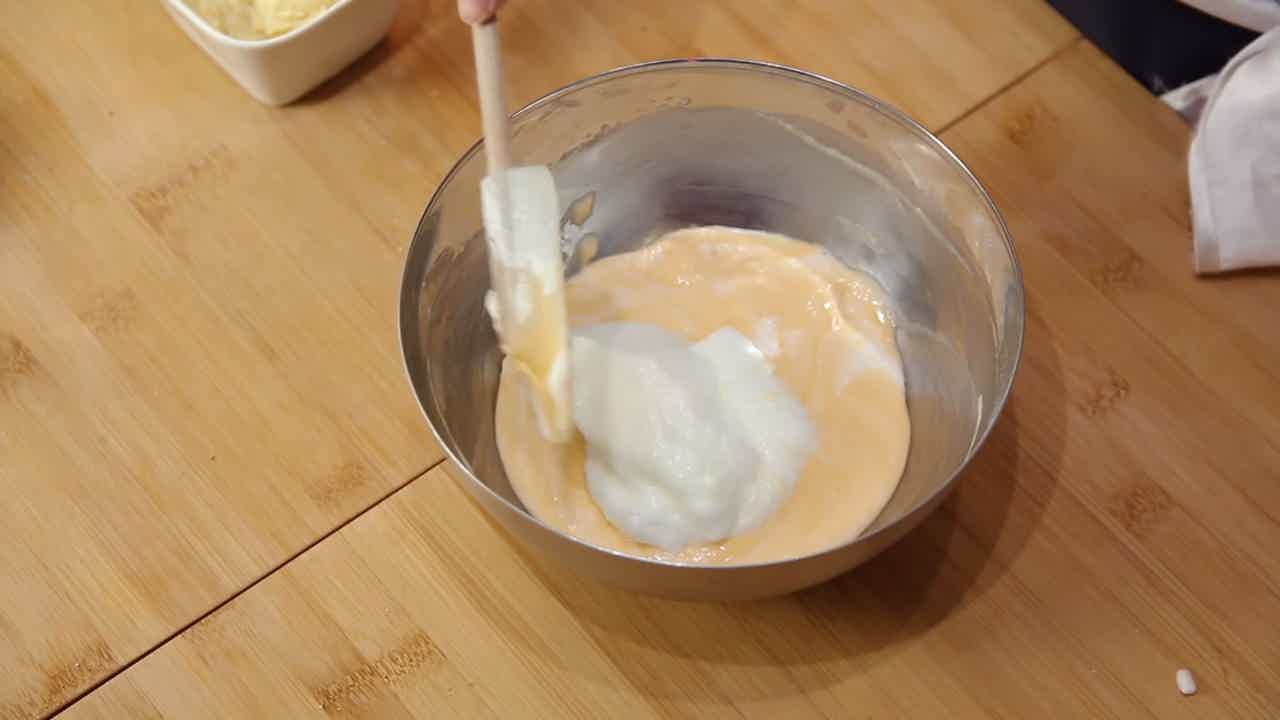 Step 4 of 8
Fold egg whites to batter
Fold in 1/3 of egg whites into egg yolks mixture. Continue until all egg whites are thoroughly mixed.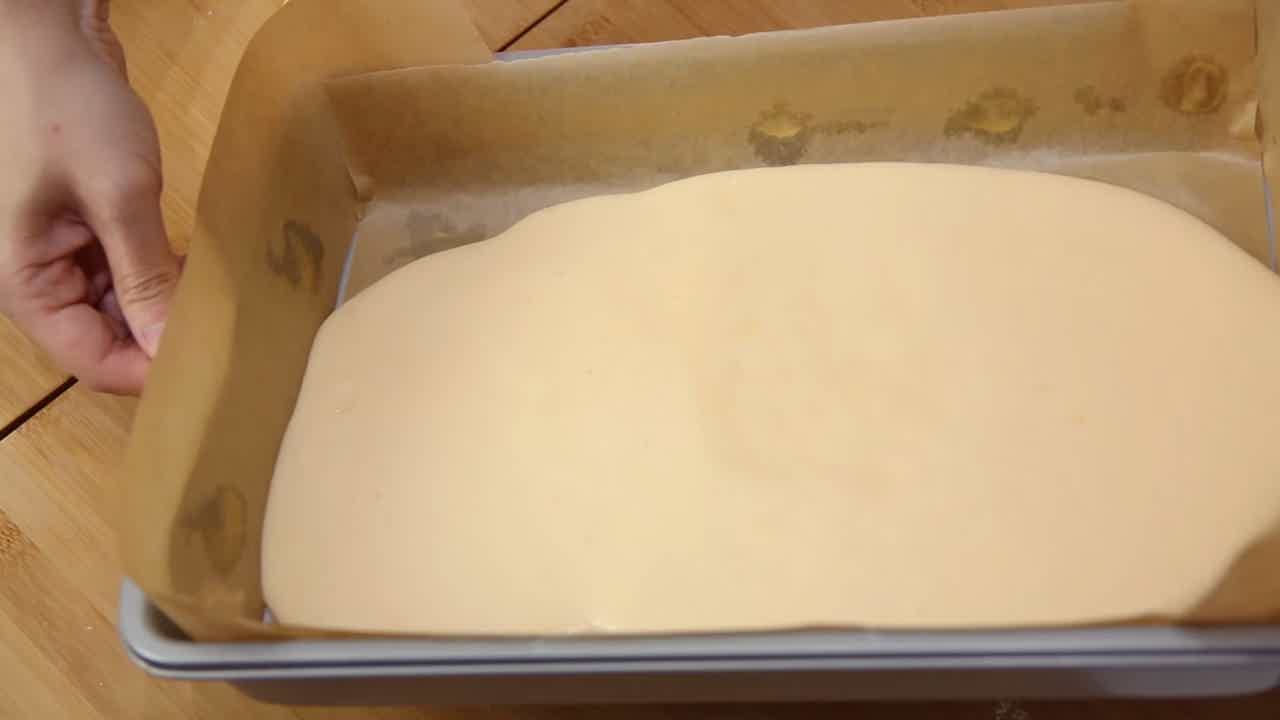 Step 5 of 8
Bake swiss roll cake
Pour batter slowly into a rectangular cake pan lined with baking paper. Tap cake pan on kitchen top a few times or run a skewer through the batter to get rid of air bubbles. Bake in a preheated oven at 200 degrees Celcius for 10 minutes or until golden brown. Once the cake is removed from the oven, tap cake pan a few times on kitchen top.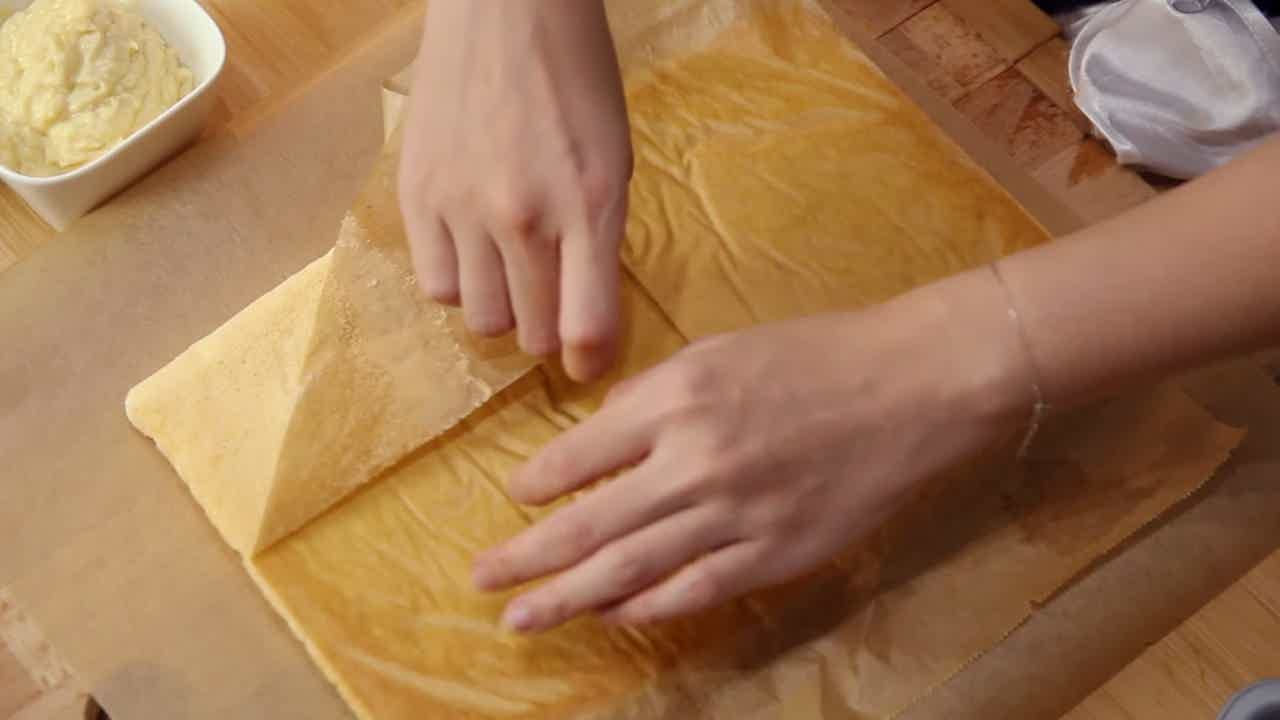 Step 6 of 8
Shape baked swiss roll
Remove cake from pan immediately. Roll cake into a log using baking paper or a clean kitchen towel.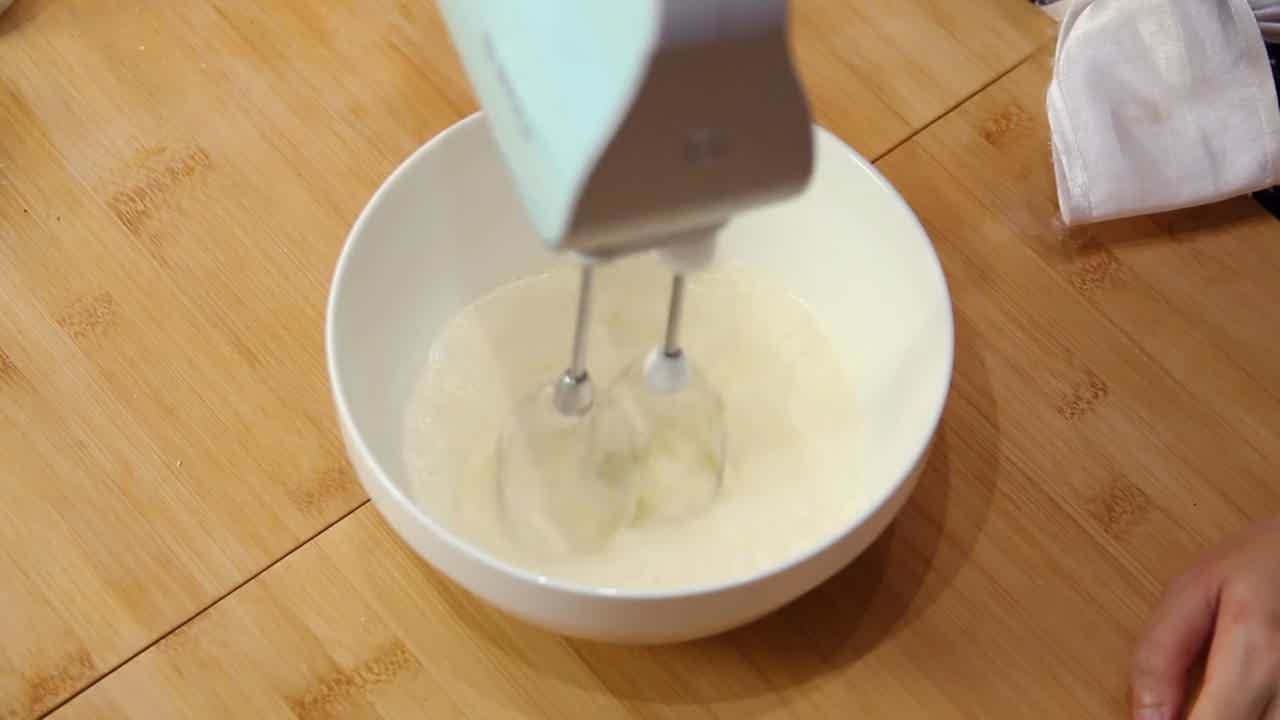 Step 7 of 8
Prepare durian whipped cream
200

g

whipping cream

200

g

durian

15

g

sugar
Beat cold whipping cream with sugar until stiff. Then, mix blended durian into whipping cream and set aside.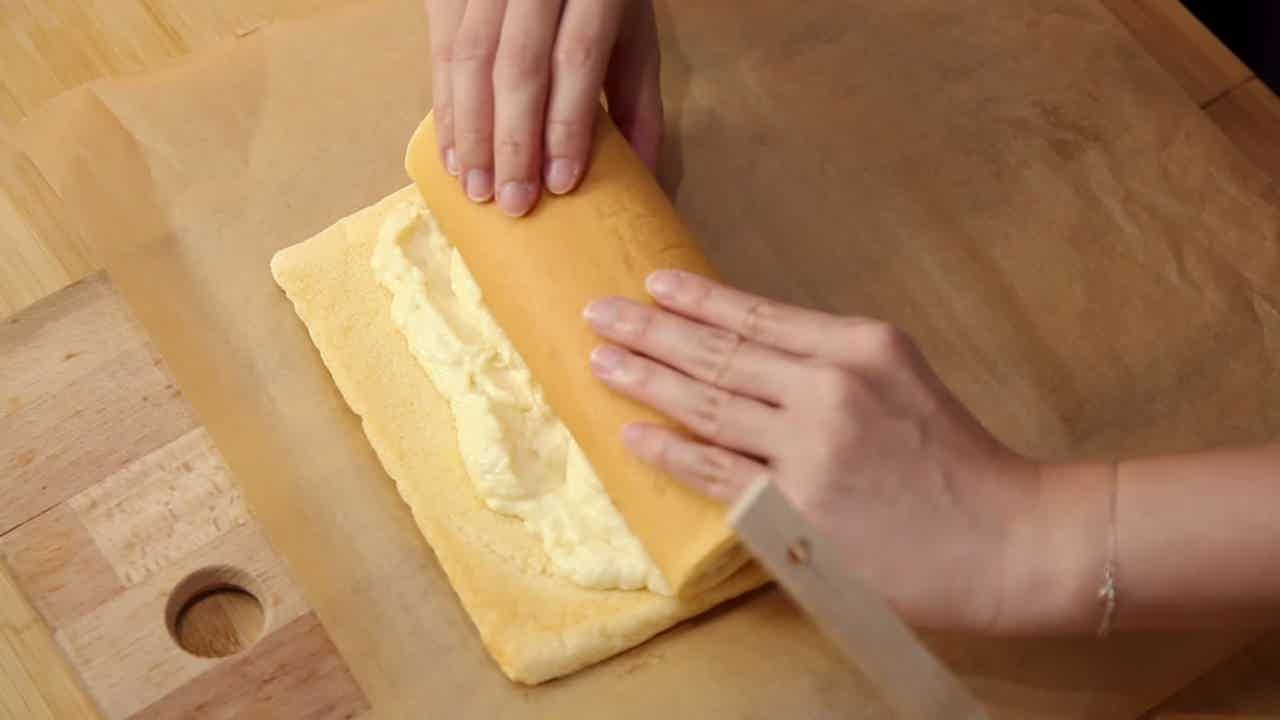 Step 8 of 8
Assemble swiss roll and durian whipped cream
When cake had cooled to room temperature, unroll it to spread whipped cream/durian and carefully roll it back. Refrigerate cake for at least 2 hours before serving.
Published: January 7, 2018
---
0 Discussions
Give us your opinion! Log in and start posting.